Zoomshift Scheduling Software Review: Pros & Cons
No matter the size of an organization, one of the most challenging tasks is to keep track of your employees. From designing shifts to keeping track of overtime, managers have their hands full.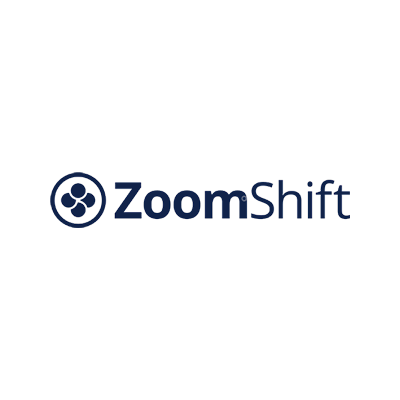 To help relieve this pressure, tools like Zoomshift have created helpful software. Its scheduling and time-tracking software helps both employers and employees review and manage their shifts and payments.
We will look at how this platform works and some of the main features that make it a favorite among small and medium organizations. We will also dive into some of the benefits and drawbacks of using this app.
Let's get started!
How does Zoomshift work?
Zoomshift helps managers create employee schedules, manage payroll, and track time. It is a nifty tool that allows you to check time-offs and shift on a single platform. Perfect for small businesses, the platform is known for its easy-to-use interface that translates well even on mobile devices.
The plan is priced at $2 per team member per month and offers custom plans for larger teams. Not sure which plan suits you? You can try their plans at no charge for the first 14 days. You can move to higher plans as your business grows.
Before you can use the app, you may need to enter all the employee data. One way to do this is to upload existing files on your employees right onto the platform.
Another way to set it up is by entering the details. Head over to the Management Dashboard, where you can add and edit details about your business. Then, add the employee details under the Team tab.
The platform is also a great way to improve communication within the team. You can send messages to your team through direct messages and group chats. It also helps reduce no-shows with its reminder feature.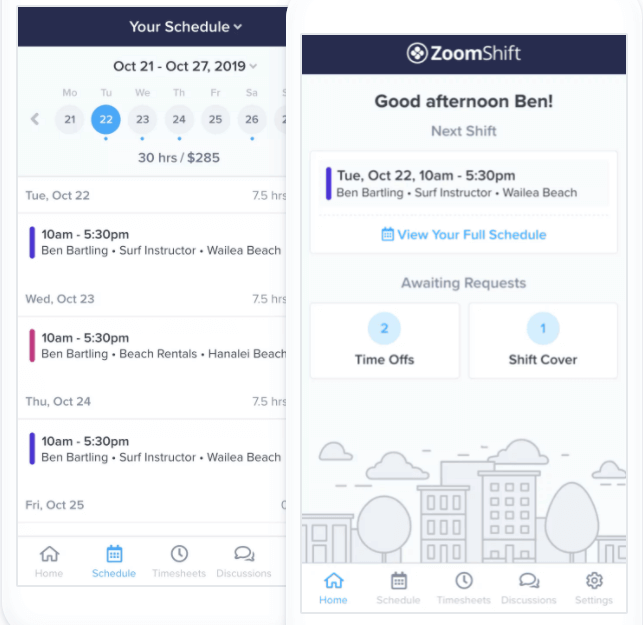 Once you have all the details in the system, you can start creating schedules. The image above shows how you can edit details for your employees. Typically, this is how the software looks like when set up and running.
What are some of the features?
The platform has ready templates that can be used to create work schedules. It has a neat feature that warns you if any two shifts are clashing. You can also integrate popular tools like Quickbooks, Xero, and Square into the software.
Zoomshift is an excellent tool to manage your payroll. You can view the labor hours and related costs in real-time on the calendar. With a mobile app, track these from anywhere- perfect for remote teams.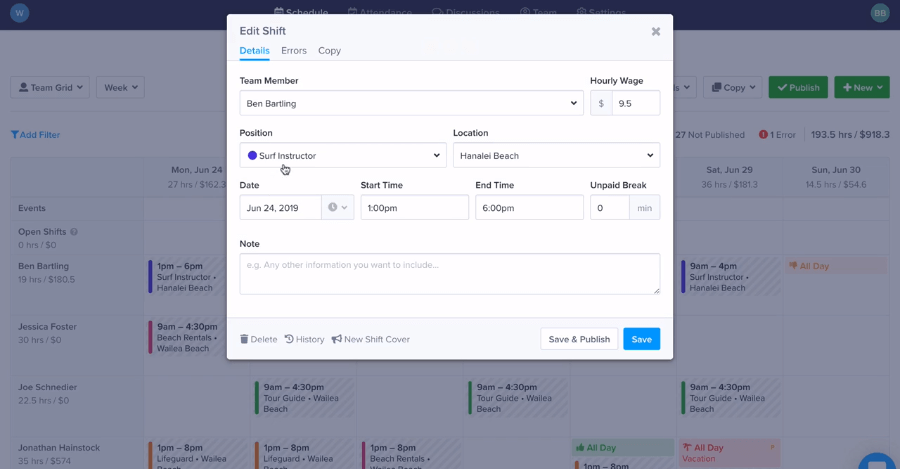 The platform also has a few features for businesses that are active in more than one location or have multiple departments. Their "Locations" feature allows you to identify which employee is working where for easy managing.
They also have a few design elements that make the platform convenient. In addition to shift templates, you can also use colors to identify employees on the tracker better. Their "Positions" feature allows you to enter employee names and titles and then color-code them for easy recognition.
Employees can ask for time-offs, shift swaps- all from the platform. When you log into the system as an employee, there is a dashboard that helps you see how much work you have done that week. It also shows any extra shifts that you can pick up.
Typically, managers and the main administrator will see the same user interface but with more features. The platform also offers live help through work hours, where you can get in touch with their support team. For the more routine questions, their Support Center has a few resources when you are getting started.
Pros of using the Zoomshift scheduling software
The platform helps you trade tedious excel sheets for software with built-in features essential for any manager. With schedule templates and a mobile-friendly interface, it is an excellent fit for agile teams.
Let's look at some of the benefits of this platform.
1) Easy to create schedules
Zoomshift has schedule templates that help you get started in minutes. They allow you to create schedules for a day, a week, or a month. Once you create a schedule, you will see a calendar-like grid where you can edit details of your employees and their shifts.
Click on an empty cell to add a new shift, key in the details, and hit save. It's as simple as that! You can then choose to either send or not a notification to your employees.
These schedules help your team stay in the loop and enable better communications. They can easily see schedule availability, time-offs, and other details. As managers, you can also notify them of any changes through puck notifications.
2) Easy access
Zoomshift is available both on the web and on mobile devices. The feature allows managers and employees to track the schedules on the go.
It also offers GPS tracking to ensure that your employees are clocking into and out of work from their designated locations.
3) Streamlines payroll services
The scheduling platform allows users to calculate wages based on t. It helps streamline some of the payroll services and reduces errors.
Zoomshift also helps in cutting down on timesheet errors. You can see the scheduled and worked hours in addition to missed shifts and any shift adjustments.
Simply export the timesheet at the end of the designated period for payroll processing. Doing this helps in both cutting down on errors and saves time.
Cons of using the Zoomshift scheduling software
The platform has become a favorite among small and medium businesses that often do not have a large HR department. While the tool has some impressive features, it also has a few drawbacks.
Let's look at some of the cons of using this platform.
1) Live support may take long
Zoomshift has an excellent library of tutorials, videos, and answers in its support section. It also sends daily alerts on some of the frequently asked questions.
However, sometimes you need a customer support specialist to help resolve your queries, The live support on the platform is available only between 8 am and 5 pm CT.
With limited slots and a restricted time frame, it can be a while before you get your turn. It is particularly troublesome if your problem needs to be fixed in a shorter time frame.
2) Some features are only available on expensive plans
Zoomshift has three broad tiers of plans, starting from $2 per member per month. However, some desirable features are only available on the more expensive plans.
The features include integration with Google calendar and iCal in addition to shift reminders and text notifications. If you are a new business, this might mean spending a little more to get those features.
In Closing
Zoomshift undoubtedly has an impressive arsenal of features that help companies and employees manage shifts and track time. Its many features like ready templates, notifications, reminders, and timesheet management can help streamline both shift planning and payroll functions.
With both mobile and web visions, it makes tracking easy from anywhere. However, to get the most out of the platform, you may need to opt for the higher bundles. The platform has a set time for live support that can make getting an appointment difficult.
Ensure that you take advantage of its trial period to see if the platform is a good fit for you. Every organization has its specifications and requires a platform tailored to its needs.
---
About the Author
Owen Jones is the Senior Content Marketer at ZoomShift, an online schedule maker app. He is an experienced SaaS marketer, specializing in content marketing, CRO, and FB advertising. He likes to share his knowledge with others to help them increase results.
Get notified about our new posts
By submitting this form I accept the
Privacy Policy
and I agree to receive blog-related information from Super Monitoring.