Effective social media management with Kontentino
Creating, planning and promoting content via social networks are not as easy as they seem, especially if you manage a few profiles and have to do everything by yourself. This is when social media marketers often start depending on external tools. Although there are many solutions to choose from, the majority has pretty much the same features. When searching for the right tool for your needs, it's worth to select the one that stands out and offers something more. Just like Kontentino does.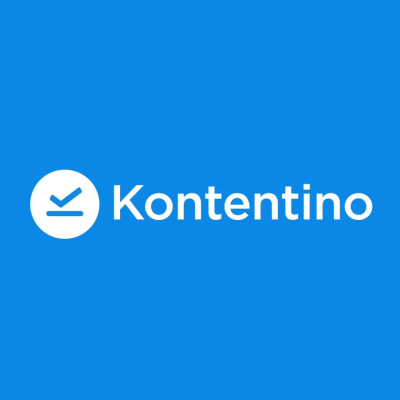 The more content you create, the more difficult it gets to have it all organized – especially on various profiles. Kontentino aims to change that, making social media management easier. Thanks to an intuitive calendar, you can keep all important details, posts and inspirations in one place. You can also use this tool to send posts for approval to your clients, and once you get their feedback – set up a schedule, or even boost them in advance. These are not the only features, though.
Kontentino – effective social media management, even with multiple profiles
Kontentino was initially created as an internal tool in an advertising agency, just to serve marketers better. It has been growing ever since, simplifying social media management for many other companies around the world. It's not just a simple calendar to schedule your posts on Facebook, Twitter, LinkedIn or Instagram. Kontentino lets you manage your content, as well as your tasks.
Some of the main features of Kontentino are:
Managing content across all social media platforms in one place,
Keeping an eye on task progression and information flow among team members,
Exporting posts directly to Facebook (which allows you to set boosting for all your scheduled post in advance),
Additional calendar for inspirations and ideas, which can be shared with your team,
Client-friendly approvals without the need to log in,
A handy checklist with all guidelines and rules you set in your content strategy – available once you start creating a new post,
Simple photo enhancements, such as adding logo, special elements or branded frames,
A drag'n'drop feature to reschedule or duplicate posts,
Useful insights and reporting to let you check how well your content is performing.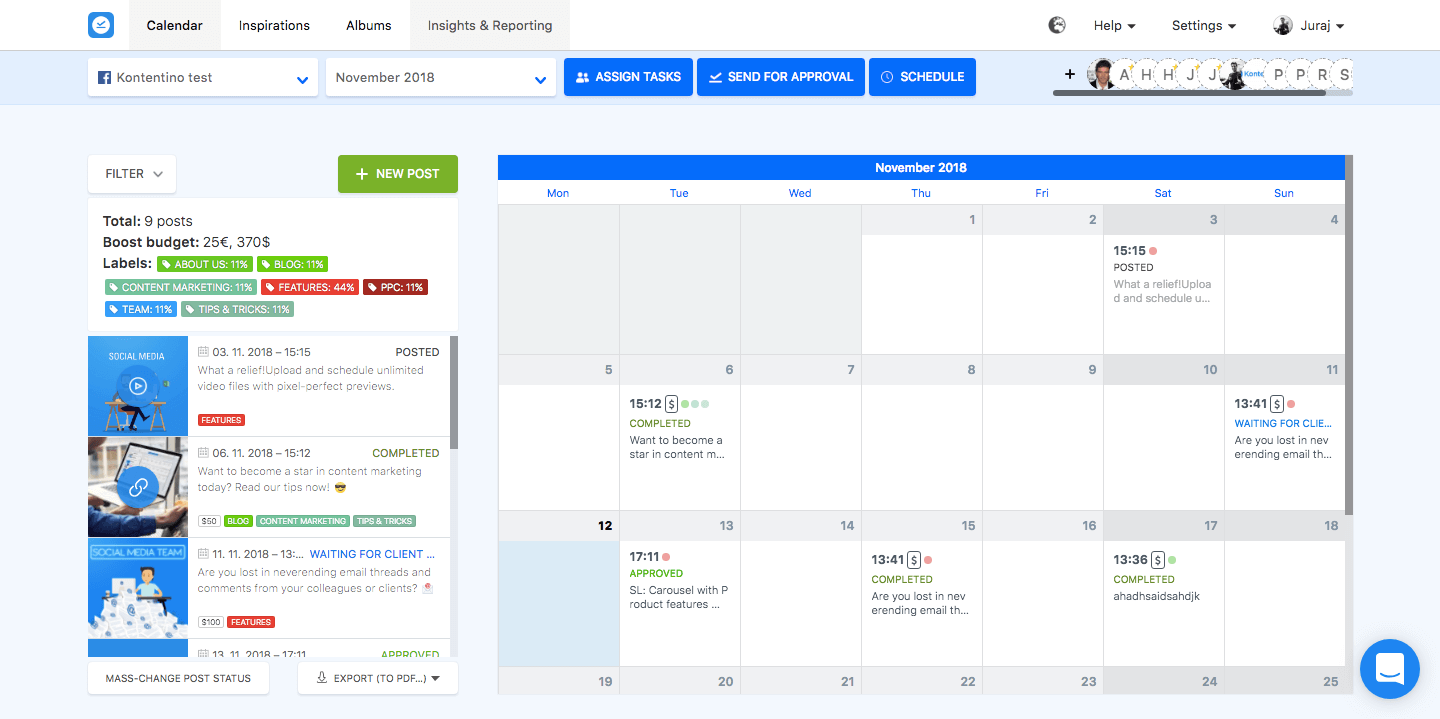 How it works
Once you set up an account and log in, you can see a dashboard with three different columns: ongoing projects, posts scheduled for the specific day, and tasks assigned to all team members.
In the "Calendar" section you can create and edit posts, send them for approval to your clients, schedule them whenever you want to, and have an overview of all your planned content for a given social media channel.
"Inspirations" allows you to store post ideas in one place, so that your team can easily get inspired and share their thoughts within the calendar.
"Albums" is where you keep all visuals to use them later in your posts.
5. The last section, "Insights & Reporting", is full of important indicators of how well your posts are performing.
Kontentino – Pros & Cons
Pros
Effective social media management across different platforms – all in one place,
Including your clients in the whole process – they can comment or approve posts in Kontentino's calendar with just one click,
The ability to set boosting for all scheduled post in advance.
Cons
Exporting content to Facebook is extremely useful when planning paid campaigns, but once your posts are scheduled – you can't make any changes in the tool, as they won't apply (you have to go directly to your social media account),
It's not always intuitive – but is still improving.
An intuitive calendar, you can keep your all social media posts, inspirations and importand details in one place: @kontentino kontentino.com/ via @supermonitoring
Verdict
Kontentino is a convenient social media management tool, which any marketer can take advantage of. Although it has a few flaws, it offers many useful features that you won't find anywhere else. It's definitely worth turning a blind eye to some shortcomings, as long as you want to increase your efficiency when managing multiple social media profiles.
Get notified about our new posts
By submitting this form I accept the
Privacy Policy
and I agree to receive blog-related information from Super Monitoring.