Later – Powerful Social Media Manager
With the advancement of business advertisement through different social networks, the importance of Social Media Management (SMM) has risen sharply. Marketing through social media involves several aspects that work together to generate interest, bring leads, and close deals.
Today, SMM is beyond just posting updates to your company's social handles. It is more about engaging with your customers and looking for new possibilities to increase reach and visibility around the world. For all these strategies to work, an online SMM platform is a better choice than any other traditional method. For helping you make a good brand presentation across the internet and handling all your media profiles like your Facebook page, your Instagram business page, your YouTube channel, etc., an efficient online Social Media Manager is a must.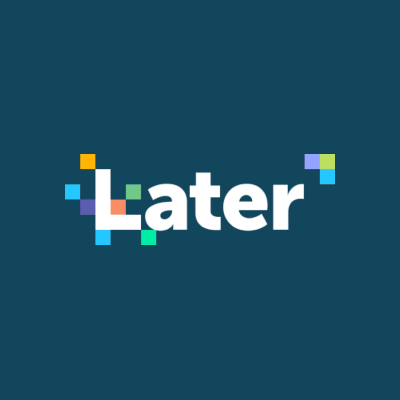 Looking for an efficient SMM platform to manage your company's social profiles and improving the performance of your business? Later is one of the best choices for you! The tool has many user-friendly features and provides perception to help you increase your reach and ROI. Join us as we explore this tool in detail through this post.
What is Later?
Later is a powerful SMM tool that helps marketers schedule social media posts on multiple platforms. It is integrated with Instagram, Facebook, Twitter, and Pinterest, and its drag-and-drop interface allows you to easily schedule posts at a glance. You have the option of scheduling posts for the main feed in Facebook, Twitter, and Pinterest. In Instagram, users can schedule the feed for automated posting and upload stories manually via the "Later" app or website.
Here are some of the best features of the tool:
Drag-and-drop for post scheduling
Calendar view
Media library to cloud save photos and videos
Review and reply to comments (Instagram only)
Hashtag suggestions
Library for captions for re-use
Detailed analytics
Performance reports for posts and stories
Curation for sharing posts created by others
Because of the above-listed features and several other features, Later stands out from its competitors. Now let's understand deeply how to use featured tools in it for managing social media profiles.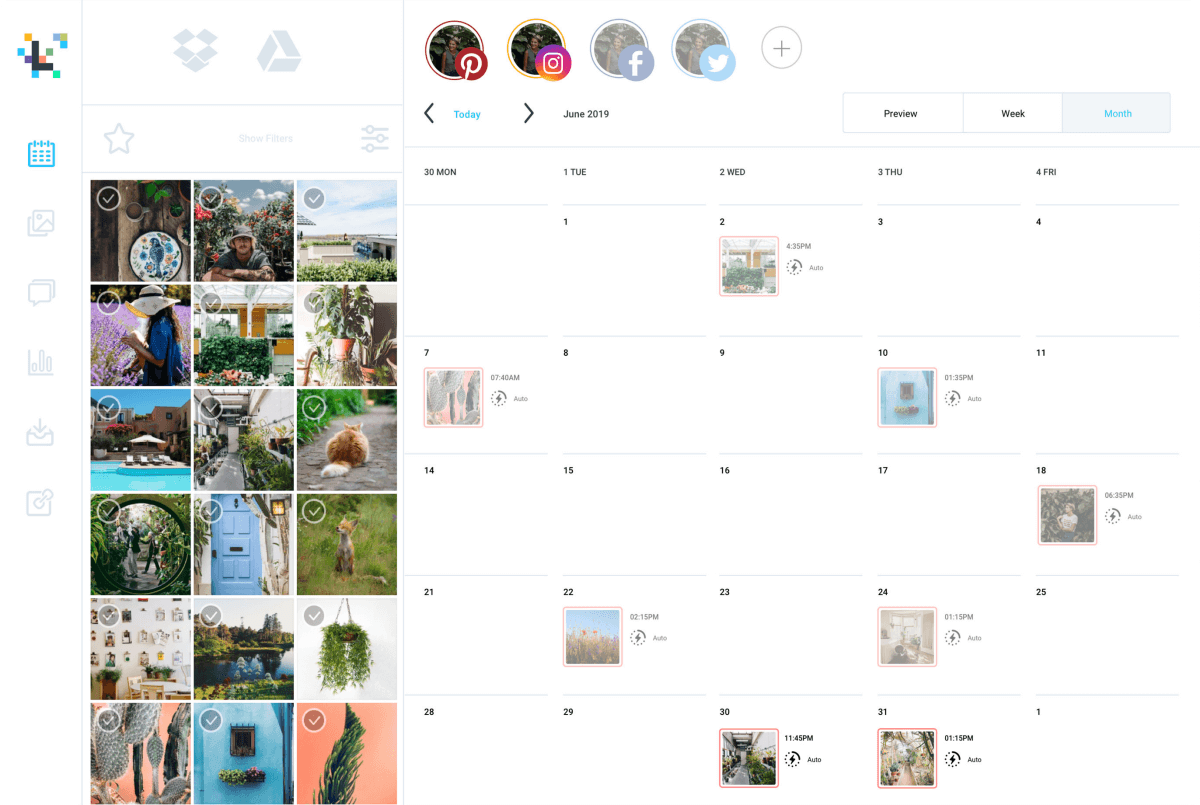 How to use Later?
Listed below are some of the main tools of Later that you can use for better scheduling and post management.
Conversations
Later's Conversations feature is only available for Instagram profiles. This tool allows users to view and reply to the comments on their posts. You can use several ways to sort the Conversations tab, such as Inbox View, Post View, and User View. You can also see a commenter's Instagram bio and follower count, so you can quickly pinpoint active influencers that you may have missed earlier.
Analytics
Later features a detailed analytics dashboard that gives a wide variety of insights from the specific social media platform. You can observe or check the following things from the Analytics.
You can see an overview of your account's performance by analyzing the number of followers, impressions, interactions, and growth rate percentage.
You can check audience analytics by viewing engagement, demographics, location, and primary language.
You can see the performance of your posts, where you can view detailed post insights about likes, comments, impressions, reach, etc.
You can compare in the list of your hashtags, how are they performing, including likes, comments, impressions.
Collect Media
Later's Collect Media tab is a very useful tool that you can use to save other Instagram users' content for re-sharing later. You can search through Instagram by hashtag, URL, mentions, and tags. You can also invite other content creators to contribute to your feed.
Collect Media can be used if your marketing strategy is mainly focused on user-generated content. With the hashtag search feature, you can search relevant images on Instagram, and it is restricted to 30 hashtags per seven-day period. You always have to make sure you ask for permission from other users before you post their content on your feed. Also, you should tag the original user whose content you're using, if you got permission to share their work.
Calendar
It is the tab in which you can manage your posts on all your linked accounts in Later. To schedule any content, choose one of your social media accounts and select an image from your Media Library. Then write your caption and set the scheduled time as required. You're also able to edit your images while scheduling your posts; it can be quite helpful if you're posting the same content on your multiple social profiles.
You can choose between a weekly view or a monthly view. From the setting menu, you can edit the time zone and can also select the day from which you want your week to begin.
Linkin.bio
With Later's Linkin.bio feature, you can easily create a clickable landing page, shared through your bio link that glances like your typical feed. Every image in your Linkin.bio will be linked to a URL. Even a Shopify site can be linked through it.
Linkin.bio contains your existing Instagram posts. You can select the images that you want to display on your page and connect them with links. When users come to your Linkin.bio landing page, they can see your recent posts and be directed to the site you've connected to. This is very useful for YouTubers, bloggers, and other content creators who want to drive their followers from Instagram to their site.
Evaluating Later
Pros
The wide variety of detailed, at-a-glance analytics helps in quickly reviewing the performance of your posts.
By using Calendar, you can keep track of your scheduled posts.
Allow you to schedule your social media posts and also comment on them without leaving the dashboard.
Curation and hashtag research tools integrated within the app.
Cons
Later is more focused on Instagram than any other platform.
Free trial has limited features to use.
Social media management – simplified with "Later" @latermedia later.com/ via @supermonitoring
Final Verdict
Choosing the correct tools to make marketing actions more efficient is critical, since there are several aspects affected in any digital marketing approach. Whether you're a business entity, blogger, or anyone else in need of an SMM tool for your brand, Later is a good place to start. It is a strong tool with unrestricted accessibility for anyone who wants to raise the strength of their business.
Get notified about our new posts
By submitting this form I accept the
Privacy Policy
and I agree to receive blog-related information from Super Monitoring.