Hrefshare – Get Your Tweet Shared!
Social media marketing refers to the process of increasing the website traffic through social media websites. Social media marketing involves creation of content that would attract attention from people and encourages them to share this content among the people in their social networks. The electronic word of mouth is the statement one customer would share on the web about an event, product or company. The message would spread from one to the other user and this message keeps on resonating on the internet as this information is coming from a trustworthy source. Social media marketing today is very influential and can make or break the ice for your sales, conversions and ultimately your business. Getting positive reviews would lead to a better and effective market for a product while on the other hand getting negative reviews would not let you have enough sales and you may ultimately land yourself drowned in losses which may be difficult to recover.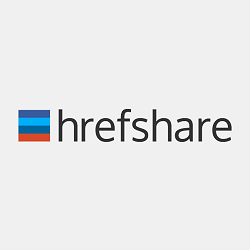 Hrefshare – a new tool in the online social media market is all pepped up to blow your mind off when it comes to sharing a tweet, updating your Facebook with links to your blog or website, and also post the links to your LinkedIn network or Google plus circles.
Basically, What Hrefshare does is that it allows you to create tweets and posts for Facebook, LinkedIn and Google Plus and then it generates link which can be used by people to tweet your message out to their friends and family on the social media network. This is a free tool you were ever dreaming for if you are a blogger, a social media analyst or an internet marketing expert as it has brought all the social media giants under one roof just to increase the number of hits you get through the social media.
Taking an example of a situation in which you want your visitors and audience to help in spreading your message across the web. Many of us do ask the audience to retweet or share specific content from your company account which may appear quite shameful at the first place and you would like them to share your content only if they like and they should do this themselves just not for the sake of your request! However making it easier for them to retweet or share your content is not a crime at all and Hrefshare does the same.
How would it be if you can get people tweet and share exactly what you want them to share about you. All you need to do is to browse to Hrefshare.com and generate a link which can be shared on the social media website.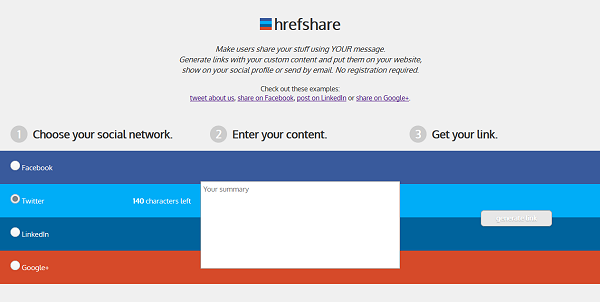 Getting your content shared on different social media websites involves three basic steps
Select your social media network from the four options Facebook, Twitter, LinkedIn or Google+ where you would like to share your content on.
Enter your content, this includes four fields Your URL, Your custom title, Your Summary and Your Custom Image.
After you fill up all the fields specified above all you need to do is hit the generate link button and get a link to share on your blog in order to get your content shared by your audience or visitors.
For developing a link to share on a blog Hrefshare would like you to provide your URL which would lead to your blog or some post, The custom title is the title of the post or the content you would like to share on the social media website and Summary is what appears below the custom title on the social media website and provides a precise information about your content. Hrefshare allows you to add custom image to the content you want Hrefshare to generate.
Hrefshare is a website that would be helpful for bloggers who lack at the technical experience but always want to stay ahead in the competition with other bloggers and websites, get more traffic or increase the sales on a website. Adding a tweet this button to your blog had never been this easy.
If you want to add a link which lands up on Twitter with a tweet to be posted about you brand, all you would do is open Hrefshare.com and add your text. You'll get a URL and this URL would appear like http://hrefshare.com/something. Now this URL can be used on your blog and when someone would click on this link he would see a Twitter form with your text already contained within it.
There are many tools available on the internet which allow your visitor to share your content on many other social media websites. All the website which I came across had the ability to generate links for specific websites such as only for twitter or only for Facebook. Thus, Hrefshare stands out in the crowd of such applications by including major social media websites under a single roof.
Make your users share your content the way you want them to with hrefshare.com/ via @supermonitoring
Social Media Marketing can prove to be the most effective and inexpensive marketing tool that would help your business grow exponentially and to achieve this growth you would need a proper plan about what tools to use, what and when these steps should be taken. Hrefshare is one free tool that is almost equivalent to a premium tool with such features. Hrefshare is a perfect tool not only for individuals but also for large business groups.
The Hrefshare user interface is simple and very user friendly with three columns each for the three steps specified earlier in this post. The Hrefshare website is very slick and responsive and allows users to generate links in a hassle free and easy manner.
Hrefshare is one of the most wanted and liked application among the social media marketing apps. I would recommend you to use the application and get your content shared easily and exactly what you would like people to share about your brand among their peers in their network.
Get notified about our new posts
By submitting this form I accept the
Privacy Policy
and I agree to receive blog-related information from Super Monitoring.