Gu.ma – the feature-rich link shortener
Gu.ma is the most simplest and sleek designed link shortening service available on the Internet. Available in 14 different languages this is probably the first link squeezing service available in multiple languages. It offers various options to personalize the short link that you may generate using Gu.ma.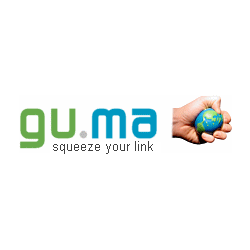 Why should you use Gu.ma?
There are many reasons for using Gu.ma to shorten your URLs. The long links might appear too unpleasing, difficult to remember and pass-on as a web developer may add different attributes to the link which may be descriptive and may represent various command structures, data hierarchies and session information. As a result, a URL may appear to be a collection of complex patterns which makes it difficult for us to distribute them, thus the most reliable way to pass on a long link is to copy and paste. This is where Gu.ma comes in, It'll help you shorten the URL to make it easy to distribute and publish on a website or in print.
Though we all know the most popular reason to use this website would be to share the links or URLs on Twitter or various messaging services which have a limit on the word count, sharing a usual long link on these services may result in a violation of this constraint. Also, Gu.ma provides various other services like analytics, link personalization, adding social media bars, and comment frames.
301 Redirect
There are two kinds of redirect available: 301 redirect and 302 redirect. It is the first deciding factor why a person looking for a perfect SEO optimization would use this service. 301 redirect is for a "Permanently Moved Page" and search engines would credit the short link to the long link to which they redirect. On the other hand a 302 redirect is temporary and the search engines won't credit the visit to the original long link. And also you should be aware that even though a service is using a 301 redirect today it may switch to 302 redirect any time.
Tracking and Analytics
Gu.ma offers analytics and tracking service using which you can track how many times the link has been visited. It allows you to add your own third party tracking code and get the analytics done for your short link. You have the option of adding the code in the page header or in the page body. This helps you know if people are actually clicking on the links you tweet. Tracking and analytics is one of the most important features any URL shortening service can have as you can analyze the traffic you get and personalize or customize your links according to the reports generated.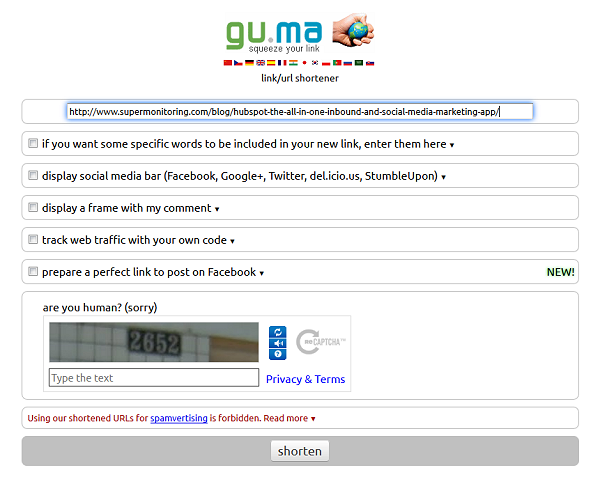 Stability
The providers assure that they offer free short URLs which may never expire. But you've no guarantee, what if the providers cease to exist. Stability is one of the important factors as no one would like tweet backs from people about the no longer availability of your link as the URL shortening service you used is no longer available.
Link Customization or Personalization
Gu.ma offers a customization of the short URL that you can add specific words which you would like to have in your short link. It may automatically come up with some random names that may look like jumbled alphabets but together for example fsgsf0.gu.ma and these may appear difficult to remember every time you need to write it down. Adding your own word would override the link which is randomly generated and makes your URL easy to remember, type or write for example lemons.gu.ma or lemonsquash.gu.ma. This may also help you popularize your brand name and you'll share short links which contains name of your brand.
Adding Social Media Bars
Gu.ma allows you to add social media bars to your links for various social media websites such as Facebook, Twitter, Google+, del.icio.us, StumbleUpon. These social media bars make it easy for you to share the links on social media websites. You can easily retweet, rate and share to networks using this social media bar.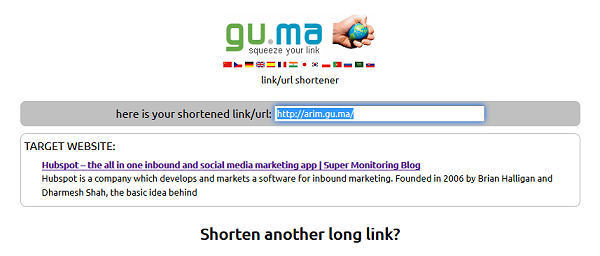 Display Frame with Your Comment
Gu.ma allows you to add frame to your link with your comment which can be used to describe about the website or content to which the short link may redirect to. This frame can be very helpful for those who would like to visit your website as it may help them get an idea what the website or link is about. Many people won't just open the link randomly. This can be your chance to impress them with your comment and attract them to your website increasing the number of hits you get.
Prepare a Perfect Link to Post on Facebook
This is the newest feature added to this website. It helps you prepare a perfect link for you to share on facebook which not only would attract new visitors to your website but also would comply with the facebook spam policy. As facebook sometimes won't accept or has blocked short links from many other URL shortening services.
Spamming
The URL shortening services are often used by spammers and due to this many services end up getting terminated by the web hosts or are taken off from the online registries. And due to this most of the websites are serious about keeping domains spam free.
Gu.ma has strict rules regarding spamming, It says that if they receive a complaint that you've been using the service to create spam advertisements they'll delete all your redirects permanently and your IP address would be banned from using their website. So just be careful that you don't spam.
The only link shortening service you'll ever need (feature-rich and multilingual): gu.ma/ via @supermonitoring
Lastly, I would Gu.ma is a decent link shortening service which has many popular features which may help you a lot in having a better page rank and also in increasing the number of visits you get to your website daily.
Get notified about our new posts
By submitting this form I accept the
Privacy Policy
and I agree to receive blog-related information from Super Monitoring.