Domai.nr – the perfect tool to search for a domain name
Looking for a perfect domain name? Try logging onto Domai.nr where you'll find a number of creative domain names for your business customized perfectly for your business. All you need to do is enter the term you are searching for and review the results. All the possible domain names are included in the results which include the generic domain names with .com, .org and .net extensions. Domainr gives you an option to find a domain name in different languages such as Hindi, Japanese, Chinese, Arabic and Hebrew, apart from entering latin internationalized characters.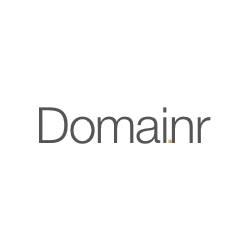 Domai.nr can be utilized to search for generic domains, sponsored domains, country domain names , second level and internationalized domain names. You can also find out whether the domain name you desire for your website is already registered or if it is available and can be registered. Once you select your domain name Domai.nr will come up with options to select registrars with whom you can purchase the domain name and get it registered. Domai.nr gives the user a list of options to choose from rather than just sticking on one people have many options.
Domai.nr also lists the options which are already registered and you can also make an offer to the person in whose name it is already registered. It gives you details about the registration using the Who.is database and you'll get a list of agents through whom you can contact the other person to make the offer. Domai.nr is a perfect enhancement to domain name searching. Utilizing the concept of domain hack (here hack stands for a clever trick) it also gives you a domain name which concatenates the two adjacent levels of a domain for example http://sup.er or http://monit.or which utilize fictitious country code domains. Using domain hack concept one can register short domain names which may serve valuable as redirects, base domains, pastebins and for URL shortening services.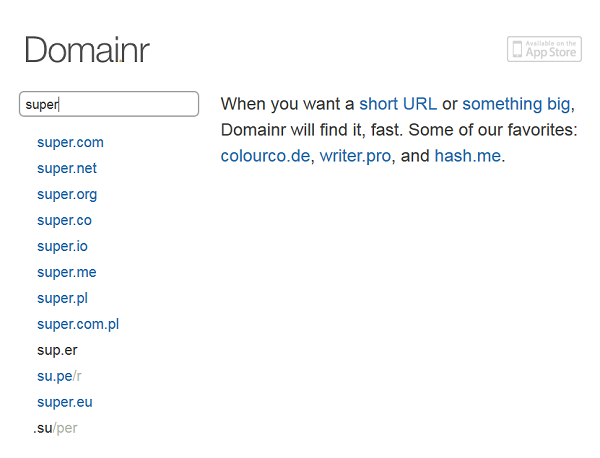 User Experience and Registration
Having a sleek, modern, easy to use website that has a search bar on the top where people can type in their queries Domai.nr has an excellent front end and users would love to have the domain search experience with many options which may be out of their imagination. To find a perfect domain name you just need to log on to the domai.nr website and search the domain name. You don't have to sign up or register to use this service. One can search as many times as he wants to and there are no limitations to this. Domai.nr does'nt offers a personalized account service so we can say that the website has its simplicity intact as if one would have to register to use this service it would have been a bit complicating. But yes if you go for a domain agent to buy a domain name through Domai.nr you'll have to register on their website for buying the same.
Features
The various features on Domai.nr include:
Searching for the availability of the domain name you desire.
Presents long and short URLs until you select one you like.
Shortens URL
Check for all kinds of domain names with all possible versions.
List companies to buy domain names from.
If you find a domain name that you'll like to link to your website or blog Domai.nr offers permalinks for each domain. Permalinks are the URL which point to a webpage or blog.
Available as an Android App, iPhone App, Windows App and as a chrome extension as well.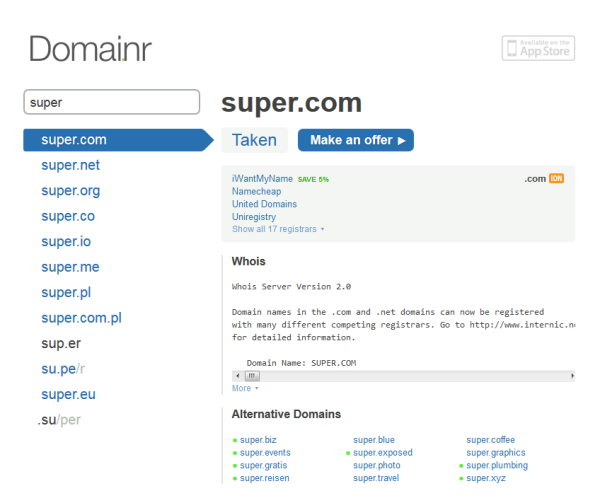 Choosing the right domain name with Domai.nr
While selecting a domain name for your service make sure that your domain is easy to type, short and one must try to use keywords that describe one's business. Your domain name should target your area or niche. All the numbers and hyphens must be avoided and it should be easy to remember. One should properly research the domain name and Domai.nr is the best place to perform this research.
You should make an appropriate choice of the domain name extension as these may have specific uses so select one that works for you and your business. Make sure you buy various domain extensions and misspelled versions of your domain so that your competitors do not register it in their name and redirect your traffic to their website.
Due to the Twitter and Bitly 140 character constraint, Domai.nr is being used by many publishers and bloggers who would like to share a short link for their website or blog on many social media platforms.
Pricing
Domai.nr is free to use and there are no costs for finding a domain name that suits your desire. This is an advantage as there may be many similar services but none may offer similar quality and that too at no cost at all. Registering a domain name surely costs something and you'll have to chase a deal with the various agents to register the domain as many of them may offer discount when you purchase through Domai.nr website or application.
Domai.nr can do wonders in finding you the right domain for your website, application or next web project. Built by three techies who left the job and were brainstorming many product ideas while and they were using Domai.nr constantly to come up with names which they later thought of launching as a different product itself which would be useful to the people who may be sailing the same boat as them.
Domai.nr is a very helpful resource for web designers, ecommerce businesses, and startups who are looking for domain names for their business and want to make sure that the name they choose is creative, crisp, and easy to remember. Let your fellow designers, hackers and web developers know about this website as this could be the best tool you can suggest a person who's looking for a domain name.
Generate Creative Domains and Short Links quickly with @domainr domai.nr/ via @supermonitoring
Checkout Domai.nr today and do let us know about your experience in the comments.
Get notified about our new posts
By submitting this form I accept the
Privacy Policy
and I agree to receive blog-related information from Super Monitoring.