Find out your competitors' SEO success strategy with SpyFu
Search Engine Optimization or SEO is one of the most powerful tools used by organizations to get ahead of their competitors today. Using SEO techniques and quality content that's optimized for popular search engines like Google, Bing, etc. organizations ensure they make their information reach their prospective customers on time and in the right way.
Consider a scenario where you're in need of a new computer. In today's world, whenever people need to buy something, they study about it on the Internet first. Thus ideally, you'd research about which PC or laptop model would fit the configuration you're looking for, be from a reliable manufacturer, and still be within your budget. Whichever laptop model is shown on top in Google or Bing search results would have a better chance of getting bought. Agreed? Now if you're a laptop / PC manufacturer looking to maximize sales, you'd want your product to feature on top in search results, right? In order to do that, you'll need to know how to market yourself correctly. And one of the most effective ways to do that is to flood the Internet with search engine optimized content that promotes your products / services.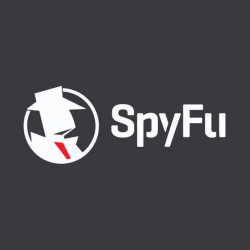 But what if you don't know how to generate SEO content that's better than what your competitors are using? How do you still get ahead?
It's simple really. By finding out what techniques, keywords, and content your competitors are using to market themselves. And SpyFu lets you do just that!
SpyFu – expose your competitors' search marketing secret formula
SpyFu literally lets you spy on your competitors; meaning you can find out what makes their online marketing successful. The tool lets you discover what keywords your competitors use, see websites that are spending money to get the right Adwords, and find the most profitable keywords that suit your business.
The principle SpyFu works on is straightforward; search for any domain (competitor domains / URL will do) and SpyFu lets you see every place the domain has shown up on Google, every keyword that domain has bought on Adwords, every organic rank, and every ad variation in the last 10 years. Plus, the tool guides you connect with these domains and find traditional leads methods (social media, email, phone, and address) you can't find anywhere else.
Additionally, with SpyFu you can:
Drive clicks to your SEO or Adwords campaigns with their smart recommendations
Monitoring of your paid and SEO rankings on Google, Bing and Yahoo
Build partnerships or generate sales leads through reliable contact info
Discover the competitions most lucrative keywords that you're missing
Save money by eliminating bad keywords you're using but that aren't any good
Leverage your competitors' lessons from historic hits and misses (meaning learn from their mistakes)
Move keywords in the top 50 results onto the first page
SpyFu thus lets you improve your search engine ranks by tapping into your competitors' keyword strategies. The tool makes understanding SEO as easy as PPC with branded reports.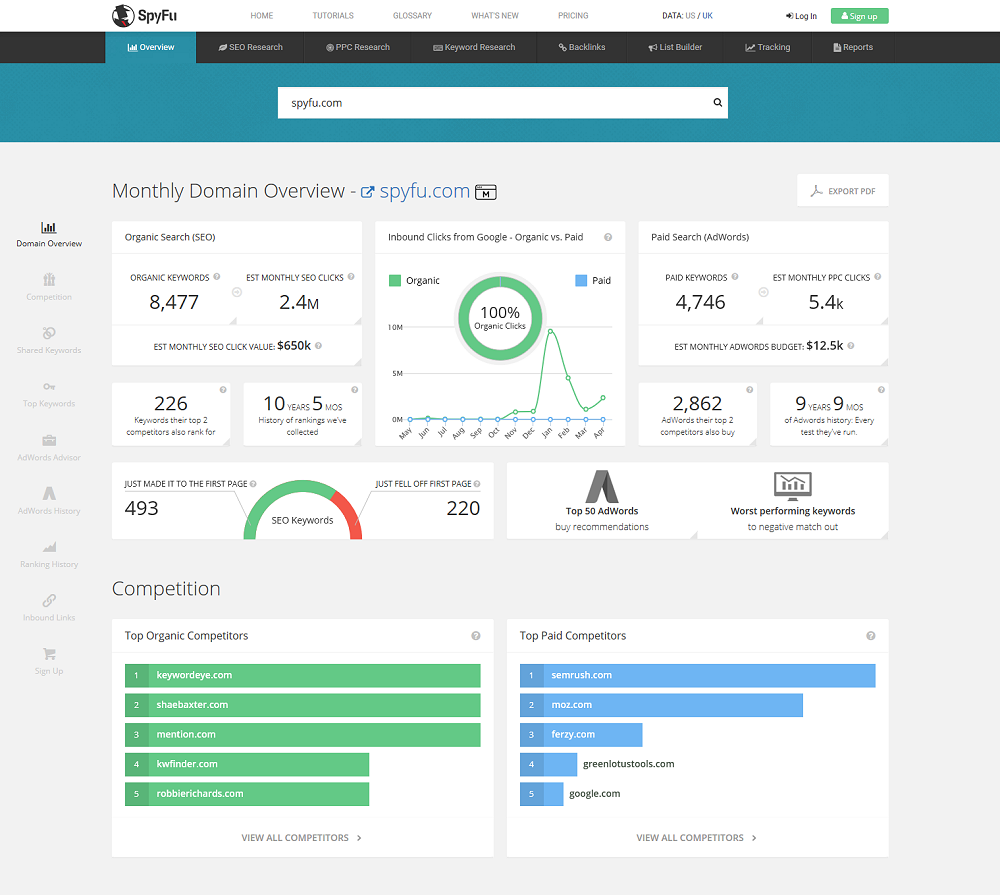 How it works
One of the best things about SpyFu is that you don't need to sign up or share any of your information to start using it. Simply land on the tool's homepage and search for the domain or URL of your competitor's website. The results of the search will show you:
Domain Overview

Number of organic keywords
Estimated monthly SEO clicks and their value
Inbound clicks from Google: Organic VS Paid via a colorful pie-chart
Paid Search (Adwords) and related info

Top Competitors: Organic and Paid
Shared Keywords: Organic and Paid
Top Keywords: Organic and Paid
Some Adwords recommendations
Ranking History
Inbound Links
If you know SEO and recognize the various terms used in the field, you'd be good to proceed from here on. You'd have enough intel to lift up your online marketing a few notches. Moreover, the same page will show you a plethora of options to study about your competitors SEO strategies. You'll get to see various graphs and colored depictations of information that you can use to tap on the areas you were earlier missing out on.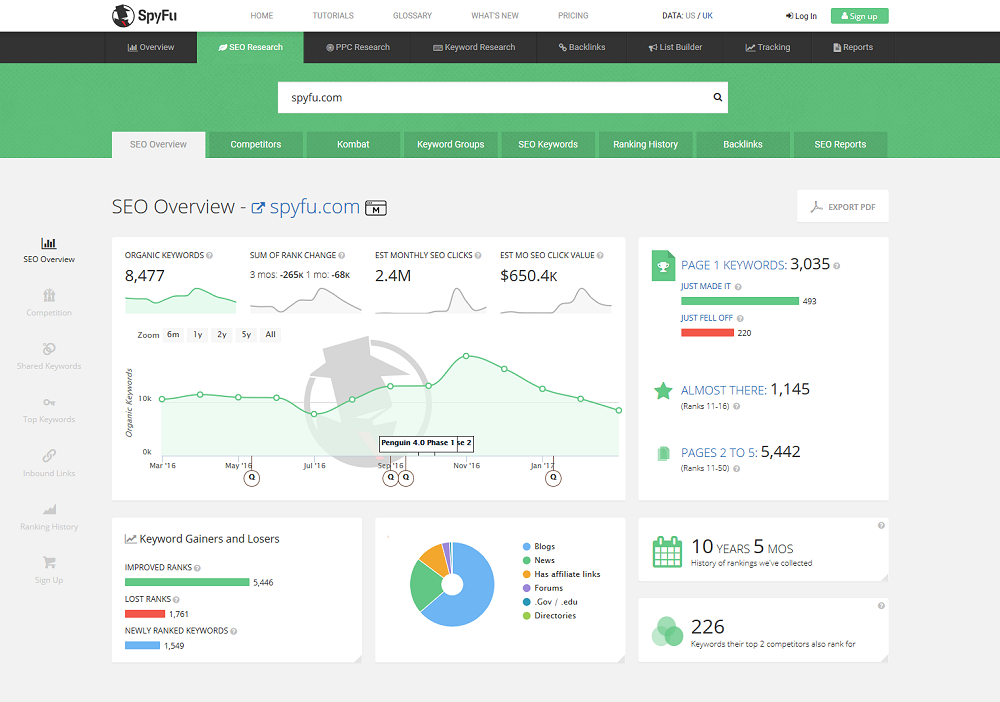 So is the tool free?
Well yes and no.
If you're satisfied with the information the free version of the tool (described above) shows you, you don't need to pay anything. However, if you want access to premium features like unlimited search results, unlimited data exports, unlimited domain overviews, hundreds of sales leads & domain contacts, thousands of weekly tracked keyword rankings, API calls, custom branded reporting, and much more, you can sign up for one of the 3 paid plans they have. And along with these features, you get access to a lot more with a 30-day money back guarantee (if you aren't pleased with it), no strings attached.
Is this real?
The good VS The bad
Let's keep this short and sweet.
The pros are many. The con is only one – the terminology used in the tool can confuse any beginner.
But then, you'd actually be using it only if you know what you're doing, right?
Peek at your competitors' SEO strategy with @spyfu www.spyfu.com/ via @supermonitoring
Final Words
The tool actually fares pretty well on our test parameters. It's simple to use, is affordable, has no strings attached, and does what it claims. But then, like we always say, you'll need to try it out to see how well it turns out for you. For now, thumbs up from our end.
Get notified about our new posts
By submitting this form I accept the
Privacy Policy
and I agree to receive blog-related information from Super Monitoring.