HootSuite – The Social Media Management Superhero
Social Media Management is one of the best ways to increase traffic to your website and get more leads. It is extremely important for any business to have an online presence on major networking websites such as the Facebook, Google+, Twitter and LinkedIn and to manage these accounts you would need a social media management tool. These are the tools which allow marketers to research, analyze and track the conversations on the webs about their brand and other topics they would have interest in.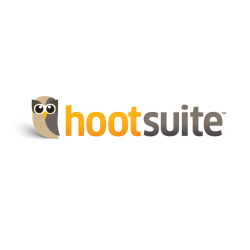 HootSuite is one of the most popular Social Media Management Tools. It is helpful in managing and keeping a track of all the social media accounts. It would help you to maintain an eye on what views people have about your business and allows you to respond to them instantly. HootSuite shows streams of content posted on various social networking websites and allows you to post updates and reply to those updates directly through HootSuite. As an increasing number of social networking sites are getting popular these days companies depend on such tools to reap in more benefits, customers and sales.
HootSuite today is the most popular social media management tool and 20 percent companies use this tool to manage their social media and networking accounts. HootSuite offers various features such as Scheduling Posts, Consolidating social networking accounts, Perform Social Analytics, Message Management, Managing team accounts, Collaborating with client and much more.
Scheduling Posts
HootSuite allows you to schedule Tweets and Facebook posts. After you have created a post you can select to post it your social networking accounts immediately or you can schedule your post to a specified date. You can also select Auto Schedule and Bulk Schedule to post the updates. Auto Schedule automatically shares your post on the social networking website at the best time of the day. While Bulk Schedule allows you to update the social networking account using spreadsheets to create about 50 scheduled posts at once.
Social Analytics
Using social analytics you can keep a check on your participation and following on different social networking websites. Social analytics give you a graphical insight for Facebook, Google, Twitter Profiles, Owl.ly, Google+ Pages and Organizational Analytics. All you need to do is to integrate required network analytics platform into the HootSuite account. HootSuite offers a large number of analytics report to keep a track of the social networking account. It gives you an all in one report of your individual social network accounts. You can also customize your report and build your own version. HootSuite also provides premium report templates which you would have to pay for.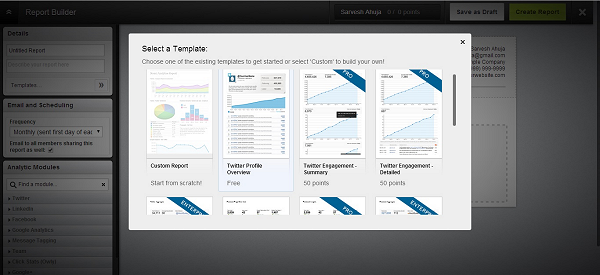 Message Management
HootSuite Message Management is one of the simplest ways to post or message on your social network account. It allows you to create message drafts and send them over whenever you feel like. It also allows you to create search streams, hashtags and search by @mentions. It allows you to filter the search with geo-locations, keyword and more using the twitter management module.
Collaboration with Clients
Allows you to add multiple clients so that they can keep a check on the content that is about to be posted.
Team Collaboration
HootSuite provides team management features to its Pro and Enterprise customers. It is designed to match up with any organizational setup and allows you to limit access for the users in your team. The best feature available is the Message Assignment using this you can Assign a message within the team and improve the audience engagement.
Pros
One Can integrate many social media networks into just one HootSuite account and this includes Facebook, Google+ Pages, Twitter, LinkedIn , Vimeo, Foursquare, StumbleUpon, Instagram, Tumblr, Flickr, Slideshare , storify ,mailchimp and more.
You can create drafts for frequently asked questions and reply them appropriately without consuming your time to create the answers for these questions every time they come up.
Compatible with most of the browsers and even has a mobile application for iPhone, iPad , Android and Blackberry phones
A team of professionals can manage the same social media networks and allows you to assign the messages to different team members. It allows team members to contact each other and complete a task which could be marked as done later.
Provides weekly analytics reports that are automatically sent to your email. These reports include every detail regarding your social media accounts like the number of clicks, popular links, geographical information and more.
A responsive and wonderful customer support and it won't take them long to resolve customer issues.
The HootSuite Pro plan is reasonably priced which almost includes all the major functions of this tool.
Time saving and you can schedule posts.
Cons
Cannot be integrated properly with Twitter. And has issues while tracking the favorite tweets on your social media account.
Won't allow you to add profiles for different people you are engaging with and have a CRM system.
Facebook won't integrate properly and Facebook would have issues in tracking the posts made via HootSuite.
Slow refresh rate, i.e. doesn't provides new feeds instantly.
Costly Analytics, The reports may cost $50 and more which makes analytics a highly priced feature.
Cannot use bit.ly to shorten URL you'll have to use Owl.ly URL shortner.
Limited Basic Plan.
You cannot have a personal relationship with your followers as everything gets automated and you would be able to send automated messages or would schedule your posts.
World's number one social management dashboard and multi-tool: @HootSuite hootsuite.com/ (It's multilingual!) via @supermonitoring
Pricing
HootSuite offers different plans like Basic, HootSuite Pro, and HootSuite Enterprise along with optional add-ons. The Basic plan would allow you to add only 5 social media accounts while the Pro and Enterprise plans would allow you to add up to 100 and unlimited social profiles respectively. The basic plan is very limited and won't allow you to add team members while you can do so in the Pro and Enterprise versions. It allows you to schedule messages basic membership while advanced scheduling is available for the Pro and Enterprise memberships. A Basic analytics report is provided with the basic plan while 10 enhanced reports for the Pro and unlimited enhanced reports are available for the Enterprise versions.
For all those who are tired of logging in and logging out of the multiple social media accounts for their business must try HootSuite to manage everything at once! It's totally worth a try.
Get notified about our new posts
By submitting this form I accept the
Privacy Policy
and I agree to receive blog-related information from Super Monitoring.