Discover what makes popular websites tick with BuiltWith
Ever wondered how companies build just perfect websites that catch the user eye instantly? What are the right widgets or tools that you should be using within your website to reap maximum benefits? If you specialize in developing / selling a particular technology, who should your prospective buyers be? If you've always wanted the answers to those questions, this is your lucky article!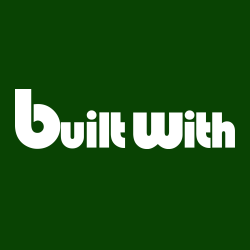 BuiltWith – Find out popular technologies used by popular websites
BuiltWith works on a simple principle of letting users know which technologies or applications are used where. Key-in the name of a technology, for example, Magento or the name of an application, for example, Google analytics, and BuiltWith turns up a list of all popular websites where the searched technology or application is used.
To understand this better, take this scenario for instance. I aim to build an online portal to sell home décor stuff. I know what kind of website I need and what widgets or applications I want to embed in my portal. Needless to say, shopping carts would form an essential part of the portal. But it would be better if I could find out the best ways to use shopping carts in an online portal, or how my competitors are using them. So I search for the keyword "shopping carts" in BuiltWith and what I get in a list of all top websites using shopping carts and the software companies offering/building shopping carts for online portals. I can also cross reference my search results to gain plenty of other insights into the online selling tactics and much more.
Another way of looking at it is, suppose you have a software company that builds widgets for different purposes. You wish to find prospective buyers for your products. So, search for the term widgets on BuiltWith and find out all top websites that use widgets. Then use those results to map out Internet technology trends and plan out your approach. BuiltWith can strengthen you to know your prospects' platform before you talk to them and improve your conversions with validated market adoption.
To cut a long story short, BuiltWith is an online tool that helps you identify key market segment opportunities, gives you insight into where you can increase your technology penetration across the web, and lets you quickly and easily discover the sites that are a good fit for your application / tool / widget.
This is how it rolls
Visit builtwith.com to find a search box right in the middle of the screen. Punch in the name of a technology of an application (basically a keyword) and hit "Lookup". You'll be redirected to a page with the search results sorted by the most popular websites using that technology or application. Moreover, beneath each search result, you'll see a category link.
Technology Usage Statistics
This is the category under which that particular search result exists in BuiltWith's database. Clicking on any such category link will take you to a page that displays a colored pie-chart showing the statistics for websites using the technology category you clicked. For example, if you clicked on Advertising, you'll see a page with Advertising Usage Statistics and so on. You can choose to customize the chart's scope corresponding to number of users by convenient links given on the right.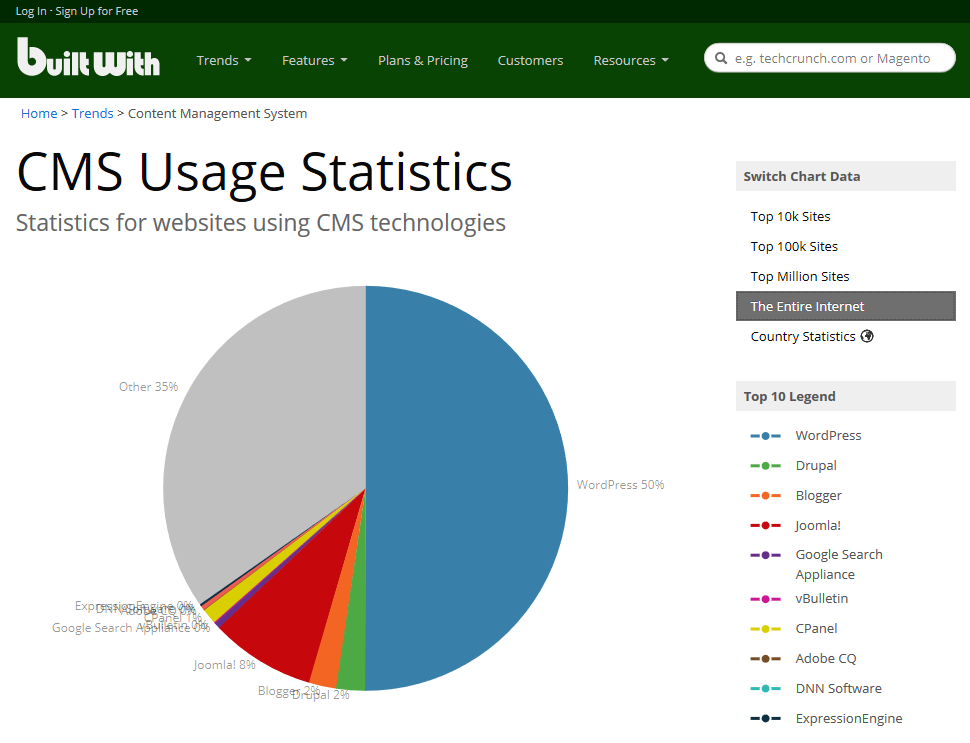 Keyword Lists
If however, you do not wish to view the category usage statistics, click on any individual search result to view details about it in the form of charts and reports. Apart from this, you can choose to view the list of all keywords in BuiltWith's database. This could help you to quickly identify more appropriate areas that you wish to comb out.
View Trends
In addition to the above mentioned features, there's another way you can use BuiltWith without an account. Click on the "View Trends" link on the homepage to view usage statistics for the most widely used Web and Internet technologies across the globe. Beneath each technology's name is the category of work where it applies. For example, "Taboola" is used in the Advertising field, "Mailgun" is used in the Emailing field and so on. The "View Trends" feature can also be used to know about ecommerce trends. The trends in BuiltWith's database are frequently updated to reflect the latest data and this is achieved through constant monitoring of market trends.
Lead Generation
Probably the most useful feature of the tool is its capability to give you leads in less than 30 seconds. To use this feature you need to sign-up for free. Once you're through, search for a technology (e.g Magento) or field (e.g Advertising) and find websites using the keyword you searched. Download the lead list to your account, view it, select a prospective customer from it and get all contact information (address, email & phone numbers) about the points of contact in them right in your account. Could it be any easier?
Miscellaneous
Other than the prominent aspects mentioned above, BuitWith can assist you with Market Analysis, Sales Intelligence, Data Coverage, Cyber Risk Auditing, Report Filtering and much more.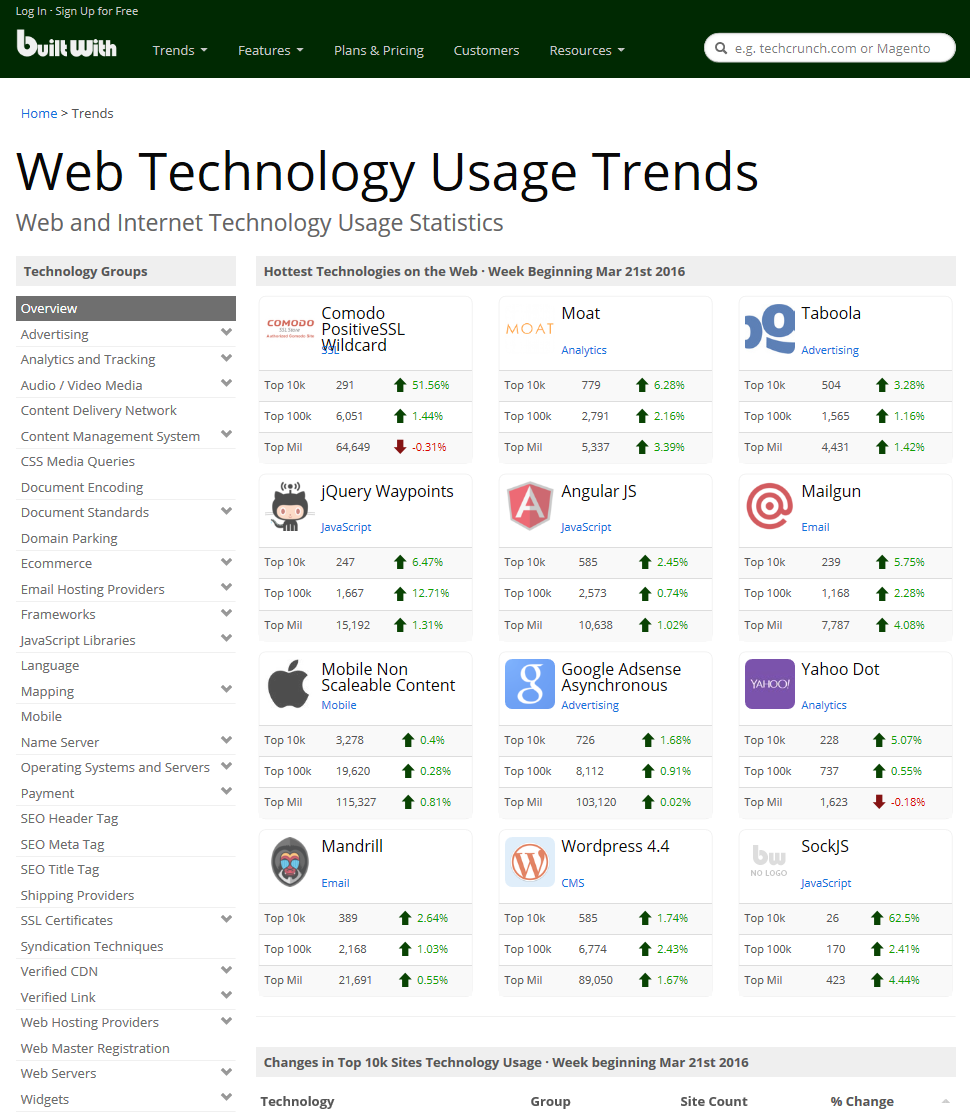 The pluses VS the minuses
On the plus side, the tool packs quite a punch. There are many ways in which BuiltWith can help you to gain market intelligence, attract new customers and achieve positive results.
However, on the minus side, this tool is for the pros. Novices in the area could find it confusing and could get lost easily. Plus, it is way beyond the reach of a single professional or a small organization. You will need to shell out quite some money if you wish to gain some real advantage from the tool.
But then, if the money spent on the tool actually yields positive results, it will be counted as an investment.
Study Internet technology usage statistics to get ahead of competitors with builtwith.com/ @builtwith via @supermonitoring
Final Words
All in all, a wonderful tool for those who know how to use it and who have the pocket to afford it! But, every organization should give it a try at least once. There's something for everyone there.
Get notified about our new posts
By submitting this form I accept the
Privacy Policy
and I agree to receive blog-related information from Super Monitoring.