Accessibly App by On The Map Marketing
Having a website that is accessible to all is essential for maximizing profits and providing equal access and opportunities to the community while meeting your consumers' needs. Nowadays, businesses can be sued if they refuse to develop and maintain websites and information technology that is accessible to all people, regardless of their abilities.
President George H.W. Bush signed the Americans with Disabilities Act (ADA) into law in 1990, which changed how buildings are constructed, students are taught in schools, and even how parking lots and cars are designed. The ADA was pivotal in the changes that followed about how to design websites.
On The Map's Accessibly App
Section 508 was part of the Rehabilitation Act of 1973 that required all electronic and information technology to be accessible to all people, including those with disabilities. Technology continually evolves, and using plug-ins that keep your website up to date with the latest ADA requirements could differentiate your business from competitors.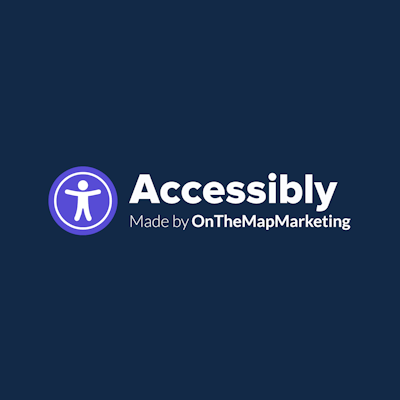 On The Map's (OTM) Accessibly app is a WordPress plug-in that can help make your website more accessible to all users. OTM specializes in digital marketing and building websites that are ADA compliant. Their services also include developing ADA-compliant apps for mobile devices.
Being able to reach all of your potential clientele could help your business to flourish. Having one individual dedicated to making sure your app and website are ADA compliant can be helpful, but the Accessibly plug-in works around the clock identifying and resolving compliance issues that your tech person may miss.
OTM's Accessibly app tells you which elements of your website are out of compliance. Accessibly could help you to make changes to your website in the interface so you can quickly make changes.
Accessibly App Benefits
Accessibly can assist your business in complying with the international internet accessibility standard while incorporating flexibility that caters to different usage situations. Accessibly is testable, straight-forward to install, and adaptable to old and developing technologies.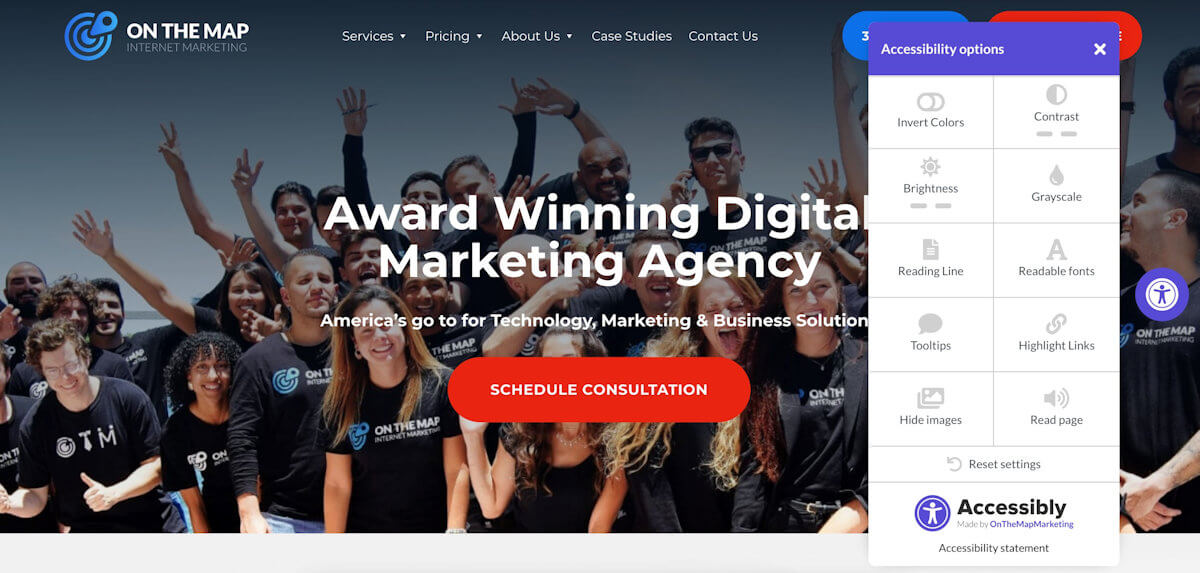 OTM offers an abundance of supporting materials to increase the usability of your site and reduce the risk of legal ramifications for inaccessible websites. Not only will Accessibly open your business to new clients, but it can also pave the way for government support and opportunities for government contracts.
Your improved knowledge of accessibility due to using this plug-in could help endear your business to an entirely new audience. Accessibility for a business is just as important as other digital marketing initiatives like SEO, website design, and a pillar of creating a high user experience.
The Web Content Accessibility Guidelines were published in 2008 and updated ten years later and outline the four underlying principles that make websites more accessible. Your website needs to be perceivable because if you have a website with content that cannot be perceived visually or audibly, it won't properly serve your clients.
Perceivable
The OTM Accessibly plug-in makes your website more perceivable by adding reading lines, tooltips, making fonts readable, enlarging cursors, adding bigger text for your website visitors, and changing brightness, adding contrast, or grayscale to your site to make it more legible for all users.
Operable
The OTM Accessibly plug-in helps your app become more operable through slight improvements to your site's user interface applications and components. All users need to be able to use your interface without components they are unable to perform.
Accessibly can make all functions performable from a keyboard, give users extra time to read content, provide support when your content may cause seizures, and offer assistance that helps users navigate, orient themselves, and find content.
Understandable
When you produce that new piece of SEO content for your blog, you want as many individuals as possible to be able to understand and digest that information. If users are unable to understand the content and navigational standards of your site, they may leave it for a competitor.
OTM's Accessibly app will help you make text content more legible, make web pages appear, and operate predictably while helping users to avoid and correct their mistakes easily. The text-to-voice robot featured in the plug-in can make content easier to access for all by reading the pages' contents to visitors.
Robust
Technology is constantly changing, and the businesses that can keep up with those changes typically experience more favorable results. As technologies advance, users, especially those with assistive technologies, still need to be able to access your content. Accessibly can maximize your site's compatibility with assistive technologies for current and future applications.
While developing Shopify stores for their clients, OTM realized that they needed to create an app that helps to make these sites more inclusive and user-friendly. It takes less than a minute to install, and it comes in different payment options with upgradable features starting at about 20$.
Accessibility Levels
Accessibly can help your business reach all three levels of Accessibility outlined by the ADA. Accessibly's basic features can help you reach level A, and upgrades can fill in the gaps necessary for your website to reach AA or AAA level compliance.
Accessibly can support the following enhancements on your website to improve its functioning, compliance level, and reach. The Accessibly app can change the text to:
Make sure headers and titles are concise, simple, relevant, and adequately describe the content on the webpage
Ensure all site elements are adequately labeled, such as "contact form"
Improve the look of your text and its background by making sure there's at least a 4.5:1 color contrast
Use adjustable text sizes up to 200% for improved readability
Appropriate anchor text links to make them clearer and more concise
Swap content based on colors for bold, italic, and bulleted texts instead.
The Accessibly app can also make the following visual and audio changes to your website:
Remove strobe effect or flashes of more than three times in any one second period
Bring awareness to live and recorded video and audio content that doesn't provide captions
Supports text transcripts for images, audio, and video content
Allows web pages with blinking content to be paused, stopped, and hidden
Help users to pause or adjust the speed of the content for improved absorption
Reviews your tables to make sure they're properly titled and digestible for all.
Lastly, OTM's Accessibly app can make the following improvements to your website's interface, coding, navigation, and design to make it more appealing to all users:
Ensure all visual content has alt-text
Identify the page language and incorporate it within the coding
Make sure that the website is compatible with screen readers
Optimize sites to work with assistive technologies
Make websites equally accessible with keyboards
Provide consistency throughout the sign for a more user-friendly design
Review your site to ensure that it's logical
Allow pages involving financial transactions, legal forms, or other important information to be reversible, correctable, and can be reviewed
Offer suggestions on how users can fix input errors.
Make My Website More Accessible
New websites take time to develop, and some more complex websites may require changes over the years. Fortunately, the Accessibly plugin can test your website to ensure that all of your website-building efforts aren't being wasted on something that isn't ADA compliant.
After your website is built, the web developers at On The Map can help to ensure there are no gaps in your website preventing ADA compliance. OTM also offers custom website development, plug-in development, tech support for your site and can help you learn more about website accessibility.
The Accessibly plugin tools, in conjunction with monitoring and staying up to date on the latest web design trends, can help your business to identify problems and fix inaccuracies.
---
About the Author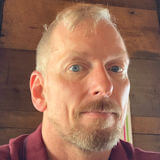 Michael Davis is the Content Director of Miami's On the Map Marketing, Inc. As the chief content editor of one of the fastest-growing internet marketing firms in the country, Michael has made it his mission is to provide high-level, factual, and error-free content that emphasizes the best SEO practices and helps his company's clients convert sales. When he's not editing SEO content for On the Map, Michael writes his own industry-specific content for various publications.
Get notified about our new posts
By submitting this form I accept the
Privacy Policy
and I agree to receive blog-related information from Super Monitoring.