How to Discover New Great Web Apps for Your Work

There are many ways to get your work done on time, in an efficient manner, and without much risk. Opting for specialized web apps is one of them. As a web designer or web developer, you're already aware of the benefits web apps bring to the table, like their presence on all devices, web-browser based execution, elimination of the need to be downloaded or installed, the opportunity to capture a much larger audience, and so on. But if you had to pick one key benefit they give you, what would it be? In our opinion, it would be the way they automate your work so you get to save a lot of your precious time.
Working with web apps automates your work
Web developers and designers have a lot of loose ends to take care of in their regular work. Brainstorming to find the perfect idea, giving it a shape in the form of drawings / sketches / blue-prints, conducting discussions to finalize their designs, giving them a material shape through diagram creation tools, coding to bring the material designs into action, testing whether they work as envisioned, and probably a lot many other activities. If looked at closely, a lot of those activities can be automated so that time and effort can be saved. For example, once the initial idea has been put down on paper and has been sufficiently brainstormed on, some web apps and web based tools can be used to draw it using flow diagram (or similar) constructs, the subsequent coding can be (and mostly is) achieved through IDEs, and even testing can be taken care of through specialized web apps for the purpose.
So in effect, the whole mechanism of automating your work through web apps helps you save a ton of your daily work time. And when you have more time, you have the opportunity to be more productive. You can use the time you save to come up with new ideas for even better projects, conduct research on making your existing projects better, or if you like, use it to relax and give that ever working mind of yours a much needed break.
Are there any web apps you use regularly?
Regardless of the field you're in, there are a ton of web apps that you can use on a daily basis. And if you like to stay up-to-date with what's relevant, you likely already use lots of web apps. Slack, Pocket, Hootsuite, Trello, MailChimp, etc. are some of the most popular web apps people use for varied business purposes. Do you use any of them in your day-to-day work? If so, how do you find out about them; Internet research, word of mouth? Did you know that at any point there are thousands of great web apps being used out there, some you've probably never even heard of?
With mobile application development becoming the IT trend of the decade and the consumer base for web apps increasing every day, more and more specialized web apps are constantly introduced for developers and designers. But the harsh reality is that while some of such web apps skyrocket and get all the hype, others having equal potential and a more affordable nature don't make it to the mainstream because they don't get the proper attention, the proper funding.
But that doesn't mean no one notices them.
Over the years, several online developer communities have come up for various technologies that give small useful applications their due by getting them the right king of recognition – from other more established developers, tech-startups, potential customers, small scaled businesses, and even investors. Such communities make for great platforms where developers can showcase their work to the world, and maybe even strike the right cords to make it big.
But why are we telling you this?
Because until small web apps become the "next big thing", they are just that – extremely useful web apps dedicated to solve specific purposes and very nominally priced. Imagine the kind of win-win deal you could strike if you got to know about some such great web apps that can aid you in your work and not seem heavy on your pocket too. You'd obviously want to try out such web apps. But here comes the obvious question – how would you find such apps?
How you can discover new web apps
We've compiled a list of avenues you should check out if you're on the lookout for new web apps. Try them out in any order you'd like, and we're sure you'll be able to find something interesting:
Google
When it comes to searching for something on the Internet, the obvious answer is Google. In this case however, the search may or may not pan out. Not unless you specifically search for the phrases "top web apps", "new web apps" or "top tools". And while you're at it, you may want to optionally add a launch year to narrow down the search results.
Product Hunt
Remember we mentioned communities where new tools, products, and apps can be showcased to catch the right attention? Well, Product Hunt is currently the mother of all such communities! Founded in 2013, Product Hunt is a platform dedicated to the sole purpose of letting people share-and-discover new products. It's a global platform which surfaces the best new products every day for enthusiasts to share and geek out about the latest mobile apps, websites, hardware projects, and tech creations. And it works on a simple user voting principle. So a product that actually sits well with the users of Product Hunt gets up-voted to the top of its lists. Anyone, designer / developer / coder, can submit a product on the platform and it will be listed in a linear format among all products submitted for the day. There's a comments section for each product which allows users to post their direct feedback (invaluable for the developers behind it) and a voting system that enables users to rate it. If there's a place where you can find awesome new web apps, this is it!
Betalist
Another gold mine for new apps, products, and ideas, Betalist is a community of makers and early adopters showcasing their startups and exchanging feedback. A quick look through its website and you know you're in the right place. Technology, Marketing, Finance, Business, Socializing, and startups from every other field you can envision head over to Betalist to gather pre-launch responses from end users. Browse through their homepage to sift through all new apps for the current week and click on the ones you like to view their brief introduction, get their website link, share about them on social media, and/or up-vote them. Simple and effective. If you're a real early adopter, eager to check very fresh web apps, you definitely want to check out Betalist. Alternative: BetaPage.
Social News Shows
Over the past decade, a number of social news websites and shows have come up which are backed by people who are passionate about bringing innovation in the way things are done. They invest in upcoming startups, product vendors, and web app makers, so that talented people can continue doing what they do best. One of the prominent players in this field is the team behind Y Combinator. Y Combinator is an American seed accelerator founded in 2005 by investors from different walks of life. The company created a new model for funding early stage startups and invests in a large number of startups twice a year. Two years later, they started Hacker News, a social news website focusing on computer science and entrepreneurship which highlights notable work by programmers and developers and also provides them much needed funding. When looking for new web apps, Hacker News is also a place you'd want to check out.
Specialized platforms for software search and ratings
And when you've been through the top players in the arena, here's a list of other players; websites where not just developers, but the general public comprising of every day users can post their experiences with a particular web app or product so that you can benefit from their findings:
Websites informing about startups launching
As you're probably already aware, there are many websites out there that keep posting updates about new startups. From these websites you can get the names of new upcoming startups and then find out about them on Google. This would help you narrow down the ones which develop the kind of web apps you're looking for and you can proceed from there on. Some key websites that offer this nature of service include: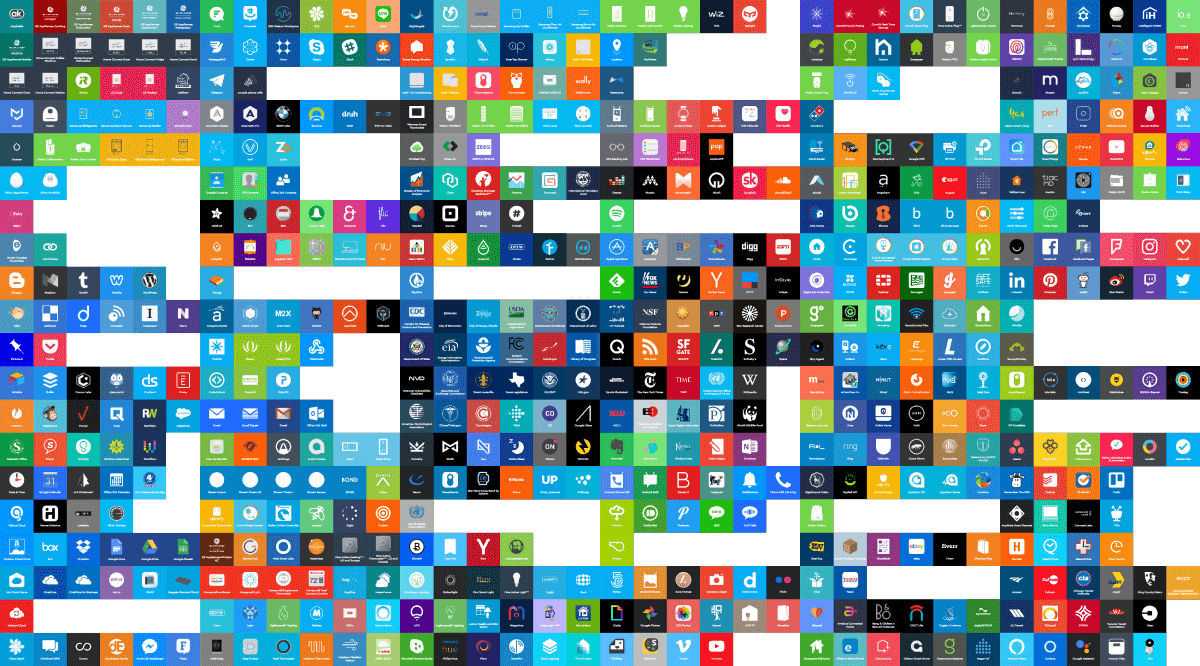 Zapier and IFTTT
Another smart idea for finding web apps that have already been verified by the market and became popular is looking at available integrations lists of Zapier and IFTTT. But it is quite probable that on website as widespread as these two, you won't find what you're looking in the first time around (it's probable, not certain). If that happens, you can return to these web pages to check if something of your interest has been posted a little later.
Pro Tip: You can monitor the changes to these lists with change monitoring service like VisualPing so that as soon as something of interest comes up, you're informed.
Subscribe to Super Monitoring Blog notifications
Probably the best way to discover new apps and quickly learn something about them is to subscribe to our blog notifications. We keep posting reviews of great web apps and tools here every now and then so you can stay updated with what's buzzing.
Found an interesting app, but considering if it will really benefit you?
Often, even after finding a web app a user thought would be great for their work they don't seem to have benefitted from any significant value addition. This can happen when they start searching for an app without really penning down their goals, the list of requirements they'd need to fulfill to reach those goals, and an estimate of the kind of time they're willing to invest in accomplishing those goals. As such, they can end up with a web app that has potential, but doesn't really suit their current purpose.
Thus, stay clear on your goals before starting to research for the perfect web app. Thereafter, keep the following points in mind to ensure that you'll derive some benefit from the web app you put so much of your time searching for:
Read descriptions and comments about the web app on the discovery site you're searching
Google for articles on the web app
Search YouTube for video reviews from actual end users
Sign up for free trials (if available) or schedule a demo
Wrapping it up
It is worth it to regularly check the online market space and find new web apps as some of them can really make your work (and life) easier. Of course, it takes some time, but with a little effort you can automate (or outsource) a substantial part of it and derive some real value.
Get notified about our new posts
By submitting this form I accept the
Privacy Policy
and I agree to receive blog-related information from Super Monitoring.