Zapier: The Workflow Automator
Organizations have gradually started automating their workflows. Although this began during the pandemic, it is now getting adopted widely since not only have productivity levels across teams drastically increased, but administrative errors have also decreased with the switch to automated tools. In fact, automating workflows comes with a ton of benefits. It helps cut costs while effectively presenting actionable data and decisively managing the tasks.
Now what if there existed a tool which could be linked with various apps to streamline all business tasks in one place, along with customizable reminders for each task? If that sounds like something that can help you, Zapier is a tool you should definitely try out!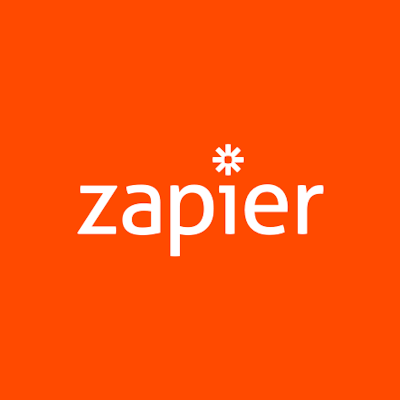 Zapier enables you to integrate and automate your work without writing any code to switch between the applications that you've linked. The tool saves you a lot of time so that you can focus on other key activities which you believe require the manual touch.
Zapier – Get ahead in the productivity game
Zapier is a platform that lets you automate your workflow via its app integrations. You can very easily link apps or services, without having to switch between them.
You can easily program Zapier to automate the workflow by creating 'Zaps' which consists of multiple actions or some sort of trigger. Post setup and activation, whenever the trigger event occurs, your Zap will run its assigned actions. Say, you've set a Zap for a Tweet and the action for the assigned Zap is to publish a post. In this case, publishing the post is Zap's trigger event and the Tweet is its action.
A few of Zapier's features are listed below:
From the template library, you can very easily go through and select a Zap template that you find is the best fit. Post selection you get the option to either tweak the template to your requirement, or you can start from scratch if you do not like the way it works.
Zapier also gives you the option to add custom made automated solutions by introducing various steps and workflow logic.
The tool also comes equipped with a directory of the numerous experts who can help you with automating the workflow and all the tough work can be taken care of in a jiffy.
The tool is completely reliable and the user data is secured with full expertise. None of the data is leaked or sent to private servers in order to avoid any mishap.
Zapier provides over 3000 integrations, which means that you can easily automate your workflow from end-to-end.
The tool enables you to push off emails, convert data and filter tasks with its own applications.
You can build smart workflows with pre-set conditions for it to take action on. Along with automating multiple tasks which can be triggered by a single action.
How does it work?
Following steps can be considered to get Zapier up and running:
You'll be required to use your Google credentials to create an account with Zapier. Post this you will have to select a subscription of your choice.
Once logged in, you will be able to see multiple options on your dashboard. On the right hand side you will find a dedicated column made for creating new Zaps, tracking the ones that you've created, and the apps to which the previously made zaps were linked to.
On the top bar you'll find the options to switch between the various applications available for integration, customer support, and the explore option.
In the application's feature you not only get to search for an app of your choice by name, but on the left hand side you get a feature of 'filter by category' which makes your app search more extensive to find the best one for what you have in your mind.
You can easily create a new zap by clicking on 'make a new zap' from the right hand side menu on the dashboard. You will then be redirected to a 'when this happens' window wherein you can easily pick the trigger and the action for Zap by assigning them to the applications of your choice.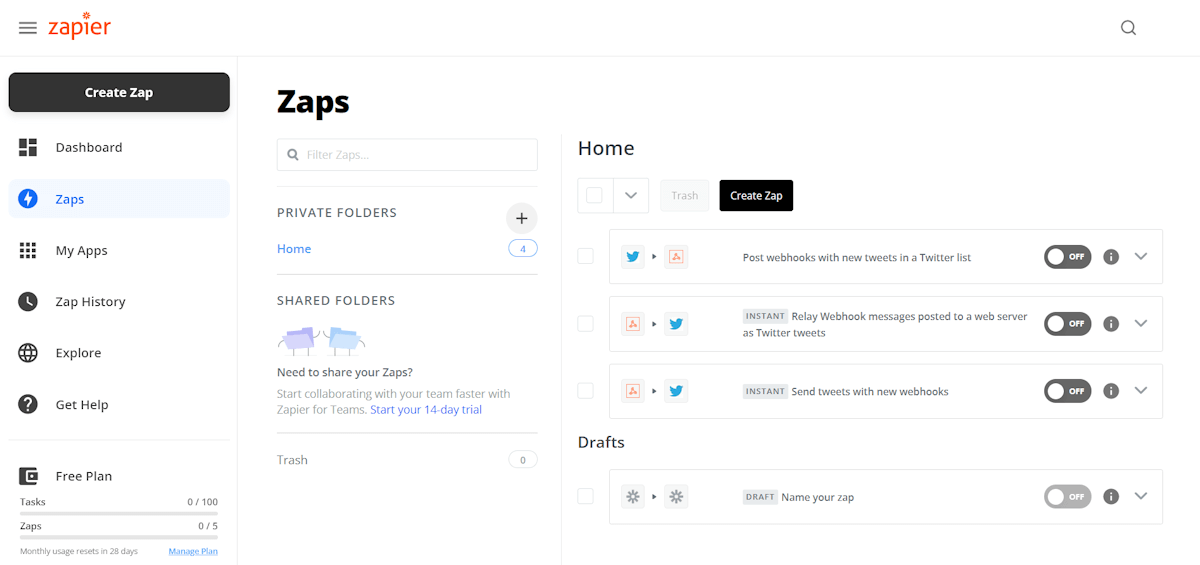 Evaluating Zapier
Zapier is a very easy to use tool. It comes packed with numerous features which make processes simpler and automation easier. You can kick back and relax while the tool takes over all the tedious tasks. But like any other automation tool, there are certain pros and cons for the software, a few of which are listed below:
Pros
Easy to grasp yet very powerful and dynamic UI.
Efficiently manages tasks and automates processes in a jiffy.
Neatly laid out dashboard.
Numerous app integrations which ensures no code workflow.
Cons
An increase in the templates of Zaps would be nice since not all triggers and actions have been accounted for.
The application is a bit laggy at times.
Certain Zaps are very complex and require numerous tasks to be run prior to them being put into action.
Automated workflows instantly with @zapier zapier.com/ via @supermonitoring
Final verdict
Zapier is a very capable tool. With its numerous integrations and the progressive UI, you are bound to get power packed delivery. You get to switch between numerous applications of your choice without the hassle of writing a code, which means that you can move information between various applications just at the click of a button.
The tool's editor is easy to get a hang of and the template library will also come in very handy for novice users. The expert directory is another brilliant feature since you can specify your requirement and have your zaps or the entire automation process readied by an expert.
Get notified about our new posts
By submitting this form I accept the
Privacy Policy
and I agree to receive blog-related information from Super Monitoring.