How to Pay Less for Web App Subscriptions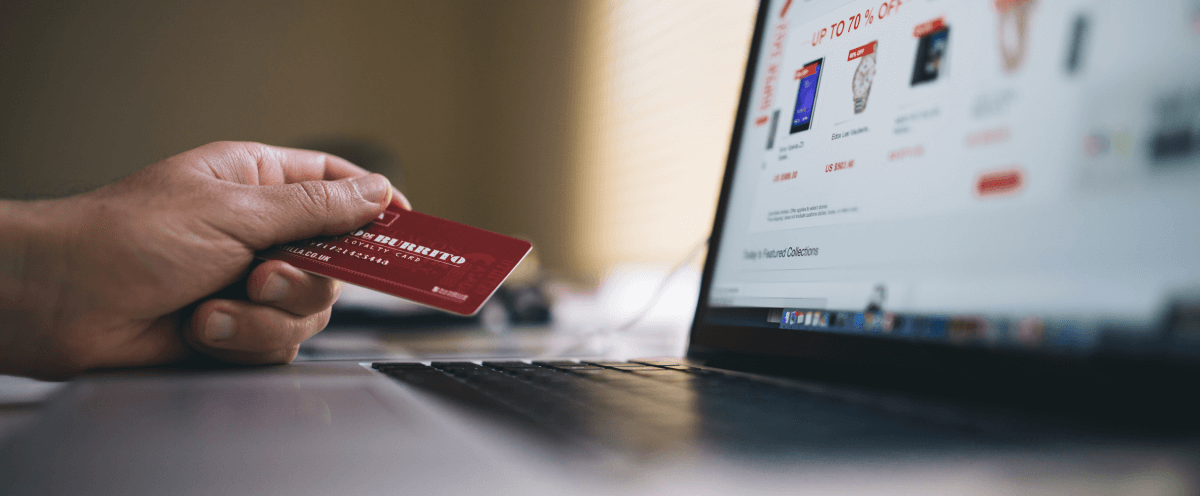 With the consumer base for web apps increasing exponentially every day, developers have dawned into a new profit making strategy. They've come up with innovative ideas to design addictive web based applications that can keep you hooked on to them for a major part of your day. So much so that after some time when the web app shows you a small flashy "offer" sign somewhere in the corner, you jump at the opportunity of experiencing or witnessing something new and sign up instantly; often without realizing what you're getting into. And more often than not, people subscribe to countless web apps even if the total subscription amount they're paying every month is a little too much on their pockets.
While that is true, many a times web app subscriptions are crafted in such a manner that opting for them is actually justified. If for an acceptable amount of payment you get to take the benefit of additional features and the developers behind the app can make some recurring revenue, everybody wins. The only real trick lies in spotting the truly beneficial app subscriptions and ensuring that they don't start becoming unfair to you.
So are you ready to glean on a few smart subscription tricks? Well, do read on.
Before we start – a brief glance at the benefits of web apps
You've probably already read countless detailed articles on this so we'll make this as concise as possible:
Web App Benefits for Developers
Web App Benefits for Users

Increased Average Revenue Per User (ARPU)
Long-term Customer Engagement
Recurring Reliable Income

Bundling offers bring added value
Option to experience better features
Free Trial Periods
Flat Rates help stay within budget
Expectation of decent level of service
Considering the reasonable benefits detailed above, it is only natural for web developers across the world to feel pulled towards launching more subscription based web apps. As a user too, the benefits are quite alluring, but evaluating every aspect of web app subscriptions is wise before putting money on the line. That's why you should be aware that there are multiple subscription models for web apps and you should be picking one that suits your needs best.
Basic App Subscription Models
Typically, subscription models are categorized as follows:
Fixed price – a single subscription price for all customers
Variable price – several subscription rates are available where price dictates the number of features, number of users, speed of service, storage capacity, and so on
À la carte – app features are priced individually and the total subscription price varies from user to user depending on their selected features.
Pay what you want – every user receives the same features but can choose their individual subscription price, above a minimum threshold. Not much data exists on the viability of this model, so use with caution.
In most models payments happen monthly, which fits comfortably with personal customers (monthly salaries) and the business market (monthly accounts); but yearly subscription apps prove to be more beneficial in the long run.
How you can ensure you're not spending too much on app subscriptions
Combining the facts that almost all popular applications have launched their web app versions and that over 60% of the world's population use smartphones and tablets to browse the Internet, it won't exactly be rocket science to reach the conclusion that most of us use more web apps than desktop applications in our professional and personal lives. Some of such apps are free while others paid; but when you're in the habit of using an app every day, paying for it doesn't really matter.
Imagine if you've subscribed to even 5 – 6 web apps. How much money are you spending every month on just the subscriptions? You probably don't think about it much, but in total, all the SaaS subscriptions cost you a little fortune. Now, all of us have the good sense of saving a little even when we spend, and that's what prompts us to opt for sales, discounts, and offers on our favorite stuff. So why don't we apply the same logic to our web app subscriptions?
While you might not be able to end all your web app subscriptions (and it's not very wise to do so too), there are ways in which you can save on your web app subscriptions.
Tip #1: Track your subscriptions
The first step towards keeping tabs on your web app subscriptions is to track them. Some of us enroll for monthly / yearly subscriptions for so many web apps (domain hosting, web hosting, email marketing, insurance, online music, Netflix, etc.), we don't even remember which one's we're subscribed to. Keeping things organized always helps track the loopholes and see more clearly. So start keeping a track of all your subscriptions for easier management.
You can track your web app subscriptions manually with free software programs like spreadsheets (MS Excel or Open Office), for instance, or with the help of specialized tools built solely for the purpose like TrackMySubs.com.
TrackMySubs.com gives you access to interface based subscription tracking. It shows you an organized list of all your monthly and yearly subscriptions along with the amount you need to pay when you want to renew and the date when you need to renew. You can customize the tool's interface to show all amounts in the currency of your choice. Using it gives you benefits like automated alert and reminder systems (so you never forget to renew subscriptions), multiple currency support (so you know how much you're spending in your own currency), and detailed reporting (so you can break down your expenditure on subscriptions and know exactly how much you're spending on them every month).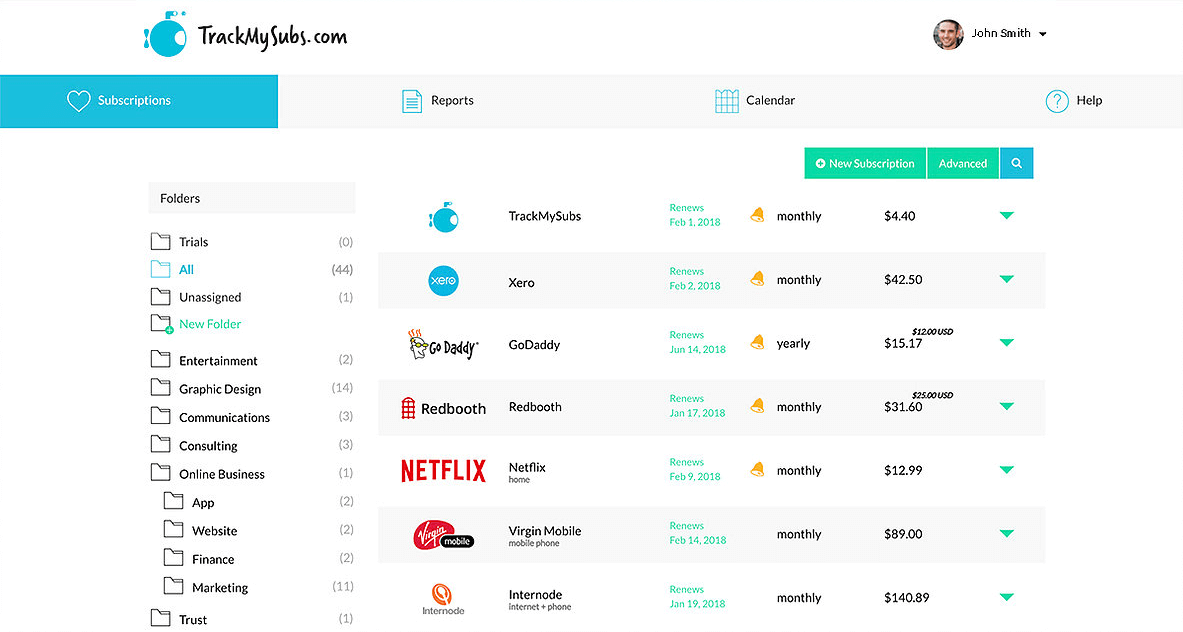 A key benefit to using dedicated subscription tracking tools like Trackmysubs.com is that they help you find ways to save money by spending less on unnecessary subscriptions. Some even suggest alternative, better deals.
Tip #2: Cancel old subscriptions that you don't need anymore
A study earlier this year by a popular cash-back website found that nearly a quarter of us continue to pay for subscriptions because we find it too hard to cancel them. It is human nature that once we are signed-up to something it feels like too much of an effort to unsubscribe. No matter how much you think that cannot happen to you, if you're keeping tabs on your app subscriptions, you'll find a few you're paying unnecessarily for. Whether you forgot to cancel a free trial or are still paying for an old subscription that you don't use anymore, spot useless subscriptions and cancel them. You might end up saving quite a bit.
Tip #3: Pick Annual Subscriptions over Monthly ones
Though picking a smaller amount over a big one seems like the obvious choice, when it comes to subscriptions, going for the higher priced annual subscriptions is advisable. If you choose a monthly subscription owing to the difference in amount, think of how much extra you'll end up paying if you continue using the app for over a year. It is almost always much cheaper to pay up-front for a year than for every month. Moreover, annual subscriptions give you access to discount and offers which in turn help you save on the entire deal. Additionally, users who go for annual subscriptions are eligible for regular updates, more advanced features, and proper technical support from the app vendor, all of which are absent in monthly subscriptions. Annual Subscriptions are basically win-win for both you and the app vendor.
Tip #4: Subscribe directly through vendor website, not third-party services
Often when using the App Store or the Google Play Store, we purchase and subscribe to web apps directly from them. What we don't realize is that sometimes these stores apply additional fee on top of the web app subscription rates to make their cut of the deal. This can be disadvantageous to you as a user. You could actually save a few bucks by directly going to the app vendor's website and subscribing to the app from there. A typical example of this scenario is the claim by Spotify back in 2015 through which it encouraged its users to cancel their App Store Spotify subscription and re-subscribe directly through the Spotify website. The app vendors claimed doing so could help users save up to $3 per month on their subscription.
Tip #5: Recommend the web app on social media in exchange for bonuses
When a new web app is launched, the team behind it is usually looking to expand their user base. A positive review, a recommendation, or word-of-mouth publicity by a user who has tried the app goes a long way in establishing that user base, so look for bonuses offered by the developers of the web app you're subscribed to. In exchange for sharing your positive recommendations of the app on social media, inviting new users, and writing reviews, they might offer you free account extensions helping you end up getting free subscription for some time.
Tip #6: Apply Saver Coupons
Whether it is to buy groceries, clothes, or web app subscriptions, everyone uses coupons to save on purchases. When ordering for the first time, search the Internet for coupon codes applicable to your desired purchase. Searching for the perfect coupon site can be tough, but a little research on Google should help you. If not, here a few great platforms that help in collecting rebate codes:
A bit of careful digging around and you just might find the deal you're looking for. And while you're at it, sign-up to be informed about the latest deals on app subscription coupons so that you don't miss a chance to save.
Tip #7: Talk to the provider
It may sound far-fetched, but something as simple as talking to the app provider could be just what you need. Quite frequently, app providers are on the lookout for regular customers who are eager to sign up for yearly subscriptions with them in exchange for a little discount. If you're already signed up with them and want to extend annual subscription, you can catch them at just the right moment. It is very likely that if you tell them you're considering extending your subscription, you'll have all their interest. Then when you ask about any special offers – they are most likely to give you one.
Pay less for your web app subscriptions supermonitoring.com/blog/h… via @supermonitoring
Rounding things up
While the above tips are sufficient to help you save some serious money on your subscriptions, another handy tip could be signing up for deals at websites like AppSumo, StackSocial, or MightyDeals. They offer mostly lifetime subscriptions which means you pay once, really good money, and use forever; basically a good deal if you get it for an app you know you'll use for more than 2 years.
If you're a smart shopper, becoming a smart app subscriber is something you should definitely make an attempt at. We know you're busy – but if you manage to assign some time to this task, you could be able to significantly lower your fixed costs.
Get notified about our new posts
By submitting this form I accept the
Privacy Policy
and I agree to receive blog-related information from Super Monitoring.