Automate Your Social Media Leads Generation With PhantomBuster
Platforms for social media may increase revenue, consumer involvement, the visibility of campaigns, and promotions. It's no secret, and most companies—local and international—have taken advantage of the opportunity and established some sort of social media presence. But maintaining and growing that presence might take money and time.
As you are aware, automation makes the most of social media's endless potential. But how can you automatically attract attention to your brand?
Platforms for social media are crucial for every kind of business. One of the finest methods to gain eyeballs on your business is through social media, where so many people peruse and share content every day. Exactly 3.69 billion people have eyes. PhantomBuster is a platform that can help you grow your business.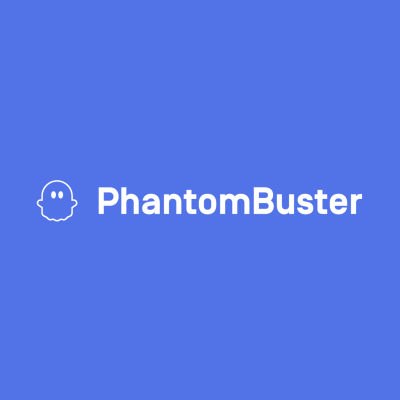 What is PhantomBuster?
PhantomBuster is a cloud-based, no-code program that generates leads for your business using data scraped from LinkedIn on automated criteria. On websites and social media networks like Google, LinkedIn, Sales Navigator, Instagram, and Twitter, it works as a Chrome plugin.
PhantomBuster's sales automation products are powered by a cloud-based platform. If you utilize this software, your company will be safer and more effective. You don't have to keep this software running in the background of your computer. PhantomBuster will continuously produce results without requiring any manual work.
Main Features
Data scraping and extraction
PhantomBuster can assist with automating processes for data scraping on a small or large scale. With the help of this application, you can easily create a prospecting list for your B2B lead generation strategy by extracting information from LinkedIn users' search histories.
Data extraction is a precise procedure that aids companies in identifying and pursuing their ideal consumer profile. (ICP). As the program will scrape data from pages to discover pertinent material using an automated process, it is also feasible to collect data from any web source.
There are several methods for gathering open data:
Extracting a list of LinkedIn members based on a certain group or search criteria is one of the most often used methods for automating connections and monitoring response rates.
Users may also use the auto-follow function, which enables you to use your database to send leads large amounts of customized messages as part of your sales efforts.
Workflow automation
People can automate crucial processes, activities, and tasks without the need of human intervention thanks to sales automation and workflow functionality. By automating their processes, company owners can effectively manage their marketing and sales efforts, including emailing customers, scheduling reminders, writing tailored messages, and even establishing drip campaigns across many networks.
The PhantomBuster technology assists companies to increase efficiency and create stronger customer relationships with the help of leads. PhantomBuster can harvest data from online sources and send it directly to a database.
The automation of duties on the web and social networks is possible with workflow and sales tools. Instagram, Facebook, LinkedIn, Reddit, Twitter and several other platforms are among the PhantomBuster solutions. PhantomBuster also provides pre-built processes for simplicity and ease of use, which allows you to automate your prospect by fetching data from the networks.
Integrations
Many other platforms can be integrated with PhantomBuster. This program has some remarkable advantages, such as the wide range of integration possibilities, which appeal to many users. Many rivals will only concentrate on a small number of automation platforms, but this product offers a wide range of categories and options.
Chances of producing more leads and money are increased by the ability to acquire and enrich public data from well-known social media profiles and networks. You must be cautious with your automation installations, though, as with any unapproved automated program. PhantomBuster integrates following programs:
LinkedIn
Facebook
Twitter
Instagram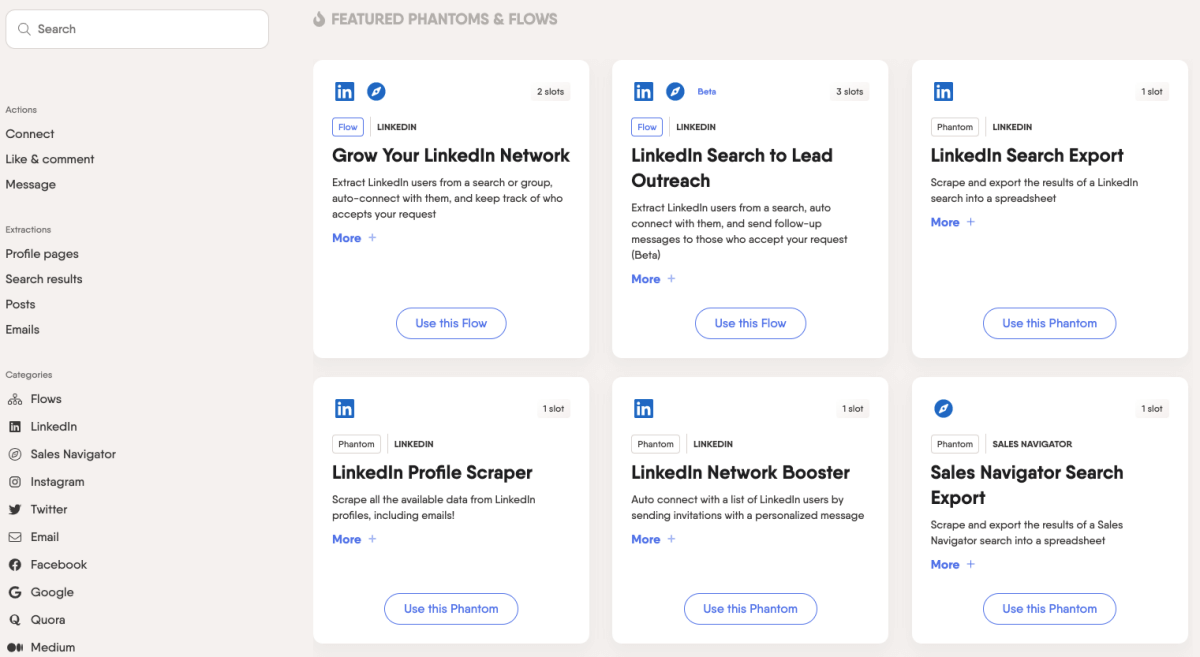 Pricing
There are four different pricing plans of phantombuster. Trial, Starter, Pro and Team.
Trial plan
Trial plan is free for 14 days. You're allowed only two hours of execution, but you can have five Phantom slots on your account. A bonus of 50 email credits is also yours.
Starter plan
The Starter plan is $59 a month pricing plan. You will get access to five Phantom slots, 20 hours of execution time each month, and priority support. You will also get an extra 500 monthly email credits with this package.
Pro plan
The Pro plan is $139 a month pricing plan. You'll get 80 hours of execution time a month, 15 Phantom slots, priority support, and trustworthy professional guidance for your campaign. You will also get an extra 2,500 monthly email credits with this package.
Team plan
The Team plan is $399 monthly pricing plan. You will get access to 50 Phantom slots, 300 hours of execution time each month, priority support, and trustworthy professional guidance for your campaign. You will also get 10,000 more monthly email credits with this package.
Pros & Cons
What are some PhantomBuster pain points? What benefits do the PhantomBuster offer? Nearly all you need to know is here:
Pros
Data extraction without programming from the 20 most popular websites.
Powerful social media growth hacking tools.
It follows the rules and regulations of platforms.
It has pre-built processes for quicker setup.
Amazing tools for growing on LinkedIn i.e. 45 LinkedIn Phantoms.
Cons
No free account other than free trial.
No built-in tools for data visualization.
There are not many tutorial videos.
The process of setting up Phantoms involves some learning.
Very few integration possibilities.
Wrapping Up
Without a doubt, PhantomBuster is among the greatest no-code automation and data extraction solutions available. It makes it possible for growth hackers to obtain all the necessary social media data without having to know how to design scraping tools. Additionally, the platform abides by all social networking site policies, protecting your account from misuse.
The PhantomBuster tool offers a strong cost-benefit ratio, with prices ranging from $50 to $335. Including PhantomBuster in your arsenal of marketing tools. Fortunately, there is a 14-day, no-obligation free trial available, allowing you to decide whether you like this no-code automation solution before committing entirely.
Get notified about our new posts
By submitting this form I accept the
Privacy Policy
and I agree to receive blog-related information from Super Monitoring.