The Best SEO Tool – Moz
Posted April 14th, 2014 in
SEO/SEM
. Tagged:
analytics
,
link analysis
,
links
,
mentions
,
moz
,
rank tracker
,
rankings
,
search
,
sem
,
seo
,
serp
,
social
,
traffic
.
Promoting your company through blogs, podcasts, video, newsletters, SEO, eBooks and Social Media is called Inbound Marketing. The ultimate purpose of inbound marketing is to bring customers closer to the brand. Inbound marketing earns a lot of attention from the customers and makes it easy for them to find your company. It helps you to get new customers through the interesting content you would post on your social media, blogs, newsletters or more.
Marketing Analytics is another concept that is very essential for your business or company. It comprises of all the technologies and process that would allow you to evaluate the performance of your marketing campaigns and initiatives.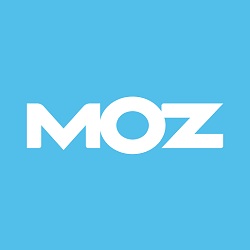 Moz (Moz.com) is one of the most popular companies offering Inbound Marketing and Marketing Analytics. This company is based in Seattle, Washington, U.S.A. and was founded by Rand Fishkin and Gillian Muessig in the year 2004. Founded with the name SEOmoz and as a company that would deal with Search Engine Optimization in the year 2013 the company expanded its business to Analytics, Social Branding, and Link Building. It also acquired GetListed, A Portland based company that helps local businesses get good serach engine ranks.
Moz.com gives insights to social media, search engines and link building efforts. A premium Moz account would help you know the organic search engine rankings and take necessary steps to increase the same. These tools would help you know what changes you need to make on your website and content concentrating on the keywords, web page optimization and link building.
Moz Analytics
Moz Analytics is a marketing analytics software that gets all the inbound marketing data in one place with beautiful custom reports and insights that help you while researching the actions and changes you should take to improve the performance of your website or blog. It shows how your presence on social networks is impacting your Search engine rankings. It also shows you through what medium your content is being shared on the internet and what gets you more visits on your website. Competitive analysis with your competitors can be one of the key to your success at Moz as you know where the competitors are getting visitors from and you would know where you need to focus to outpace competitors.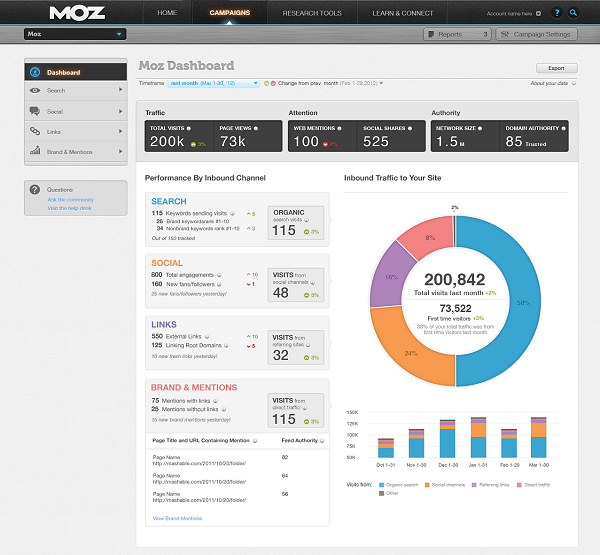 Moz Local
This allows you to keep a check on how your business is listed on various search engines like google, Bing and other local serach engines. This helps you in improving your business listings and increase your business.
Followeronk
Followeronk gives you a deep insight into your twitter accounts and lets you know who follows you, gives their locations, their Tweet timings so that you know at what time you should tweet to attract more people to your content. Using Followeronk you can search new influencers in your niche and can compare you social insights to others so that you can take necessary actions to beat the competition in your business.
Open Site Explorer
This tool compares the backlinks on your website with your competitors for targeted and intelligent link building. It identifies popular pages, gets social activity data and analyzes the anchor texts. This tool is mainly used to research and perform link analysis.
MozBar and Mozcast
Mozbar is an SEO toolbar that you can use to view your link metrics, access all SEO tools that you like at a single place while browsing the internet. It also allows you to analyze a webpage and gives Search Engine Results Page for a certain query.
Mozcast on the other hand allows you to track changes and fluctuations in the google rankings on a daily basis.
Some Premium Tools
Apart from these basic free for a month tools there are certain tools which are available on Moz only to the Moz Pro subscribers.
Fresh Web Explorer
This tool is used to analyze the mention of your business and competitors on the web. It also finds out the latest trending content in your niche that is published on the internet. This uses Freshscape index that contains over RSS feeds and over URLs. Knowing who is talking what about your brand on the website helps a lot in getting customer and visitor feedback so that you can make changes accordingly.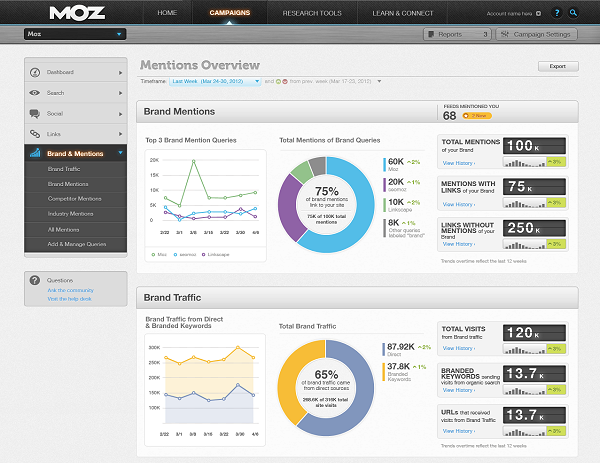 Rank Trackers
This tool informs us about the web page rankings and also about the keyword rankings and stores them in a format that you can compare the previous and current rating easily.
On Page Grader
This gives you insights about keyword usage on your page and helps you to rank higher by optimizing your content accordingly for targeted search terms.
Keyword Difficulty and SERP Analysis
It is a tool that lets you know how difficult it would be if you want to increase your ranking based on certain specific keywords that may have been used on 10 competitors' website.
Crawl Test
Crawl Tests unleash the crawler called RogerBot on any URL and it detects the HTTP status codes, Content type, Metadata and other issues which may interfere with how the serach engine bots crawl a website. The reports hence generated are sent to your registered email.
moz.com/ – the wonderful solution for inbound marketing and marketing analytics. @moz via @supermonitoring
Whiteboard Fridays and Community
Whiteboard Fridays are the videos created by the Moz team in which they illustrate the SEO related concepts on whiteboards every Friday.
Moz Community includes Webinars, O&A sessions and Events which are organized by the Moz team to deal with issues that usually people face while performing SEO and optimize their websites.
Pricing
The Moz Pro subscription costs around $99 per month and offers basic free tools and premium tools too. This package includes all the tools listed above. The website also offers a 30 day free trial which doesn't includes the premium tools which were listed above. Moz Local is available in a different package which costs 49$ per year for a single location.
Now if you want to have wonderful conversion rates and rank higher on Google and other search engines, I would recommend you to try Moz.com as it is one of the most awesome online tools which is priced appropriately and you would surely get the desired results within a small span of time.
Get notified about our new posts
By submitting this form I accept the
Privacy Policy
and I agree to receive blog-related information from Super Monitoring.