Get a peek at what customers do on your website with SmartLook
Convinced you've built a great website but aren't sure why the bounce rate keeps rising? Put attractive options and deals you can on your webpage but still can't crack your target sales? The problem might very well lie with the design of your website or the information you provide. But how will you get to know what's wrong? Who should you consult to highlight what you're missing out?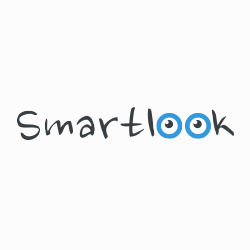 How about letting the customers show you themselves?
What we're getting at is that there are tools available online that let you monitor customer behavior by letting you either view their browsing patterns directly or record whatever they do on your website and review it later to gather insights. That way you get to know what customers like or dislike on your webpage and make improvements to achieve your targets better.
Interested yet?
SmartLook – Record customer activity on your website
SmartLook is a smart online tool that lets you record everything visitors do on your website, for free. It records screens of real users as they visit your website so that you can see what visitors clicked, what data they filled into forms, which pages they spend most of their time on, and how they browse through each of your website's sections. This way, SmartLook can help you identify user experience problems, the reason behind increase in bounce rates, and key attractive areas that convinced users to make purchases.
And if you're wondering it would require you to install some kind of browser extension or plug-in to activate, well it doesn't. SmartLook integrates seamlessly with some of the most well known website building platforms including WordPress, Magento, Joomla, Drupal, Shopify, Google Tag Manager, and many more.
Here's a look at the tool's best features:
Record user behavior as videos and them instantly to reveal improvement points
Maintain all recordings of a particular visitor at one place
Generate click, move, and heatmaps from the recordings to watch where your visitors click and how far they scroll down the page
Find important visitors using filters
Share links of user recordings with your UX designers or developers so that everyone can spot issues
Link multiple websites with a single SmartLook account
Categorize recording using tags
Use tool APIs to link customer's name, email or other info from your system
Additionally, SmartLook also lets you record visitor activity from mobiles and tablets. The tool is flexible enough to let you adjust recordings as per your needs using APIs.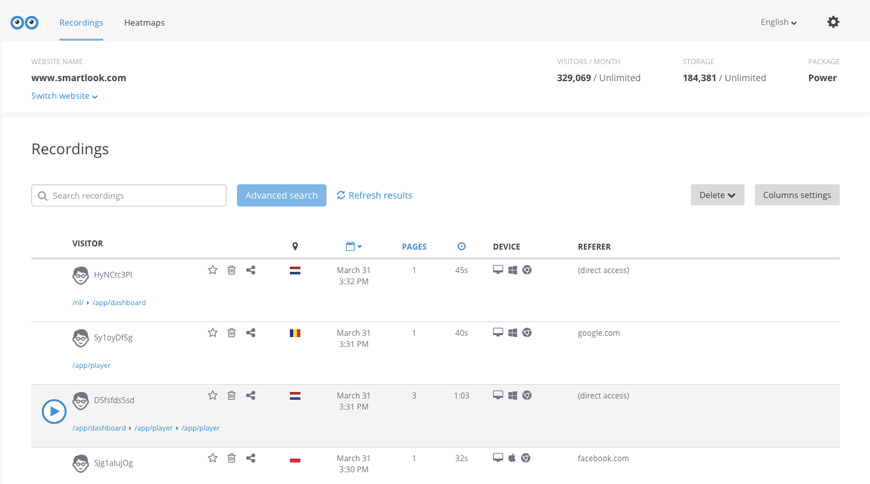 Use SmartLook like this
To start using the tool, visit its website and click on the big green button in the center of the screen that says "Get Started – Free Forever" or click on "Get Started Now" in the upper right corner of the screen. You'll be directed to a signup page where all you need to provide is your email id and create a password. Thereafter, click on "Let's take a look".
After a couple of seconds you'll reach your dashboard. Okay you need to pay attention to a little catch here. By default, the email id that you provide during signup will be taken as your website name. This setting is kind of strange but anyways. Click on "Switch website" to enter the URL of your website on which you wish to record user activity. You'll see some options to edit and then delete site. Once we deleted the email id, we clicked on "Add site" to provide our website's URL.
Once the website was added, we clicked on "Tracking code" to view the snippet we needed to place on our website. The instructions regarding where to place the code were also given there. We placed the code at the appropriate place in our website's page and waited for a couple of minutes. Thereafter, to test out if the tool worked, we opened up a browser window and visited the pages where we'd placed the tracking code.
The recording didn't show up instantly, but after about a minute, it was listed with complete information about our browsing environment, date and time of visit. We could view the recording just as it had happened. The tool even informed us that "the visitor is still on your website" for the time we hadn't closed the window where we were browsing our website.
So yes, SmartLook works, and it works well. But you'll have to be a little patient and allow it to get updated with the latest results.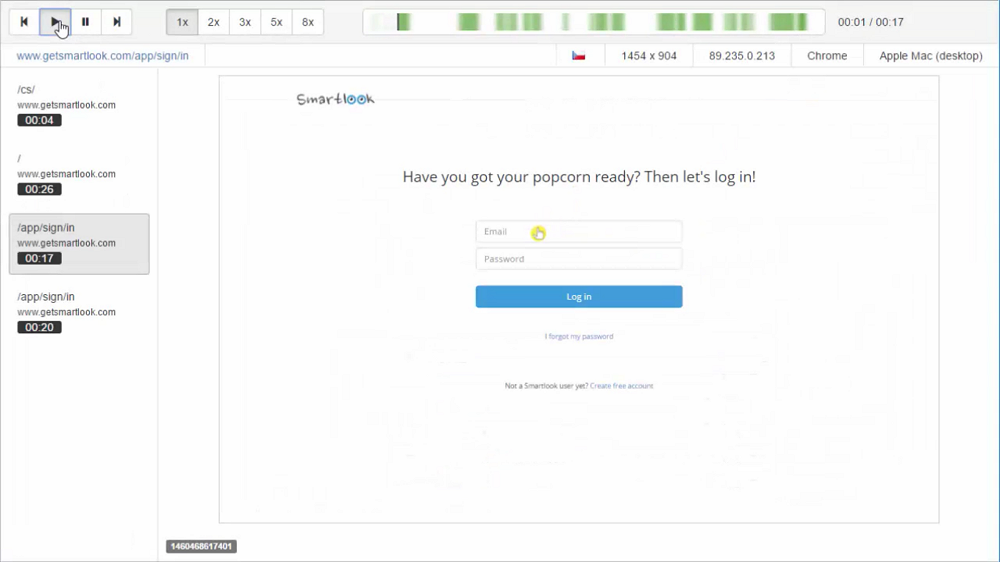 Pros VS Cons
The benefits of the tool are obvious. As far as the downsides are concerned, when we tested its working on a mobile device, the recordings didn't show up for almost 3 minutes after we'd started browsing. We tried filtering the tool to pick up recordings only for mobile devices but still nothing. As we were about to pen it down as a con, the recordings showed up. The browsing activity on the mobile device was also recorded with all information of the environment and time and duration of visit.
And considering we didn't need to give any credit card information for all this and neither were we asked to register, the free tool came off as pretty cool!
See your website through your visitors' eyes with smartlook.com/ @getSmartlook via @supermonitoring
Verdict
There is a pricing model for the tool that allows you to access premium features, but for most purposes, the free account should suffice. All in all, double thumbs up to SmartLook from our end.
Get notified about our new posts
By submitting this form I accept the
Privacy Policy
and I agree to receive blog-related information from Super Monitoring.