Crazy Egg – The Best Website To Check What Visitors Do on Your Website
The success of any website or application is ensured by tracking analytics to know the activity on your website. And better information generates better results by allowing you to make changes accordingly. All these years I have been loving the basic information Google Analytics provided but there are certain areas where it lags, like the visual representation of the information needs to be improved and Google analytics won't provide any snapshot storage services. The standard web analytics packages usually compete on providing most statistics or the most colorful graphs and stick all the services to these information.
Today, we introduce Crazy Egg a website to track what users do after visiting your website and based on these results you can optimize your website immediately according to the visitor usage pattern. These results tell you much more information than any usual analytics package.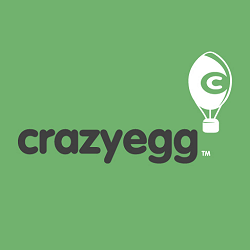 Integrating Crazy Egg to Your Website
To integrate Crazy Egg to your website you simply need to provide the URL of your website to be tracked to the application and add a JavaScript code snippet to the website. The user interface is very simple and instinctive. After these steps to setup the app it would take some time for the information to flow in and you would have to wait for a few minutes.
Heat Maps
We humans respond better to what we see visually and it can be said that what we see has a profound effect on what we do. Given a number of stats or pie charts and plots, we find it more comfortable to view the data in a richer way. In a Heat Map you would see a highlighted area of your website which is popular among the visitors (Brighter the highlight, more is the popularity). And obviously the concentration of such hot areas would be more on the website menu, more posts and other such options. These heat maps would also show what topics are popular when users scroll your blog or website so that you know what subjects are popular amongst your readers.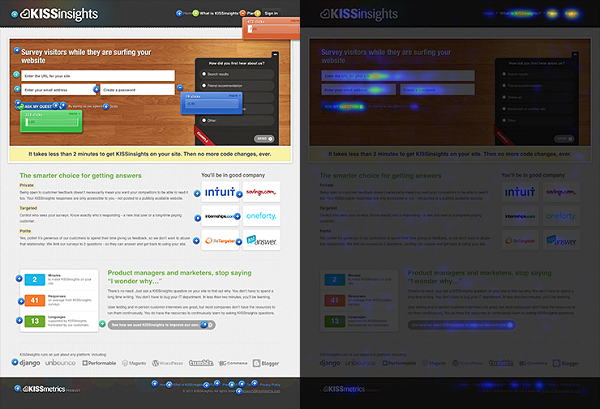 Scroll Maps
Based on the amount of time a user spends on viewing each and every section of your page crazy egg develops the scroll maps which would show the area viewed for a longer time with more brightness while the area viewed for a shorter time with less brightness or more darkness. This feature allows you to know which part is popular and on which part your website requires improvement.
Confetti
Confetti reports show exactly where a user clicked on the website and codes the information in different colored dots. These color coded dots show more information about the user. By default this is set to Referrer while you can select any of the browser, search engine, search term and more. These reports show exactly where a user coming from a referrer's website clicked. Confetti also shows the details of clicks by people coming from a search engine and the one's coming from an internal page separately. We do get more options to track visits from referral keywords, returning visitors, clicks on a particular day, time and lot more.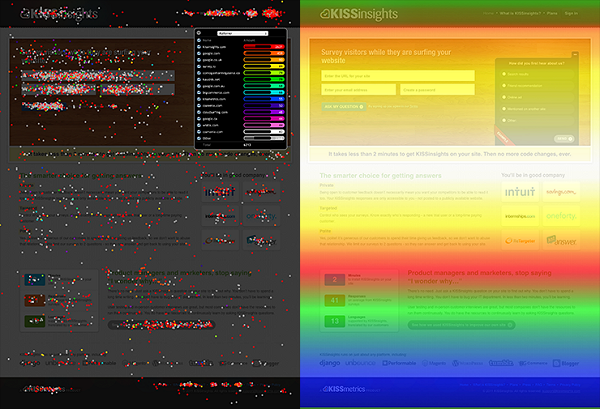 List
This is the simplest feature of this website where crazy egg shows a list of all the links clicked and the related anchors. This makes it easy to know the popular elements on your website and which is being clicked more by the user and you won't even have to scroll the whole website or webpage.
Making It Big Using Crazy Egg
This ultimate tool can be used in many ways to increase your sales and reach your targets easily. I am listing a few here
Using crazy egg you can modify a "non-clickable" element to "clickable" and get in more revenues by adding links to these elements which may lead to the product page or to some affiliate pages along with a Site ID (SID code) which is used to track sales. You would surely notice an increase in the revenues at the month end and while you do this don't forget to thank us for this brilliant idea.
Analyze which pages are most visited on your website and try making an impression on your visitor using those. Changing the design and adding content which is more involving can get you more customers and increase your sales.
Figure out the pros and cons of a new website design. After changing the designs on your website you can use this app to know the shortcomings of the design and try improving them so that you have a better website which would add to your revenues.
Find out the topics people are more interested to read about and publish content on these regularly to get more hits and thus more conversion rates and sales.
Know which advertisements placed on your website are in demand and are being clicked more and thus, place these ads in a place where these can be easily viewed. Naturally, these advertisements must be more attractive and hence these get more clicks and now when they are easily visible you'll be getting much more clicks.
Crazy Egg – the best website to check what visitors do on your website @crazyegg www.crazyegg.com #heatmap #scrollmap via @supermonitoring
Plans and Pricing:
There are various plans available with different usability and with different features. The basic plan is for 9$ which includes all the reports and even supports multiple domains but it doesn't include Priority email and Priority Phone Support. This plan is suitable for individuals but is billed annually and you can't test the service and leave after a month though you can opt for a free one month trial. There are other plans available too and the one's with 99$/month charges include priority phone and email support while the one for $49/month doesn't support priority phone support.
Crazy Egg is being used by more than 200,000 companies and it helps all of them in converting their sales better with latest technology in tracking analytics. These companies even include many big names like Etsy, ebay, DELL, Intel, Monster, Yahoo!, Skype and more thus increasing the creditability of the services offered by the people at Crazy Egg.
Get notified about our new posts
By submitting this form I accept the
Privacy Policy
and I agree to receive blog-related information from Super Monitoring.