KeywordHero: Saving you from the dreaded 'not provided' in Analytics
Organic keyword data, which was till now the essential around which SEO experts and digital agencies revolved, suddenly became "not provided" since 2011. Unless you were prepared to face the hardships, you had to wonder if there was an easier way out.
KeywordHero assures to clear up the 'not provided' information that you see in your Google Analytics for any website. So, does it work as promised?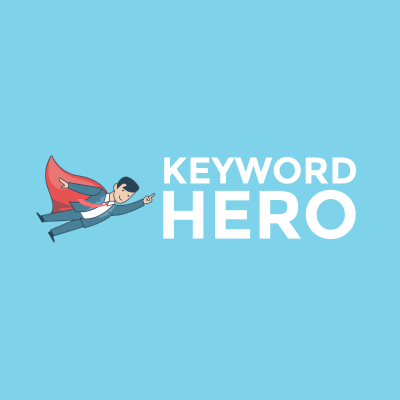 Oh yes! According to countless users' reviews and our own, it looks like there is finally something that can help with this predicament. One can use the KeywordHero to understand which keywords drive more conversion. It helps website owners understand what the people coming across their website are typing into search engines, and the tool's findings can help in many ways to improve and build up the number of conversions.
Let's check this tool out and see how much water it holds.
KeywordHero – Helping you get rid of 'not provided' information in Google Analytics
KeywordHero is the only tool so far that gets back your keyword data in your Google Analytics accounts. It uses machine learning systems along with nine different data sources to eliminate the unwelcome 'not provided' message from analytics data. After 2011 when Google Analytics' keyword data removal affected pretty much everyone in business, most people tried to make do with keyword tools like KWFinder, LongTailPro, and Google Keyword Planner for the keyword search volume. But now with KeywordHero, there's little need for any other tool for the purpose.
Take a look at some of KeywordHero's impressive features:
For each word, KeywordHero gets you detailed analytics in which you will find keyword conversion comparison, bounce rate, the revenue potential of every keyword, and more.
The tool focuses on the general traffic that your website is receiving. It notes how the internet users are reacting to your marketing strategies.
In the tool's interface, you will also find your website's ranking as per Google SERPs. You will be able to understand what your best performing organic keywords are and what are not. You can use the information to fix the keywords that are not doing so great.
It saves all user queries in the Google Analytics account for future perusal.
KeywordHero is designed in such a way that it can group results according to the intent behind them.
How does this tool work?
Setting up KeywordHero is no hassle. It takes only 2 minutes of your time and the access you grant to it into your Google Search Console, and Google Analytics accounts. Once you've done that, you're pretty much done.
Follow the below-mentioned steps to work with KeywordHero:
Visit keyword-hero.com and click on "TRY HIM NOW."
You'll immediately see an array of subscription options. This is just for your information at this point. Scroll down a little to see a "Sign in with Google" button.
Use your Gmail ID to sign up since that would automatically connect to your Google Analytics account. The tool will request you to grant it some permissions. Allow it.
Once done, you'll reach your Dashboard. Here you'll be able to see three different views of your Google Analytics data. Accounts, Properties & Apps, and Views. You can select the Google Analytics View that you want to analyze here and find the right keywords.
First, select the GA Account on the left, then the Property in the middle, and lastly the View on the right. Until you click on each of the values under these columns, the "Next" button at the bottom won't be enabled.
Finally, from the drop-down at the bottom, pick a tracking mode: "No tracking" or "eCommerce Tracking" and click on "Next."
Next, select the Search Console account. Doing this creates a duplicate account of your Property. In this step, you will find yourself looking at membership plans. We advise you to go ahead with the free version before you spring for the membership.
You will also find the option of a coupon code which you can use to get discounts.
Finish off!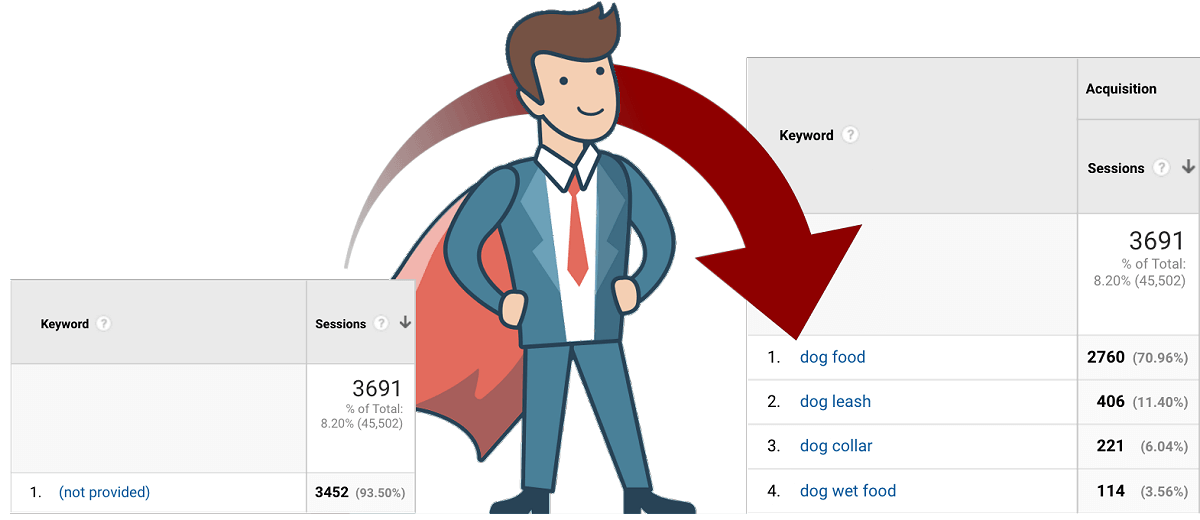 Under the campaign, you will find four options of All Campaigns, Paid Keywords, Organic Keywords, And Cost Analysis. You will be able to see the non-provided stats under the Organic Keywords tab.
Do note that you will have to wait for about 24 hours for Google Analytics to start getting your data. This duration is the maximum limit you'll need to wait.
Memberships:
KeywordHero offers four plans:
Little Hero
Big hero
Giant Hero
Ultimate Hero
The "Little Hero" is free and is perfect for individual use. However, if you are an SEO marketer working alone, you will find "Big Hero" more suitable. The "Giant Hero" plan is great for small SEO agencies and companies while "Ultimate Hero" is for all those who do not want to limit themselves in finding the best organic keywords.
The Pros VS The Cons
Let's start with the plus points:
KeywordHero gives you accurate keyword data that assists you in growing your SEO.
You get over three months of keyword data which you get to keep in Google Analytics for an indefinite time.
The tool not only helps you with the keyword data but also lets you figure out if your Long Tail keyword strategy is working out.
If you find any changes in your search engine ranking positions, the tool aids you in adjusting immediately.
Now with the downsides:
Doesn't include any feature for "suggested keywords." That would be an excellent addition
You won't find any scheduled white label reporting in the tool as of now.
Another good to have feature would be the ability to track keyword performance against other platforms or websites.
Say goodbye to "(not provided)" traffic source in Google Analytics with @keyword_hero keyword-hero.com via @supermonitoring
KeywordHero Verdict
KeywordHero is a great tool that delivers accurate organic keyword data and helps website owners understand the keywords their visitors are searching for. Despite lacking some features, it is well worth the money and we approve of it entirely. Paying $29 for this tool which is also a Google Analytics technology partner is something not to think twice about.
Get notified about our new posts
By submitting this form I accept the
Privacy Policy
and I agree to receive blog-related information from Super Monitoring.