Get ahead of your competitors with KeywordSpy
In a cut-throat market where every organization constantly tries to find ways to beat its competitors, the slightest edge could make all the difference. Take advertising campaigns for example. To create an effective campaign that catches audience interesting immediately, the right keywords need to be used. The perfect slogans, taglines, and vision statements can immensely help a company in establishing consumer trust and confidence. On the other hand, a tagline that's nothing extraordinary could mean that despite having strong products and services, your advertising campaign, and gradually your company, could end up being beaten in the race.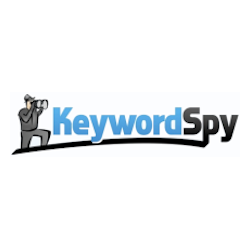 So how does an organization ensure that it's using the right techniques to market itself? At least techniques that are at par with its competitors? By using tools that can help it research what's trending and how. And when it comes to researching about what makes for powerful advertising campaigns, nothing can help you better than KeywordSpy.
KeywordSpy – learn from your competitors' success!
KeywordSpy literally lets you spy on your competitors; meaning you can find out what makes their ad campaigns successful. The online tool lets you discover more competitors than you thought you had (that can't hurt), know what keywords they use, see websites that are spending money to get the right Adwords, and find profitable keyword and ad copy combinations. The application is designed to deliver fresh data with daily updates and has a database spanning over 127 million keywords.
Here's a sneak peek into the amazing features of KeywordSpy:
The tool lets you conduct keyword research and see competitor strategies
You can monitor keyword performance through real time tracking of your keywords in prominent search engines
It enables you to launch a profitable affiliate campaign in under 30 minutes
Avail advanced reports and APIs through consolidated packages
Know your competitors' PPC and organic campaign strategies
Build your own keyword list using most searched keywords (competitors') and a huge database of related terms
The application's ROI indicator lets you pinpoint profitable keywords and ad-copy combinations
Different search criteria let you organize your search options by domain, keywords, destination URL, ad copy content etc.
Not only does KeywordSpy provide actionable information, but it presents the information in an intuitive, easy to group format. With a few clicks, you can carry out a comprehensive search to keep your Adwords' Quality Score consistently high and your minimum keyword bids low.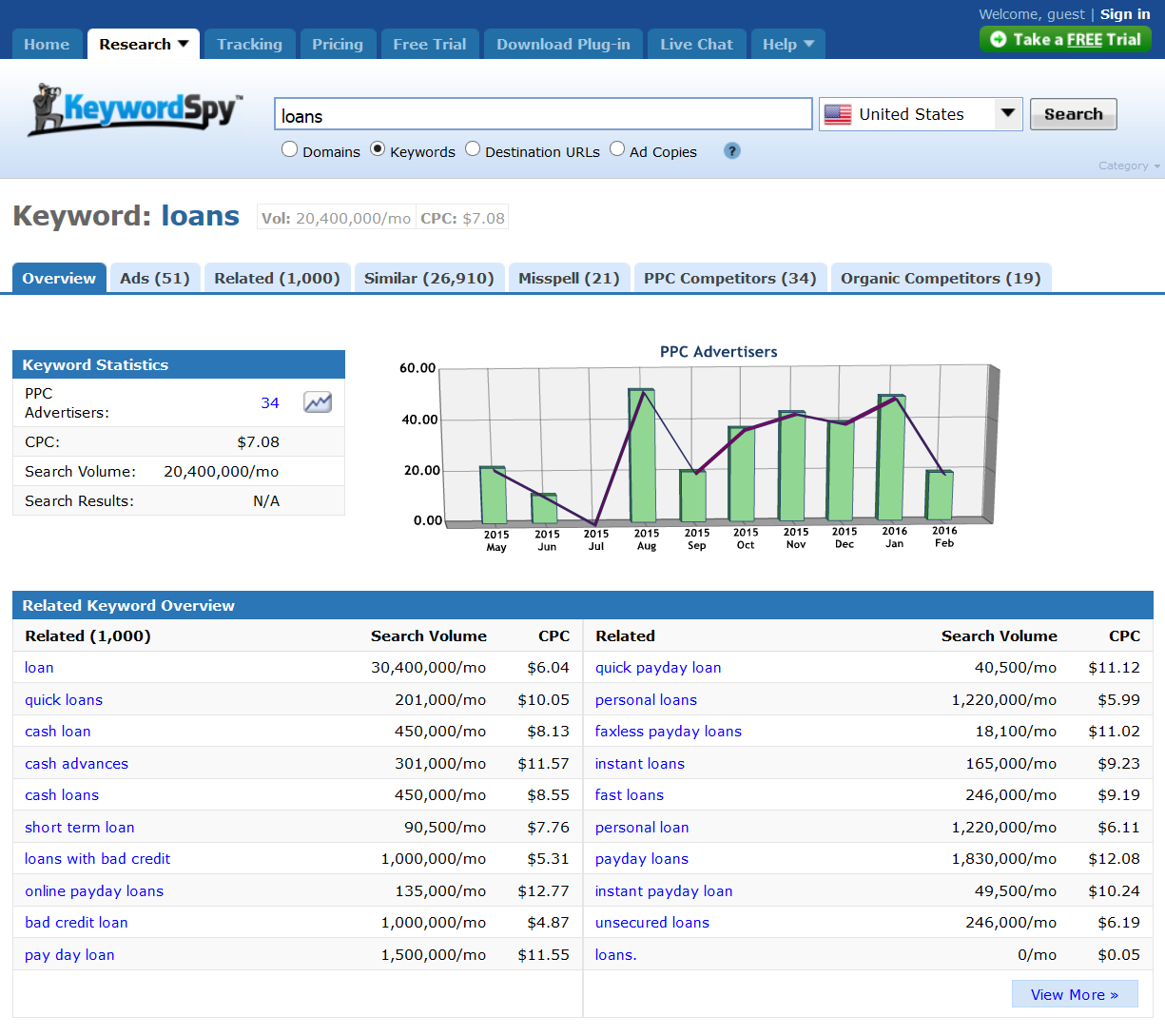 Here's how to use the tool
From the Research drop-down menu on the home page, you can see all the different ways in which you can use KeywordSpy. The options available and their usage is described below:
Research Home: Shows a search bar and a country adjacent to it. Choose the targeted country and type in the keyword you wish to search for. Also, through a radio button, you can choose to search for domains, keywords, destination URLs, or Ad copies related to the keyword you type. All results pages have the option to export the findings into Excel / CSV to refer to later.
Top Lists: Lists down quite an interesting summary of top paid as spenders, keywords with highest cost per day etc. You should definitely check it out for insight.
Affiliate Intelligence: Discover the most prominent affiliate networks across the globe along with the total number of products they sell and the total number of ads they have running on various sites.
Affiliate Reports: Displays the affiliate reports of some of the most used online sellers with a detailed account of each seller including top products, super affiliates and more.
Affiliate Boot Camp: This link is also quite eye-catchy. KeywordSpy here offers their Affiliate Boot Camp program that includes trainings and video presentations to let you learn the art of building a profitable affiliate campaign.
SEO/ PPC Plug-in: This is a free feature offered by the tool. You can install the plug-in directly in your browser and uncover Adwords advertisers' PPC keywords, do localized Google country searches and more.
Widget: From here you can copy KeywordSpy widget code and embed it into your blog. Thereafter, you'll be able to get KeywordSpy results on-the-go. For example, if you search the keyword "food" with the widget, it will display the search volume for all related keywords like recipes, Mexican food, Chinese food, cooking etc.
Agency & Enterprise: This is the premium program offered by KeywordSpy that you can sign-up for to maximize your benefits by having greater query and export data. It also includes high-priority support and advanced features like daily destination URL export quota and more.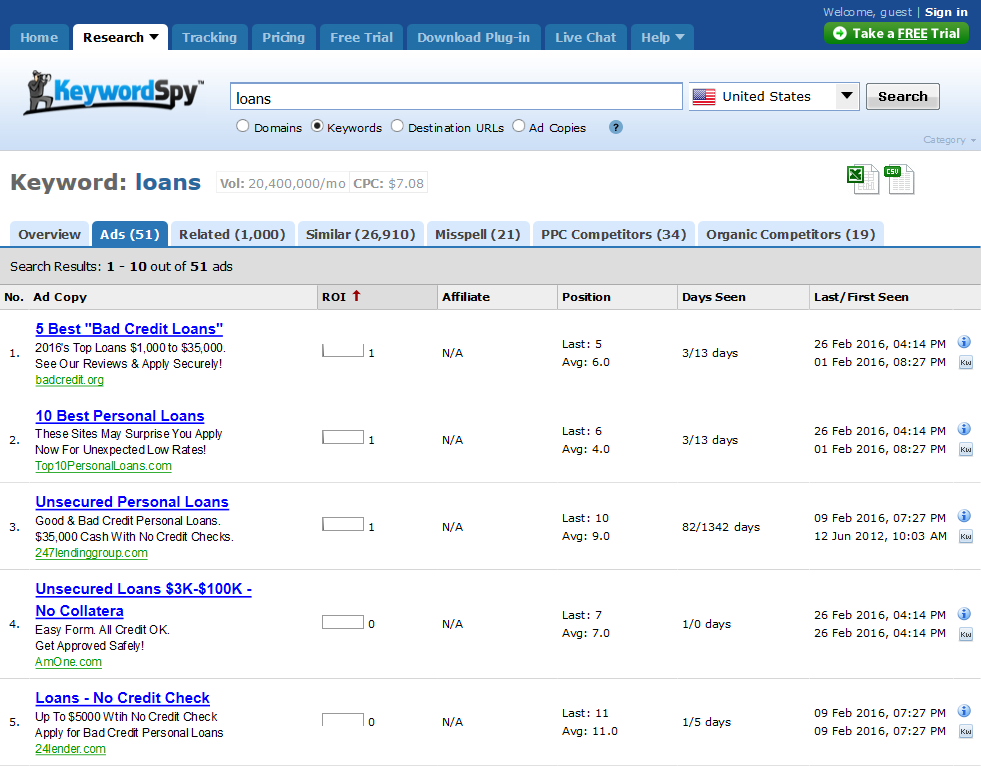 Apart from the Research drop-down menu, another item called Tracking on the main menu can be used to track your keyword performance in popular search engines in real-time. To use this feature, you need to sign-up.
Though on clicking on sign-up you'll be taken to the pricing page directly and you might find the prices a bit too steep, the saving grace is a free trial program that KeywordSpy claims lasts your lifetime. Click on Free Trial in the main menu and you can then sign-up for it. However, the catch is that with the free trial you get only basic features like instant access to keywords, landing pages, organic data, ad copy etc.
Pros Vs Cons
The plus points of the tool are evident from the description of its features. Additionally:
The tool lets you know the ad spending of your target sites for you to benchmark your ad campaigns against other advertisers in your niche
It also lets you measure the effectiveness of keywords based on gauging statistics such as Cost per Click, Search Volume, Position, and other valuable metrics
The negative points of the tool are also quite evident: price, price, price! We found it a little too over budget for small time organizations and professionals. At a minimum price of approximately $90 per month, we doubt many people would want to invest in it. However, for those who wish to gain the edge over their competition at any cost (and don't mind investing huge sums), this tool is definitely worth it.
Find out your competitors' SEO/PPC strategies and get ahead with keywordspy.com/ @KeywordSpy_Talk via @supermonitoring
Final Words
If you're up for it (price-wise), this tool can really bring a turn in your online success tale.
Get notified about our new posts
By submitting this form I accept the
Privacy Policy
and I agree to receive blog-related information from Super Monitoring.