Rocketpop: Powerful widgets for your website
Online presence is a must in today's cyber age. With more and more people glued to their phones, online stores and websites have the greatest outreach than ever. They've become the best way to communicate an idea or market a product.
But having simple a website doesn't work for most. A website needs to be visually engaging and easy to navigate, intriguing the visitors and leaving them wanting for more. You will need to constantly evolve and include new features on the website to maintain a consistent audience. Where most businesses can't afford to hire teams with specific expertise to achieve this, customers gradually lose interest and look for alternatives.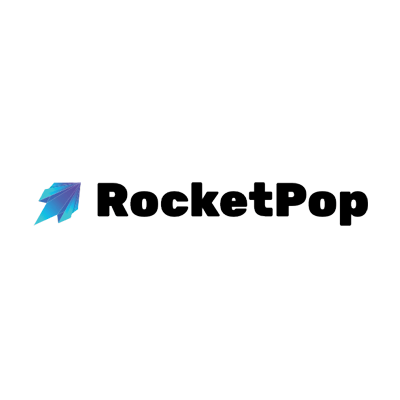 This is where tools like RocketPop come into picture. They not only create a visually stunning experience but also help scale your business with new features.
RocketPop: A pool of customizable widgets for your website
RocketPop is an online platform that provides several visual stunning widgets for your website or landing page, and that too with a single line of code. These widgets can be easily integrated with popular website developing platforms like Wix, WordPress, Shopify and Click Funnels. Let's look at some of the features and widgets this amazing tool offers:
Latest Conversions: RocketPop lets you display important breakthroughs in your business in form layout on your website. This creates a trust factor among the audience with some credible proof.
Collect emails with swift opt-in forms: A proven way to enhance your client contact database is through an extensive list of potential prospect's emails. RocketPop offers a simple and visually engaging signup form that lets you collect emails effortlessly.
Notifications: Pop-up browser notifications are a great way to engage your user with announcements of upcoming offers, product releases, and other custom information.
Coupons and promotional codes: Most e-commerce stores have this feature. This visual widget helps you increase sales and promote new products. This can also be used to extend your email database with customizable fields for coupon code.
Live Visitor Count: Another way to enhance the credibility of your website is by letting the visitors know that they are not alone. A live visitor count reflects global trust in your brand.
Video Call-to-Action: RocketPop helps you determine several customizable CTA with embedded video on your website. This way you can collect contact information of the visitor or engage the customer with more content.
Display reviews: Showing off is not too shabby when it comes to websites. It's necessary to flaunt your success with past contracts and extraordinary reviews. With RocketPop, this can be easily achieved to hook the slightly doubtful and investigative customers.
Request Collector: Request forms are an effective way to build contact information and collect leads in return for offering support. RocketPop offers several request forms that are visually engaging and highly customizable.
Collect Feedback with RocketPop Widget: Feedback is crucial to any organization. It not only helps you create an image of a common notion about your website, but you can also seek essential information about your products and organization in the form of valuable feedback.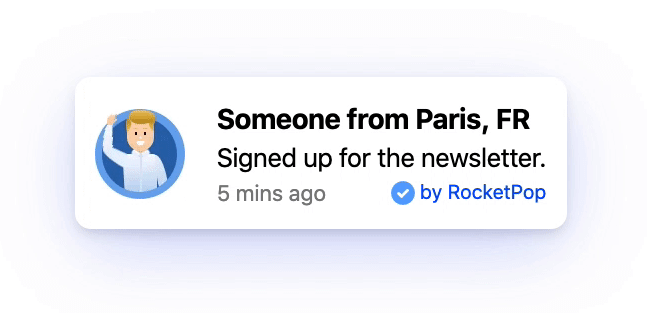 How it works
RocketPop widgets are easy to integrate, just follow the following steps to enjoy their service.
Simply head to their official website "rocketpop.io" and at the end of the landing homepage, you will find a signup form.
Creating an account is absolutely free and you will not need credit card credentials for the free account. Click on the 'Create Free Account' option.
Enter basic information like name and email for signup purposes, and then click on 'Register'. An activation link will be sent to the email id specified in the signup form.
Click on the activation link and you will be directed to your personalized dashboard on their official website. The same dashboard will be your landing page in case you login your account later.
At first, you won't notice much on the Dashboard. To get started you will first need to create a campaign. This is just symbolic of creating a new widget for your website. Click on the 'Create Campaign' button on the right corner of the page listed under 'Campaigns Tab'. You will see a form appear on the screen.
For starters, you can specify the fields as you want under 'Name' and 'Domain/Subdomain' fields. And click on the submit button. You will notice a campaign listed on the dashboard.
Click on the campaign we just created, and you will be redirected to the new page specified completely for this campaign. Now you will notice the 'Create Notifications' button under the 'Campaign notifications' tab. This is one of several widgets that come with the RocketPop platform.
Click on the 'Create Notifications' button and that should open a new page with several fields like 'Name' and 'Type'. Enter the name you want to specify with the type of notification you wish to create.
Finally, Click on the 'Create' button at the end of the form. You will be directed to the preview of the widget created with various customizable tabs like Triggers, Display and Basic to name a few.
There you have it; using those steps, you just created a simple widget that you can integrate easily with your website.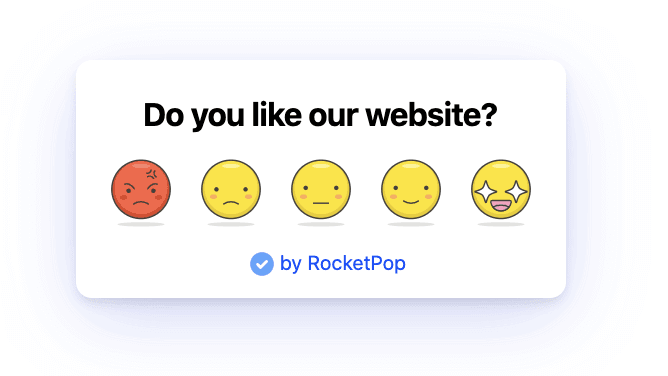 Evaluating RocketPop
Every tool has a plus side and a minus side. Let's look at RocketPop's:
Pros
An extensive pool of visually engaging widgets.
Doesn't require programming knowledge.
A simple user interface of the online platform makes creating widgets a walk in the park.
Widgets are compatible with popular developing platforms like Wix, WordPress, Shopify, and Click Funnels.
Variety of plans to choose from according to one's convenience.
Cons
Features somewhat limited by the availability on the platform.
Features you are looking for might come with an expensive subscription plan.
Create visually engaging website widgets within clicks, with Rocketpop rocketpop.io/via @supermonitoring
Final Word
RocketPop tool offers a viable option for those who are looking for swift solutions and can't afford dedicated teams for frequent updates. While this may be efficient for many, you will instantly notice the difference between a website widget designed from scratch as compared to that made on RocketPop. The tool serves its purpose beautifully with widgets that you can configure in minutes. Ideal for budding entrepreneurs that are always pressed for time, RocketPop is an efficient tool for visually engaging websites.
Get notified about our new posts
By submitting this form I accept the
Privacy Policy
and I agree to receive blog-related information from Super Monitoring.