Create super-shareable images with Pablo
"As an avid blogger, my mind often throws situations at me that I try to put into words and share with the world. But I'm not great at taking or collecting photos. Thus, often, my personal blog posts don't feature an image. And I'm well aware that reading a blog post without an appropriate picture takes away half the fun from it. So I usually rely on the Internet for copyright free images. However, recently, I've been having a little trouble finding the perfect photos for my blog. Can anyone suggest any good tools or websites where I can find great pictures of random shots? I don't mind buying them at a nominal price too."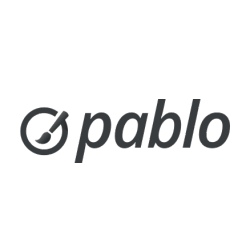 Sorry, if that went on for a little too much! But what we wanted to share was a problem quite a few bloggers and social media marketers come across. A picture adds weight to any post, thought or expression. You can't express as much with words as you can with photos. Thus, people are always monitoring different photo-sharing websites in search of the perfect shots to adorn their blogs or social media pages. If you like sharing beautiful shots on your social media timelines or blog posts, Pablo is one tool you should definitely check out.
Pablo – Create the perfect social-media sharable images!
Pablo is an online tool that lets you upload photos or search photos from a huge library and add quotations, statistics or logos to make them sharable on social media and blogs for personal or professional purposes. The makers of the tool quite aptly recognize the fact that a blog post or a Facebook / Twitter share with a picture is read and further shared a lot more than one without a picture. Similarly, consider the case of a lengthy blog post. If it's just an array of paragraphs with continuous text or statistics, no matter how interested you are in the subject matter, as a reader, you will get bored at one point. But if that same post contains 2 – 3 photos with appropriate quotations, percentage figures etc. the post engagement would be much more.
This is where Pablo steps in. This unique tool lets you transform beautifully captured random shots into pieces of art or information by adding custom text or quotations to it and then share them on popular social networking websites. You may also choose to download the photos to your computer and use them on your personal blogs or professional articles. Neat!
Here's how you can use Pablo
To start using Pablo, you can click on the big blue button that says "Try Pablo it's free!" on the homepage or click on the "Menu" button on the upper right corner of the screen and select the option to Try Pablo. If you're expecting to find a sign-up page, here's another good news – it's not required. Could it be any simpler?
As soon as you click on the 'Try' button, you're redirected to the image editor page. Before you start using the tool, in order to help you out with the nitty-gritties, a quick tour of the app is displayed in quite an interactive manner. Once you're through, you can start playing around.
Towards the upper left side of the tool's screen, you'll find a "Search" box. Enter a keyword for the kind of picture you wish to search. For example, type 'Pasta' and hit enter. All images of pasta that exist in Pablo's database will be listed vertically. Select any of the images by clicking on it and it will be enlarged in the space adjacent to the list. Now comes the interesting part – the edits.
You can:
Alter the size of the image as per the social media platform or technique through which you wish to share the image: Pinterest, Email, Facebook / Twitter
If you've uploaded a photo that doesn't make a good background, you can apply effects (Contrast, Blur, Black-and-White) to it to fix it
Insert Text on the image. The text can be something you type (custom) or a random quote from Pablo's database. You can also alter the font size, type, alignment, and color of the text.
You may share the image to Twitter, Facebook, Pinterest or Buffer directly from Pablo or Download it to your computer.
Additional Features
In addition to the above mentioned way to use it, you may also choose to join the Pablo community in order to receive articles about how to create engaging social images and other interesting things (this is where you need to sign up).
Moreover, you may also install the browser extension for Pablo to make using it easier.
Pros VS Cons
There are several plus points to the tool:
A photo library with more than 50K beautiful photos
No sign-up required, no hidden costs involved
Option to upload self-taken photos and share with the world
Facility to apply edits on pictures
Facility to share or download pictures without any strict license requirements
As far as the negative are concerned, there was only a single noticeable one:
There should be more advanced edits available
Prepare perfect images for social media with pablo.buffer.com/ @pablobybuffer via @supermonitoring
Final Words
Pablo is one tool that won't disappoint you. So the next time you wish to grab your 10 seconds of fame by sharing something awesome with the world, create the perfect image with this simple, yet brilliant tool.
Get notified about our new posts
By submitting this form I accept the
Privacy Policy
and I agree to receive blog-related information from Super Monitoring.