TinyPng – Optimize images without losing quality
A blog post, a social media share, or an article gains a lot of weight if accompanied with an appropriate picture. But more often than not, the problem with including a picture in an online post lies in the picture's size. Let's look at this problem from another viewpoint. Many software applications need to work with photos – picture editing & enhancing tools, photo monitoring websites, databases, etc. Large sized photos could mean bulkier applications that take more time to complete operations. Another take to the issue – email attachment limitations; you can only attach pictures within a specific size limit.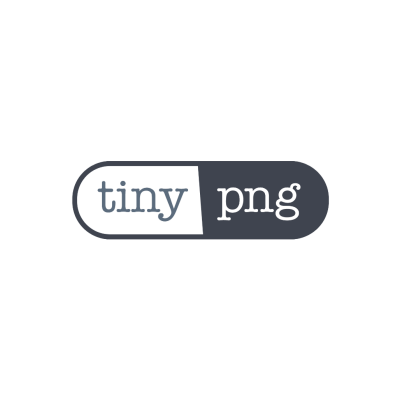 Where there's a problem, modern day technology presents a solution. And in this article we're describing an awesome tool that solves the problem described above in a few clicks. Introducing, TinyPng, online image compression tool that reduces your image file size without decrementing its quality. Let's check it out.
TinyPng
Have you ever faced image size issues while trying to upload self-taken photos online? If you want to upload a photo taken with a good quality camera like a digital SLR, high resolution Smartphone or any other point and shoot camera, the typical file size of images ranges in a couple of MBs. The higher a camera's resolution, the bulkier the resulting images are with respect to disk size. And bulky images can not only be difficult to upload to social media, they are tough directly attach to emails, to share easily via collaboration tools, and can even cause performance problems in tools that work with them.
Ideally, the solution to these problems is an image compression tool that can reduce photo size. But most image compression tools end up reducing image quality (clarity, resolution, sharpness, etc) during the compression process.
TinyPng is a great online tool that lets you optimize your PNG images by reducing only their file size, not their quality. The tool uses smart 'lossy' compression techniques to reduce image size by selectively decreasing the number of colors in it. The resulting images require fewer bytes to store the data. The effect is nearly invisible but it makes quite a large difference in file size. And the coolest thing about the tool is that it's 100% free. What more can you ask for!
Here are the best features of TinyPng at a glance:
TinyPng plays around with color indexes in image files and strips off unnecessary metadata to dramatically reduce file size.
PNG files compressed using TinyPng do not lose their transparency factor. They still support 100% transparency.
The files produced by the tool are displayed perfectly on all browsers and mobile devices.
The tool allows you to use its Developer APIs to connect your server to it and automatically compress all your images on the fly.
Sister tool TinyJPG.com performs the same operation on JPEG images.
Thumbs up on the convenience factor since you can upload images directly or specify image URL.
You can choose to preserve image details such as copyright information, GPS location and creation date in the compressed JPEG images. For PNG images the copyright information can be preserved.
Facilitates image resizing along with optimization. Upload the original photo once and then generate the sizes you need.
You can even use the tool to create image thumbnails with various aspect ratios through 'smart cropping' technique.
Interested yet? We bet you are!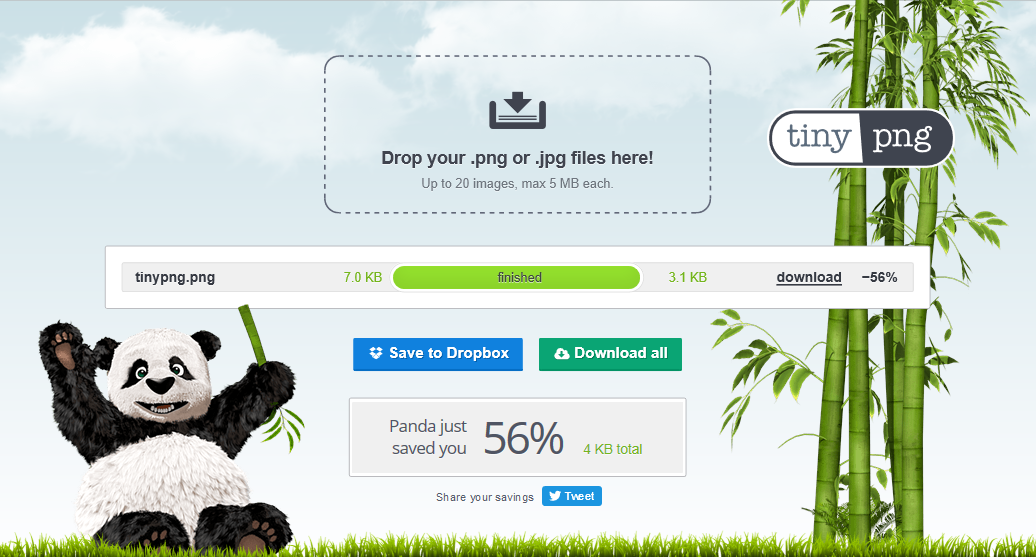 Here's how you can use TinyPng
Visit the tool's homepage and you'll see a large picturebox-like rectangle in the top half of the screen that says "drop your .png or .jpg files here!" So navigate to the files you wish to compress, drag and drop them into the box and wait for the tool to upload them to its online compressor. Depending upon your Internet connection speed and original image size, the image will be uploaded, compressed, and prepared for download within a few seconds. A green colored progress bar will help you track the whole process.
Once the image is ready for download, you'll see a textbox-like rectangle below the picturebox that lists image details such as original filename, original file size, procedure status, file size post compression, a download link for the converted image, and what percentage of file size you saved. With our test image, we were able to save about 82% of the file size. So an image that was about 1.5MB is size originally was compressed to a mere 265.8KB in about 3 seconds. Neat! You'll also be given a link to either save the compressed image to Dropbox or Download it to your computer.
In addition to providing image compression, the tool also offers a Photoshop plugin with which you can save compressed JPEG and PNG images directly from Photoshop. Once you install the plugin, a new menu option will appear in Photoshop from where you can resize, preview, select a folder and save your images. The plugin is available for Windows as well as Mac machines and it is compatible with Adobe Photoshop CS5, Photoshop CS6, Photoshop CC, CC 2014 and CC 2015. This plugin however, is not free of cost; you'll have to shell out about $50 to get it.
Benefits VS Drawbacks
To be fair, TinyPng does have some decent benefits to it:
Free image compression for up to 500 images a month, maximum 20 images a day.
The tool is super easy to work with
Developer APIs for the tool are available for Ruby, PHP, Node.js, Python and Java.
Tool plugins are available for WordPress, Photoshop, Magento 1, and Magento 2.
In addition to resizing and optimizing, the tool performs additional operations on image automatically such as correcting gamma scaling, bicubic transparency edge correction and natural image sharpening.
Smart cropping resizes images by cropping away image parts that are visually the least interesting.
On the other hand, although it isn't very pricey, it does have some drawbacks which include:
The free version of the tool is able to compress images that are a maximum of 5MB in size
The tool can be used only for PNG and JPEG format images at present
Optimize your images with a perfect balance in quality and file size – @tinypng tinypng.com/ via @supermonitoring
Final Words
Great compression tool for PNG and JPG file. Just wish it could work with other file formats and larger photos.
Get notified about our new posts
By submitting this form I accept the
Privacy Policy
and I agree to receive blog-related information from Super Monitoring.