Conquer Social Media with NapoleonCat
Every individual and organization today uses social media to stay updated about the latest trends, and to announce their doings (put simply) to the world. Facebook, Twitter, Google+, Instagram, YouTube, and the like have surpassed the stage of being mere platforms where people share their thoughts. They've become endless canvasses that can be used to express, debate, support, retaliate, advertize, campaign, and do much more. The power of social media is growing each second, and to truly become successful, one must learn the skill of using social media to his advantage.
And NapoleonCat lets you do not just that, but also master the skill of perfect social media marketing through a few clicks.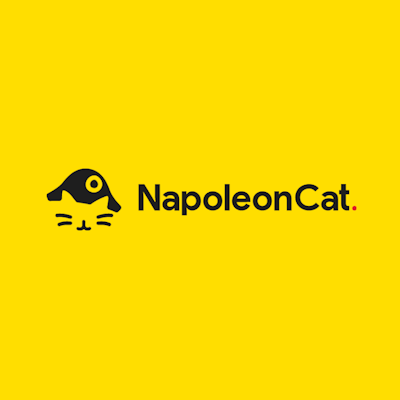 NapoleonCat – The best marketing partner you can get
NapoleonCat is a web portal that lets you publish, monitor, as well as analyze your social media marketing across various platforms such as Facebook, Twitter, Google+, etc. The tool allows you to manage your entire online marketing program on all major social platforms from a single interface. Additionally, it includes a bunch of customization options that let you master the art of using social media as per your convenience.
There would hardly be a business / professional today who aren't marketing themselves / himself online. But most of the lot stick to the traditional approach – have a website, a blog, a profile on various social media platforms, a tool to analyze the traffic your posts attract, a tool to engage in interaction with clients or readers, and maybe a tool to monitor competitor moves. Having to keep track of so many different tools can be rather inconvenient and hectic. Instead, why not switch to one application that combines the capabilities of all such tools and also offers much more? That's what NapoleonCat achieves.
Here are some of its salient features:
Allows you to publish content on multiple profiles & different platforms at once
Lets you plan your publish schedule through drafts and calendars
Customized post flows enable you to include your clients and co-workers in content design and decision making
'Social Inbox' facilitates responding to messages, questions, or comments on various platforms from a single interface
Allows you to track the effectiveness of your marketing efforts through in-depth analytics
Provides comparative analytics with competitors and industry standards
Enables you to send customized reports to clients or superiors via email
Facilitates receiving email and SMS alerts for any social notifications
Lets you invite your team to collaborate with content management and also lets you set access permissions for each member
With a feature set as powerful as this one, NapoleonCat is one tool probably every business should have by their side.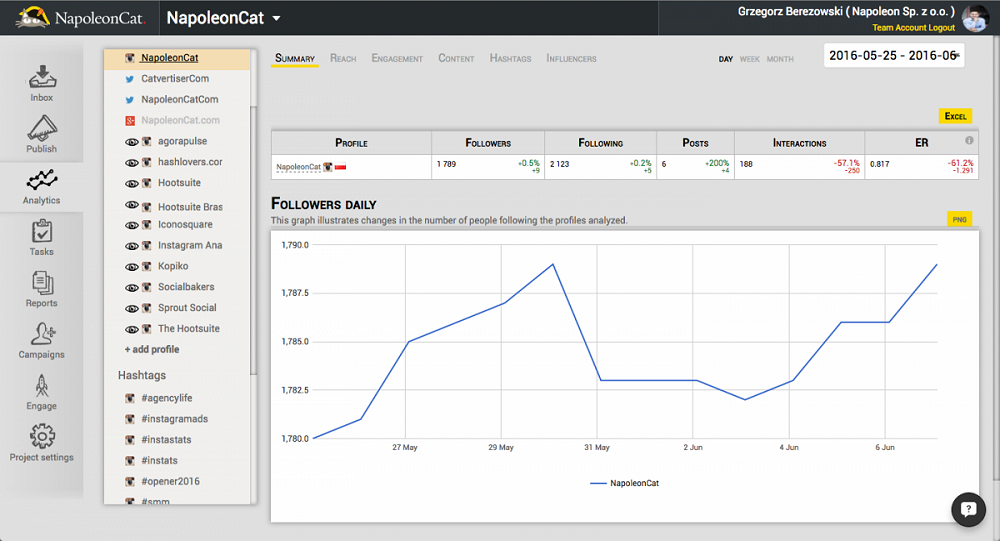 This is how it rolls
To start experiencing the magic of NapoleonCat, click on the 'Start Your Free Trial' button on the homepage. A quick sign-up later you'll be prompted to start setting up your first project. Key in the details as required and proceed.
Once you land up on your Dashboard you'll see a lot of options. In the leftmost panel:
Publish – post content to Facebook, Twitter, Google+. You'll also see a calendar here through which you can schedule your posts
Analytics – compare how competitors and industry leaders perform across different social media
Tasks – a list of your tasks (due and completed)
Inbox – your 'Social Inbox' [see tool features above for description]
Reports – you can create, schedule and archive reports here
Project Settings
Engage – a track of how many people liked, commented, or followed your Instagram posts (you'll need to add an Instagram profile for this)
You can also view social page / profile statistics for any person, brand, etc by clicking on the 'Stats' button from the Main menu. It opens up a drop-down that shows the names of popular social platforms. Select the one you prefer and you'll be redirected to a page with a large search box and a table of the top 100 profile names, the number of their followers, and percentage follower change. Ignore the table for now and type in the name of the page or profile you wish to see the stats for. For example, type 'Barack Obama' in the search box and click on Search. The official 'Barack Obama' page for the platform you selected will be listed as the search result with all the related information. To view detailed information about the page, click on the 'more >' button on the right hand side.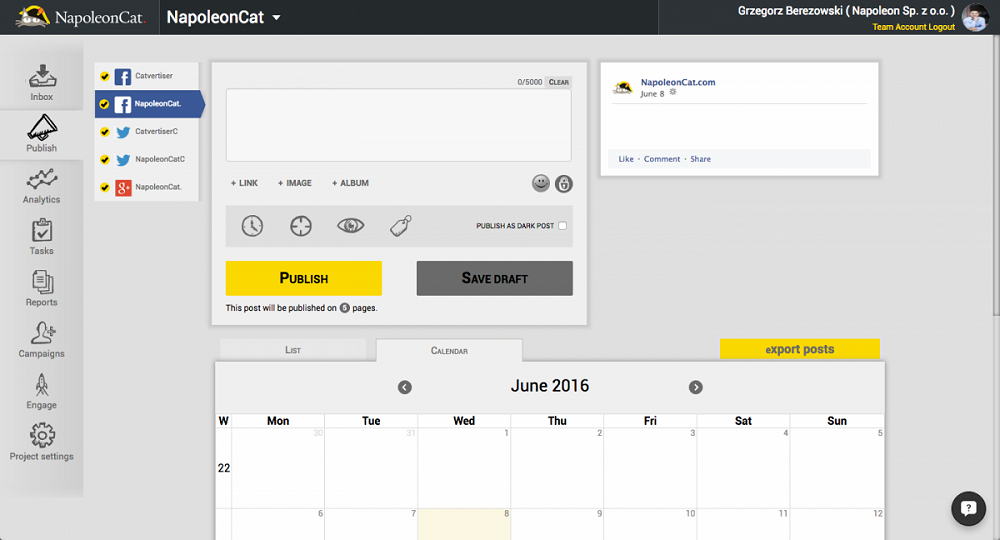 If you cannot see the page or profile you're looking for, NapoleonCat provides you the option to add it to their database. Just click on the long green button that says '… Add to our database.' You should see a pop-up prompting you to enter the URL of the page or profile you wish to add to NapoleonCat. Provide the full URL (including http://) and click on 'Search'. Once you spot the one you're looking for in the results, punch in the country, type, and category of the page / profile and click on 'Add'. That should do it.
There is a small menu at the top right corner of the screen that includes the options to view your Team details, your Account settings, and Logout. Yes, that's a menu; we were confused at first too.
Pros VS Cons
The pros of the tool are quite obvious. Need we say any more?
As far as the cons are concerned, $67 per month for 1 user, $127 per month for team of 3 members, and $259 per month for 10 members, sounds a little too pricey.
But then, it's a matter of convenience and time-saving versus money.
Isn't it always!
Be the master of social media marketing with @NapoleonCatCom napoleoncat.com/ via @supermonitoring
Final Words
Quite a useful online tool, but suited for organizations, not individuals. Highly recommeded.
Get notified about our new posts
By submitting this form I accept the
Privacy Policy
and I agree to receive blog-related information from Super Monitoring.