Catvertiser – The smarter way to advertise on Facebook
What use is a skill if you cannot show it to people? How can a business grow without reaching the right customers? The point we're coming at, is that an organization's or a professional's success rate has a lot to do with the way they advertise themselves. Without the right tools and the right words, even Google wouldn't have the iconic status it has today.
When it comes to advertising, in addition to monitoring what to say and how, another aspect where keen attention should be paid is – where. You wouldn't expect to find a toilet-soap advertisement displayed in a restaurant! In other words, knowing where to advertise is also crucial. And nothing has better reach in the modern world than social media. Now what is the first thing that comes to mind when we think of social media? You guessed it right – Facebook!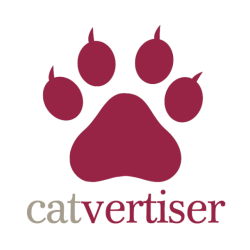 So add all that we said above and what do you get – advertising on Facebook. Want to know how you can ace it?
Catvertiser – Smarter Facebook advertising!
Noticed the attractive little boxes lined up in Facebook sidebars? Or the occasional post that promotes a new brand of shoes? Well, Facebook has become quite a huge platform for advertising; and rightfully so, more than half of the world's population stays glued to it for the larger part of their day. Getting people's attention on Facebook is probably the quickest way to reach out to them. But that isn't a secret anymore is it! With so many people trying to market so much stuff on the one platform, aren't things bound to become a little too repetitive and boring? Well, not if you have Catvertiser by your side.
Catvertiser is an online tool that lets you automate the creation, management, and reporting of your ad campaigns on Facebook. It lets you automatically boost your hottest content based on specified requirements. Along with that, you get to analyze in-depth statistics and track goal conversions of your ads, thanks to Catvertiser's integration with Google Analytics. The best feature of the tool is its simple and user-friendly ad creator which lets you upload commercials from an Excel file in bulk. This in turn saves your time and effort and lets you generate multiple ads faster.
Some other great features of Catvertiser include:
Lets you display up to 5 products in one advertisement
Based on the CPA model so you pay only for the real effects of your campaigns
Drives better results by letting you define your advertising strategy by boosting only selected type of posts
Allows you to perform A/B tests and find out which ads are performing more effectively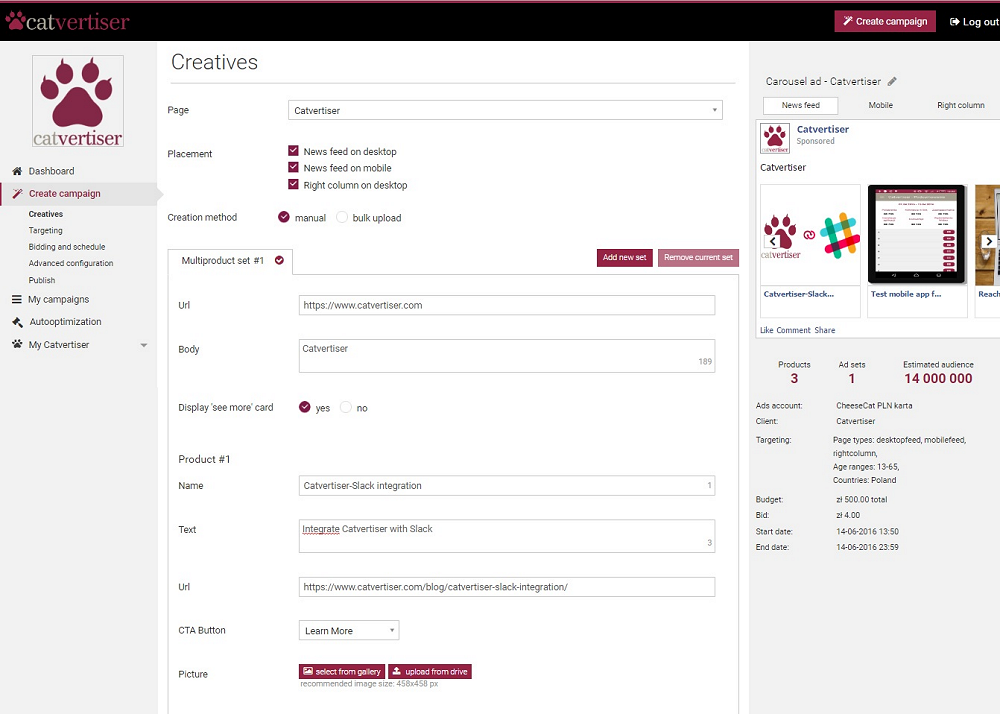 In short, Catvertiser lets you do in 5 minutes what you earlier did in about 45 minutes. It lets you post hundreds of ads, automatically detects which ones are performing the best, eliminates the one performing the least, and gives you a PDF report at the end of the day. Crisp and cute!
Did you know that Catvertiser is developed by the makers of NapoleonCat? We reviewed that tool a little while ago. Check it out here.
This is how the tool works
Sign up for a free trial through the button that says "Start your free trial now!" on the homepage. You will then be prompted to connect your Facebook account with the tool to enable advertising through it. You'll be able to control who sees your posts (you should probably select to post privately for the moment and change the setting once you figure out how everything works). Thereafter the tool will ask you for a few permissions. Now here's a catch. We tried to grant it just one permission out of the three asked for and it didn't let us proceed. Then we tried with granting 2 permissions (reluctantly, since we wanted to just check the tool out initially and not starting posting immediately), and it still wouldn't budge. Finally we gave in and reached the dashboard (why ask people for permissions if they wouldn't be allowed to proceed without saying "yes" anyways?)
Thereafter you should land at your dashboard and the tool will give you a quick tour of how things work. Take it! A good thing at this point is that with the trial account you get to spend $100 on creating your initial advertising campaigns. Once this limit expires, you'll need to upgrade your account to get more.
There no learning curve involved with the tool as such so if you're an online marketer who creates Facebook ad campaigns regularly, you'll easy get a hang of Catvertiser.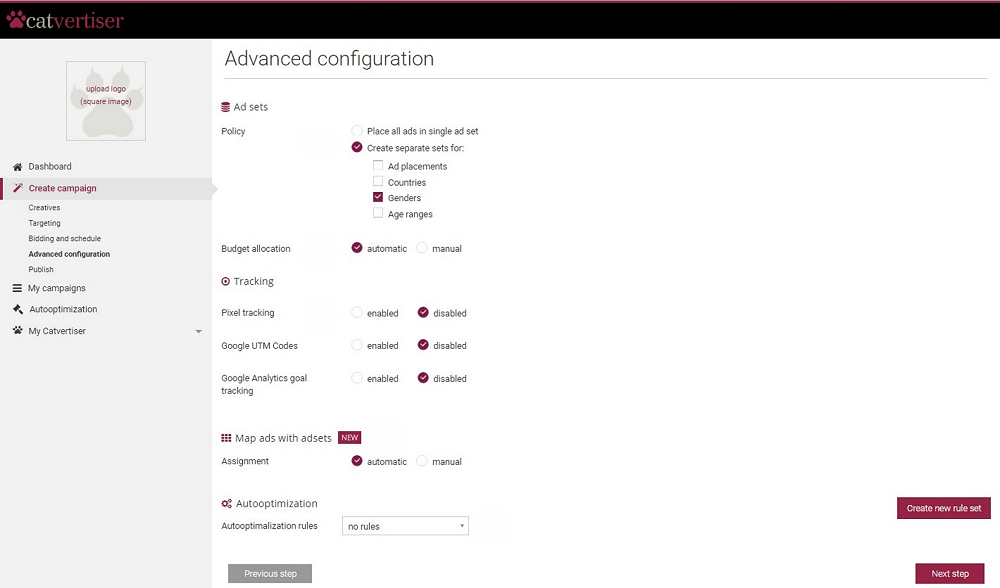 Pros VS Cons
The pros are many and can be figured out by taking a look at the features section. The tool also includes freebie utilities like 'catjuster', 'catoramic', and 'gridcat' which can help you beautify your Facebook ads. To access these utilities click on the "Free Tools" label in the menu on the top right corner of the homepage.
We could spot a few tiny cons too:
As mentioned above, the permissions section doesn't make sense. It would be better to term it as notification and not ask users to select what they wish to allow.
Once you go to any functionality from the left hand panel, coming back to your Dashboard isn't straightforward. Clicking on "Dashboard" won't do. Instead you'll have to click on the Catvertiser icon on the top left corner of the tool interface. We think this is a bug. Maybe the creators can clarify.
Create, Manage, Analyze your Facebook ad campaigns better with @CatvertiserCom catvertiser.com/ via @supermonitoring
Verdict
Overall, Catvertiser is a good tool for online marketers. People who've never created ads on Facebook before might find it a little daunting though. None-the-less, with the right improvements, Catvertiser might prove to be better at Facebook advertising than Facebook's in-built advertising module itself.
Get notified about our new posts
By submitting this form I accept the
Privacy Policy
and I agree to receive blog-related information from Super Monitoring.
One comment:
Grzegorz Berezowski:

Thanks for reviewing Catvertiser 🙂

March 15th, 2017 at 12:53 am