Automate Facebook Ad Management with FastTony
What is the easiest way to get people talking about your product, service, or business? Advertise it on social media; and since the past few years, social media has become synonymous with Facebook. The platform which started off as a means for people to connect with their far away friends and relatives has now transformed into one of the largest places to advertise stuff and capture potential customers easily, and super quickly.
As time and market strategies evolve, businesses change their advertisements after every few months to keep users engaged. Plus, at any one point, there are a huge number of different ads running on Facebook for the same product / service / company. From a manufacturer, business owner, or vendor's point of view, keeping track of the hundreds of ads running for their business on Facebook can get tiring and inconvenient. Monitoring which ad is running on which page, in which language, and how frequently, takes up a significant amount of time and patience. And when you're running a business whether medium or small, you frankly don't have the time to track all your ads.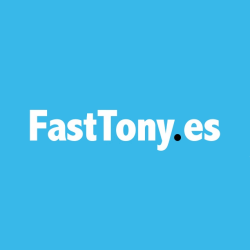 That's why today, most smart advertisers make use of automated tools to keep tabs on their ads running on Facebook, Twitter, Google+ and other social platforms. In this post, we're covering the best and worst aspects of one such extremely useful tool for managing Facebook advertisements – FastTony. Let us find out all there is to know about it.
FastTony – Automated Facebook Ad Manager
Among the plethora of advertisement trackers available online, FastTony is one of the most progressively developing Facebook ad management tool with built-in plug-ins to Facebook, Instagram, many supporting Apps and even whole environments such as WordPress. It wouldn't be entirely wrong to call FastTony an ecosystem which brings automation to Facebook campaigns while making non-standard format ads more effective and engaging.
FastTony being so intricately linked with Facebook has its advantages. For one, you're always ahead of your competition. If a new solution is introduced in Facebook, you have access to it immediately. Other distinct benefits include the variety of original solutions the tool has like split-tests and weather control ads which are so unique you'll find yourself awed.
Here's a closer look at the best features of the platform:
Seamless integration of Facebook ad campaigns with CRM systems, SMS / e-mail activities
Its plug-in lets you remarket dynamic campaigns for e-commerce in just a few seconds
Supports automated weather controlled ads so you can advertise gloves when it starts to snow and offer headache medicine when the pressure drops
Supports various post formats like standard, video, Carousel, Lead Ads, etc.
Allows creation of posts on your Facebook page with features like editing photos, adding call-to-action buttons, etc.
Lets you create Lookalike Audience based on criteria like specific ad sets, conversion data, own fans or even people who view your videos
Keeps you in the loop whenever someone comments on your ads and red-flags inappropriate commentary
Gives you tips on possible changes and improvements to your campaigns
Additionally, the tool is available as a mobile-app that gives you access to real-time stats and lead ads support while letting you edit campaign bids, archive campaigns, and do a lot more.
So how does it work?
To start using the tool visit its homepage at fasttony.com and click on the button that says "Create Free Trial Account". Quite amazingly, you'll straightaway be directed to a dashboard-like page, but very expectedly, you won't be able to access any option without logging in. On closer look at the options displayed in a bold sidebar on the left, you'll find the 'Dashboard' link which will make this clear.
To log-in, you'll need to supply the Facebook credentials you use for your business.
Once you've give the tool all access permissions, you will see your revamped dashboard with your Facebook profile picture sitting pretty at the top of the left sidebar.
A fill-up form will be displayed in the center panel wherein you'll be needed to provide contact information. Fill this up since you won't be able to proceed any further without doing this either
Once you've filled the information, FastTony will ask you for confirmation for the Facebook page or business you wish to track the advertisements for. Thereafter, it will pull up your ad data from the page you select and display it on the screen
Here's a description of some of the options listed in the sidebar:

Home – will take you to the tool's website
Trainings – will give you access to helpful webinars through which you can gather tips about the tool's usage
Blog – posts, articles, reading material related to the tool
Dashboard – back to a description of your current campaigns on Facebook
Setup – options to configure how you'd like to use the tool
Conferencing – list of methods to connect with team-mates
Auto optimized ads
Ad Post – options to create your ad post
Advertisement – options to create an ad based on your post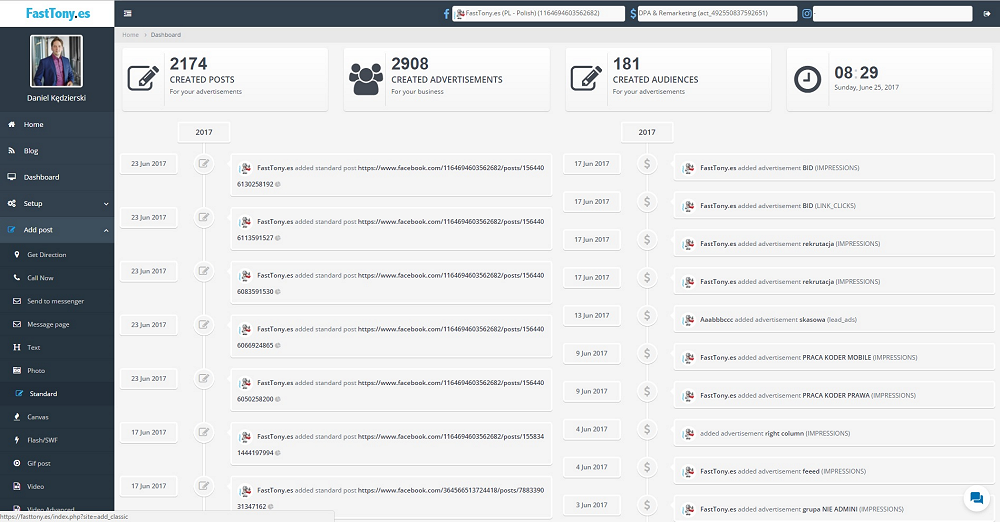 You'll see a ton of other choices available in the sidebar which will give you access to a huge number of functions of the tool. In this regard, FastTony is truly a great way to customize and manage your Facebook advertisement campaigns if you know how to use it well.
Pros VS Cons
While the pros of the tool are obvious, the cons are a bit subtle. You won't really find any flaw with the tool except a single one – it is quite confusing to work with. For a small business or professional working with Facebook ads for the first time, using this tool would be like trying to find the way through an extremely complicated maze. Yes there are a lot of customization options in the tool, but the huge number of options makes it very confusing. Add to that the absence of a help link, application tour, or "getting started" video and you might be lost even before starting to work with FastTony.
Manage all your Facebook ads from a single interface with @fasttonyes , the automated ad management tool fasttony.es/ via @supermonitoring
Verdict
Good tool with a number of ad management options but only for experienced users. Newbie users would have a hard time figuring their way around the tool.
Get notified about our new posts
By submitting this form I accept the
Privacy Policy
and I agree to receive blog-related information from Super Monitoring.