The 6 Best Email Finders – Which One Is the Best
Email is the most important marketing channel for many companies. It's easy to see why, as email has incredible reach. That means you can use it for sales, guest posting, networking, and more. But finding the details for people you want to contact can be challenging. That's where email finders come in handy.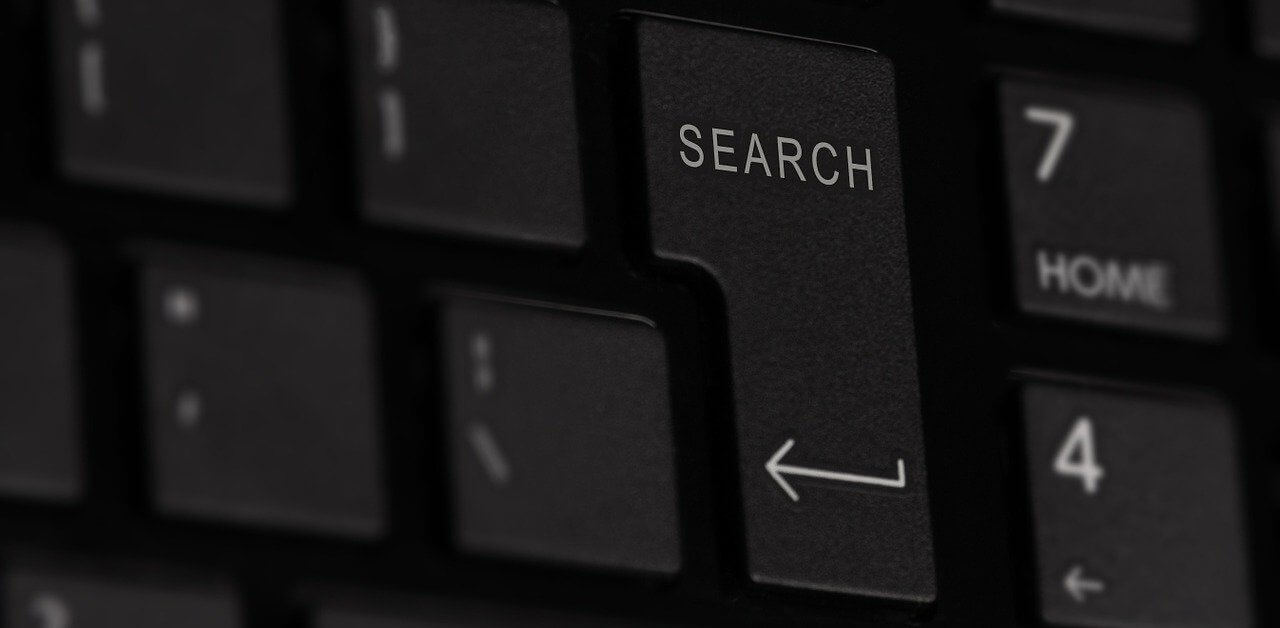 Email finders are perfect when you need to undertake cold outreach but don't know how to get the contact details for the right people. This guide will look at six of the best email finders. Before we dive into the guide, let's cover some basics.
Why should you use an email finder?
An email finder can help save time and money by providing accurate contact information in seconds. When selecting an email finder, there are four things to consider when selecting an email finder; ease of use, quality of the result, price, integrations, and how it handles large requests.
Ease of use is a straightforward consideration. You want an email finder with a nice user interface that provides you with fast results. Importantly, those results need to be reliable. After all, there's no point using a tool that provides you with incorrect contact information.
If you are doing mass outreach campaigns, you will need to match emails to data. For example, if you have a list of 100 people, it will be faster for you to simply input the data and get all of the results in one go than input the company and person's name one at a time.
You might want your email finder to work in conjunction with other tools, as well. For example, having integration with your preferred blogger outreach tool can be handy. You can find a list of tools of such tools on Launch Space.
The final consideration is price. Ideally, it shouldn't cost that much to use.
6 email finder tools to help you grow your business
That covers what you should look for from an email ID finder. This guide will review the best email finders on the market. We'll start things off with our top-rated email finder.
1. Voila Norbert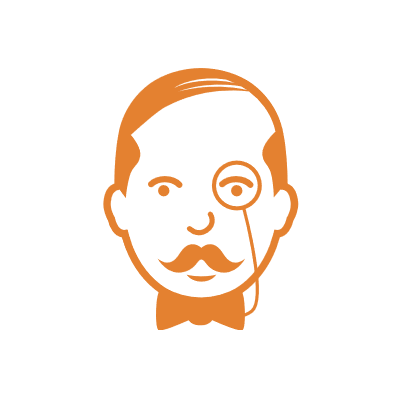 Voila Norbert has a smooth user experience with various platform integrations. It is used by companies like Facebook, Airbnb, Oracle, and Twitter.
You can find both individual and bulk email addresses based on the company and prospect's name. The tool integrates easily with platforms like Salesforce and integration tools like Zapier.
To search, simply enter the name of the company and the individual. Voila Norbert also provides email enrichment, which helps you get additional information about prospects.
Voila Norbert has an email verification feature you can integrate with your email platform. You can also upload a CSV file and verify contact details. There's also a chrome extension.
The packages start from $49 for 1,000 searches per month. There is also a pay-as-you-go plan. The plan starts at $50 for 500 credits. You can verify details from $3 for 1000 email addresses. The best part? You can get your first 50 credits for free to test the service.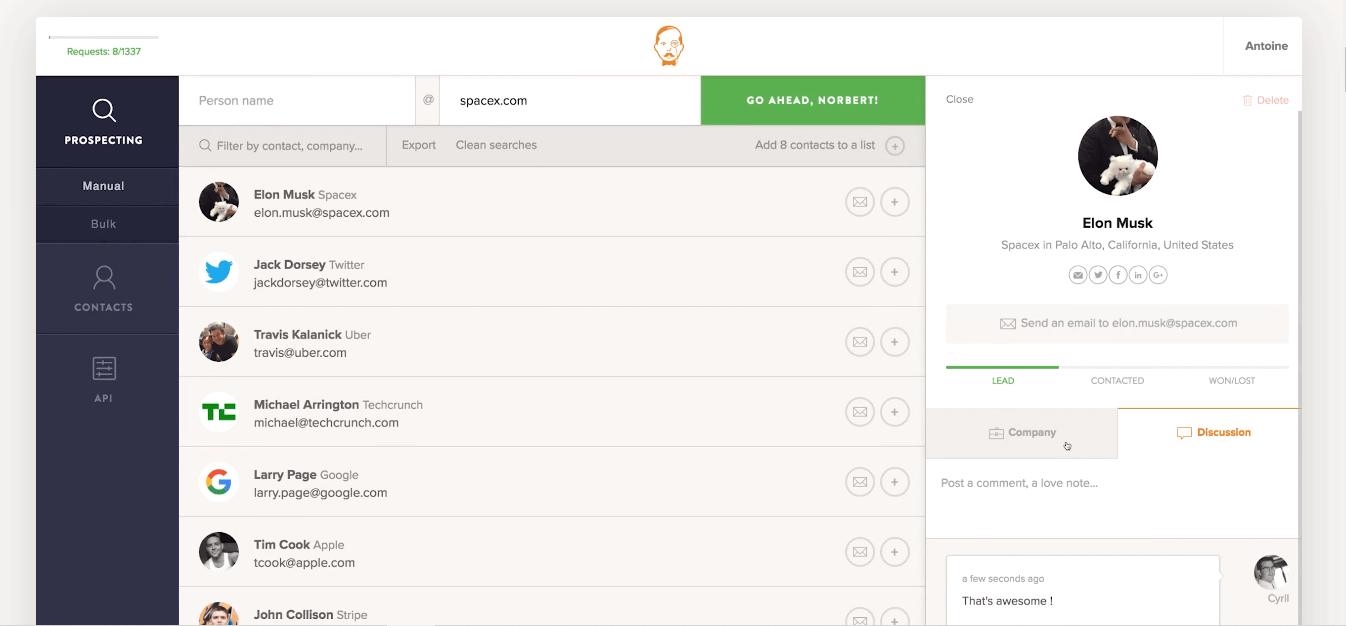 2. Find Emails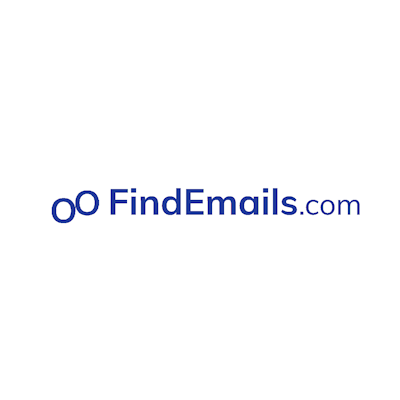 FindEmails is a budget friendly email ID finder. Its paid plans start from $29 a month and give you 1,000 search credits. The $49 a month plan provides 2,550 credits, which is more than most of the tools on this list provide at the same price point.
FindEmails is easy to use. You create an account, search for the name of a person and the company, and you'll be provided with the result. The tool also has a Chrome extension. You can use the extension to do a quick search for people's details from any website.
Unfortunately, FindEmails lacks the integrations that many other similar email ID finders have. For example, there is no Google Sheets integration. However, if you're looking for a reliable service that's budget-friendly, FindEmails is probably the best option for you.
3. Hunter.io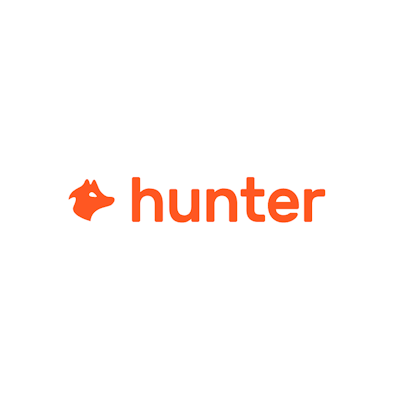 Hunter is yet another popular email finder tool that allows you to track down leads. Whether you want to search by name or company's website, the tool is a neat way to find contacts. You can opt for both single or bulk domain searches. These typically come with confidence scores and give details on the source of the address like Twitter or company site.
Hunter has integrations that allow you to save the profiles of your leads to other software like your CRM. Hunter has a Chrome, Google Sheets, and Firefox add-on.
The free plan allows you to do 25 searches per month. The paid plan starts at $49 for 500 searches per month and 1,000 verifications. The plans go up to $399 a month.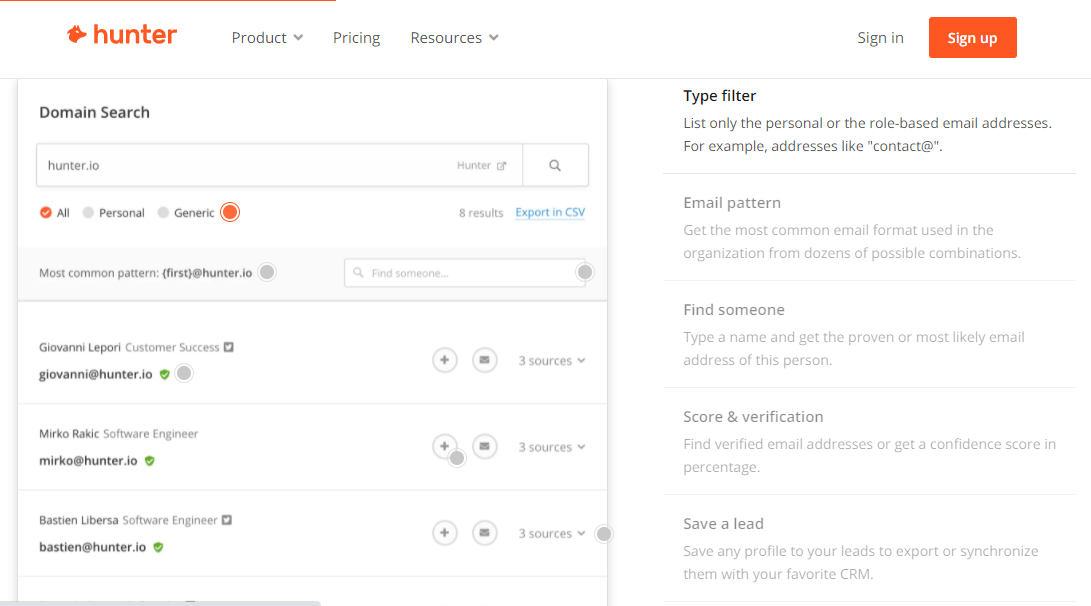 4. Skrapp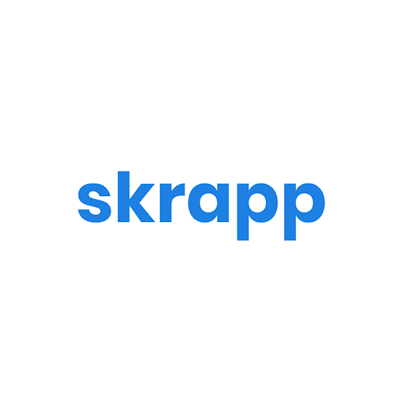 Skrapp is another excellent choice when you need to find email addresses. You can look up verified B2B emails with the tools. Skrapp allows you to make single or bulk email address searches. All you need to do is input the company's name and the name of the prospect.
You can also do domain searches with Skrapp. A domain search will reveal all of the email addresses linked to the domain. You can easily export the list as it supports CSV and XLSX formats.
The tool easily integrates with LinkedIn and Sales Navigator to give you verified email addresses. Like most email finders, it also has a smart chrome extension. Perfect for sales professionals and marketers looking to boost their B2B outreach.
It's a great tool. Companies like Oracle, IBM, and Microsoft use Skrapp. The bundles start at $39 for a month for 1,000 searches a month. They also have a free version with 150 email verifications.
5. Find that Lead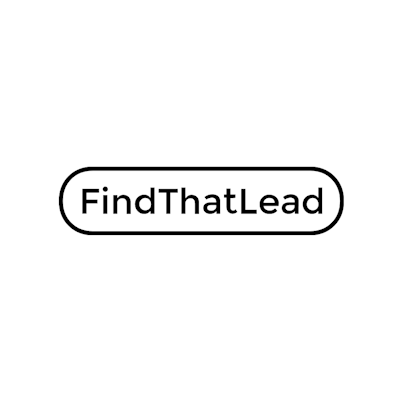 Find That Lead is targeted towards B2B email outreach. It goes one step further than the standard email finder tools by allowing searches based on specific audience segmentation. For example, you can do searches by location and keywords.
You can search for your prospects by first name and company name or domain. Find That Lead also has a prospector tool that makes finding leads easier by looking at company profiles and positions.
The email finder tool allows for a social media search that associates email addresses from LinkedIn and Twitter profiles. The bundles start at $49 for a month for 5,000 monthly credits. To help you get started, they also have a free plan.
6. RocketReach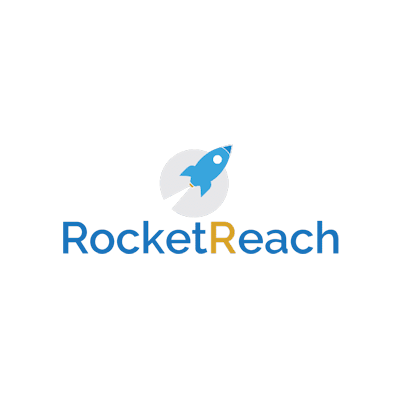 RocketReach boasts of a contact database of 430 million professionals. It has an advanced search option that lets you look up emails based on criteria like bulk lookups. The tool also offers extended API access for integrations.
The Google Chrome extension lets you find and verify contacts from Google, Angel List, Crunchbase, and LinkedIn. As you can see, it's a tool that's squarely aimed at the B2B market. Unsurprisingly, it's used by many sales teams.
The paid bundles start at $59 for a month. It is more expensive than other tools. The entry-level pricing package allows you to make just 1,500 searches a year. That's a lot less than Voila Norbert, for example, which allows you to do 1,000 searches a month at a similar price point.
Bottomline
Email finder tools allow you to find the contact details of anyone. All you need are their name and the company details. This guide provided a roundup of the six best email finders on the market. We reviewed each of the tools on the list by considering functionality, ease of use, features, and cost.
There are a lot of great email finders on the market. Moreover, many of these tools have free plans, which is great if you want to test the service. Each of the tools on this list is geared towards a slightly different audience. However, Voila Norbert is probably the best email finder when it comes to the quality of results.
---
About the Author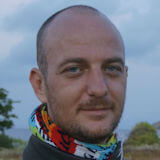 Nico Prins is the founder of Launch Space. He works with a range of SaaS businesses, helping them to increase customer acquisition through digital marketing.
Get notified about our new posts
By submitting this form I accept the
Privacy Policy
and I agree to receive blog-related information from Super Monitoring.