Mailshake: Helps Businesses Improve Outreach
Mailshake is an email outreach and sales engagement platform. It integrates with your G-Suite or SMTP account, allowing you to run automated email outreach campaigns that convert cold prospects into warm leads and even customers.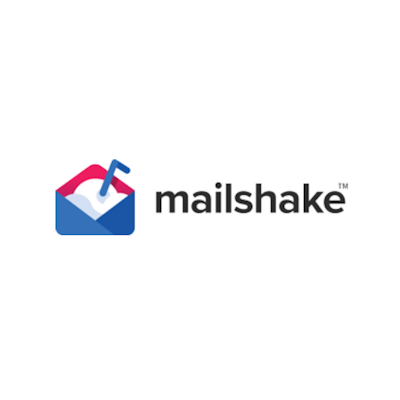 Mailshake is one of dozens of such platforms. However, each sales engagement platform usually has its own features, pros, and cons. In this article, we will take a closer look at Mailshake to see what it has to offer and how it is different from other platforms. Ultimately, we'll help you decide whether Mailshake is the right sales engagement and email outreach platform for your business.
Let's start by exploring some of the top features of Mailshake:
Mailshake Features
Mailshake focuses primarily on cold email outreach. It doesn't have any feature that will help collect email addresses from prospects. You have to bring your own email list then utilize the Mailshake features to scale your campaign.
Email outreach automation
Mailshake has an email automation feature that allows you to set up automated email follow-ups. The feature lets you create a series of follow-up emails that are deployed at a set frequency. For example, you can set the first follow-up email to be sent five days after the first email.
Follow-up emails will be deployed until the recipient performs a desired action. For example, you can set the drip campaign to stop if the recipient replies to the email or clicks on a link. You can then create a separate follow-up email for any recipient that clicks on your link.
Alternatively, you can let your sales team interact with the lead directly to complete the conversion. Just assign the prospect to one of the people on your team from the Lead Catcher dashboard.
Besides automated follow-ups, Mailshake also helps you create drip campaigns. Drip campaigns are different from automated follow-ups in various ways. The key difference is that drip campaigns do not end once the recipient takes a specific action like clicking a link or replying to the email.
Drip campaigns usually continue until the last email of the campaign. For example, if you have a drip campaign educating the recipient about a particular subject, you wouldn't end the campaign simply because the recipient clicked a link. You'll continue with the educational campaign unless the recipient opts out.
The automation feature makes it really easy to run mass email campaigns. It saves you the hassle of keeping track of each prospect manually. Instead, everything happens on autopilot once you create the follow-up emails and launch your campaign. You can read more about how to run effective outreach in this guide to cold mailing on Mailshake.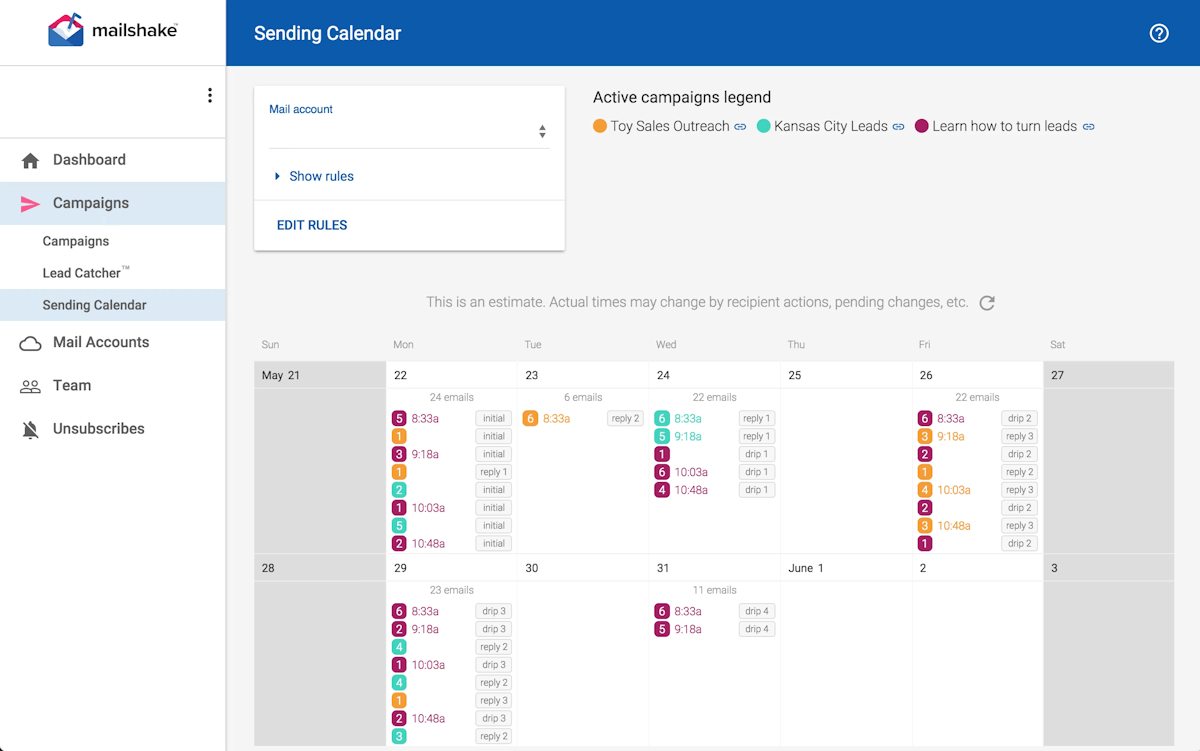 Campaign personalization
Personalization plays a critical role in the success of email campaigns. You have to tweak your messages and ensure they appeal to the recipient at a personal level. That helps to increase engagements and the conversion rate.
One of the basic email personalization techniques involves mentioning personal details. For example, you can mention the recipient's name, company, role, or even needs and interests.
Mailshake's Mail Merge feature is designed to make email personalization an effortless task. The feature allows you to insert the recipient's details at specific parts of the email message. For example, you can use a text replacement for the greeting line to include the recipient's first name: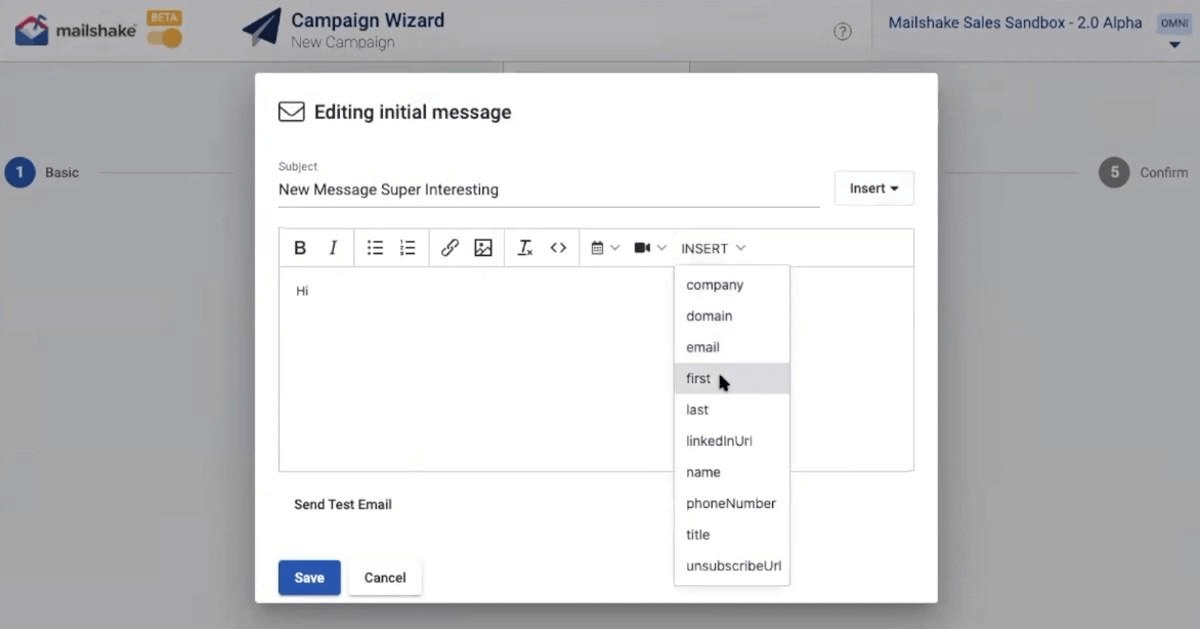 If you don't have the lead's first name, you can use a fallback text like "there" so your messages will start with "Hi there."
Besides the greeting line, you can replace texts in specific parts of the email body. For example, you can set a text replacement somewhere in the email to mention the recipient's company or location. Just use the same "Insert" dropdown located at the top.
These details are extracted from a CSV file containing your leads' data. Make sure you tell Mailshake the data contained in each column.
Adding such details makes your emails look and feel more personalized. That boosts email deliverability and reduces the risk of having your emails marked as spam.
Track leads with Lead Catcher
You can keep track of your leads from the Lead Catcher dashboard. The dashboard contains all recipients who passed the criteria to qualify as a lead. The criterion is set as "reply," i.e., all recipients who reply to the email. However, Mailshake gives you the control to change that criterion. For example, you can choose to set recipients who open your emails or click a link in the email.
You can then manage the leads from the Lead Catcher dashboard. Reply to their emails, change their status to "ignore" or "close," or assign them to a specific person in your team from this dashboard. All options are available at the top.
The Lead Catcher dashboard lets you see all your communications with each lead. That's critical since it helps you maintain consistent interactions.
Streamlined communications with the Mailshake Dialer
The Mailshake Dialer integrates cold calling into your email outreach campaigns. It allows you to call prospects and maintain all notes and data regarding each call right from the Mailshake platform.
That's very important as it helps you maintain critical data in one place. Your sales team can easily go through the entire history of each prospect from one dashboard. That means they'll have plenty of data to convert prospects into leads or customers.
A/B testing
A/B testing is an integral part of every email outreach campaign. You must test different versions of your emails to find the best converting variations. That helps you optimize your return on investment.
Mailshake has an A/B testing feature that allows you to test multiple versions of your outreach campaign. The feature can be accessed from the New Campaign dashboard.
Mailshake's A/B testing feature lets you create separate email sequences or segments. You can then go into each segment and tweak the elements you want to test.
For example, you can alter the subject line in one of your sequences. You can also change the email message itself. Mailshake will split your email list automatically and send out the different email segments.
From there, the system will track critical metrics like open rate and click-through rate. The data will help you see which of the two email sequences performed best.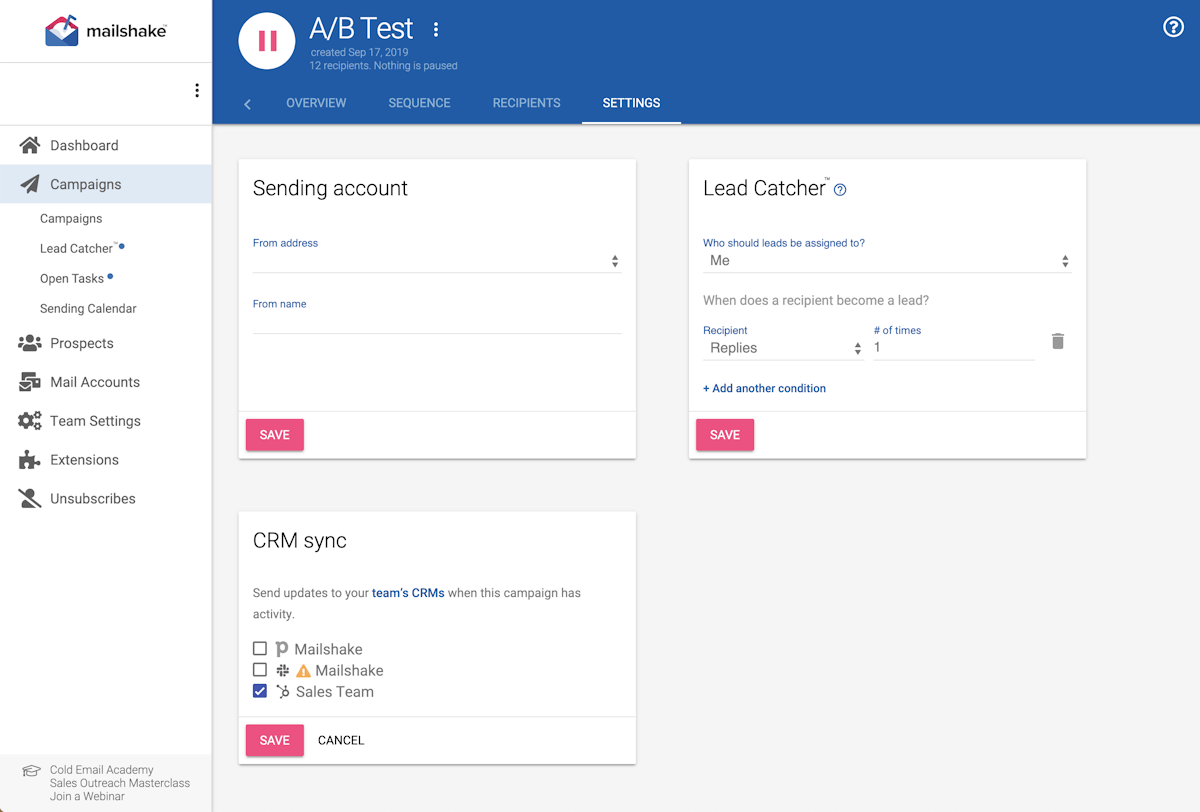 Extensive integrations
Mailshake integrates with multiple platforms to help you scale your campaigns. First, it integrates with popular customer relationship management (CRM) tools like Pipedrive, HubSpot, Salesforce, and Salesflare. That saves you time, and boost's your team's productivity.
The Mailshake and Pipedrive integration automatically add prospects captured on Pipedrive to your Mailshake campaigns, for example. It also helps you track Mailshake campaign engagements like clicks, opens, replies, etc., from Pipedrive.
Mailshake also integrates with chat and messaging platforms like Slack, Live Agent, Crisp, and Twilio. For example, the integration with Twilio allows you to send text messages automatically when you receive an email in your Mailshake campaigns. This increases your response time which can be pivotal in converting leads into customers.
Meanwhile, the integration with Slack ensures the members of your sales team are always on the same page.
Mailshake also integrates with email finders like Voila Norbet, and other platforms like LinkedIn, Calendly, Facebook, Google forms, Google sheets, and Google Workspace.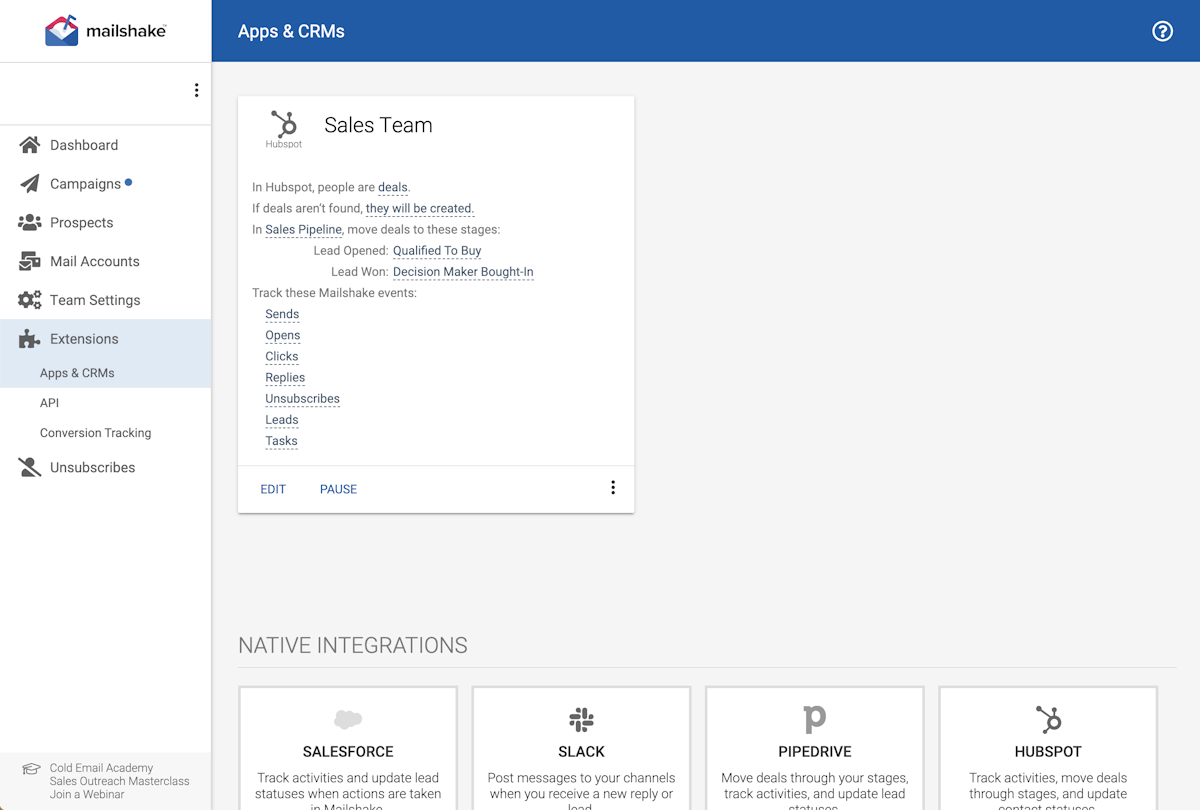 Mailshake Pricing
Mailshake has only two plans, and none of them are free. You also don't get any sort of free trial. That's a real bummer, but on the brighter side, you do get a 30-day money-back guarantee. Therefore, you can take the software for a test drive for a whole month and get your money back if it fails to meet your company's expectations.
The cheaper plan, Email Outreach, costs $59/month when billed monthly or $44/month when billed annually. The more robust Sales Engagement plan costs $99/month or $77/month when billed monthly or annually, respectively.
Mailshake Pros and Cons
If you are looking for a sales engagement and cold email outreach platform, you may want to consider Mailshake for various reasons.
Pros
Besides the top features discussed above, the platform also has a few things going for it. Here are some of the pros of using Mailshake:
Access to powerful metrics
User-friendly interface
Great email deliverability
Works with SMTP and GSuite email accounts
Provides plenty of learning resources to get you started
It comes with a 30-day money-back guarantee
Seamless integration with dozens of 3rd-party platforms
Decent selection of email templates to choose from. The platform is also working on an AI email writer.
Cons
Mailshake is not without its fair share of issues, though. Below are some of the notable drawbacks of the software:
There is no free trial
The cheapest plan starts at $44 per month, which is high.
The tool does not help with building an email list. It only helps with the outreach.
You can only get in touch with Mailshake customer support through email. They don't have a direct line or live chat option.
Final Thoughts
Mailshake is not a perfect sales engagement platform. For starters, it's quite expensive, yet it doesn't help with critical tasks like building an email list.
That said, the platform does perform incredibly well as far as sales engagement goes. It supports the automation of outreach workflows and provides powerful features like Lead Catcher, A/B testing, and robust integrations. You also get learning materials showing how to use the software and up your email outreach game.
Therefore, if you can look beyond its limitations, Mailshake is a sales engagement platform worth considering.
---
About the Author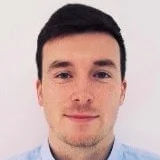 Sam Molony is part of the marketing team at Mailshake. His goal is to inspire people to not just "hang in there," but to thrive. When Sam's not publishing or promoting new content, you can find him playing sports and cooking up a storm in the kitchen.
Get notified about our new posts
By submitting this form I accept the
Privacy Policy
and I agree to receive blog-related information from Super Monitoring.