Automate your marketing with SalesManago
A key area of operation for any company is Marketing; so much so that in most organizations, you'll find a dedicated department devoted to it. While it may seem to be just another operation that a company performs, it can be safely said that without effective marketing, a company can never think of progressing. And with the right kind of marketing, even the most impossible situations can be turned into a victory.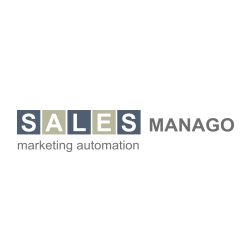 When it comes to a nicely planned and executed marketing strategy, a lot of platforms and campaigns are involved over and through which a company's brand is sold to customers. Different techniques are implemented and a number of experts are consulted to make sure no stone is left unturned. Managing all personnel and processes involved can be challenging. But if you have the help of a little genie called SalesManago, you can ace the marketing game like a pro!
SalesManago – the best marketing solution for your company!
SalesManago is an online platform that combines the potential of a number of marketing tools into one application. Email marketing, Dynamic web content, Personalized web content, Social media marketing, Online advertising, Mobile marketing, you name it and they have an easy to implement, next generation solution for it that will help you achieve outstanding sales results. SalesManago offers a complete range of automated and personalized marketing products for Ecommerce, B2C and B2B companies of all sizes in a multichannel environment, with an aim to redefine the way traditional marketing tools are used.
All marketing tools implemented by SalesManago are powered by real-time flow of customer behavioral and transactional data so that users of the application can implement any kind of marketing process they desire. With over 6000 customers in 40 countries, SalesManago is one of the best and the most innovative marketing automation platforms across the globe.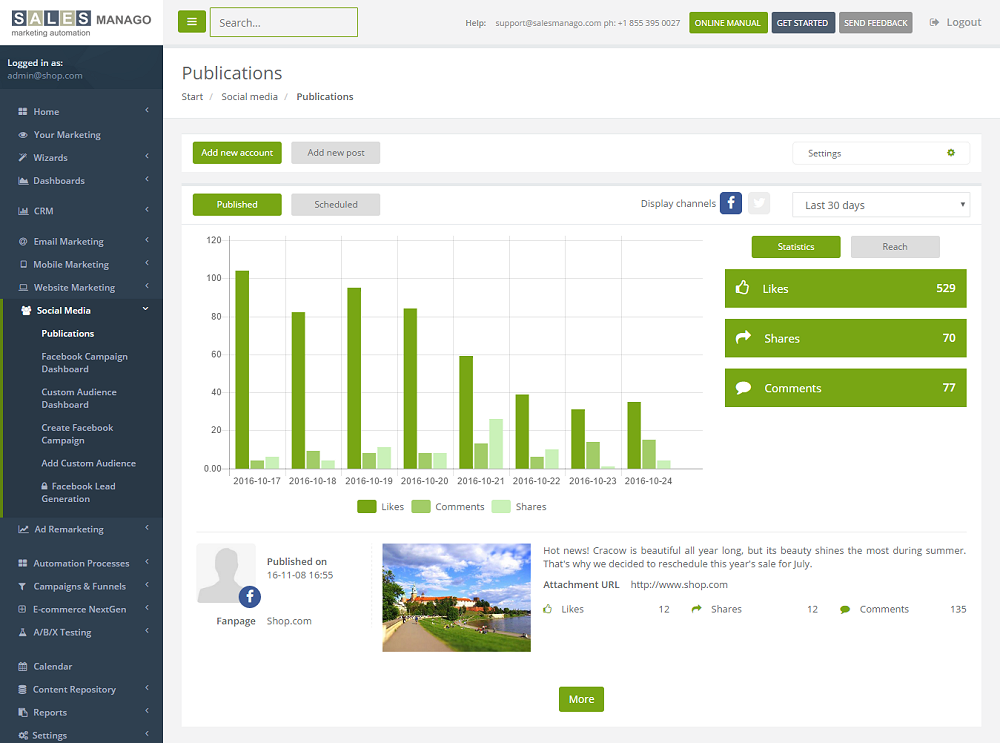 Here are a few areas in which SalesManago can be of service:
Identification of website visitors, identification of hardware/software used to reach your website, Geolocation information, etc
Behavioral monitoring of identified website visitors
Automating simple actions such as alerts regarding prospect buyers' activity sent directly to sales team
Ability to run fully automated, complex and advanced marketing campaigns with Workflows
Email marketing including an in-depth knowledge of what customers visiting your website are looking for
Mobile marketing automation by monitoring in-app behavior of particular users
Social media marketing including sourcing new contacts as well as tracking social events on your media pages
Customer Relationship Management and 360 degree customer view
Web Push notification solutions to reach maximum number of users
These features are merely the tip of the iceberg. SalesManago bundles many other extremely useful tools that can help you create a solid marketing strategy and emerge as a true winner.
How to use SalesManago
The best way to get a hands-on experience of the tool without paying anything or signing up for a trial is through its Demo. All you need to do is punch in some basic information and enter the demo. If you do not want to leave your real credentials here, type in dummy details and it will still work (could be counted as negative but if they had a check here it would take away the purpose of a demo).
Once you enter the demonstration, you'll see a lot of information on the screen that is refreshed almost every second to show you the latest inputs. You'll get to see the total number of contacts your website database has, how many of them are monitored, how many messages have been left in the past 30 days, how many contacts are active, a real-time analysis of the page views generated by clients, prospects and partners, and individual customer / company behavior profiles.
Additionally you'll be offered a number of wizards and creators to perform various marketing related activities such as personalized banners, workflows, dynamic content tests, email creators, etc. Also a host of marketing tools will be listed in the left hand panel to let you take charge of your mobile marketing, social media marketing, Ad remarketing, campaigns, automation processes, and more. In order to understand how you can actually use the tool, the following basic steps will come handy:
Add monitoring code to your website
Import your email contacts
Send email or newsletter to your database
Set up an alert if a contact from your database visits your webpage
Set up automatic contact's segmentation based on what on your website interests them
Set up scoring for your contacts and get alerts about the hottest leads
Implement contact forms to automatically monitor each new contact from your database
Expand your client communication with personalized content on your page
Set up lead nurturing program to automatically educate new contacts in your database
Set up automatic marketing process or marketing campaign
To comprehend each of these steps in detail, click on the Get Started button on the top right corner of the screen and access the video tutorial associated with each step. If you like what you see and what the tool does for you, logout and sign up for a 30-day trial, this time with your actual credentials.
Rule the marketing automation circle with @SALESmanago salesmanago.com/ via @supermonitoring
Evaluation and Final Verdict
SalesManago is an affordable and useful tool, but it is undergoing a lot of improvements. Moreover, some of its features might not work as smoothly as you expect them to. Also, you might have to pay a little extra to get your hands on features like dynamic emails. However, if you are a little patient and probably a tad forgiving, the tool can be customized to suit your needs perfectly. Plus, it has a lot of integrations.
Thus, final verdict, it's worth at least a demo run.
Get notified about our new posts
By submitting this form I accept the
Privacy Policy
and I agree to receive blog-related information from Super Monitoring.