Add your own CTA to every link you share with Snip.ly
Since the advent of social media, everybody has been in the race for monitoring and sharing engaging content. From free downloads to reward programs, every action has been focused on the sole idea of sharing content. Where some companies allow healthy sharing of links and encourage link building, one company playing this game the dangerous way is Snip.ly.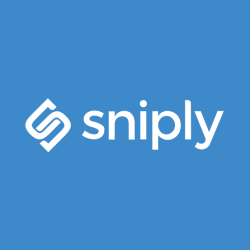 Snip.ly is a marketing tool that helps you drive conversions through every link you share on social media. Whenever you come across something worth sharing on the Internet, attach a custom call-to-action to your share link and convert what could be a simple share to something that drives conversion for you. Let us show you how.
Start snipping with Snip.ly
Snip.ly allows using relevant content on the internet to be used to generate traffic to your website, thereby allowing for conversion. The underlying concept of Snip.ly is to attach a call-to-action message to every link that you share on social media. While this borders on legal as well as ethical infringements, Snip.ly refuses to claim to have overcome any legal hurdles in trying to make content sharing quick and easy. Here are some of the features of this much talked-about application:
The tool is available as web application as well as a widget.
It allows you to attach an eye-catching button, custom banner image, hyperlinked text, or email capture form to the post you share. Users can click the button to visit your webpage directly or in the case of email capture, sign up for your mailing list.
The tool gives you access to a wide range of themes, custom colors, positioning, custom domain, short-links, and more.
Using Snip.ly you can track and analyze your clicks and conversions through snips.
It allows you to track actions taken on your website through conversion pixels
Snip.ly integrates with a ton of apps, extensions, and APIs.
With the tool, you can also include custom code for tracking, CSS, scripting, and even retargeting pixels to your snips.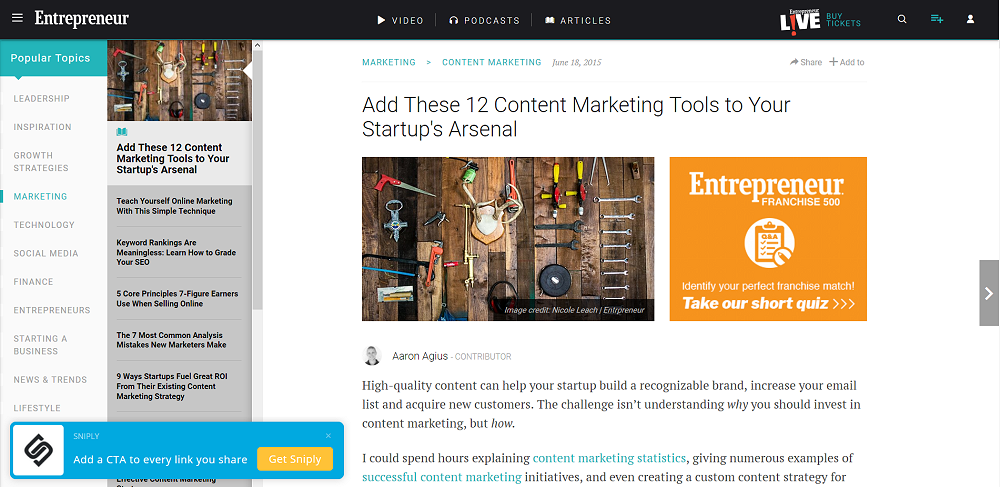 Tool working
Find content on the internet that is relevant to your business.
Ensure that you select content that already has a lot of footfall and is directly connected to your domain.
Go to the Snip.ly web app at snip.ly.
After you sign up, click Create My First Snip on the left panel.
Generate your brand profile and click Continue.
On the Setup your CTA pane, type your call to action message in the Message field.
In the Button Text field, type the text you want to display on your call to action button.
In the Button URL field, type the URL of the website you want the reader to be directed.
On the Choose a page to snip panel, type the URL of the content you identified in Step 1. Snip.ly will generate a compressed URL for you to share.
Copy the compressed URL and start sharing. You can share this URL on LinkedIn, Facebook, Twitter, whichever social media site you may wish to share it to.
Pros and Cons
The positives include:
It is, as of today, the easiest way to share content.
It is simple to use and it comes with a free version.
It gives you a better chance to obtain new traffic to your website and also convert it.
The Analytics page gives you a detailed report on your snips, including the total number of clicks and conversions.
The negatives include:
The use of Snip.ly is somewhat considered controversial.
Unless you give credit to the original content creator, using content freely for your own gains can be frowned upon.
Readers are usually not very happy to see ads on their favorite sites. You might tick off quite a few of these people.
While there are no legal issues surrounding the subject, ethical infringement can be a matter of concern for some of us.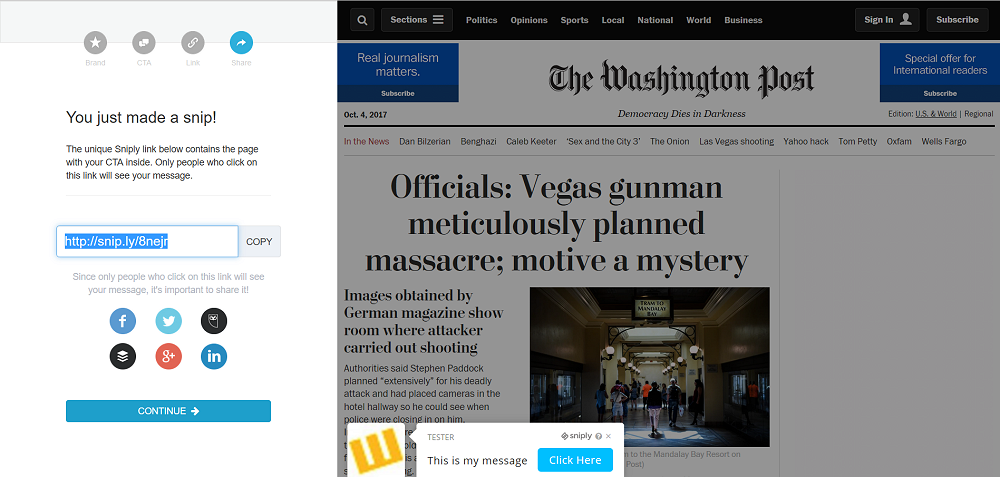 Pricing
The basic account registered with Snip.ly is free and allows users to create one user profile with the ability to share unlimited number of links, and extract up to 100 conversions a month.
The tool also offers different paid packages with different range of benefits. They typically come at a price of $16 to $85 a month, ranging from 500 to 5000 conversions along with the ability to view your analytics. The paid versions allow a lot of customization in the form of themes, colors, positioning, and so on. They also come with data gathering tools such as analytics and conversion pixel.
Drive conversion through every link you share on social media, with @sniply snip.ly/ via @supermonitoring
Conclusion
While it is easy to use and everything, one thing that bothered us while using it was the matter of ethics. However, this can be overcome if you decide to mention the credit to the original content creator. Snip.ly might have been acquitted of all legal infringements, but it is still high in controversy. If you feel comfortable with that, there is no reason why you shouldn't start snipping and attracting traffic.
Get notified about our new posts
By submitting this form I accept the
Privacy Policy
and I agree to receive blog-related information from Super Monitoring.