Viral Loops: Making Referrals Easy for All
What's the easiest way to get your name across a large audience? Word of mouth! The fastest way is still social media but it involves significant investment to create the perfect advertisements and get them across to specific audience groups. Word of mouth, however, is like a self-flowing river. From one user to another, your goodwill spreads on its own without you having to do anything except offer great services. And in this world where almost everything has become automated, word of mouth marketing tactics have also been automated. There are several tools available online that offer users the opportunity to increase their brand's awareness through custom word of mouth campaigns. And London based Viral Loops is one of them.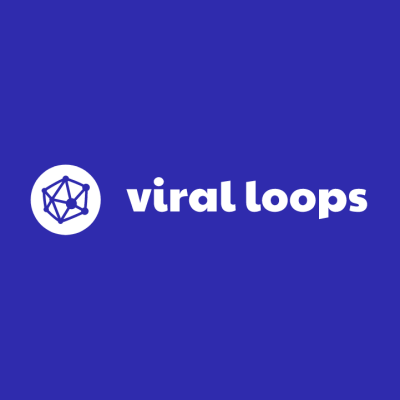 Viral Loops is a referral marketing system, working towards helping companies increase sales and awareness through the medium of word of mouth sales. The online tool works by helping companies build many referral programs, before-launch campaigns, viral sweepstakes and competitions. All these programs are designed in such a manner that they can easily be assembled in any website or mobile app. All this takes place just in a matter of minutes, so the companies can save both time and money. The programs are included using Viral Loops' code snippets, eCommerce plugins or API. Viral Loops partners mostly with E-commerce stores, B2B and B2C businesses.
The Viral Loop technology is such that it allows brands to run referral programs, viral give-aways and pre/after launch campaigns, all from a single platform. One can order custom-made marketing systems as per their requirements.
Viral Loops: All-inclusive viral marketing platform
Viral Loops is one of the best platforms for word-of-mouth publicity of brands, which has not lost its importance in these modern times. It is the ideal place to kick-start your referral programs, sweepstakes, competitions and pre-launch campaigns. It begins campaign templates with known companies like Dropbox and Airbnb and then moves forward. Viral loops do not have landing pages but work through a partnership with leadpages.com from where you can use them for nominal rates. The biggest plus point of associating with Viral Loops is that it is not rigid and is constantly changing as per the client requirement.
Some of the best features of Viral Loops include:
The tool has different templates like The Milestone Referral, The E-Commerce Referral, Refer a Friend among others
All of these templates have a Viral Boost, which allows for people involved to invite their friends
One can keep good track of their online campaign in an easy manner. Clients can view the number of people taking part in the campaign and also know the expiration date of the same
The Viral Loops platform is very to manage and one can easily edit and view how their live campaign is moving forward
Another point to note is that the online tool always has a backup of one's work as draft
Viral Loops also offers the client a more comprehensive view of the campaign's progress. They can know, which are the best performing channels and track the movement over a given period of time
Viral Loops offers a code snippet, which one can install on their website or mobile app. This can be distributed among the developers and will come in handy if one gets stuck at any point. Then one can connect with them for any help
Viral Loops also offers free trial demos for prospective clients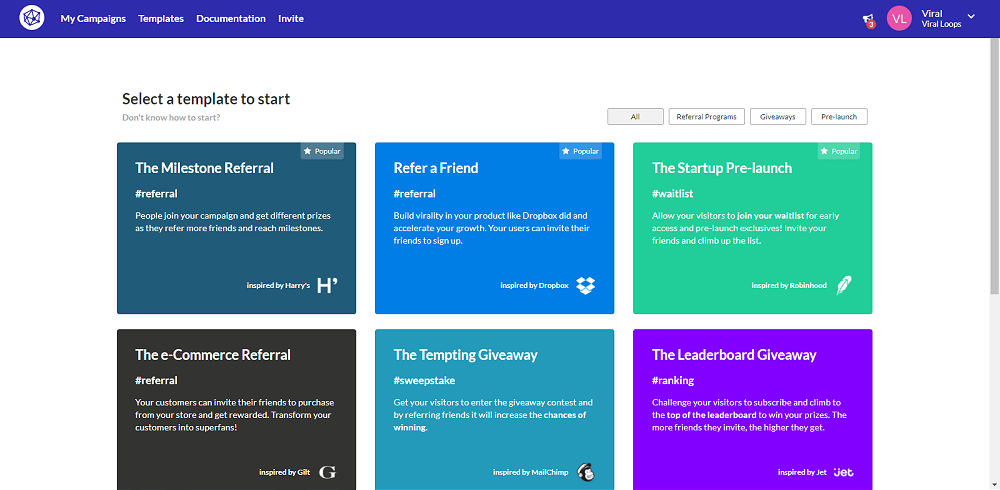 How It Works
Here are the steps for using Viral Loops:
First one has to create an account with Viral Loops and then the 14-day trial period will begin.
Then on the home page you will see many number of templates you can choose from.
There are also other important features like referral programs, giveaways and pre-launches.
After you decide on the template, it will include as many participants as possible. They will be ranked as per the number of campaign referrals.
They will rope in more people as it increases their chances of winning.
The basic working of the tool is the same but it differs from template to template.
One can manage their campaigns by deciding on the type of rewards to be given away, manage participants and their earnings.
You can work on your campaigns by going to the dashboard of all the campaigns listed on the My Campaign page and work on it.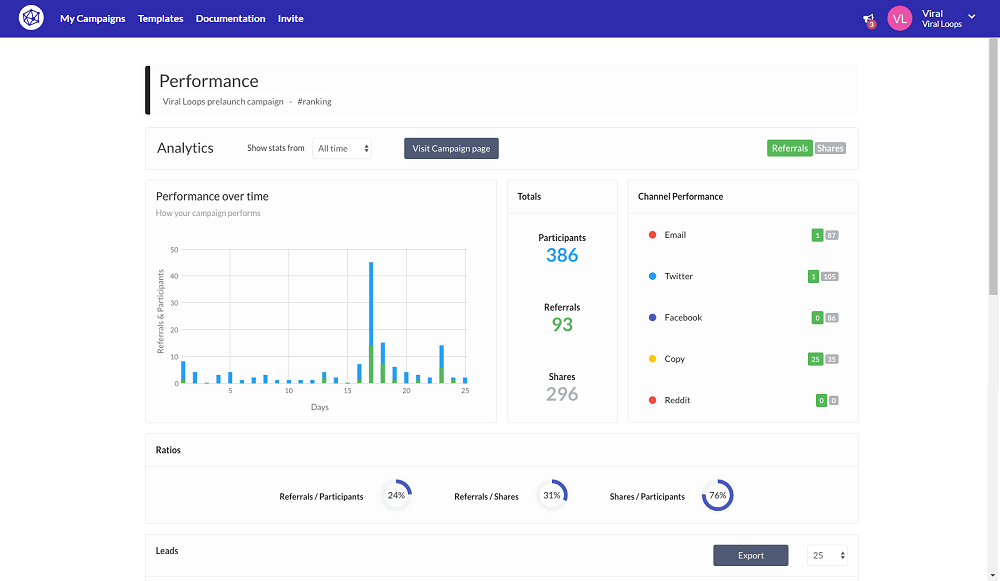 Pros
Easy to Use: The biggest benefit of using Viral Loops is that it is very user friendly and just about anyone can use it. You don't need to be very technically advanced to know how to use this tool.
Highly Innovative: The Viral Loops online tool is highly innovative and suited for the ever-changing needs of customers.
Top-class service: Another positive about this tool is that it offers excellent services.
Cons
Takes time to understand: Although the online tool is quite simple, it may take some time for one to understand its functioning.
Quite Expensive: Many users have found the price of Viral Loops quite expensive and this is something the company needs to work on.
Viral Loops: Making Referrals Easy @viralloopsHQ viral-loops.com/ via @supermonitoring
Verdict
The overall verdict about Viral Loops is that it is a user friendly tool with many referral templates being designed for all kinds of clients. The Viral Loops team has also earned lots of praise for its constant support to the clients.
Get notified about our new posts
By submitting this form I accept the
Privacy Policy
and I agree to receive blog-related information from Super Monitoring.