Unbounce – landing pages that convert
A/B testing is the process of testing landing pages using controlled parameter A and B as the treatment. The ultimate goal of this testing is to figure out the scope for alteration of the web page to maximize the output we are interested in such as to increase sale, increasing the click through rate for any advertisement and more. A/B testing compares these two parameters that is, A which is the version of the web page being used current while B is the treatment or the variable parameter evaluated after changes. A/B testing is the simplest form of landing page testing and it is important to gather enough data for A and B as well to come to a proper conclusion for our benefits. There are various web applications available on the internet for you to optimize your landing pages through A/B testing and increase your sales without any hassles. In this post we are describing one such application called Unbounce.
Unbounce is a Do-It-Yourself A/B testing platform for people equipped with technical skills and even for those who are not so equipped with these skills and the complexities of the A/B testing. To be true you won't need to hire IT experts to get your web page optimized for increasing your sales you can manage it on your own easily or through watching the introductory videos available on Unbounce.
User Interface
The Unbounce user interface utilizes WYSIWYG editor which allows you to have a look at the end result while the page is still being created. To be more specific What You See Is What You Get (WYSIWYG) editors allow you to manipulate the layout of the page without using any layout command and thus, there is no programming involved.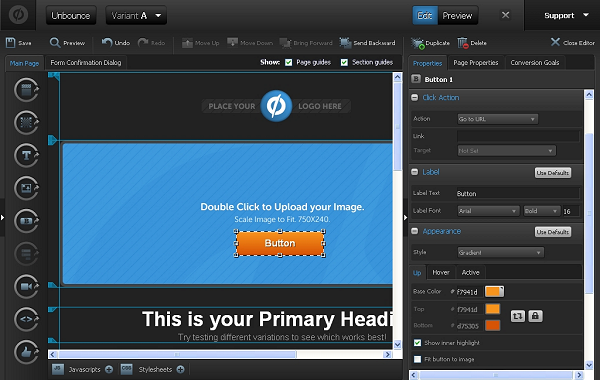 Features
Uses CSS3 to create beautiful landing pages with beautiful gradients. And you know what! You don't need a web designer to design your beautiful landing page.
It features many tested and verified templates using which you can design a landing page within minutes.
Mobile ready templates are also available.
It allows you to create a landing page within the browser and enables editing of colors and text to create your own design using a black canvas.
You can easily integrate any social widget such as Facebook or Twitter, YouTube videos and even upload a PDF for people to download.
Using the form designer you can easily design the lead gen form without any knowledge of HTML or coding.
HTML and Javascript can be integrated to reproduce an exact copy of any web page that you want to test.
When you publish a page it is published on an Unbounce link which can be further integrated with your website and your own domain can be masked upon by adding a CNAME.
It allows you to run two tests simultaneously without affecting the statistics.
Can be easily integrated with Mailchimp and hence you can easily send the data using their API for getting new subscribers.
No Setup fee and you can start designing your landing pages as soon as you sign up.
The Unbounce dashboard utilizes Keep it simple smarty pants (K.I.S.S.) concept and gives users a clear and brief stats for their landing pages. It tells the user about the changes he/she need to make to the web page to increase the sale or conversion rates. It also gives out details such as number of total visits and unique visits, conversions and conversion rates, the difference in conversion rates of different pages in comparison to the page with best conversion rate. Gives results of the test and conversions based on reasons.
Integrations
Partnered with over 60 Email, CRM and Optimization products which include MailChimp, AWeber, and Constant Contact for sending emails and user data. For CRM it includes Zoho, Hubspot and Salesforce while for optimization it has Site Tuners, User Testing and Wider Funnel. Besides this it also allows you to integrate some popularly used apps on the web such as Google Analytics, KISSmetrics and Marketo.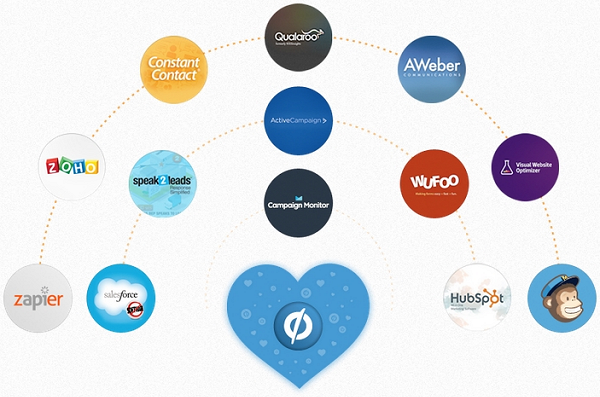 Managing Clients and Multiple Users
Facilitates addition of multiple clients to your main Unbounce account to ensure that you are able to manage all your clients and projects well. It allows you to create separate landing pages for each client and which are billed separately. It offers different roles to users such as Viewers, for the people who are interested in your project, and Authors who can edit the different landing pages.
Building Customer Lists
The most essential tool for a Business to Business marketing is the lead generation or lead capture form which is used to capture user data and generate leads. It has easy to analyze statistics that anyone can easily understand and using various options and user data the number of leads or sales can be increased very easily.
Plans and Pricing
Unbounce offers different plans for your various requirements such as for New Business and entrepreneurs the charges are $49 per month only and this plan offers Landing pages and A/B testing, 5000 unique visitors per month and Landing page templates while many other features which do sound important are not included in this plan, such as the multiuser feature. Plan for consultants and small businesses is for $99 which offers Landing pages and A/B testing, 25000 unique visitors per month, templates, multi user features, unlimited users with read only feature and many more. For $199 Unbounce offers Agencies and marketing teams with the best plan which offers 100,000 unique visitors and other features are similar to the $99 plan. Unbounce offers you the flexibility to buy the basic new business plan and according to your needs you can upgrade it with the features of your choice such as Custom domains at 5$ per month, Multi-user feature at 10$ per month and Client management at 10$ per account per month. Apart from this if you just want to test the waters or check out how it works and how effective it is Unbounce offers a free signup too.
Build, publish & A/B test a high converting landing page with @unbounce unbounce.com via @supermonitoring
Customer Support
It has a wonderful customer support with support people active on emails, live chats, phone support, Blog and Forum. These people are highly active on blog, email and the forum and you can expect a solution to your problem within minutes. Unbounce is a very useful tool for online marketers as it is user friendly, takes less time, has powerful features and you can add features as per your requirements. The only flaw I could figure out is the pricing! Yes it has excellent features but is highly priced especially if you fail to see any results.
Get notified about our new posts
By submitting this form I accept the
Privacy Policy
and I agree to receive blog-related information from Super Monitoring.