Take Note-taking to Another Level with Obsidian
Note-taking and collaborative research tools are essential in today's fast-paced, technologically advanced world. As people are searching for more effective and accessible ways to keep track of their notes, ideas, and research. Here comes Obsidian in mind. The note-taking tool that adapts to your style of thinking, Obsidian, is adaptable and private.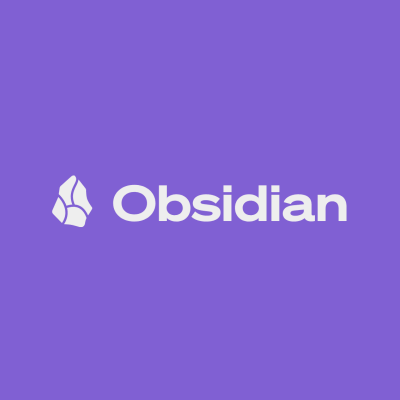 Obsidian saves notes on your device so that you can immediately access them even when you're not connected to the internet. No one else can read them. You can customize Obsidian to match your way of thinking by using the many plugins and themes available. Obsidian employs open, non-proprietary files, which prevents you from ever getting locked in and allows you to save your data for a very long time.
It is an effective app for taking notes and managing your information. Because Obsidian is built on the Zettelkasten idea, a vault of connected and dynamic notes, it offers a distinct method of information organization. You can simply browse and organize your notes using this technique. Even novel ideas can be catalyzed by it. Git, a distributed version control system, is the foundation on which Obsidian is based, and it lets you keep track of all the changes you make to your notes. This gives the program a ton of flexibility because you may edit and rearrange your notes as your needs alter. Additionally, Obsidian's graph view visualizes all of your notes, as well as the relationships among them, with just one click. To quickly obtain a snapshot of your vault or to discover the relationships between particular notes, you may filter and personalize the graph.
Features
Knowledge Graph
Your notes are organized and connected in Obsidian by backlinking, which results in a knowledge graph, a highly connected, visually appealing network of concepts. This approach is helpful when your main goal is to take notes that relate to a core thought, sort of a second brain.
Plugins
You can obtain plugins for things like audio recorders, kanban board views, custom CSS, and more. To increase functionality, Obsidian depends more on plugins than on API integration.
Obsidian Publish
Your notes may be made public with Obsidian Publish. Even better, you may publish several Obsidian vaults as websites using your own unique domain. The cost of Obsidian Publish, a premium service, is $20 per month, per site.
Pricing
Obsidian has a fantastic set of three product plans for users to choose from.
Personal Plan
The Obsidian plan is entirely free and perfect for private use. To use the website of Obsidian, you do not need to register or create an account. Additionally, this approach gives consumers access to plugins and APIs and provides excellent community assistance in the event of a problem.
Catalyst Plan
Starting at $25, the Catalyst plan can be upgraded if necessary for a fee. Users may provide product feedback and contribute to the development of the application with this one-time payment option. Additionally, it grants users access to the private development channel and exclusive community badges.
Commercial
Large-scale businesses should use the commercial plan, which costs $50 a year per user. Potential customers can sign up for a 14-day free trial and receive priority customer service. Businesses wishing to buy in bulk are also eligible for a ton of excellent savings. Those who want to take advantage of these reductions should get in touch with Obsidian's developers and ask for consideration.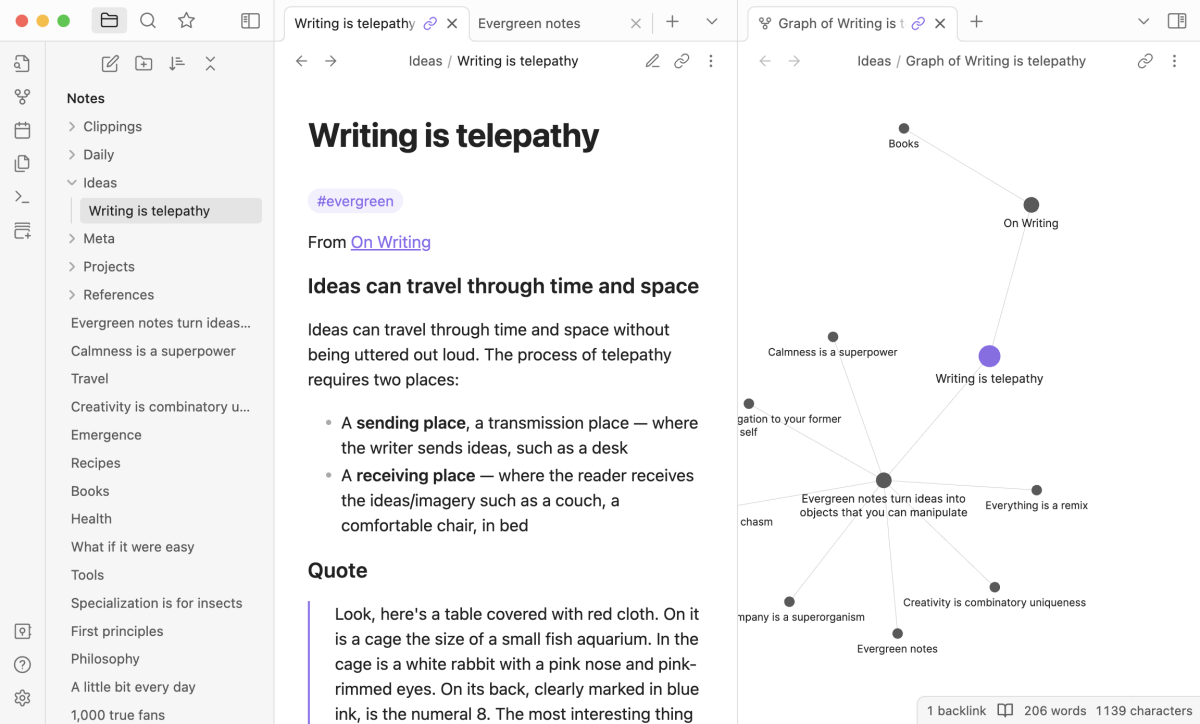 How does it work?
Markdown
Markdown is a sort of language formatting that is used by Obsidian. Unlike formats used by word processors like MS Word, the formatting is most appealing when viewed through a medium that can comprehend the markdown, but it is still very readable as a normal text document. You may export your notes from Obsidian as plain text files or import them into other markdown tools like Joplin because markdown is widely used and standardized. If you've never used markdown before, it could seem intimidating, but Obsidian includes a ton of shortcuts and plugins that make it simple.
Zettelkasten
Zettelkasten is a way of taking notes. This succinct description of it is good, Index cards and file cabinets were initially used to enable zettelkasten note-taking, but software has made this procedure much simpler.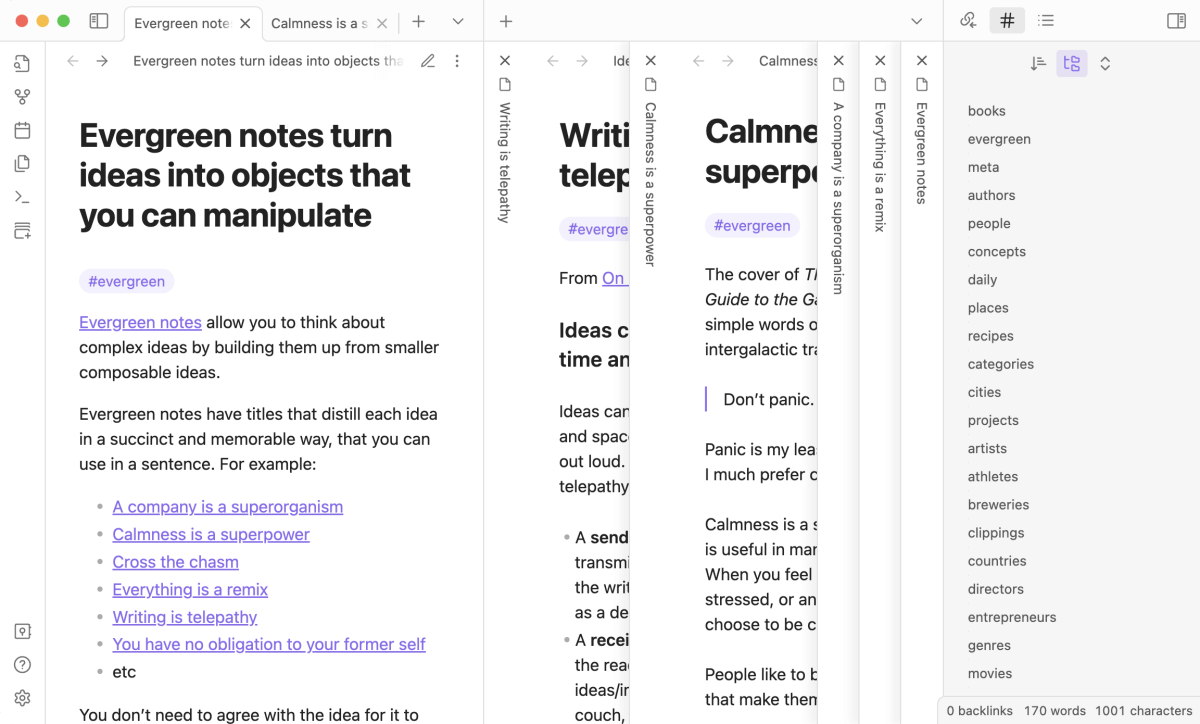 Pros and Cons
Pros
It is free for personal use.
All notes are stored locally as text documents.
Offers multiple ways to organize your notes.
It has lots of plugin options that extends its functionality.
It is easy to customize and configure according to your taste and needs.
Gives great interconnection of your thoughts, ideas, and notes for simple sift-through.
Cons
It is difficult to get started.
It does not offer any collaboration.
It lacks native collaboration which is a turndown for most business teams.
You have to pay extra for simple and expected features such as synching across devices.
Organize all your notes with the help of @obsdmd obsidian.md/ – a revolutionary note-taking app, via @supermonitoring
Final Thoughts
Obsidian is an effective choice if you want both simplicity and ease of use and the security of a high-end program. It offers strong encryption solutions to keep your notes confidential, in addition to offering an intuitive experience with its contemporary look and functionality. If you want to take notes privately without losing convenience or functionality, this is the ideal tool for you. Obsidian stands out with its combination of functionality and welcoming layout, despite the different considerations that are taken into account when choosing an app. You can rely on Obsidian to keep your notes structured and safely preserved between each note.
It will undoubtedly remain a desirable option for anyone looking for a full-featured yet secure note-taking software, with ongoing upgrades and obsidian evaluations being made regularly. So give Obsidian a try if you're looking for the highest level of security while using tools that are tailored to your requirements and tastes.
Get notified about our new posts
By submitting this form I accept the
Privacy Policy
and I agree to receive blog-related information from Super Monitoring.
Leave a response: