Organize Your Notes Perfectly with Evernote
In this fast-changing world, managing your data could be difficult, as the world is changing and we have also moved from manual hassle to digital electronics. As you have experienced at some point in your life that remembering all the little things, either related to your study or work, is much more difficult. Being a Creative Professional demands you to note down your brainstorming ideas. What do you think if all of your ideas and imagination reside in one place? Wouldn't it be a good idea…? To remove your tension and make things easy, there is a note-taking and task-managing application named Evernote.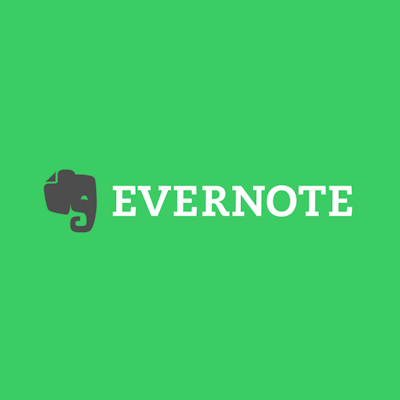 It's challenging to figure out the right information. When you do find it, you had better keep track of it. Perhaps you're thinking that's why there are bookmarks. All right. Is a bookmark all you require, though? A bookmark is insufficient if you're trying to find a picture you found on Google Images a month ago, a little passage from a lengthy piece in The New York Times, or a wonderful offer on Amazon. Which bookmark belongs to whom? How come you saved it? What would happen if the page's content changed? What if the page is no longer available? "Remember Everything" is the first two words in the Evernote tale. This objective, which was based on the notion that software may function as an extension of the brain, provided us with a long-term plan and helped us make decisions. It resulted in the creation of a platform that enables you to gather and arrange data from practically any source, whether you're taking notes, clipping web pages, scanning documents, or forwarding emails into Evernote.
Platforms of Evernote
Evernote is designed for making and organizing notes with the ability to include images, audio, and online material. Notes are maintained in virtual "notebooks," where they may be sorted, annotated, updated, searched for, and transferred. You may access Evernote on:
Android,
iOS,
macOS,
Microsoft Windows,
as a web client.
Features
The note-taking capabilities and organizing them are by far the greatest strengths of Evernote. In its default setting, Evernote divides your notes into single files (Notes), which may then be arranged into themed Notebooks, which can then be merged to form Notebook Stacks.
Users can take advantage of the following features to varying levels depending on their plan:
Sync notes across multiple devices
Web Clipper browser extension
Offline access to documents
Audio note recording capability
Scan important documents
Cross-platform integration
Screenshot annotations
Multiple templates like To-Do lists, grocery lists, daily reflections, etc.
Scan in handwritten notes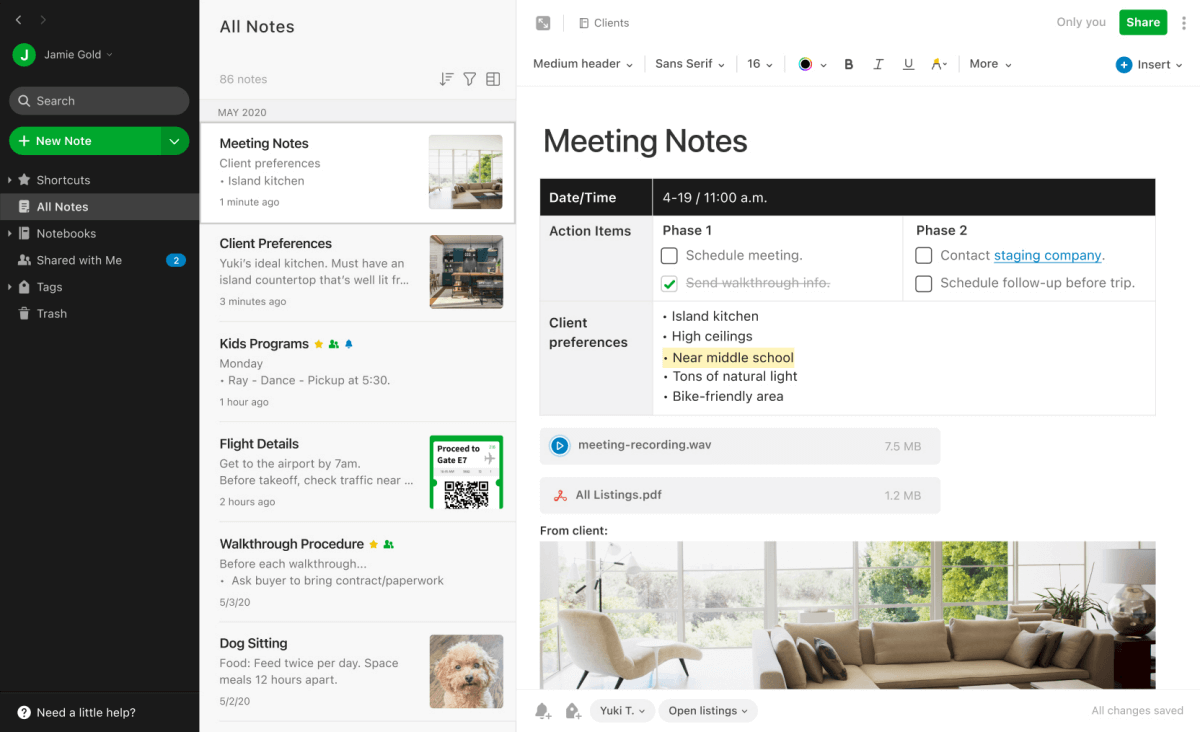 Organize your way of work
Use filters to see only the tasks you need to see and view your tasks by assignment, note, or due date.
Prioritize your work
Get a comprehensive overview of all you need to do so you can continue to concentrate on the things that matter.
Sync your notes
Any modifications you make to your tasks are immediately reflected in every mode and on all of your devices.
Get alerts
Even when you are not using the app, Evernote may alert you when a task requires your attention.
To-Do List
Most people save their to-do lists in Evernote or use Evernote in conjunction with a specific to-do software. With our newest tool, Tasks, we've now made it simpler to keep organized by combining your to-dos and notes.
Your to-do list can now reside within your notes, complete with priority flags, due dates, and reminders to help you get your schedule out of your brain. Tasks eliminate the need for you to manage your notes and to-do list in two distinct locations. You can be sure that nothing will get lost in the shuffle by using tasks to keep the activities you need to accomplish connected to the information you need to perform them.
Evernote Pros & Cons
Pros
Multi-Device Note Sync and Evernote Web helps you stay up-to-date on all of your devices.
You can organize notes by hierarchy of 3 layers; notes, notebook, and notebook stack. You can also organize notes by their tags.
The search function in Evernote is incredibly robust. You may use Advanced Search to discover notes by type of content, title, keywords, dates, or other criteria (audio, images, etc.). To search for certain words or phrases, you may also use quotation marks.
There are formatting possibilities in Evernote. Notes can be formatted as you want. Font, highlight, checkbox, bold, and more are available. In addition, you may connect a file, enter a table, and record audio.
As an added benefit, you may join notes together by using internal links. Copy Internal Link may be selected by simply right-clicking the message. Insert the URL in a subsequent message. The title of your message will be hyperlinked to the URL.
Start collecting ideas and inspiration from the web, so you can access it whenever and wherever you need it in your Evernote account.
You may share your notes and notebooks with others via Evernote. Within Evernote, as a public link, via email, work chat.
Cons
It can't be used for brief tasks or short notes. It is beneficial for sophisticated tasks.
There is limitations of free plan as you can always use Evernote Basic. Just keep in mind about the limitations of this free plan: It has 60MB monthly upload limit while 25MB maximum note size.
You can connect 2 devices only in free plan.
Make your life much easier by using @evernote to manage your notes. evernote.com/ via @supermonitoring
Final Sentences
Evernote help you keep notes at one place, it offers tags and web clipping so that you can locate things easily. It has a strong search system which helps you to search things by either their tags or keywords. Because of this, Evernote has become a popular topic of conversation as a way to remember everything and complete any task. Because Evernote is doing more than just helping you remember things, it's also assisting you in getting through your day, producing significant outcomes, and completing what matters most.
Get notified about our new posts
By submitting this form I accept the
Privacy Policy
and I agree to receive blog-related information from Super Monitoring.