MailChimp – Send Better Email!
Marketing your products or services to a group of people using electronic mail services is called Email Marketing. Email Marketing reduces the delay a business would have in interacting with potential and current clients. It is meant to develop trust, loyalty and brand awareness among people. Email marketing is essential for a business to get new customers, increase conversion and sales but also in getting customer reviews and other offers to current customers.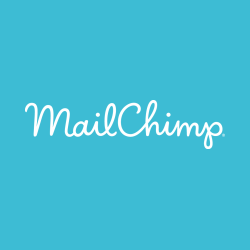 MailChimp is a Web based email marketing service which is easy to understand and has many useful tools integrated. The best thing about Mailchimp is that it offers 12000 free monthly emails to less than 2000 email contacts. Though this Freemium option won't let you access all the features and you would have a MailChimp icon added to your email but in my opinion this is acceptable for sending free 12000 emails per month. This free service is very helpful for startups and small business having shoe string budget.
MailChimp has many features that would help you to create an effective email marketing campaign. MailChimp provides subscriber details, Personalized and Automated emails, Advanced Analytics, Design Flexibility, And after installing its mobile application you can send emails anytime, anywhere. Integrated with all the features that work for you MailChimp is one of the best email marketing service you can opt for.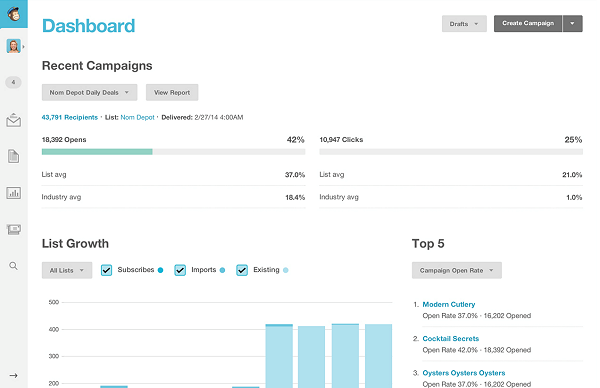 Social Media Connectivity
MailChimp allows your subscribers to easily share your email marketing campaign on social media. You can also share the emails on your social networking accounts using MailChimp. Using Mailchimp you'll be able to update Facebook, Twitter, Tumblr and Delicious with latest information about your email marketing campaign. It also provides information about who has tweeted about or liked your business on Twitter and Facebook respectively.
E-mail Previews
Subscribers use different email clients such as Gmail, Hotmail, Yahoo and more. MailChimp provides a preview of your email on 10 popular email clients used by your customers or subscribers. Email Previews help you ensure that your emails are working and have a proper format whenever a subscriber views your email.
Design Flexibility
MailChimp offers many professionally designed templates for your email to choose from. It even allows you to add your own HTML code and have a personalized design for your email. You can add images and customize the design according to your needs. Now, to ensure that your mail doesn't land up into the subscribers spam folder MailChimp sends it to the Delivery Doctor where the mail is tested to check the spam score and errors in your HTML code.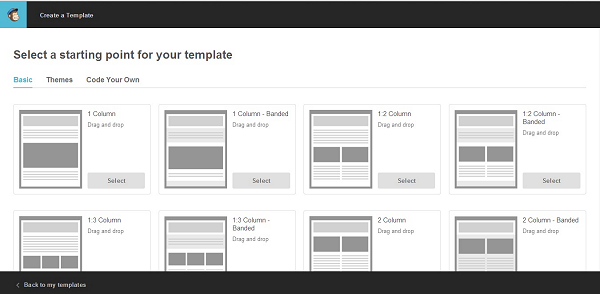 Advanced Analytics
MailChimp collects information regarding the subscriber activity analyzes the data and gives a visual representation of all the data in various formats. These graphs provide details about customer interaction with email campaigns. It also shows the growth one has in subscribers via click tracking and focusing on the HTML5 chart. You can get these details for a specified period of time and it also would indicate the best time to send your email campaigns by using the Open and Click over Time chart first, that will show the number of subscribers who read your mail along with the time it was read. This would help you decide at what time your emails are read the most.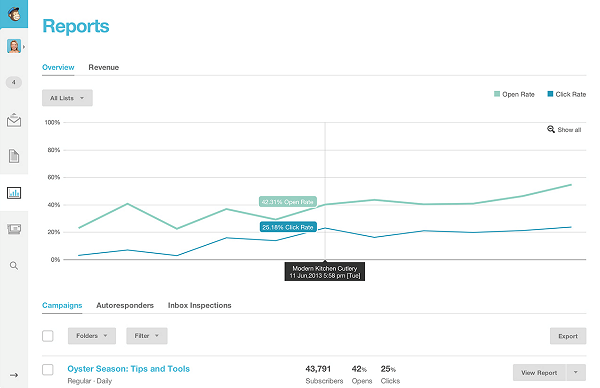 Personalization and Automation
MailChimp allows you to segment your audience and target them with different campaigns at different timings. It allows you to automate email sending options based on their activity on your website. MailChimp lets you know what content your customers care about and you get to know more about your customers too.
Integrations
It is easy to integrate MailChimp with the web services you are using already, easily sync data, import content and generate reports to know the influence of your email campaign on your business. They have integrations for commonly used tools like WordPress, Twitter, Magento, Facebook and Salesforce which help you create much smarter email campaigns. These integrations make it easy for nonprofits to manage donors, track purchase and tackle every unique problem one encounters in his business.
Autoresponders
Autoresponders are automatic email campaign available for premium accounts only. You can use an autoresponder to create a tailored welcome email or send automatic birthday messages and increase subscriber engagement. An autoresponder would send an email to your subscribers when they meet a specific criteria.
Pros of Using MailChimp
Economical, Free up to 2000 subscribers.
Pay as you go, pay per email plan and "No Monthly Charges"
No Contract And No Credit Card Required.
Offers Great Free Learning Resources so that you can easily create effective email campaigns yourself.
Awesome and Prompt Customer Support
RSS to Email Option, so that whenever you update your blog an email is sent to your subscribers.
Cons of Using MailChimp
Crossing 2000 subscriber, you would have to pay for availing this service. For around 2500 subscribers your bill may be around 30$ per month and when you reach 5000 subscribers you would have to pay around 50$ per month.
Autoresponder, which would respond to incoming mails automatically comes in only when you upgrade your account.
Links to humorous videos on the website can distract you from focusing on your campaign.
Loaded with features @MailChimp is one of the best email marketing services you can opt for mailchimp.com/ via @supermonitoring
Plans and Pricing
MailChimp offers monthly as well as annual plans which are very economical and it is estimated that if you invest 1$ on an average on email marketing the return on investment would be around 44.5$. The monthly plan would charge around 75$-240$ or more depending upon your subscribers. While the annual plan starts at 900$ to around 2880$ which would again depend on number of subscribers.
Lastly, I would recommend you to try MailChimp as it is cheap, much easier to use, it is very effective and though there are many other email marketing tools available but I don't feel like any other tool would offer 12000 free emails that too with awesome services almost comparable to any of those paid services.
In my opinion, MailChimp is the best tool available for email marketing! Let us know what you think in the comments
Get notified about our new posts
By submitting this form I accept the
Privacy Policy
and I agree to receive blog-related information from Super Monitoring.