LiveAgent: Help Desk Software with Unlimited Options
Introduction
Customer service is trendy topic these days. After there was a boom around technology at the start of 21st century, the internet has settled down and now it's more about the basics. Automation has taken huge part of the overall human resources and people are demanding human approach, even if it's on the internet.
Today we are going to review one of the oldest customer service software around, LiveAgent.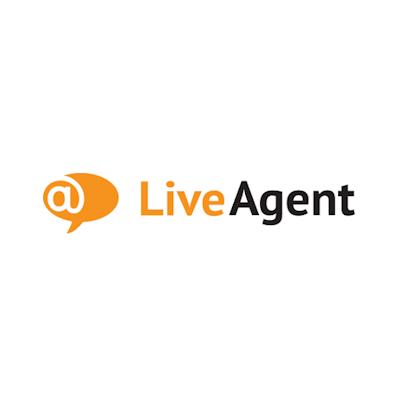 We can put LiveAgent into category of more classical tools inside the industry, focusing mostly on the solutions that help customer representatives to handle their job very easily and quickly. The software is listing around 200 features and seems to focus more on functions, rather than fancy branding, which is very popular these days.
They try to claim that most of this is not really important for customer and that they only care about getting quality customer service. Therefore, the pricing is more affordable than tools like Zendesk or Intercom, but lacks the branding experience of the mentioned tools.
Before we jump to the tool itself let's talk bit more about the field. Customer service has grown up from having support@email mentioned on your website to handle occasional problems and complaints, up to the point where we collect data from calls, chat, emails, knowledge base or forums into one place.
There are plenty of tools that handle one or several parts of the customer service software, but there are also some of the complex solutions, which we can call multi-channel help desk solutions. LiveAgent is one of them.
Benefits for users
Benefits of software usage are always connected to its core features and what you can do with them. LiveAgent claims to make use of their software for both customer service and marketing & sales.
They are listing 10 use cases on their page, which basically help you to get more done, while spending less time on communication with your customers and prospects. On top of that, they claim to have significant impact on business results thanks to their complex solution, which includes ticketing, live chat, call center, customer portal, knowledge base, forum and other features that helps you with mentioned product verticals.
What we admire is that they think of customer service beyond serving the customer, but connects it to the business objectives. It's impossible to separate departments and procedures inside the company and think of their independent impact of results.
Is having live chat button integrated on the website with real-time support ready to answer questions part of your marketing? Definitely. Are you able to increase sales? Of course. What about finishing the order inside the online store. If we are able to proactivelly invite someone to the chat if they haven't proceeded to next step, are we able to increase conversion rate? You know the answer.
Don't think of customer service as boring activity that counts towards expenses. It can be your reactive sales channel if handled properly.
Product overview
Before we dive into the LiveAgent application, let's analyze their product offerings. LiveAgent collects data from emails, calls, social media (Twitter and Facebook so far), chats, contact forms and feedback forms and transform them into the tickets. This is core function of every help desk software and they tend to differentiate in number of supported channels and features they offer alongside.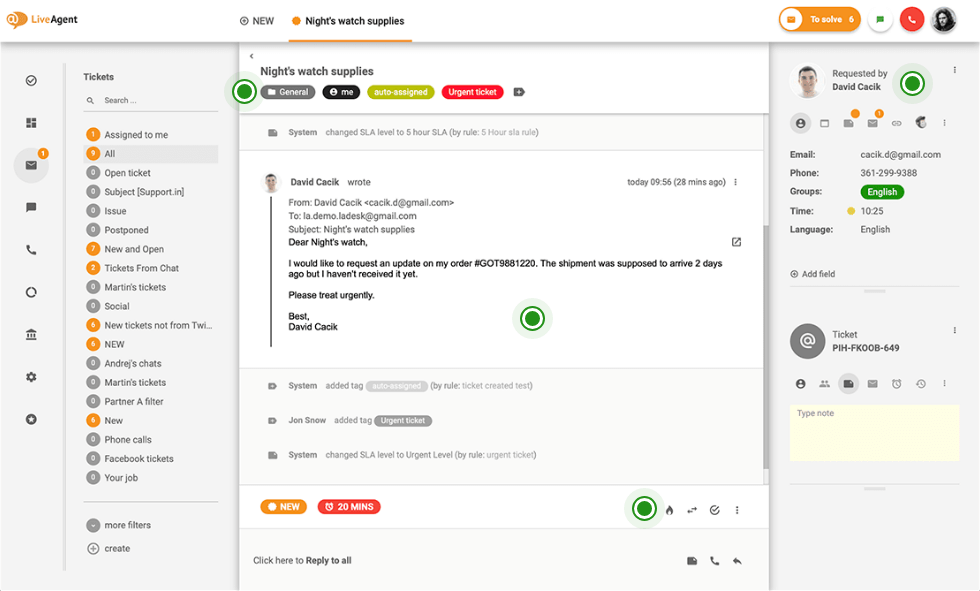 We have found interesting transformation of help desk software into hamburger on their side. It's maybe bit abstract or incomparable, nevertheless it's easy to understand the point. You have a basic system, from which you manage the communication. Then you might want to have main ingredients such as live chat, customer portal, ticketing, call center, but they are not complete without small details such as mobile apps, automation & rules or multilingual support.
Product usage
So far so good. Let's go to create our account. First of all, it's important to choose the name of the portal, it will be something like yourcompany.ladesk.com, but don't worry you can change it to your domain inside the dashboard.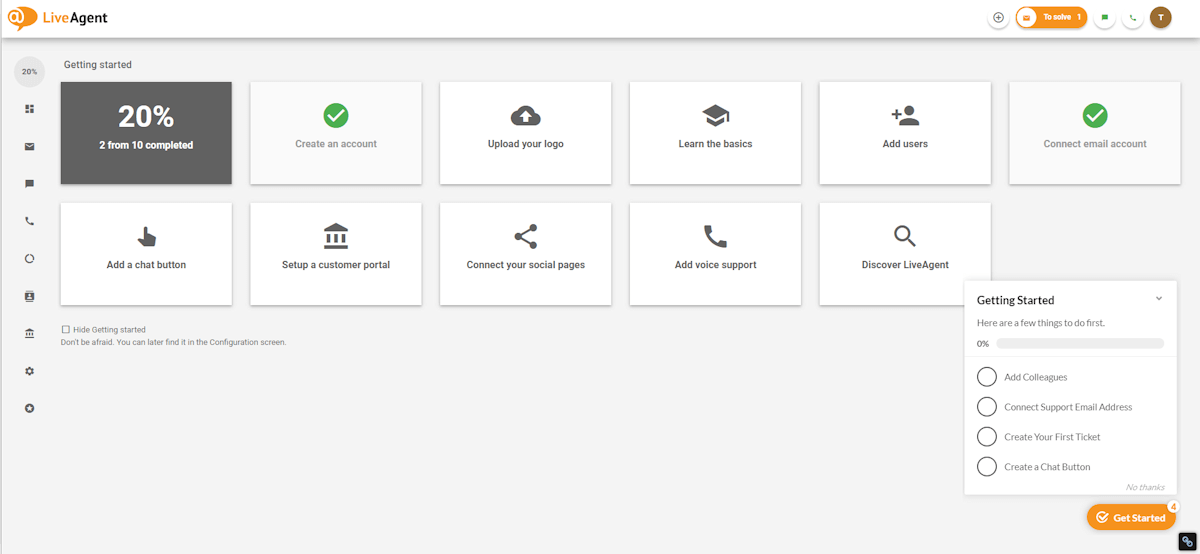 Once you are inside your dashboard, you can follow getting started guide that will setup most important stuff first, so you won't get lost inside the software. It would be nice if they offered built-in tutorials for all of their features, but with help of Google and their website you are able to help yourself. Also, their support is always happy, so if you have any questions or you need help, just contact them, they are pretty helpful.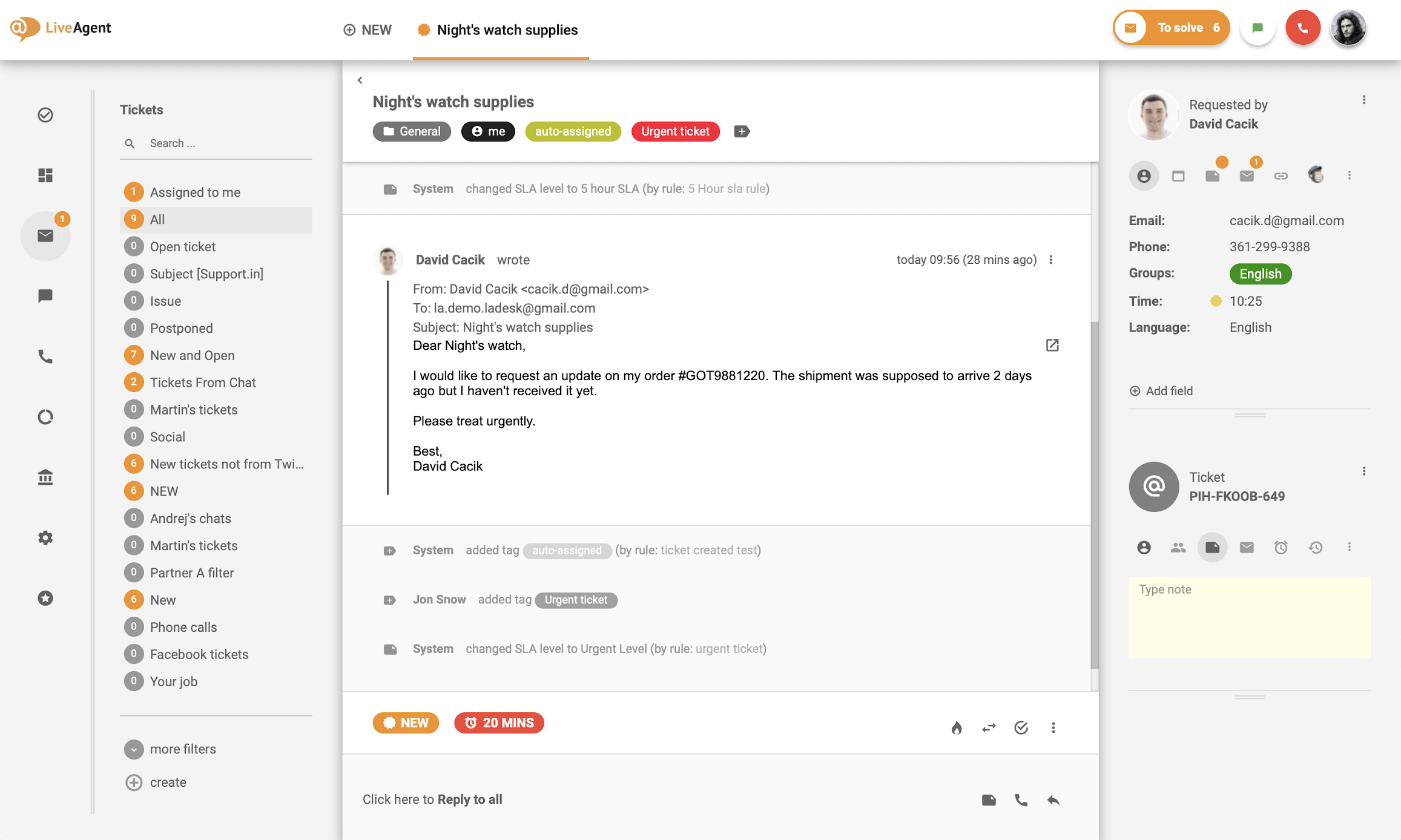 After you get a grip on the software, it's more about organizing your LiveAgent dashboard to meet your business needs. You may want to use departments to categorize tickets into the groups, you may want to add additional agents and select which categories are they part of, or you might want to set automation rules that describe every operation you can think of with well-known if-this-then-that.
From our short testing, we couldn't get maximum out of this software, but quickly saw the value inside the streamlined communication. It was very beneficial to get all of the communication into one place, so we didn't need to think of checking other tools and we could focus on more important stuff.
Testimonials
LiveAgent has a huge coverage on review portals and it made a very good impression. There were several other tools that had more reviews, however LiveAgent always had bigger overall rating. That might be because the customer base of the bigger companies has more numbers, but they might lack personal approach towards them.
Comparison
When we think of help desk industry in general and include all of their subcategories, we are in one of the most competitive industries out there for SaaS. There are hundreds of solutions that are competing against each other, therefore we were bit of surprised LiveAgent stood on top of them in some and in general is in top 5 on every portal that comparing these solution.
However, the important part of is what kind of features you need and what would you like to achieve. Some of the tools are more communication based like Intercom, but they focus more on sales than customer service and they are also more expensive, so it's crucial to to search for alternatives and check their features.
LiveAgent Video Product Tour:
Analysis of pros & cons
Alright it's time to make a quick overview, what we liked and disliked about LiveAgent and how the tool could improve in the future.
Advantages
A lot of features
Different use cases
Built-in call center software
Unlimited history & space
Good value for money
Advanced automation rules
Great support
Personal onboarding (free)
Disadvantages
Complexity of software
Bit of outdated UI
Less number of integrations
Limited number of tutorials
A multi-channel help desk software that can help your business: @LiveAgent liveagent.com/ via @supermonitoring
Final words
For as low as $9 per agent per month you can dramatically reduce time spent on email and administration. Imagine the time you are spending replying to the emails, checking the history of the communication, going back and forth between different tools, social media channels and your CRM.
Every business has recurring costs, but there are unlimited options where to spend them. It has been very common to use email client such as Outlook to manage your communication, but they have their limits. Nowadays. It's very common to share your communication, transfer it to specific person or department and collect data about customer communication from various sources and with different channels.
We consider LiveAgent to be affordable solution, which has been around for some time and offer you plenty of different features for very small fee compared to some of the competitors. Even though we are not a huge fan of their UI, their latest Material Theme is a good step towards matching their interface to the level of the features they offer.
Get notified about our new posts
By submitting this form I accept the
Privacy Policy
and I agree to receive blog-related information from Super Monitoring.