Landingi – Getting Your Customers To Land
For many businesses, this is an incredibly worrying time. With borders closing and the leisure industry virtually shutting down, many bricks and mortar brands are turning to the Internet in order to survive.
For those unaccustomed to e-commerce as their primary outlet, it can be difficult to know where to start with a web-only business with so many different things to consider.
When focussing on e-commerce, one of the most important things is to have a killer landing page – it's great that you've snagged those customers from social media but, this is pointless if they lose interest once they land on your website.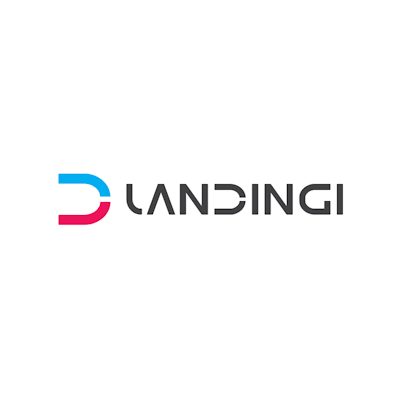 Thankfully, there are some great tools available to help even the least technically minded manager to create a professional landing page and, today, we're going to be talking about one of our favourite landing page tools, Landingi.
Tell us more!
Poland based firm, Landingi, was launched in 2011 by Internet marketing entrepreneur, Blazej Abel. An end to end platform for businesses, Landingi allows users to create landing pages for their websites quickly, easily and, without any advanced technical skills.
As well as creating pages, users can take advantage of a whole bunch of features and extras, including 200 different page templates.
Who uses Landingi?
Landingi is ideal for businesses of any size looking to improve their digital presence at an affordable price. Landingi boasts an impressive list of clients including Paypal, Aviva, Credit Agricole and Campus Warsaw.
What about the wonga?
Landingi caters to a range of budgets with different price plans for individuals and agencies which are as follows:
Individual price packages
$29 per month – The cheap and cheerful Core package contains all the basic goodies needed to get started with your landing page including 150 templates, drag & drop editor and email integration.
$45 per month – The mid-level Create package has a little more oomph and Contains all the features from the Core package plus 50 premium templates, lightboxes and, an image library.
$59 per month – The advanced Automate package has all the bells and whistles. Needed for the larger business including funnels, A/B testing, Schedulers and advanced integrations.
Agency price packages
$145 per month – The Consultant package has enough to make a pretty good
start including sub accounts, unbranded emails and, an
Unbranded WordPress plugin.
$149 per month – The simply named Agency package adds to the Consultant package with audit logs, image libraries, custom templates and VIP support.
$245 per month – The all singing, all dancing Agency Pro package has got it going on with own domain platform, own branding and API for sub accounts.
All Landingi packages are annual billing only and, a fourteen day free trial is available for those looking to get a taster of the platform.
What's inside?
Landingi has loads of great features and is adding to them all the time.
Since January 2020, the platform has added some great new stuff such as autosave, delayed email sending and fixes for pages hosted outside of the platform – all in addition to its existing features which are as follows:
Tantalising templates
Landingi boasts over 200 templates for customer use – all of which are easily edited for personalisation.
It's a drag
Landingi's simple to use drag and drop editor gives users complete control over the content of their landing page – perfect for those who want to stand out from the crowd.
Upwardly mobile
With more and more people accessing the Internet on their phones, Landingi's Rebuild Mobile View feature is possibly one of its most important for today's business. This feature allows for quick re-arrangement of landing page elements for mobile optimisation.
The image of success
Continuing with the focus on personalisation, Landingi features a huge number of images within its libraries – many of which are included in all packages.
Click and connect
Landingi's one-click duplication and one-click publishing are fantastic time-savers for those looking to create multiple pages and publish them quickly and efficiently.
Taking the lead
Kind of like a CRM, Landingi's lead generation software is a brilliant feature which allows users to export and analyse leads and integrate them with your existing stuff.
First response
The new Autoresponder feature helps users to stay engaged with automated email responses 24/7.
A perfect match
Many businesses will already have existing domains and, Landingi makes it really easy to pop these into your Landingi account. In addition, Landingi is compatible with most browsers as well as Facebook, HubSpot, SalesForce and Mailchimp for an all-round one stop shop.
The analytics
As you might expect, Landingi takes its analytics very seriously and, its analytic tools are fully integratable with Google Analytics for extra convenience. Again, these tools are super-simple to use for all those non-techies out there.
Agency extras
If you're opting for one of the Agency packages, you have a couple of extra treats in store including:
Sub Accounts
This feature allows users to manage multiple clients from one central account as well as duplicate and rearrange pages. Perfect for those juggling lots of clients.
Unbranded emails
Really important for professional looking communications, the agency packages include unbranded emails as well as a White Label feature which allow users to incorporate their own branding into their emails.
Getting your hands on Landingi
In keeping with the whole user friendly thing, it's really easy to get started with Landingi – and, here's how:
Head on over to https://landingi.com/
Click onto Start My Free Trial
Fill in the usual details including your name, email address or, alternatively, sign up with either your Facebook or Google account
Click onto Sign Up For Free
If you've ever signed up to anything online before then, you'll know the drill. You'll receive a verification request by text, usually within ten minutes or so. You'll then need to enter the code sent to you by text into the account verification box.
You'll then be asked to tell Landingi what you'll be using the site for (for yourself, for a client etc)
Now for the exciting part – once you've completed the sign up procedure, you're in and, you'll now be asked to pick your first template.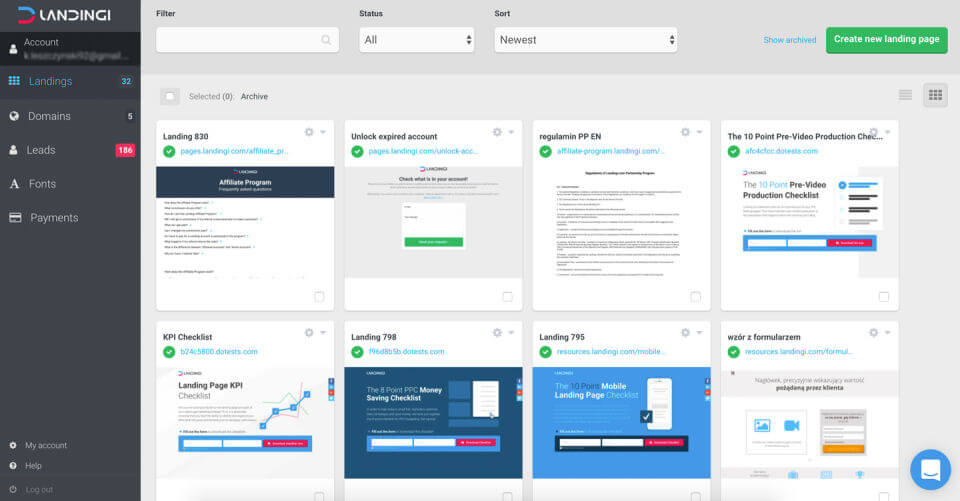 Landingi – The Pros & Cons
So, we've told you all about Landingi's fabulous features but, what you really want to know is whether or not it's worth your hard earned cash. Let's delve into the pros and cons of this Gliwice based platform:
The Pros
Great at any price – Landingi's pricing is incredibly competitive in a busy marketplace, making it affordable for most budgets. In particular, the Core package offers fantastic value for SME's just dipping their toe in the waters of landing page creation.
Super-simple – We've said it before – and we'll say it again – Landingi really is incredibly simple to use, even for those with zero techpertise. Navigation is straightforward and, users are literally guided around the site and directed to the pages that they need.
Fabulous features – Landingi offers great value for money in terms of features, with even the Core package featuring enough goodies to create really professional looking landing pages.
SEO-per tools – Many of Landingi's templates are industry and goal specific which means that you get a helping hand with your site's search engine optimisation.
The learning curve – As well as being user friendly in general, Landingi offers a knowledge base and tutorials for those who need an extra helping hand in finding their way around the site.
The Cons
Can't be helped – Although the more expensive Landingi packages feature Premium Support, those at the lower end may feel slightly abandoned as. Landingi states that its support (in Polish and English) is open from 8am to 8pm but, from the moment it opens, waiting times are excessive and, the support available is sporadic at best.
Speed is not of the essence – One of the most frustrating bits about Landingi is the slow speed of publishing. Although this isn't always the case, it is pot luck and can be really frustrating when you've created your page and want to share it with the world.
Branding – Unbranded features, including emails, are only currently available with the two agency packages which can be a mild frustration for those looking for a super-professional look to their whole digital presence.
Decision Time
So, we've given you the lowdown on Landingi – what it is, what it does and how much it costs – but is it right for you?
The answer to that is 'almost certainly'. In our Cons section, we've mentioned a few places in which Landingi is less than 100% but, to be honest, these are minor annoyances rather than deal breakers.
For the most part, this tool is pretty darn perfect really. It's affordable, with a good choice of packages. It has plenty of great features – even in the cheap seats.
It's easy to use and allows you to create really slick pages with very little effort. In our opinion, Landingi is a great choice for companies of all sizes. Interested to read another review? Go ahead and read Landingi Review – A Blow For Expensive Marketing Pages by Milosz Krasinski.
---
About the Author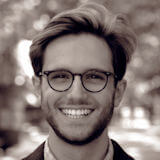 Zachary Hadlee – Technology Journalist from London, currently based in Malaga. For 2 years now, he's been writing stories about how our Internet works – and how it is changing. From artificial intelligence to UX things are happening today at a pace that can seem bewildering.
Get notified about our new posts
By submitting this form I accept the
Privacy Policy
and I agree to receive blog-related information from Super Monitoring.