How Business Owners Should Use Canva to Help with Their Marketing Efforts
Canva is a visual creation platform that allows users to easily share social media posts, create book covers and develop beautiful graphics without design training. It's an excellent solution for small-business owners on a budget.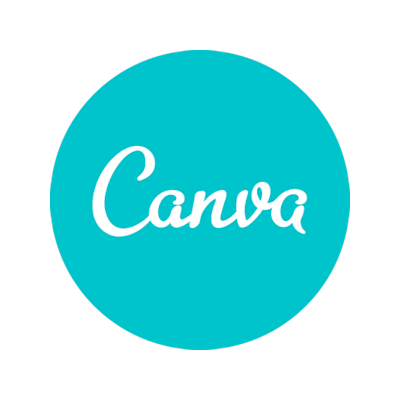 Canva reports about 3,000 new designs every minute or over 1.2 billion a year. It is one of the top platforms for generating social media content. If you haven't checked it out, you can get started for free. You don't need a degree in design or any special training to use it.
No matter what size business you own, Canva has a solution that meets your budget and needs. You must either upload your own photos or purchase stock images from Canva. It offers an extensive library of images for $1 each — just pay as you go.
Here are some of the top reasons we recommend using Canva as part of your marketing strategy and some creative tips for doing so.
1. Make Your Own Memes
Coming up with posts for your social media marketing calendars is time-consuming and challenging. You can't always write a full article or track down outside sources.
However, if you have some quick tips, humorous asides or quotes you'd like to share, you can make memes for each social media site. Memes that touch a chord with your target audience are likely to be shared, expanding your reach.
When you log in to Canva, choose social media posts for the platform of your choice. You'll see hundreds of templates. Tweak them to suit your style and make them unique enough to stand out from competitors. You don't want a cookie-cutter look.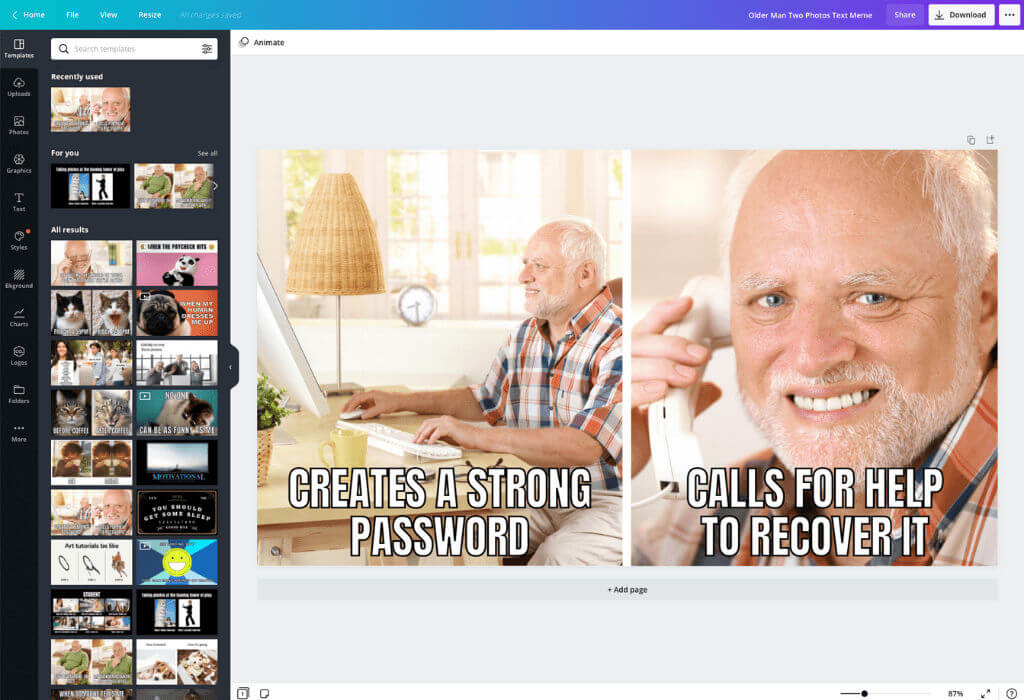 2. Create Scalable Designs
Canva's Pro account allows you to resize any project for another purpose. You'll save a ton of time. Upload your images in the highest resolution possible and save them as a PDF, so the finished product works for large promotional printings, such as window signs.
Studies show that larger visuals boost sales. Adding signage can up conversions by 60% or more. The ability to take a current design to a website banner ad and increase the dimensions saves you time and effort.
You can also save your designs in SVG format, which scales up and down without losing the image's sharpness. If you're working with a printer, chat with them about which arrangement they prefer.
3. Design a Book Cover
Offering content on your site is a great way to bring in traffic. Many businesses write a book related to their industry and based on their target audience's pain point. They then offer it for free if the user signs up with an email. Collecting contact information gives the company a chance to market to subscribers via a newsletter.
Canva offers several options for digital and print book covers. Choose the one that most closely matches your dimensions. One way to get a custom look is by swapping out the images and adjusting the font to better meet your needs.
Pay careful attention to how the text contrasts with the photo background you've chosen. You want the title to pop on the page.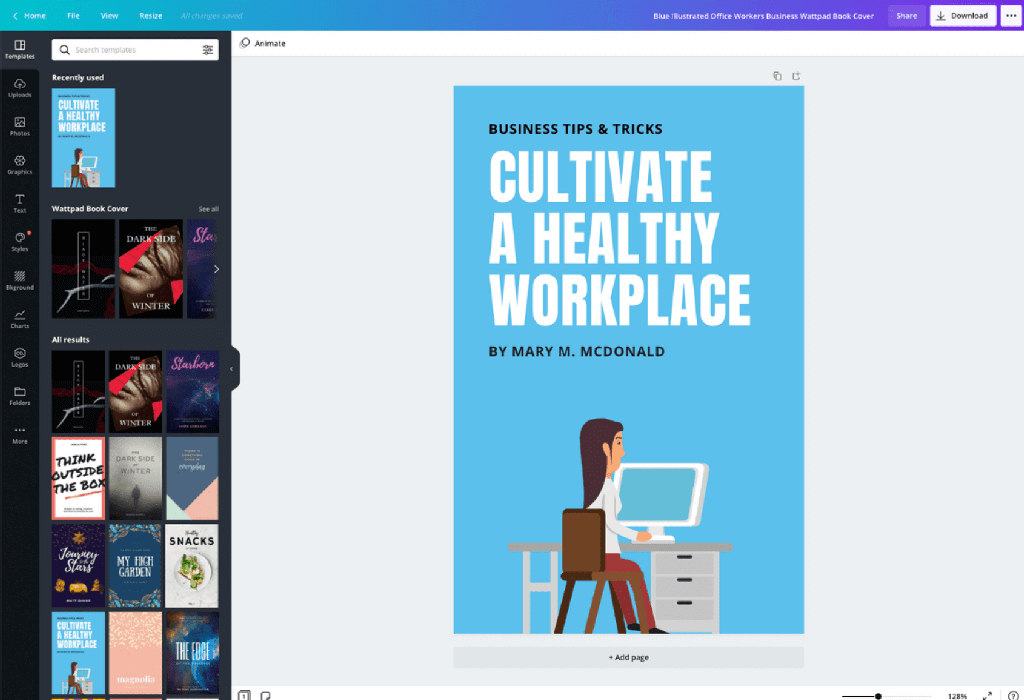 4. Improve Your Social Media Headers
When someone lands on your company's Facebook page or LinkedIn profile, do they see a professional-looking header that grabs their attention? Think about what style your competitors use.
Canva offers options that fit the dimensions of different social media profiles perfectly. You won't have a situation where words get cropped off the page, or a profile image sits on top of other essential elements.
You can also create a consistent look across platforms. If someone visits you on Instagram, they should notice the style is similar to what you use on Facebook and your website.
5. Generate an Infographic
Data visualization is an excellent way to simplify complex information for consumption. However, there are some mistakes designers make with infographics that set readers' teeth on edge. Pay attention to the details, such as making sure percentages add up to 100.
Once you have some reliable statistics, there are numerous templates you can use at Canva to create beautiful visualizations. Get complex and create a long illustration, or simply add some smaller graphics to illustrate your points.
You want your infographic to be unique from all the others out there. Start with the data. What information do you have that others don't? Next, add your illustrations and choose a color scheme. Make sure you add details about your brand at the bottom.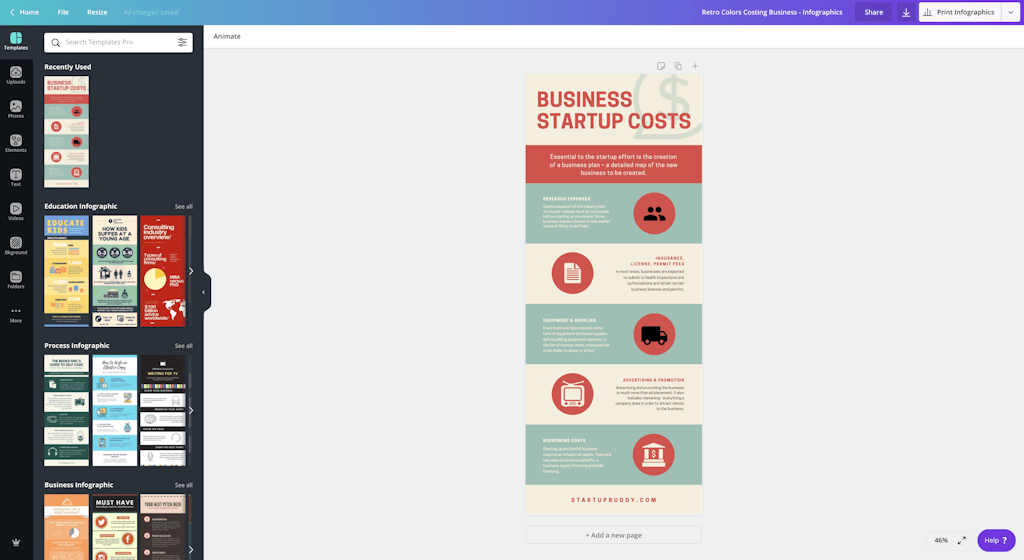 6. Learn from Tutorials
Canva understands many of its users are beginners. Small-business owners and startups can't always afford to hire a professional designer. That's where this platform fills the gap.
The site offers hundreds of tutorials on how to use its software. You'll get ideas for creating a professional look using their templates, input on the latest trends and ideas for designing a strong brand image.
It calls its tutorials Canva Design school. You'll gain insight into topics such as developing a brand kit, adding custom fonts and animating an Instagram story. For example, you can pan in on a photo and grab user attention.
7. Embrace a Consistent Look
Stackla reports that 86% of customers feel authenticity matters if you want to win their business. Canva offers tutorials on how to come up with a brand kit and allows you to make copies of past designs. You can then change elements, such as the photo and text, while keeping the same color palette, font and overall layout.
If you have more than one person working on designs, templates ensure each creation has a similar look. A consistent style shows you are authentic and trustworthy.
8. Customize Your Designs
No matter what template you use or how you keep looks similar, each design should be unique. You don't want to just use a template with the images that come with it. Other business owners might do the same thing, and then users will see you as being unoriginal.
Instead, use the templates as a starting point. Never use the image that automatically comes with the selection. Always replace it with something you upload or from the Canva library.
Ideally, you'd add your own photographs so no one else can use the same one. However, that isn't always possible when you're first starting. Try to find a royalty-free option that is relevant to your topic.
9. Add Team Members
As your business grows, you can add team members to your Canva account. The ability to do group edits allows designers, marketing professionals and developers to access your logo, tweak existing work or get a feel for your style as a brand.
There will come a time when you can no longer focus on the creative aspects of marketing your business. The great thing about Canva is that you can add and remove team members at will, bringing in freelancers as needed to complete big projects.
Standing Out in a Crowded Marketplace
Business owners have to compete against direct and indirect competitors. People clamor for the attention of consumers all day, every day. If you want to reach them, you have to think through your product or service's emotional pull.
Use Canva to showcase why you're the best choice for them. Create aesthetically pleasing designs that grab their interest and compete with top marketing agencies around the world. With a little effort, you can become a pro at using Canva and make it look like you have a dedicated design team.
---
About the Author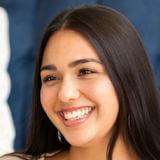 Eleanor Hecks is editor-in-chief at Designerly Magazine. Eleanor was the creative director and occasional blog writer at a prominent digital marketing agency before becoming her own boss in 2018. She lives in Philadelphia with her husband and dog, Bear.
Get notified about our new posts
By submitting this form I accept the
Privacy Policy
and I agree to receive blog-related information from Super Monitoring.