Good news for Yourbrowser.is fans – A shiny new PRO account!
Posted May 19th, 2015 in
Testing
. Tagged:
adblock
,
Browser testing
,
browsers
,
Check Browser
,
cookies
,
customer service
,
flash
,
Geo Location
,
IP Address
,
Java
,
javascript
,
operating system
,
speed test
,
time zone
,
window size
.
It feels great when you find a tool that excels in its task and matches your expectations perfectly. And when something even cooler is offered by it, you feel virtually on top of the moon. The dedicated user-base of Yourbrowser.is (previously reviewed here) has come to love it for its utility and ease of use. And now they have more reason to rejoice. The makers of Yourbrowser.is have launched a shiny new PRO account that will offer its users unique additional features to further enhance their experience at a very nominal price. Check out the description of these features here and be amazed!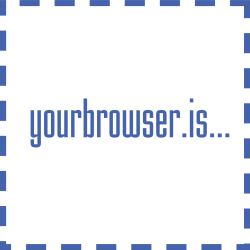 A brief visit to Yourbrowser.is
Before moving on to a description of the new features, let's take a brief look at Yourbrowser.is (this is especially beneficial for those who've not used this brilliant tool yet).
Yourbrowser.is is a unique online tool for easily checking browser features and capabilities. Imagine a scenario where you've created a website for a customer. Now while viewing the website, the customer faces an error and contacts you for help. In this situation you obviously need to know your customer's browsing environment details like the browser make, version etc. But your customer is not an expert on the matter and doesn't know how to find those details. That's where Yourbrowser.is steps in.
With Yourbrowser.is, you can create a customized page that can be sent to your customer. All your customer has to do is click on the link and voila; an email report will automatically be sent to you with all the details of your customer's browsing environment. Is it cool or what!
To have a preview of this tool's vast capabilities, just visit Yourbrowser.is and you will see a grid of colorful boxes. What's great about these boxes is the fact that each of them displays an aspect of your current browser – that is the browser on which you've opened the website. Check it out now!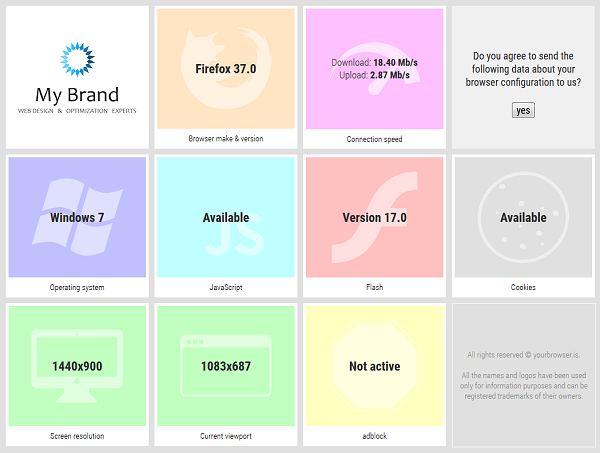 PRO Account
Added features make any tool more appealing. With the launch of a new PRO account, Youbrowser's capabilities have increased many-fold. Here is a description of all the features a user gets access to on signing up for a PRO account:
Users can choose the detections (boxes) they want to use on their custom page
Users can sort the detections (boxes) on the custom page
A PRO account allows users to collect feedback from their customers.
Customer feedback can be collected in the following ways:

content box (text/image)
feedback form boxes

short text form field
long text form field

select field (single choice or multiple choice) in the form of drop-down

Users can detect their customer's connection speed (download and upload)
User can choose to hide advertisements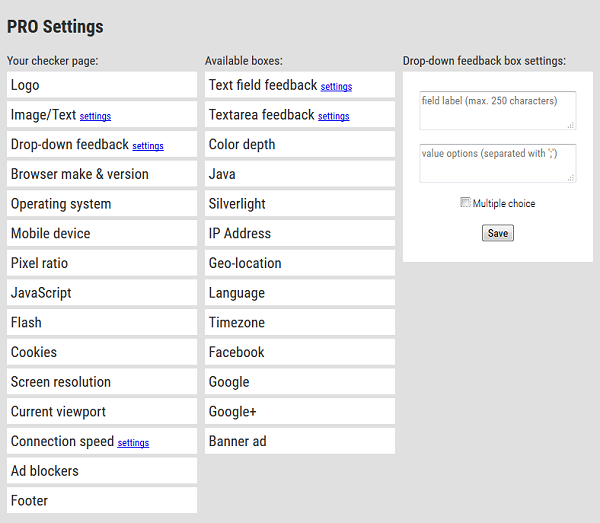 Apart from these additional features, following legacy features from Yourbrowser.is will also be available with the PRO account, of course!
General parameters like Browser and Operating System
Ability to know the customer's IP address and geo-location
Checking if Cookies, JavaScript, Java, Flash and Silverlight are enabled
Ability to read customer's browser language and time zone
User's screen resolution and current viewport can be known
Ad blocking plugins in user's browser can be detected
It also allows users to know if their customers have signed in to Facebook or Google+
New possibilities opened by the PRO account
The above mentioned features do look impressive! Though Yourbrowser was power-packed before them too, the addition of these insightful features has made it even more attractive and helpful. Here's how they can open a world of possibilities for you:
Selecting & sorting detections: The PRO account will allow users to have more flexibility in terms of detections. Being able to select which detections they wish to apply and also the freedom to sort them by preference will help them to know even more than they could earlier about their customers' browsing environment.
Custom Content Boxes: With the PRO account, users will be able to include text and image boxes within their custom page to provide additional information or instructions to their users.
Custom feedback-form boxes: Collecting customer feedback is also possible with the PRO account. With dedicated feedback-form boxes, the users can gather data from their customers and can do more to match their expectations. This will help them in understanding the problems at their customers' end better than before.
Hiding Ads: The ability to hide ads on the custom page displayed to a customer – for even better branding.

Subscription

All the above mentioned awesome features of the PRO account are offered at a very nominal price range. After all, the good things in life are free, but even better things come at a small price! When you weigh what the PRO account has to offer, paying a small fee would be the least of your botherations.
Check your customers' download/upload speed to your server with @yourbrowser PRO account supermonitoring.com/blog/good-ne…via @supermonitoring
Final Words
Even after knowing about the wonderful additions the PRO account has to offer, if you're still contemplating whether to go for it or not, you definitely don't believe in making your life easier. Give yourself a break and the makers of this awesome tool some credit, go PRO today!
Get notified about our new posts
By submitting this form I accept the
Privacy Policy
and I agree to receive blog-related information from Super Monitoring.