Customize Google Maps on your website with MapStylr
MapStylr is no longer available.
Have you ever thought of bringing uniqueness to the most unlikely of things? How about imprinting something that's a global common to make it reflect your personal style and view? If you have or wish to do so, you should definitely check out MapStylr. The name gives away the suspense actually! Well yes, this brilliant online tool is developed by two very innovative minds to allow users to style their maps.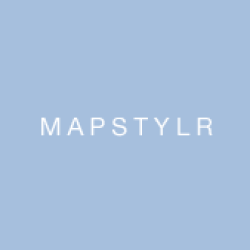 So you've launched a new restaurant and wish to put up a map on your website to enable people to find it easily? No problem! Just integrate Google Maps into your website with your restaurant's location highlighted. This pretty much sums up the scope of location tracking and map usage for most general website owners. But with MapStylr, users can not only embed a Google map within their website, they can revamp the map to reflect and highlight whatever they wish to in the map. Read on to find out more about this quite inventive tool.
MapStylr – Your Google Map Stylist!
As the name suggests, MapStylr is developed with the aim to allow users to give Google Maps their unique style and touch. With myriad options to highlight, color co-ordinate and mark different locations in Google Maps this online tool enables users to embed attractive maps in their website. This one of a kind tool gives Google Maps a visual and textual boost unseen hitherto.
Picture this – you've setup your business in a busy street at the heart of quite a crowded place. There are a million outlets displaying interesting options and products around you but you want to attract customers in a unique way. From a catchy title to accurate utility and an awesome look-and-feel, your business location has it all. You've even set up powerful marketing to make your business reach your target audience effectively. The only thing left to do is to employ a commanding way to market your name online. While everyone these days can pay to get great website made, you can stand apart by adding something exclusive to yours. And what better way to add that spark to your website than a map that matches your business style, color and appeal while performing the simple task of leading people to you!
Highlight all roads and lanes to your business from a prominent landmark to permit anyone to track your location at a glance. Go chic, go bold, bring in color and do almost any edit to a Google map you can think of. What's more, you can do all of this in both satellite and map view. And the biggest plus point of this tool is, that it's free. All the makers ask of you is your support by showcasing your designs on their website. You have to see it to believe it.
How it rolls
Starting to work on a map at MapStylr is pretty straightforward. Just open their website, choose the "Editor" option from the menu items and you'll be redirected to a default map location with styling options to the left. Click and drag the map to your specific location and then start exploring.
Vertically stacked options will allow you to emphasize, color or fill landscapes, points of interest, roads, travel and administrative options. Hover your mouse over an option and the corresponding item will be highlighted on the map. You can then click on the plus (+) sign adjacent to it to pop-out styling options and unleash your creativity.
To save a map, first time users will have to sign-up and registered users will have to log-in. Signing up is a cake-walk as well. Creating an account will allow you to save multiple styled maps and even show your designs off on the website to promote yourself.
For the web developers or anyone well-versed with JSON, a coding option is also available. You can click on the "Get JSON" button from the menu items on the upper right corner of the screen to see a window with the JSON code working behind your style. You can directly edit it and feel more at home if you prefer that.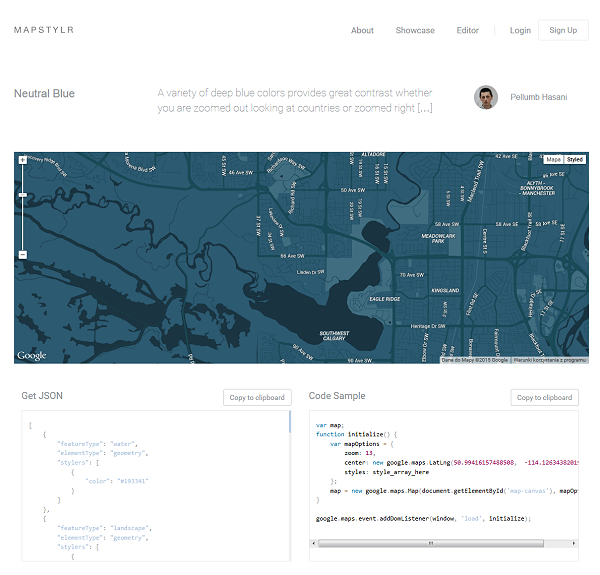 The Good Vs the Bad
While there are many pros of MapStylr including its utility, a simple to understand interface, a lot of helpful examples and JSON coding support, there are a few cons too.
Working with this tool can be very confusing for many users. There could be only a specific set of users who would come to love this tool over time. Additionally, this tool seems targeted to web-developers or people who are familiar with coding keywords. For a general user, terms like Saturation, Hue, Gamma and hexadecimal numbering for colors might seem like Greek. So someone wishing to use a map styled through this tool might ultimately have to either rope-in a third person for doing the job or have to study to know these terms better to correctly use them before proceeding. And who has the time for that!
Another minor glitch is the appearance of ads, though they are limited to a small box at the bottom right corner of the screen. But this can be overlooked; the makers do need to make some money after all!
Give the Google Map on your website a unique look by styling it with @mapstylr mapstylr.com/ via @supermonitoring
To Sum it Up
All in all, MapStylr proves that all it takes is a great idea, and you can come up with something unique and useful. After all, who would have thought that even maps could be dressed up and showcased! Visit MapStylr.com today and watch the might of the true power of creativity.
Get notified about our new posts
By submitting this form I accept the
Privacy Policy
and I agree to receive blog-related information from Super Monitoring.