FlexClip Gives You Pro Video Making Tool for Free
FlexClip is a simple but powerful web-based video maker that helps you create videos for any purpose. No video editing experience necessary. You are able to export unlimited videos with high resolutions up to 1080p. It is a completely free tool, entirely based on the cloud, but it can do almost everything some other expensive and complicated software can do.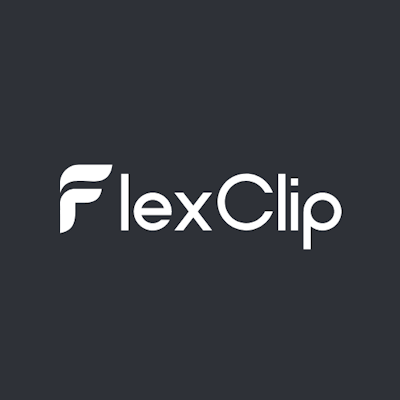 How to create videos online with FlexClip?
FlexClip offers a simple storyboard where you can upload photos and video clips to be assembled and a series of flexible editing tools can be freely used. The work screen is the same as for a normal video editing application. In the left pane you can select the text as titles to be added to the video, select BGM, etc. as I talked. In the central pane, you can edit and view the preview of the video. In the lower pane, you can add video clips and images to the storyboard. With this easy to use video maker, you can quickly get your own video in a few minutes.
1. Login FlexClip service
FlexClip is a simple, powerful and flexible video maker that helps you create videos with images and video clips for any of your needs in minutes: for marketing or family stories. To start using the free FlexClip tool, you must create an account with your email address and a password. Or just login FlexClip with your Google account or Facebbok account directly.
2. Upload photo or video media
After logging into the service, you will find a big "Create New" tab. Click it to upload your own video or photo to start making your video. Alternatively, you can just add videos or photos from its big collection of library. FlexClip offers a large amount of videos and photos in stock. You are free to browse the different categories or search the specific topic with a keyword. Besides, you are allowed to add a background color as a scene.
3. Customize your video
FlexClip allows you to add text animation, logo, watermark, voiceover, music to your video and you can edit each of them to your liking.
Add text animation to a video
To add "Text", click on any preset text style and click to choose it. In "Logo" section, you can use any image file as a logo. Double-clicking on the added text opens the edit screen so you can change preset text to others. Then select the text object to set the font, color, size, character alignment, position and more.
Add music to a video
When you are going to add BGM, click on "Add Music" under Music section and you can load your own audio files and music files such as MP3, AAC, Wave and so on. Also you have the option to use one from many of the preset resources in FlexClip.
Make other settings
FlexClip gives you other settings to set ratio and add watermark. The aspect ratio of the video can be set to "16: 9", "1: 1" and 9:16. Clicking on "Watermark", you can add a specific image as watermark to protect your video. It is possible to change the opacity and the position of your watermark.
4. Preview and export your video
After everything is great, click on "PREVIEW" to have a whole view on it. If you are not satisfied with the result, go back and continue editing it. If it looks great, export it out. You can choose a resolution to export your video: Full HD "1080p", HD "720p" or SD "480p". Your created video project is saved automatically under your account online so that you can continue to edit it at any time.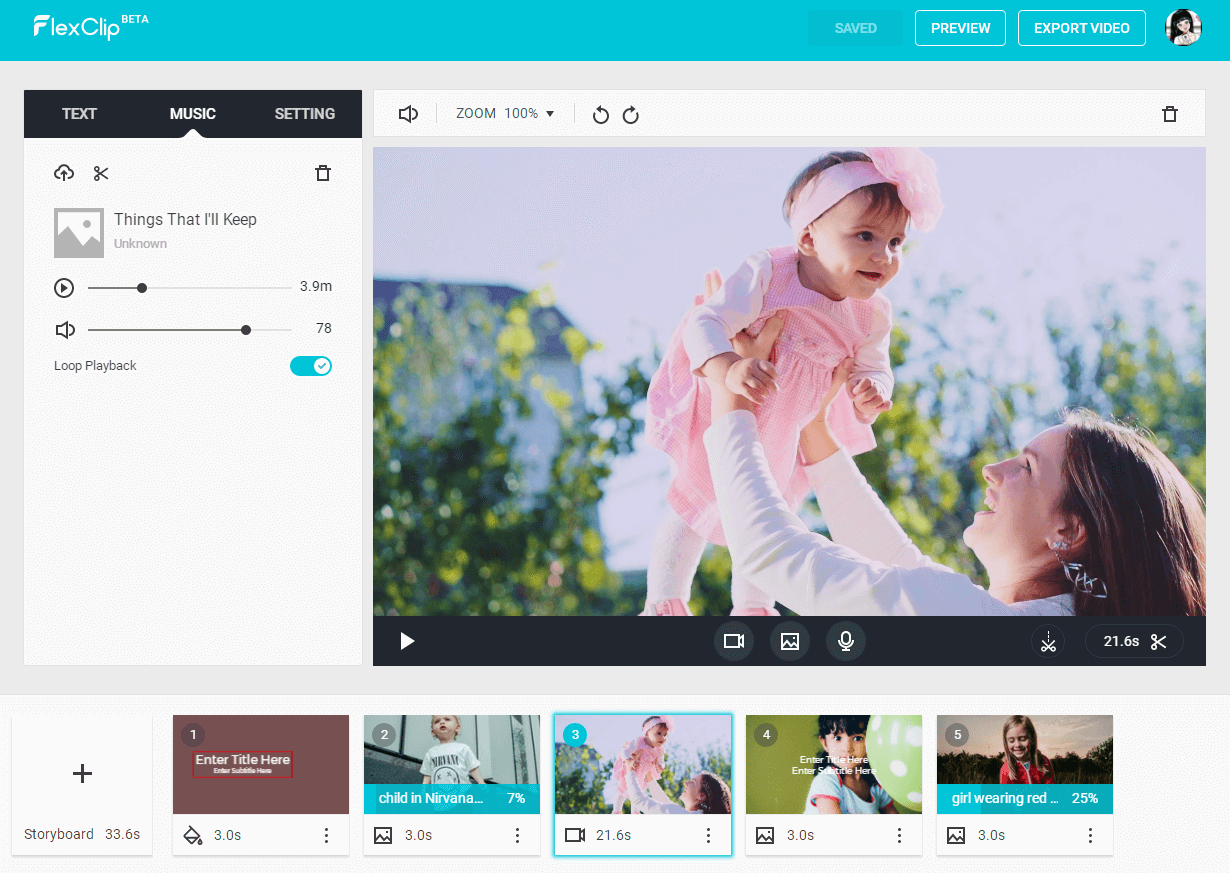 Some big features we like
Free of charge – FlexClip is completely free. No extra fees needed.
Straightforward interface – It offers an easy to use and clean storyboard so that every one could know how to add videos, photos, musics, and voiceover into the video. And even you are the first time to access this video maker, you will know what to do next without and guidance.
A large number of media library – This online tool offers a large number of stock images, videos, and musics, divided in different categories. You can use all the preset resources for free.
Support many photo and video formats – FlexCLip allows you to add video formats like MOV, WEBM, M4V and MP4. Meanwhile, you can add image formats like BMP, GIF, ICO, PNG, WEBP, JPG and SVG. Finally, for the audio formats, it supports AAC, FLAC, M4A, MP3, OGG and WAV.
Flexible editing features – When it comes to its editing tool, it won't let you down. You are able to trim and split your video freely to what you want. Besides, you can add text (animations) and set its duration on your video. It also flexible to trim and customize your music and watermark, etc.
Export videos with high resolutions – Even it is free, you can export your video with a high resolution up to 1080p.
Produce quality video content even if you're not expert in video editing, with @flexclipapp flexclip.com/ via @supermonitoring
Final thoughts
FlexClip is free. Why not try it out? And its learning curve can be no steep so you can play with it without risk. It is a video maker that requires registration, suitable for anyone even those who are not experts in video editing, yet able to produce quality content.
Get notified about our new posts
By submitting this form I accept the
Privacy Policy
and I agree to receive blog-related information from Super Monitoring.