Document360: A Knowledge Base Tool
According to HBR, 81% of customers attempt to take care of matters themselves before reaching out to a service representative.
Customers do not like lengthy support queues. Using self-service platforms like knowledge base, they avert increased wait time during calls, email or even during a live chat. But having a self-service tool like a knowledge base isn't just beneficial for your customers. It's beneficial for your organization as well.
You get to enjoy benefits like:
Helping support agents save time over repetitive queries and focus on urgent task
Assisting support agents to become more productive during work hours
Helping your organization reduce support cost
The list goes on. These benefits build the perfect premise to why an organization must invest in a knowledge base solution. In case you haven't added one to your support ecosystem, we'd recommend giving Document360 a try.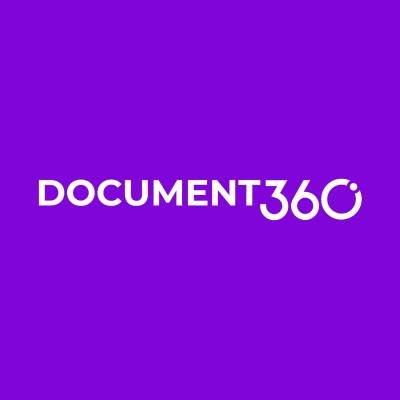 What is Document360?
Document360 is a knowledge base solution that helps its users create both internal and external knowledge repositories for their employees and customers. This knowledge management software claims to help its users scale the support process without increasing the cost. What's more, it offers multiple integration options and simplifies the migration process for customers who are already using a knowledge base system.
Document360 is a useful tool for both employees and customers to share and discover information. It can create FAQ pages, help guides, product documentation, SOPs, software documentation, corporate knowledge repositories, call center knowledge bases, and much more.
Want to know more about Document360? Scroll down to explore a list of features it has in store for you.
Top 8 Features of Document360
Post our review, here's a list of eight efficient features we thought Document360 does better when compared to other knowledge base service providers.
1. Migration
Document360 comes with its own migration team to help you migrate from platforms like GitHub, Zendesk, HelpDocs and other major brands in the same niche. One of their migration experts will get in touch with you to understand how your repository works and give you an estimated time it may take to make this happen. Once that is done, they'll use automated tools to get the migration process started. When the migration takes place, they ensure that a quality check is done before handing you the account over.
2. Creating your knowledge base article
Creating articles for your knowledge repository is quite simple, thanks to Document360's bunch of features that come together to build a holistic experience. Here's what we found useful from a user's perspective:
Document360 allows its users to add images and other engaging creatives like GIFs and videos that enhance readability of each article in the repository.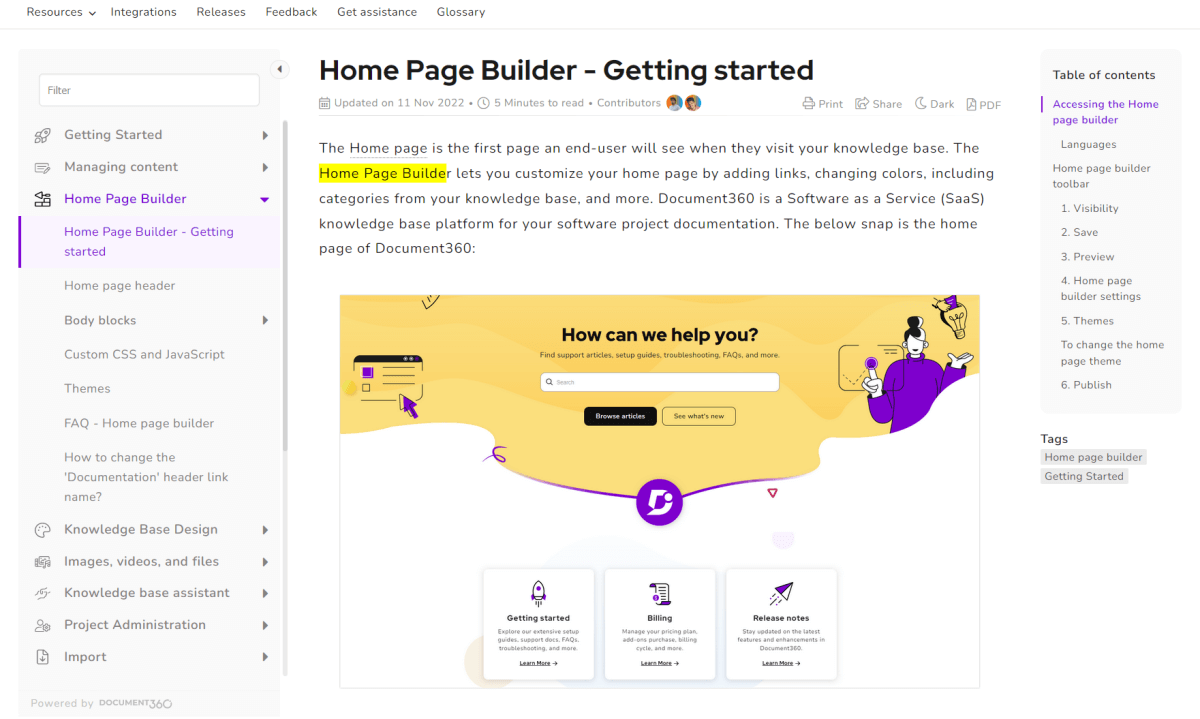 Add relevant article links at the bottom of each article to help readers switch to another great read in your repository. What's more, you can also add other file formats like PPT, word doc and others. You can even use their hyperlink feature to add the right reference links on relevant anchor text.
Google Forms
You can also add Google Forms to your knowledge base articles by embedding a HTML code. This is perfect for those who wish to capture more detailed feedback from customers.
SEO-Friendly
Want to increase the visibility of your articles on Search Engine? Document360 gives you the option to create SEO-friendly articles that can be made visible in SERPs. You can add age title, description, slug, feature image, and tags to optimize the article for search results.
Table of Contents (TOC)
This is an automatic feature that Document360 offers its users. It creates a TOC for headings that come under H2, H3, and H4 tags.
2. Advanced Search
Help your customers, prospects, and employees find relevant information faster with Document360's advanced search option. All you have to do is enable it in the article settings option. You can also enable the highlight matching search keywords option in the settings to help users find the information they seek faster.
3. Rich Editor
Document360's article editor, with its simple interface and strong tools, enables you to create amazing structures in your writings. You can use either a Markdown or a WYSIWYG editor.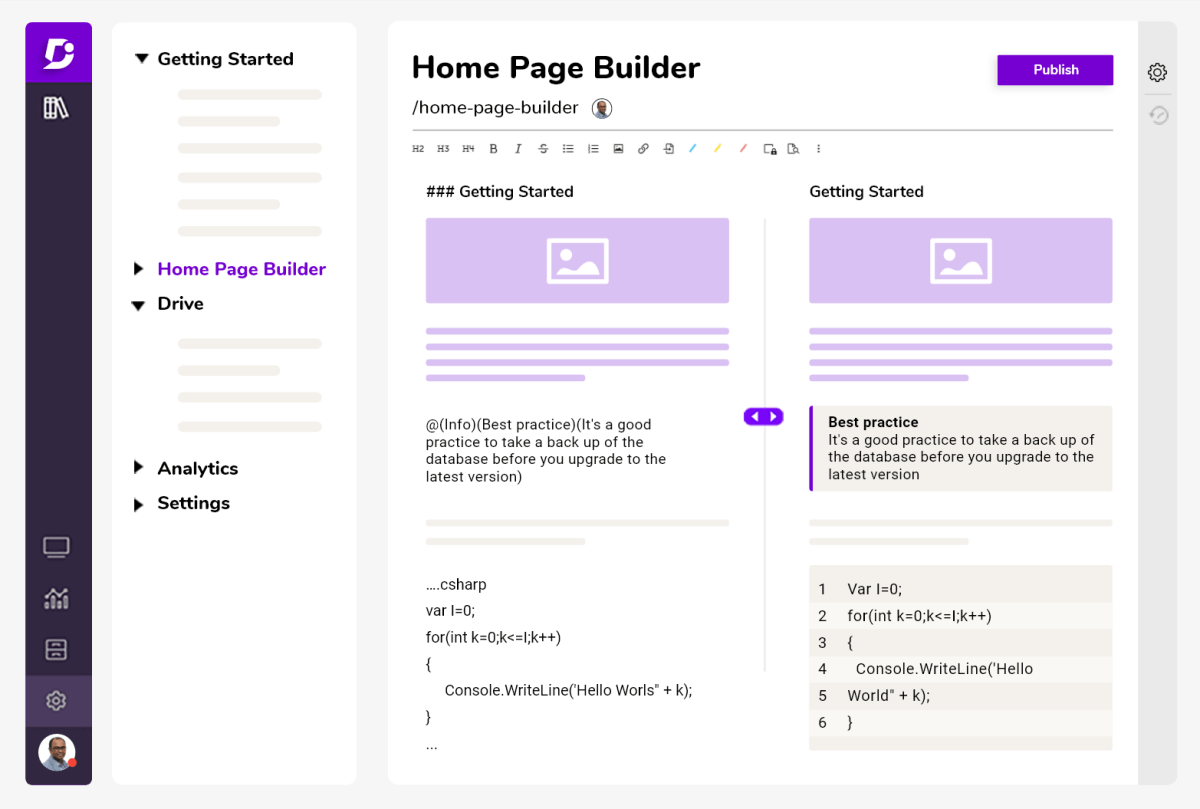 What You See Is What You Get (WYSIWYG) editor is a feature that makes article editing seem like a simple process. In a single editing pane, you get to see how your article will look post publishing as it is already in the preview mode. What's more, you can switch from their markdown editor to WYSIWYG editor in seconds, therefore making the editing process simpler for users.
Document360 also supports markdown editor, allowing people who are familiar with markdown syntax to simply build knowledge articles using the markdown editor. It includes a markdown text editor for easy editing and styling. Using markdown syntax, you may include links, videos, photos, tables, and code samples in your knowledge base articles.
4. Branding
Want to make sure you follow your brand guidelines throughout the website? Here's how Document360 helps you make that happen.
Advanced Customization Settings
There are multiple CSS options Document360 offers its customers. Some of them include changing the color of feedback buttons, moving related articles sections, hiding category manager, customizing fonts and header, and more.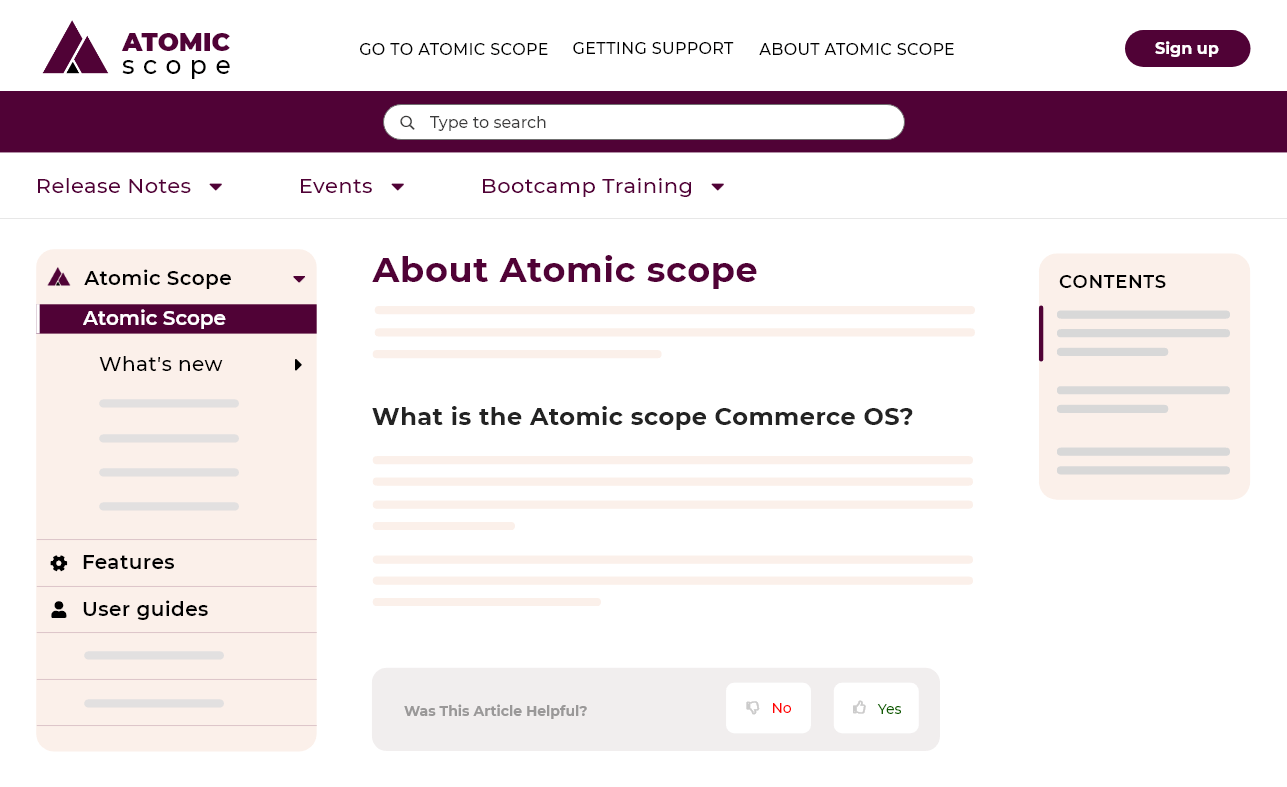 Color Theme
Document360 also helps its users implement the brand theme to the knowledge repository. It allows you to choose primary and secondary colors from Hex codes and implements them right away.
Custom Logo
You get the option to add your company logo to the knowledge repository. All you got to do is upload the logo to be in line with your branding.
Custom Domain
Document360 allows you to "map" an existing domain to your docs site. For branding and trust purposes, you may choose to keep your domain name with multiple providers. You can link a subdomain of your domain to the Document360 project URL (for example, docs.mycompanyname.com or support.mycompanyname.com).
5. Security
Document360 is GDPR compliant and ensures that all the data collected is secure. To enhance the security of all the data, it offers the following features.
Private Documentation
Give authorized access to selected team members to avoid data leak.
Team Roles
Assign roles to each user based on the project they are involved in. Only a few people can get admin access, whereas selected people can be editors and others mostly readers.
SSO (Single Sign-On)
With user authentication features like SSO, Document360 helps users secure data efficiently and offer access to those who have the sign-in page link.
IP Restriction
If creating an internal documentation, allow only a few people to access your documentation using IP restrictions.
You can also get access to other security features such as:
Version Control
Security groups
Backup and storage
Team Auditing
6. Reports & Analytics
Document360's analytics and reporting feature is very powerful, including article performance analytics, team analytics and search analytics, which are visual reports that show the amount of article likes and dislikes, views, and reads. The search analytics provides stats on the content that is searched and seen, the keywords that are frequently searched, and the terms that have no search results.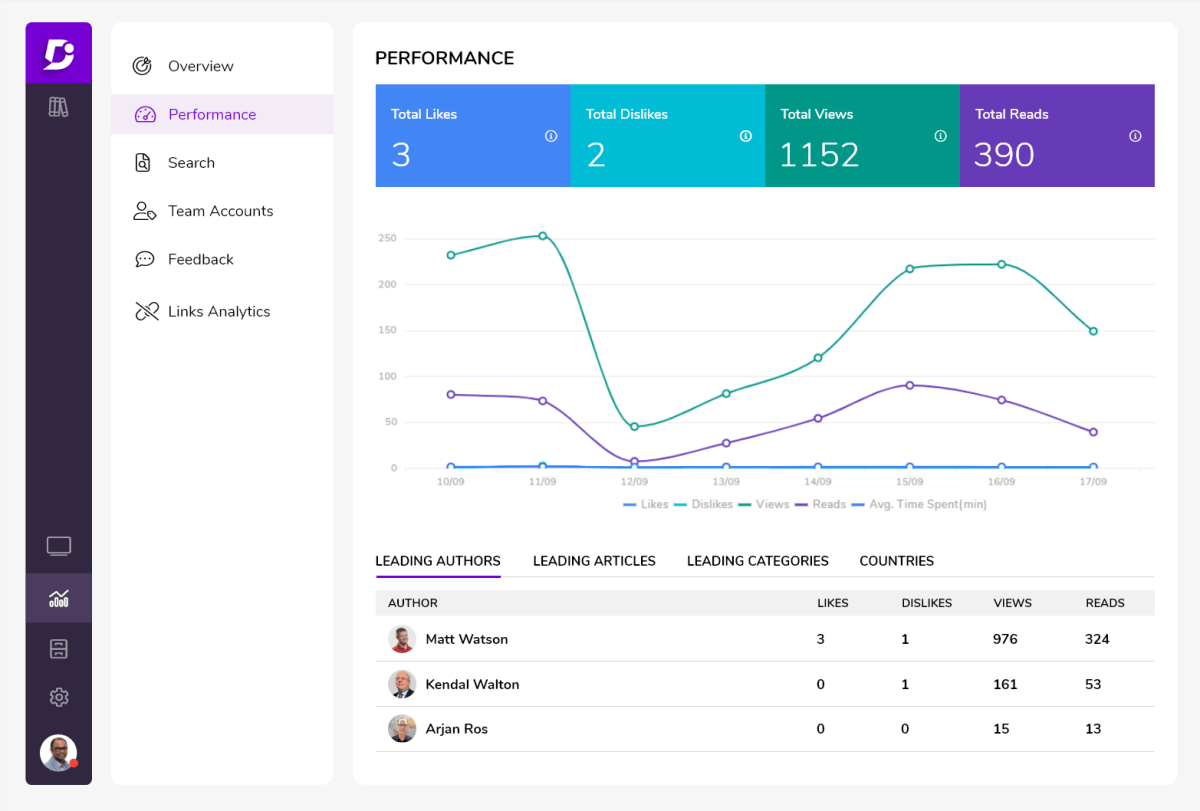 In addition to performance and search analytics, it also examines the link status for broken links, analytics on feedback, ticket deflection, and insights on page not found
It even helps you identify what people were searching for but couldn't find through the page not found feature.
7. Team Management
You can also find advanced team management features in Document360. You can categorize users as owners, admins, editors and draft writers. Owners and admins have the ability to add new users. All they have to do is select the role and add their email ids to add users for their documentation process. Whereas, editors and draft writers have limited access to the knowledge base, therefore helping them focus on their individual roles and responsibilities.
8. Integrations
Integrate third-party apps with Document360 to unleash the full potential of its knowledge base capabilities. With more than 20+ integration options, you can choose from categories like live chat, analytics, marketing automation and commenting. You can also add JavaScript Snippets to integrate your favorite app with Document360.
You can also generate numerous API keys for various use scenarios. Some of the apps that link with Document360 are Freshdesk, Zendesk, Intercom, Drift, Slack, MS Teams, Crowdin, Chrome, Zapier, and Integrately.
Conclusion
Document360 is a knowledge base software that creates both internal and external repositories. It can help you save time and reduce overall support cost.
You can test Document360 for free under the freemium plan with limited capabilities or sign up for a 14-day free trial with no restrictions, no credit card necessary. To find out how much, see the easy pricing structure, as rates vary depending on the number of individuals on the team, the tier of service, and the duration of commitment.
---
About the Author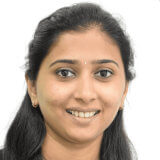 Jubina Prabhakaran is a digital marketer. She loves sharing her thoughts and strategies on business, marketing, and all things SaaS. In her spare time, she loves traveling and listening to music.
Get notified about our new posts
By submitting this form I accept the
Privacy Policy
and I agree to receive blog-related information from Super Monitoring.