Talk to Your Customers with Help Scout
Small and medium companies are well aware of Help Scout, it is an innovative help desk application. Users and their organizations can use a common inbox provided by this application. It eliminates the complications that a normal help center system brings, making email response time easier and more efficient. Help Scout has many app integration options.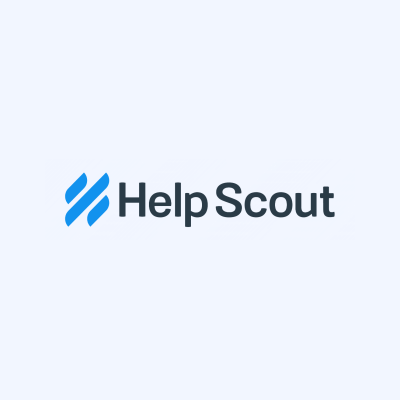 Help Scout Top Features
Here are few of Help Scout features that facilitate customer service:
Shared inbox
An effective substitute for a mailing list, group Gmail account, or Outlook is Help Scout's common inbox. It makes it simple for your team to collaborate and provides top-notch email assistance. All customer interactions across various departments, email addresses, and companies are organized using distinct mailboxes. It utilizes secret notes, collision recognition, saved responses, and labeling to aid in team collaboration. It offers layouts that mimic typical text. To improve protection, two-factor authentication has been implemented.
Customer service CRM
Help Scout can be used to organize and keep client information. Some of the CRM features are listed here:
It auto-updates customer data.
It find, sort, and manage customer profiles in a well manner.
You can connect with 50+ integrations.
It is about managing emails through a shared-inbox.
Live Chat
You can add the Beacon embeddable gadget from Help Scout on your website.
You have three options with Beacon: neutral, self-service, or inquire first to tailor the user experience.
It has Beacon JavaScript API which make it smarter.
It give customers recommended content based on the page they're viewing.
You need to install a third-party tool to use live chat in Help Scout.
Help desk reporting
You have access to six different sorts of reports from Help Scout: email, chat, phone, business, happiness, and documents.
Creates updated reports in real-time.
Helps in exporting of reports to CSV or XLSX files.
You can share report link with another Help Scout team member.
You can add or edit views at any time while reviewing a report.
You can check key metrics like response and resolution metrics.
For handheld devices, Help Scout offers applications for iOS and Android. It supports more than 80 interfaces, including Jira, HubSpot, Zapier, Salesforce, and Slack.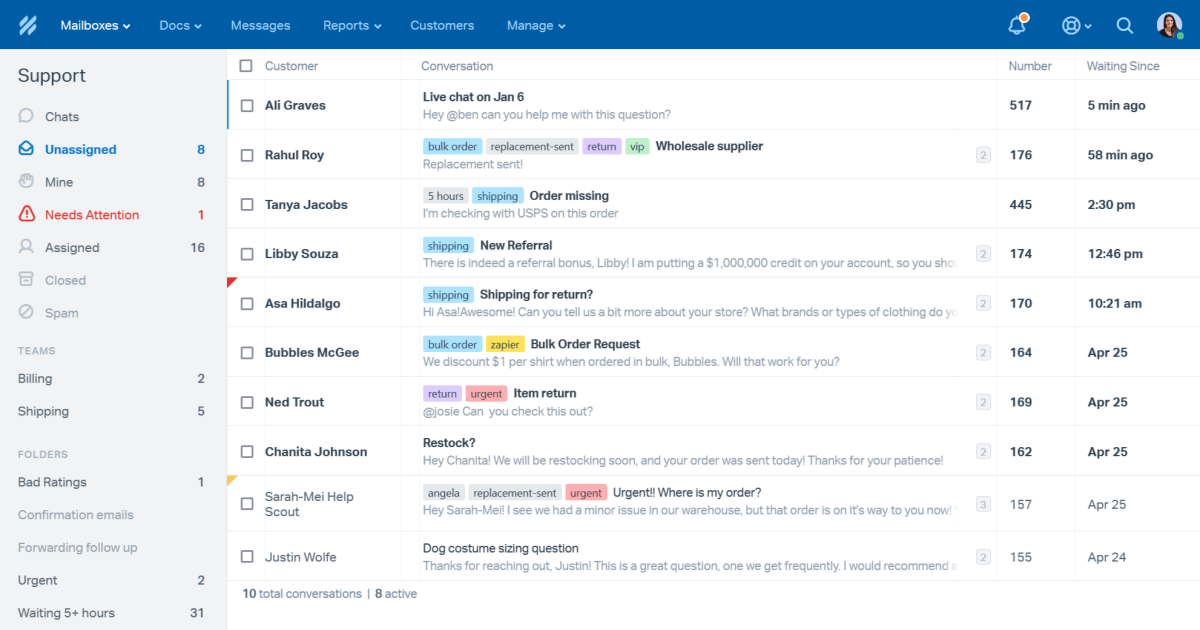 Pricing
Help Scout pricing has three plans, i.e. Standard, Plus, and Pro. Prices start from $20 per user per month in standard package, $40 per user per month in plus, and $65 per user per month in Pro. It also has a 15-day free trial.
Help Scout Pros
Popular support center software is called Help Scout. The characteristics above seem sufficient to draw a conclusion or make a choice using Help Scout. However, you must be aware of the characteristics' true worth, not just their written value. Here are the pros of Help Scout:
Simple to Use
Help Scout customers in the real world claim that it has a better user interface. It enables effective, streamlined work because it is well-designed, simple to learn, and rarely experiences speed problems or latency. Software design, or user interface design, is frequently disregarded but has a big impact on how easy and pleasant a user's work is.
Superior Customer Care Service
The representatives from customer service at Help Scout are on hand around-the-clock to assist if anything goes awry.
Customer-Centric
The value of peerless customer service in today's world has been overstated. Customer care is the cornerstone of Help Scout's ideology, and models are built around it. Additionally, they support your team in seeing clients as more than just complaint numbers to be handled by pre-written responses.
Real-time chat and knowledge base
Customers favor real-time chat because it provides a quicker resolution than other platforms, according to 79% of respondents. Help Scout offers more than just a Live Chat widget for resolving help issues with Beacon. Additionally, it combines information platforms and real-time chat to quickly and effectively address client inquiries.
Help Scout Cons
Help Scout may not be the best option for corporations, despite being a great starting point for companies just beginning with an online CRM or Help Desk. These are the drawbacks of Help Scout:
Fewer Integrations
Even though Help Scout has more than 90 integrations, some integrations cannot be used with Help Scout. The fact is that not all businesses use the same applications or have the same specifications.
To meet that demand, Help Scout must be more open to well-liked connections that are sought after by customer-focused companies. Users must actively write using the API because there are fewer connections or plugins, which can be time-consuming.
Limited customization and features
Although it is simple to use, more customization choices are needed for various organizations and users. Its features are lacking and less sophisticated than those of some rivals, which can be a deal-breaker for big businesses. The absence of a timer function on the ticket is one of the trivial features that users gripe about in the software. Other users say that the mobile software has problems and that the spam blockers are useless.
The high priced messaging feature
Despite being mainly for small and medium-sized businesses, Help Scout's chat function is overpriced. If we compare it to the other choices, we can see that some are cheaper or even free, depending on how we define their purposes. There is a cap of 2,000 free conversations per month for the texting function.
Retain your customers with the help of @helpscout helpscout.com/ with efficient customer support via @supermonitoring
Conclusion
Help Scout is a dedicated customer support tool designed for growing teams to offer best-in-class customer care. When you join up you get access to a complete suite of tools, all optimized especially for customer assistance. Help Scout's shared inbox has tools for team cooperation. The user-friendly editor makes it simple to create help center content, and integrated search capability and organization tools guarantee that consumers can locate the content they require.
Customers can access your support team's knowledge base by searching it directly from the app, which enables them to get answers when and where they need them. Last but not least, you have access to Help Scout's top-notch support staff, who are accessible by correspondence around the clock to address any queries you might have.
Get notified about our new posts
By submitting this form I accept the
Privacy Policy
and I agree to receive blog-related information from Super Monitoring.