FollowUpThen – The easiest way to clean up your inbox
The state of the inbox with new emails arriving every day can make things stressful for you. Emails kill productivity but you cannot choose to ignore this mode of communication either. As a part of your job, you need to reply to emails on time though not immediately after they appear in your inbox. The email follow-up and task reminder applications make responding to emails easy, thereby enhancing productivity. It makes it easy for you or a group of people to be aware of anything that is important.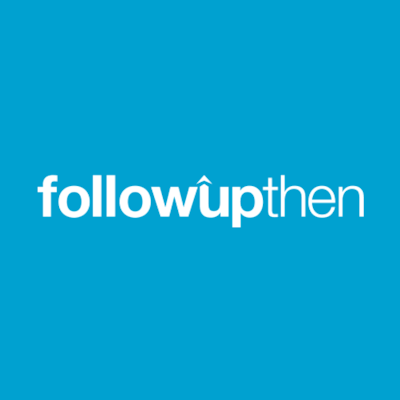 FollowUpThen is an email follow up service combined with task management and several other productivity enhancement features. It allows users to schedule email reminders, allowing them to focus on important tasks as per priority basis. FollowUpThen makes email management simple for you and works to ensure you never miss responding to an important mail.
FollowUpThen – De-stress your email life
Dealing with so many emails can be a daunting task. Sometimes you are buried under incessant messaging and weeks go by before answering those emails and sometimes you never receive a response. With FollowUpThen you can set convenient reminders for emails and clear your inbox. The FollowUpthen service ensures you never miss responding to an important email just because you are dealing with something urgent. FollowUpThen has several amazing features that take the stress out of email communication.
Follow-ups – set follow-ups for emails by forwarding the mail to FollowUpThen.com along with time format.
Tasks – set up task reminders for self and others.
Response detection – detects response for any mail by setting a response time (through time format). Automatic cancellation of response detection if the recipient replies before scheduled response time.
Time formats – a wide range of time formats allows you to set convenient email follow-ups and schedule task reminders. Can set email follow-ups by time interval, specific time of the day, specific date and time, days of the week, unique days of the month.
Handy scheduling terms – can set follow-up using scheduling terms like every1pm, every-6am-SMS, everyday-630am, 6pmDaily, Daily1600, weekdays6pm.
SMS reminders – can set SMS notifications for tasks which ensure you get a reminder on your phone.
Calendar integration – supports calendar integration of all modern calendar applications. Calendar integration provides you Calendar feed in Webcal format.
Email based actions – allows email based actions for follow-ups like postpone, cancel, completed, pending follow-ups.
Auto-complete – offers autocomplete feature for the regularly used email address. Just need to send an email to autocomplete@followupthen.com and the cloud-based follow-up service will memorize the email addresses for you.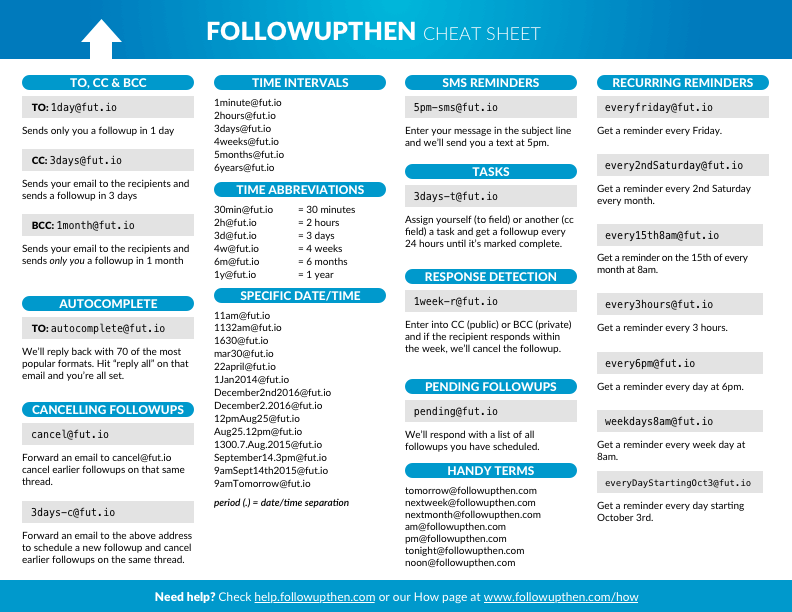 How it works
Since FollowUpThen is a cloud-based service, there are no downloads or installation on your system.
The first step in using FollowUpThen is choosing one of the plans offered.
After you have made your mind about the plan, you need to click on Free Trial which allows you to create FollowUpThen account.
Select your time zone and create a password for the account. You will receive a confirmation mail at the registered email address.
After clicking the confirmation link, you are directly taken to your account page where you can try different features of FollowUpThen service.
Creating follow-ups is easy. Just select the mail for which you want follow-up or reminder and forward it to FollowUpThen.com. For example, if you want to follow up on a particular mail tomorrow at 4 pm, the email address for forwarding would be tomorrow4pm@followupthen.com. The email will exactly arrive in your inbox the next day at 4 pm and you can take the right action to respond to mail.
To know different timing formats for follow-up mails, check information in Time formats section.
To use Response Detection, you need to establish inbox connections between your email account and FollowUpThen.com. When you select the inbox connections for your email account, you will get an access page where you allow FollowUpThen.com to access your inbox. You need to select a time period for response. For example – 3 days. When sending a mail to a particular person, add 3weekdays-r@fut.io where fut-io is recipient email. If the email recipient does not respond within 3 days, you will get a follow-up mail specifying you haven't received a response for a particular mail. This allows you to decide the future course of action for the specified mail.
You can create a task by sending a mail with time formats. For example, sending an email 3days-t@followupthen.com will ensure the task reminder appears in your inbox after 3 days to remind you of the pending task. You can assign a task to another person too. For example- create a task for Linda (linda.1256@gmail.com) that is scheduled 3 days from the current date/time. All you need to do is send a normal email message to Linda and add task reminder in the CC field.
Pros & Cons
Pros
Easy to set up; no downloads or installation
Easy to use
Good productivity enhancement features to make email management easy
Customization options
Allows attachments
Cons
Free account lacks important features.
Expensive- Even the Company user account allows only 2 users in the base price. The $9/month price per user is a bit on the higher side
No chat support. The only support available is through a web-based form.
Never forget responding to an important email, thanks to @followupthen followupthen.com/ via @supermonitoring
Final Word
Many organizations rely heavily on email. While it is a great tool for efficiency, it can be a huge time waster and the biggest productivity killer. FollowUpThen helps you tackle email communication in an intelligent way by removing the email out of sight and out of your mind unless you have something to do with it. FollowUpThen ensures you don't have to focus on trudging your inbox and worrying about it when you are doing some important work.
Get notified about our new posts
By submitting this form I accept the
Privacy Policy
and I agree to receive blog-related information from Super Monitoring.