Create your own website in the WebWave wizard
Many people wonder how to create a website. Some are ambitious and learn various programming languages to build their own website. Other can't decide which interactive agency should they choose, or look for cheap freelancers, which does not guarantee good project.
Fortunately for all of the above (and not only them) creating a website can be really simple and does not require specialist knowledge. Webmasters, entrepreneurs, hobbyists, amateurs and curious, can use the help of Webwave, the Polish website editor.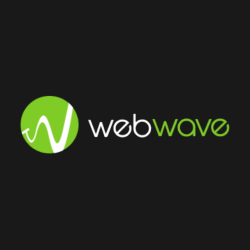 Create websites without coding
WebWave appeared on the Polish market in 2013 and since then has been systematically developed and improved. This tool allows you to create your own site using drag and drop interface. It doesn't require any expertise in web design and web development or coding skills. You can easily place every object with the accuracy of 1 pixel exactly where you want, using only mouse.
Using the wizard is completely intuitive, simple and pleasant, and give the creator full freedom of design. You can start your website completely from scratch, or use one of over 30 pre-defined templates. Both the wizard itself and the templates are completely free, but we will write about money later.
What word would best describe this wizard? Professionalism! Websites created in the WebWave editor are no different than projects created by specialized marketing agencies because:
they are fully responsive – they work well on every device, from a computer to a smartphone;
they are search engine (Google, Yahoo, etc.) friendly;
they have very well optimized code that allows pages to load quickly.
The wizard has a lot of flexible features, and we can easily integrate it with external tools. WebWave's major advantages include:
unlimited transfer and disk space;
multilingual websites;
possibility to upload your own HTML, CSS or JavaScript code (for more experienced webmasters);
site statistics;
own "404 error" and "301 redirect" pages;
integration with Facebook, Disquss, Google Maps, Google Analytics, LiveChat, Freshmail, Shopify, Salesmanago and many others.
How to create a Web page in WebWave
To start working with the wizard, go to the WebWave website and sign up. All the work – creating, editing and administering the pages is done through the webmaster panel. After creating an account, click on the "New Page" button and either choose an empty website or choose one of the templates. After selecting the choice we are looking for, the entire wizard is shown.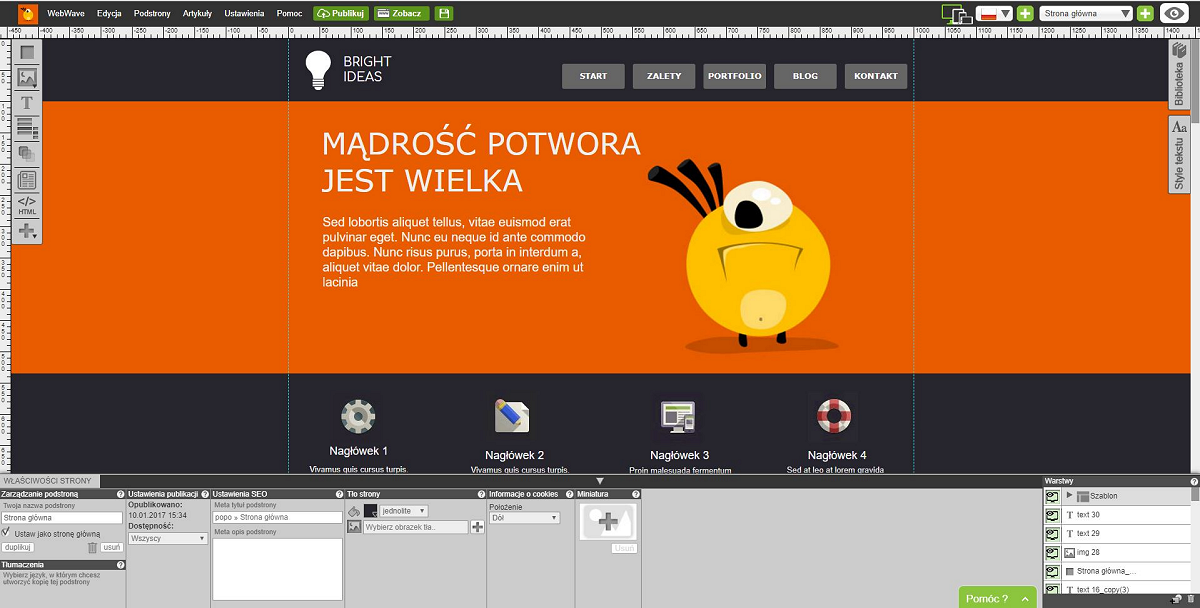 WebWave creators do not leave their customers to grope in the dark. A 15 minute movie explains the most important elements of the wizard right from the start. This tutorial is really recommended to all users as only several minutes are enough to present most of the tools and capabilities. At webwave.me/Help we will also find a detailed guide to each option.
To get to know WebWave even faster, we recommend to select and edit one of the templates first. By clicking on any part of the page, we can easily modify it – change position, edit content, color, background, images, add animations, etc. A great feature is the ready-to-add elements such as gallery, slider, menu, contact form, buttons, Google map, or new subpage. In the top right corner of the screen you can switch between your pages, add a new language or go to the page preview. However, the most important option seems to be the RWD edition, where we can see how the whole site looks on computers, tablets and smartphones.
We save the changes using the Save icon at the top of the wizard. When we are ready to show our project to the whole world, we just click the Publish button. We can later modify our project at any time.
What are the costs?
We can publish our page for free in the subdomain of webwave.me under random ID. If you want a site to appear under a particular domain, you should buy a hosting that costs from $3.5 per month. In addition, for each such package WebWave offers registration of a .pl domain for free. The wizard itself, regardless of the number of pages created and the time spent, is completely free.
You can also earn money with a WebWave because this way the company encourages users to recommend the wizard to others. If we get people to pay for hosting, we will receive 30% of their deposit. The money we receive can either be spent on local services or simply paid out. Therefore, if you are a marketer, you may also find WebWave interesting! The company also makes it possible to create a special account for agencies, webmasters, freelancers or anyone else who will create pages for clients in the WebWave wizard.
It is worth to mention that WebWave is not just the editor. In addition to it, we have a simple content management system (CMS) and the already mentioned webmaster panel. If someone else adds content to our site, we can give that person access to the CMS panel so that he or she can edit existing posts, change images in the gallery or add a new article but can't move or delete any items on the page. The webmaster panel allows you to easily switch between our pages without having to memorize another passwords and addresses.
Try webwave.me/ – a simple and intuitive website creator – via @supermonitoring
Summary
Considering all the elements and functions, WebWave is a really great and cheap tool. On its site there is an online chat where we can ask for help with the editor or other things related to it or the company. Answer during working hours? Immediate and detailed. There is also a Facebook group for WebWave users, where people exchange experiences and knowledge. So if you need to create a new website, redesign your existing site, or just want to experiment with something new, use the WebWave Wizard. Or recommend it to others and benefit yourself!
Get notified about our new posts
By submitting this form I accept the
Privacy Policy
and I agree to receive blog-related information from Super Monitoring.