Pixpa: The All-in-One Website Builder
Having an online presence is important, especially in this day and age. Nearly everything and everyone has gone digital and the first step anyone takes when trying to discover new businesses and services is to 'Google it'. While social media and other such platforms have their place in digital marketing, nothing beats the exclusivity, control and professionalism that having your own website gives you.
There was a time when website building was a difficult and time-consuming venture that took hours of coding and was overall very complicated. But not anymore. With the rise of no-code website builder platforms, it has become possible to create your own website without hiring professional web developers or even writing a single line of code. And this is exactly what Pixpa lets you do.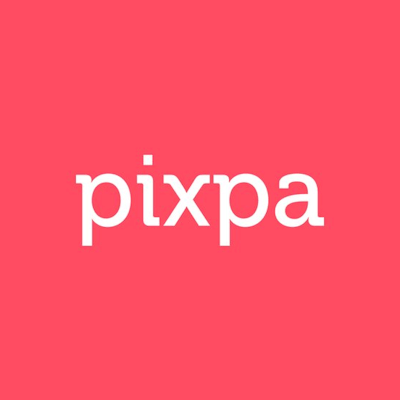 Pixpa is a no-code platform for creating your professional portfolio website, store and blog. It comes with a built-in e-commerce store builder, marketing and SEO tools, client proofing tools and much more. Today we take a look at this website builder platform, its features, pros and cons and more to give you a final verdict.
Pixpa: The All-in-One Website Builder for Creative Professionals & Small Businesses
Pixpa is a DIY website builder that makes website designing and development easy and accessible for everyone. It is designed as an all-in-one website building platform and is especially geared towards photographers, creators and small businesses. With a built-in ecommerce store, client galleries, ecommerce galleries, blogging tools and much more, Pixpa empowers creatives to showcase, share, sell and deliver their work online – all in one place.
Pixpa makes website building super easy. Once you have signed up for the full-featured 15-day free trial, you can choose from a host of modern, minimalist and responsive templates and start building your website. You can customize your website with a simple, intuitive and powerful visual editor. Adding pages is a breeze with the drag and drop page builder. Keeping in mind the needs of more advanced users, there are also options for using custom CSS and HTML code for further customization.
With built-in tools like an SEO manager, marketing pop-ups, announcement bar and more you can start growing your web traffic and converting leads without having to install any extra third-party plugins.
Pixpa's main strength is it's quick to respond and proactive customer support team. Support is available 24×7 through email and live chat. With the upper tiers of paid plans, Pixpa's customer support team also offers a website setup service to help users set up their websites from scratch. There are detailed help pages and tutorials available to help out new users.
Pixpa offers a free, full featured 15-day trial which you can sign up for without entering any credit card information. There are no free plans, also known as a freemium model, available. The paid plans range from $7 to $16 per month, depending on type, and are all-inclusive with no hidden cost.
Features
Let us take a look at some of Pixpa's features:
Modern, minimalist and responsive templates that are mobile optimized and responsive on all devices. The templates are all fully customizable without having to touch a single line of code.
Full-featured portfolio building platform with multiple gallery options, client proofing and client galleries, social media integrations, online print and digital download sales and more.
Client galleries allow you to have a fully digital workflow for your client proofing needs. You can create individual public or private galleries for your clients to share, proof, sell and deliver photographs to your clients using one single platform.
Built-in ecommerce builder with product and inventory management tools, abandoned cart recovery, easy order processing, shipping rates, discounts and tax management etc.
Blogging tools that let you create, edit and publish your blog posts all in one place. You can also embed media including images and video, integrate social media widgets or enable and moderate commenting through Disqus or built-in commenting features.
SEO management tools available at all pricing tiers. The SEO manager enables you to set sitewide metadata, specify search engine friendly URLs and generate automatic sitemaps. There are also options for integrations with Google Analytics and Webmaster tools which can help you understand, analyse and evaluate your web traffic and search engine performance.
Built-in marketing features including announcement bar, marketing pop-ups, mailing lists and email marketing services.
Extremely affordable pricing plans beginning from just $7 per month and top tier plans costing $16 per month. Pixpa also offers a 30-day money back guarantee on all new subscriptions.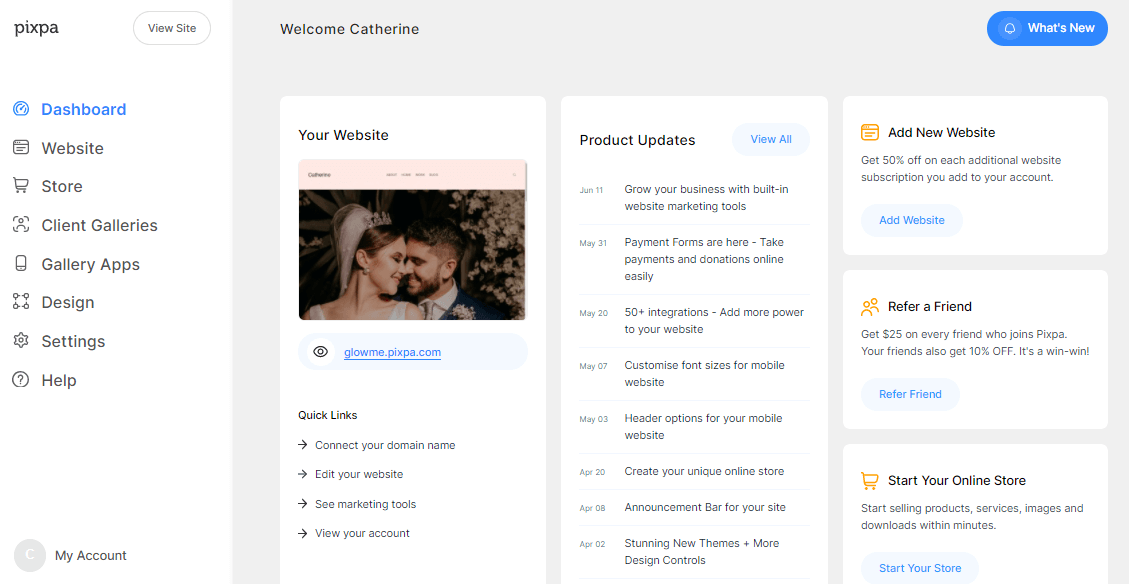 How does it work
Pixpa offers a free 15-day trial which you do not need a credit card to sign up for. This means you can test out the features offered by the platform at your leisure with no obligation tying you down. Here is how you can get started with Pixpa:
Sign up for the free 15-day trial through the Pixpa website. You only need your email address for this.
Once you have signed up for the service you will get instant access to your Pixpa dashboard which is your control center and starting point for your website building journey. You have all the options you need available on the left side of the screen.
The Website section lets you add galleries, pages, menus and menu items on your website. This is where you set up the basic theme of your website from which you can build up.
The Design section is where you can select a theme or template for your website and customize it to your liking. This section allows you to customize colors, fonts, spacing, headers and all of the other visual elements of your website.
For e-commerce, Pixpa offers options for both traditional online stores to sell physical products and e-commerce galleries to sell images as prints or digital downloads. All of this can be done through the Store section. This section also lets you manage your Pixpa online store by managing product listings, setting shipping rates or discounts, managing taxes and more.
Client galleries are specifically designed for photographers and creative professionals. This section allows you to create individual, private or public albums for your clients which can be used for sharing photos, client proofing and selling images directly to your clients.
Mobile gallery apps can be used to set up personalized mobile gallery apps for your clients.
The Settings option is where you can manage your website settings and manage things such as connecting a custom domain name, managing payments and donations, mailing lists, 301 redirects, external scripts and more.
You can test drive the service and set up your website for free with the 15-day free trial. Once the trial is at an end you will receive an email to start your subscription. If you want to start your subscription before the end of your trial period. All you need to do is click on the subscribe button on the bottom bar of the Pixpa studio. You can reactivate your account after your trial period ends by contacting Pixpa support within a month of your trial period ending. If you do not subscribe at the end of your trial period, your account becomes inactive and is scheduled for deletion after a month of inactivity.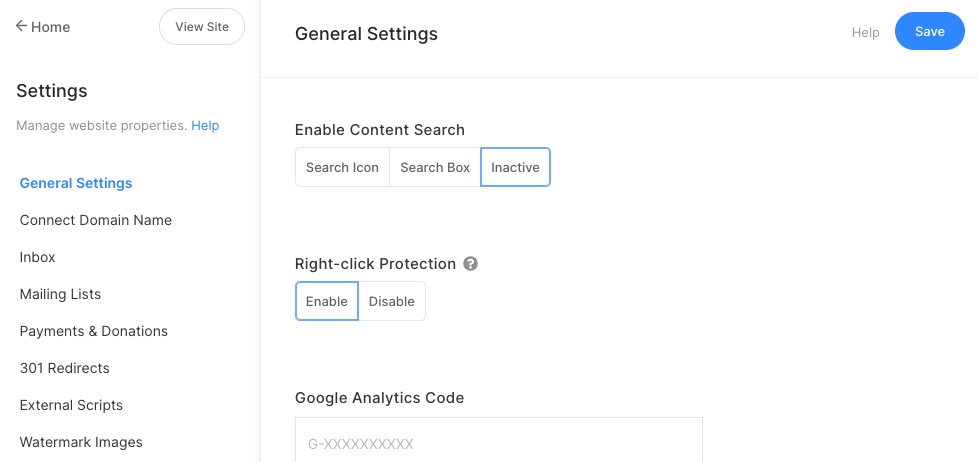 Evaluating Pixpa
Now that we have taken a look at some of Pixpa's core features and how it works, we need to consider its advantages and disadvantages. Let us go through the list of its pros and cons to try and evaluate Pixpa as a website building platform.
Pros
No-code platform. Design, build and customize your website without touching a single line of code.
Built-in online store creation options and integrated marketing tools for business websites.
Extremely handy SEO manager and other SEO tools.
Elegant and efficient client proofing platform for photographers and other creative professionals.
SSL security on all websites irrespective of pricing plans.
24×7 customer support through email and live chat.
Cons
No built-in options for the purchase of custom domain names. You have to purchase a domain name from a third party and then integrate that into your Pixpa website.
No freemium model. It's a paid service and no free plans are available.
Final Verdict
All things considered, Pixpa is a very comprehensive website building solution and performs particularly strongly when it comes to professional portfolio websites or photography websites. The e-commerce builder, marketing and SEO tools provide a complete marketing and sales solution for business websites.
While there are certain drawbacks like the inability to purchase custom domain names without a third party, they are not deal breaking. The lack of free plans or a freemium model may deter some users from the service, but that being said the paid plans are some of the most affordable on the market. Pixpa also guarantees an ad-free experience on all its websites. Ads are a major disadvantage posed by a lot of freemium model website builders.
So, if you are looking for a simple and affordable DIY website building solution, Pixpa is definitely a platform you should consider.
---
About the Author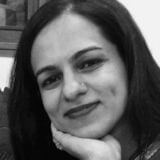 Anisha Singh is the content marketing manager at Pixpa – a DIY website builder.

Get notified about our new posts
By submitting this form I accept the
Privacy Policy
and I agree to receive blog-related information from Super Monitoring.