Cloudways – A Managed Cloud Hosting Platform that Facilitates Choice, Simplicity, and Performance
A reliable web host is unlike any other friend when you're super monitoring your website. You should be able to spread your wings and expand those horizons without all the fuss. In our search of many web-hosting providers, we found one name that is powerful enough to scale your website effectively – Cloudways.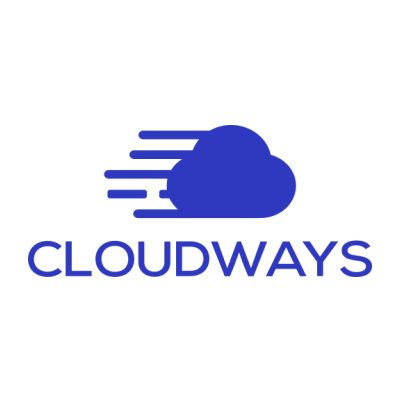 Why Cloudways is a great choice
This Malta-based managed cloud hosting provider ensures you never lag behind due to lack of resources. Cloudways is ideal for speed, security and scalability. You can easily increase your functionality at pocket-friendly prices.
Cloudways provides a layer of abstraction that takes away the trouble of setting up or maintaining the servers. Their data centers are present all across the globe ensuring effective connectivity day in and day out. As the name suggests, they offer managed cloud hosting for e-commerce stores, web developers, designers, bloggers, agencies, SMEs, and startups etc.
If it sounds tempting already, feel free to begin with a three day trial at no cost. Though, three days may not be enough for everyone but it's better than you think it is. You will be able to build test servers and explore different features without having to provide anything but your email address. No banking, credit card or other sensitive details are required.
Cloudways – Simple, Fast and Convenient
Create a cloud server with Cloudways and host your website(s) on the top five cloud providers of the industry, including: Amazon (AWS), DigitalOcean, Linode, Vultr, or Google Cloud Platform.
Be rest assured, you will be getting a 99% uptime when hosting your website with Cloudways. The industry leading cloud providers play a vital role to ensure your website does not suffer from excess downtime. Also, you don't have to have an account with any of these providers as Cloudways will set them up for you.
Unlike shared hosting, Cloudways' cloud servers provide you with dedicated resources in order to enhance your website's speed and stability. It supports a variety of performance boosting technologies such as PHP7, Memcached, Varnish, Nginx, Redis and HTTP/2.
Cloudways also offers automated installation of popular apps such as WordPress, Magento, Drupal, Joomla, and other PHP-based apps.
A generic 'PHP application' option enables installation and you can always manually install whatever else you need. If your websites aren't too demanding, you can install multiple applications on each server and attach them to different domains with free SSL certificates.
How Cloudways works
To begin with, sign up with Cloudways by completing a simple form and clicking on the START FREE button. If you have already signed up, log in to your account.

You will have to verify your e-mail in order to complete the signup process. After successful signup, click on the LAUNCH button to initiate the server launch process.

Server and Application Details: Select from the list of applications. Name your Application, Server and Select Your Project.
Choose from the list of cloud providers. Select your SERVER SIZE based on your expected monthly traffic (No need to worry about unusual spikes as you can always scale your server with just a slider).
Now select your desired LOCATION.

After entering the Server and Application details, click LAUNCH NOW. You need to wait for a while so that your servers are ready for your use.

Once the server is ready, go to Platform and click Applications in the top-left menu. Select the app from the drop-down menu.

Go to ACCESS DETAILS > ADMIN PANEL. You will see the login credentials and the URL of your website. Click the URL and use the credentials to log in to your dashboard.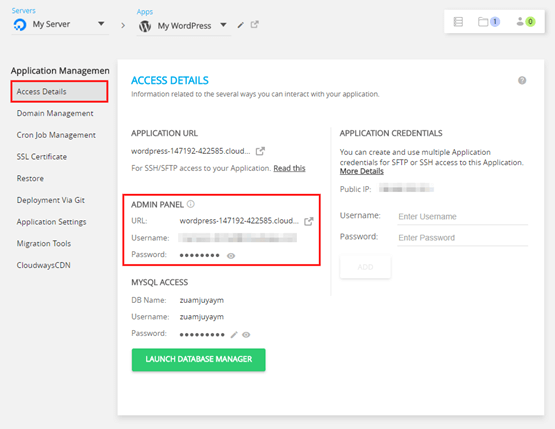 That's it. Congratulations! You have successfully installed your website on the cloud server of Cloudways. A piece of cake right?
Cloudways: Pros and Cons
Let's delve deeper into the pros and cons of this managed cloud hosting provider.
Pros
With the availability of three day free trial featuring 512MB and 1GB of RAM, you can test their cloud servers without paying a dime. Hence, feel free to try out their services before signing up.
Cloudways offers one website migration at no additional cost.
Their console is a user-friendly control panel that allows you to manage your server with ease. It includes a variety of useful features. The most distinguished being monitoring the servers and other scaling tools.
Top-notch web-based technical support is available 24/7 for your assistance.
Cloudways supports numerous apps without any trouble.
Enjoy unmatched security with FREE SSL Certificates.
There are no limitations on installing WordPress websites.
Their automatic website backups are easy to configure and can be scheduled as per will.
The pay-as-you-go pricing model ensures that you are only charged for what you consume after scaling server resources.
Cons
No option to register domains.
Cloudways is a Platform-as-a-Service company. Hence, unfortunately you cannot use Plesk or cPanel. They provide you with their own console so that you can effectively manage applications hosted on different cloud servers.
Cloudways is a powerful and a high-performing cloud hosting solution available at a very reasonable price. @cloudways cloudways.com/ via @supermonitoring
The Final Verdict
With a great balance between functionality and affordability, Cloudways is a powerful and a high-performing cloud hosting solution available at a very reasonable price. It can be a little complicated for the beginners but demanding users will certainly enjoy Cloudways.
Their cloud servers offer a fantastic feature set and you can easily scale resources as your website grows. Their one-stop Cloud Console makes operations simpler for those who are unwilling to deal with command lines or multiple user interfaces.
If by any chance, you're still on the fence about hosting your website on Cloudways, then sign-up for the 3-day free trial and test their platform to your heart's content.
Get notified about our new posts
By submitting this form I accept the
Privacy Policy
and I agree to receive blog-related information from Super Monitoring.