Workflowy – Your Dependable Sidekick for Organization
As humans, we can keep a tab on 7 different things at the peak of our day. But when it comes to carrying out different sets of productive work, each of which needs our full attention, organizing becomes imperative.
Speaking of organizing in work-related terms, although advancements in technology have offered us an array of automated tools to help out with task management, several professionals still prefer doing things the traditional way – manually. But they often miss out on the fact that one needs to regularly update new tasks and shelve the already completed ones in order to constantly stay on top of one's to-do list, and consequently, on one's productivity.
This is where an automated tool for work organization comes into the picture. Such a tool helps you oversee all your tasks while helping you with the necessary reminders and alerts so that none of the priority work gets missed out or unnecessarily delayed. It lets you stay focused without having to go back to manual checklists or refer to your calendar repeatedly.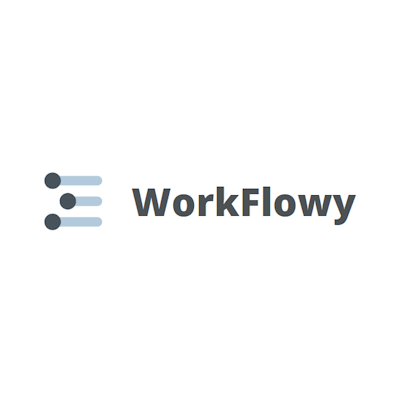 Among the hoard of such tools available out there, Workflowy shines out. It is an internet based tool which gives users the power to organize their data without any restrictions very conveniently.
Workflowy – A Decent Organizer
Workflowy is a handy tool which allows users to create lists of ideas, notes, personal to-do's, research papers and many more productive activities. It takes over all the hard work, like compiling all your lists and ideas neatly in one place, so that you have ample time to focus on other key areas.
At the core of it, Workflowy is a zoomable text-based document which organizes your ideas in its own unique way and makes them more presentable by categorically laying them out. Although the tool is more focused on people who create lists for project management or other high-level tasks, it's an application which can be picked up by anyone looking to sort their data. It is extremely easy to get a hang of.
Here are a few features of Workflowy which have helped it amass the audience it has today:
It has a very minimalistic yet powerful interface. It is easy to get a hang of the tool and interact with all its features since they're quite neatly laid out.
It is highly customizable. You can play with numerous fonts and pick between the mode you want the information to be presented in, say in a bullet format or a reminder list, etc.
The tool has a 'nested list' option as well, along with the feature of dragging and dropping the items of your choice.
The software also lets you conduct easy searches by using hashtags and a dedicated search window for any other keyword that you remember.
You also get the option to share lists if you're looking to collaborate through shared links.
After task completion one can very easily archive the task and at the click of a button make it visible as well, if required.
Workflowy also has an email digest which pushes off notifications to the users daily to inform them as to what has been completed by them on the given day.
The tool's chrome extension has also worked its way to provide users with a customizable list color option with over 17 colors to pick from, in order to achieve a personal touch.
There's much more to Workflowy that you can benefit from. Check out the tool's official website for more information.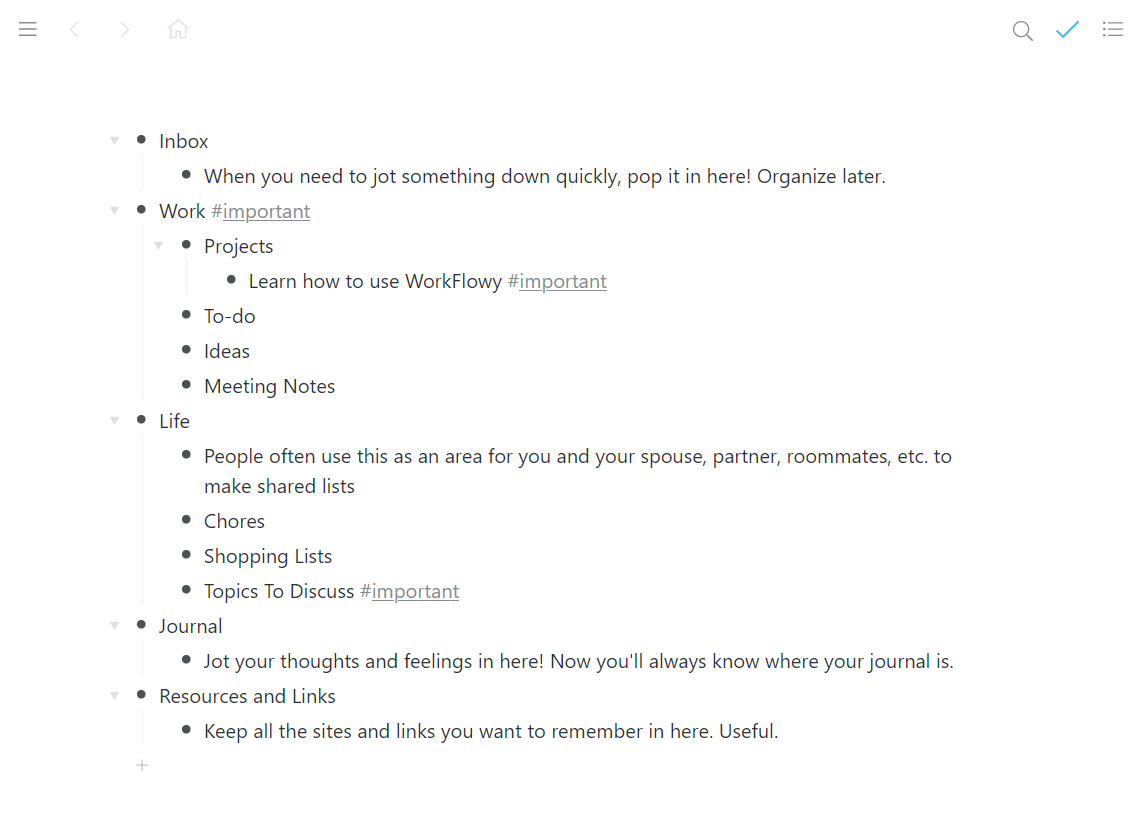 How does it work?
Setting up Workflowy is very easy. You can have it up and running within minutes with the help of the following steps:
Use your Google credentials to create an account. An OTP will be sent to your email to help you easily sign up.
Once in, you'll be presented with a white screen with all the instructions on how to go about using the software. You'll be taken through the variety of things you can play with to give it a personal touch.
While creating a list of your own, you can start out by listing the main heads (categories of tasks or maybe days of the week) by hitting the '+' sign and then add subdivisions under it by just hitting on the heading itself.
Adding subheads is also very easy and changing of fonts can also be seen directly in the menu.
From the three dots appearing next to the main head, you can easily upload a file, add a note, duplicate the list, share, and even copy the internal link.
The chrome extension also provides you with 17 different colors to change your list color to.
The dates and reminders are ongoing which make sure that you don't miss out on any important task.
All in all, the tool has a very simple interface, and almost all of the features can be viewed at a glance. Anyone can easily locate them and make their lists the way they want.
Evaluating Workflowy
Workflowy is a very easy-to-use tool and offers everything you need for work organizing just a click away. But like any other software, it comes with its unique downsides. Below listed are a few advantages and disadvantages of Workflowy:
Pros
Traditional feel like that of a blank paper
The hierarchy of lists makes compiling data easier
Embedded tutorial to help anyone who's struggling with the functionality
Neat UI and clean functionality placement
Cons
Lacks the option to view two pages in parallel
Lacks a spell checker
Minor issues with usability, for example, to change the placement of options the user has to press and hold them a specific way which isn't evident until the user gets a hang of the application
Stay on top of your productivity with @workflowy workflowy.com/ via @supermonitoring
Final Verdict
All things considered, Workflowy is an exceptional organizational tool. Although creating lists and managing tasks is the primary reason you'd want to use it, the tool goes beyond just listing things. The intuitive interface allows easy ordering and sorting of tasks, structuring, and even manipulation. It's very simple yet efficient without being overwhelming. Workflowy is also very cost effective since it is practically free for jotting down up to 100 items a month.
Get notified about our new posts
By submitting this form I accept the
Privacy Policy
and I agree to receive blog-related information from Super Monitoring.