A Beginner's Guide to Managing Projects with Wrike
Project management is the process of completing the set objectives of a project, coordinating the team members, and ensuring that the right methods are used. Good project management involves working within the confines of a budget as well as time constraints and ensuring that the right people are working on the right areas.
While project management is its own separate field, the act of managing and completing projects is an important process in almost all areas. Everyone at some point in their life needs to be able to successfully manage a project, even if they're not an official project manager. This might be something related to work, school, or even your personal life. Being able to create, organize and execute a plan to achieve the goals of the project is an important skill in all walks of life.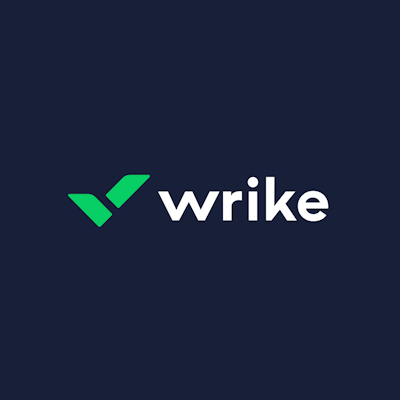 The project management process can be a difficult one, but luckily, the modern world has a solution. Wrike is a project management tool available in the USA that increases organization, boosts performance, and improves collaboration between team members. No matter what kind of project you're dealing with, Wrike can be used to make things easier and ensure that your project is successful.
If you're just starting out using Wrike, the platform can be confusing. There are lots of different features that you can use, and some of them might need explaining. Our project management and SEO expert Alex Lysak has written up this guide to Wrike that will help you make the most of the platform in order to successfully complete your next project.
Getting Started
Before you can begin using Wrike and setting up your first project, you'll need to choose which membership option you prefer. Wrike, like most project manager platforms, has a series of different membership tiers. Different tiers give access to different features, so if you want all of the best features, you'll need to pay more. Whether this is worth it for you will depend on the type and size of the project. For all membership options, there's a free trial available, and there's also a completely free tier.
Good project management is an essential part of digital marketing, something that businesses such as Scanteam excel at. Digital marketing and SEO are highly competitive fields, and US companies need to make sure that their strategies are being implemented effectively in order to achieve the best possible results. This is where platforms such as Wrike come in.
Once you've created your account and chosen a membership, you're free to get started. Here are the key features of the Wrike dashboard and interface you'll need to be aware of before you create your first project:
Tasks and Subtasks
Tasks and subtasks are specific jobs that need to be completed in order to move forward with the project. All projects can be broken down into tasks. For example, creating a website would involve setting up the design of the backend, frontend and also creating the copy for the pages and testing. Each of these tasks will also likely contain subtasks, all of which need to be completed if the project is to be successful.
Wrike allows you to easily create and delegate tasks and subtasks to your team members in the USA, ensuring that everyone has a task to complete. A great feature of the platform is that you can also assign priority levels to each task, letting team members know which tasks to focus on first.
Projects
The projects section of Wrike allows you to set up multiple projects at once, each of which will consist of multiple tasks. Each project can be edited to show its status as well as the due date and more information. Having all of your projects in one place makes it much easier to keep track of everything and see which is being worked on and what still needs to be done.
Folders
Wrike provides a folder system that allows you to group tasks and projects together based on certain criteria. For increased efficiency, it's a good idea to group related tasks together. This will help you and your team stay on top of everything and ensure nothing gets left out. LinkedIn has accurately noticed that folders are color-coded, which makes them even easier to organize and use.
Spaces
Spaces are an additional layer of organizational structure on Wrike that gives you more control over who sees what. When you create projects and tasks, you can choose to add them to three different spaces, which are public, private, and personal.
Public spaces are used for projects and information that needs to be seen by the whole company. Private spaces are designed to be used by workgroups, departments, or teams to allow work to be shared between the group more easily. Personal spaces are a place that only you can see, allowing you to save important work and notes.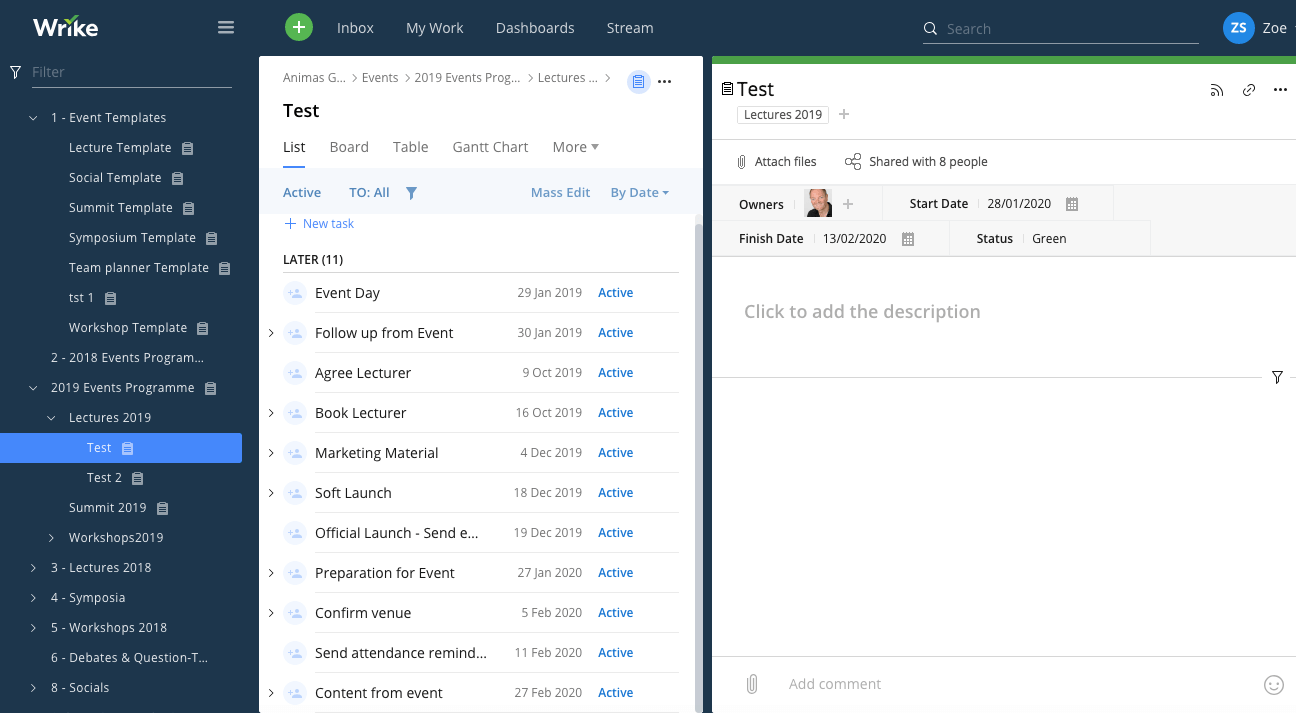 Creating Your First Project
Once you understand how Wrike is laid out, you can start creating your very first project using the platform. Luckily, it's relatively straightforward to create a project, but you can follow these steps to help you get started.
Choose Your Team – When you create an account on Wrike, you can set up teams within your organization. Teams can be individual workgroups or departments such as the marketing department. When you create a new project, you can select the team name from the left panel. This team will then receive the information and access to the project.
Create A Folder – A folder allows you to better organize multiple projects for the same team and makes everything easier. You can create a new folder after selecting the team name by clicking on the green plus sign and selecting a project or folder. Choose a name for the folder that gives a clear indication of what it is and what it contains, as this will help keep things organized. If you prefer, you can also skip to the next step of simply adding a project.
Add Projects – After setting up a folder, you can begin adding the project or projects that the team will be working on. Again, you can select the green plus sign and choose a project or folder. Each project creation page will allow you to choose specific details about the project, including the start and finish date and the name.
Add Tasks – Adding tasks is the next step, which can be done simply by choosing the New Task button. Again, you can determine the information of each task, including the name and important details. Make sure that due date, task requirements, and sub-task details are all included. You can then assign the task to people within the team by selecting the add assignee button.
Add Subtasks – Subtasks help to organize everything and get tasks done quicker. It's not essential to add subtasks, but if you feel like the project will run better with them, you can. Once more, add the subtask and choose the details such as name and important information.
Set Priorities – Every time you create a task or subtask, you can set priority levels to give assignees an idea of which they need to get done first. While one task might have a longer due date than another, it might be an important component of another task, so you can set the priority level higher. Team members can also sort their tasks by priority level, ensuring that the most important tasks are dealt with first.
Keeping Track of Your Project
One of the key elements of any project management plan is keeping track of the progress being made. Project managers always need to stay up to date on the progress of the project, which can be difficult when multiple team members are each working on separate parts of the project. Luckily, The Wrike system makes it much simpler to keep track of everything once the project is set up. You can use different views such as list, board, table, and stream, as well as set up Gantt charts to view workflow and time duration.
You can use the following features on Wrike to view the current workload, tasks, and progress of the main project:
List View – This is the default view that shows all of the available tasks in a simple list within their project and the available projects in a list within their folder. In the list view, you can easily sort subtasks, tasks, and projects by their status, priority level, and title for increased organization.
Board View – Board view gives you a better outline of all tasks and groups them according to their status. This way, you can easily see which tasks are complete, in progress, or need to be started.
Stream View – Use the stream view for real-time updates and tracking. This is the most effective view for getting a clear understanding of how your team is working, as it gives updates on all tasks, projects, and folders. The view can also be customized and filtered to provide a better picture of specific areas.
Timelog – Wrike allows teams to track the time they work on each task, which is perfect for keeping track of how long each project takes. This can be used for billing as well as determining time constraints for future projects.
Gantt Charts – A Gantt chart is a form of bar chart that shows the progress of a project. Custom workflows and time duration are used to plot tasks onto the chart and give insights into the progress of the team.
Final Thoughts
Project management is easier than ever, thanks to the application of project management tools. Platforms such as Wrike facilitate simpler project management, allowing managers and team members in the USA to view, complete, and track individual tasks and projects. While these platforms can be daunting at first, they're simple to use once you know how to get started.
---
About the Author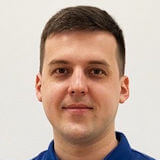 Alex Lysak is working in online marketing since 2011, his main areas of expertise are marketing research, social media marketing, and SEO. During 9+ years of experience, he has helped many products and startups to develop marketing strategies and to implement them further. Alex is CEO of Casinocanada.com. He and his team of experts work on innovative solutions in the iGaming niche all the time.
Get notified about our new posts
By submitting this form I accept the
Privacy Policy
and I agree to receive blog-related information from Super Monitoring.