Unique WordPress Themes for a Travel Blogging Website
WordPress is among the most popular platforms you can use to create and run your own travel blog. It offers plenty of impressive and easy-to-use blogging features, so you don't have to worry about a lack of experience.
Because writing is just one of the many parts of travel blogging, it's crucial that you install a theme that will allow you to create a feature-rich website, boasting a high-quality design ready for your carefully prepared content. You should be on the lookout for themes that are packed with customization options and plenty of different settings so that you can get the most out of them.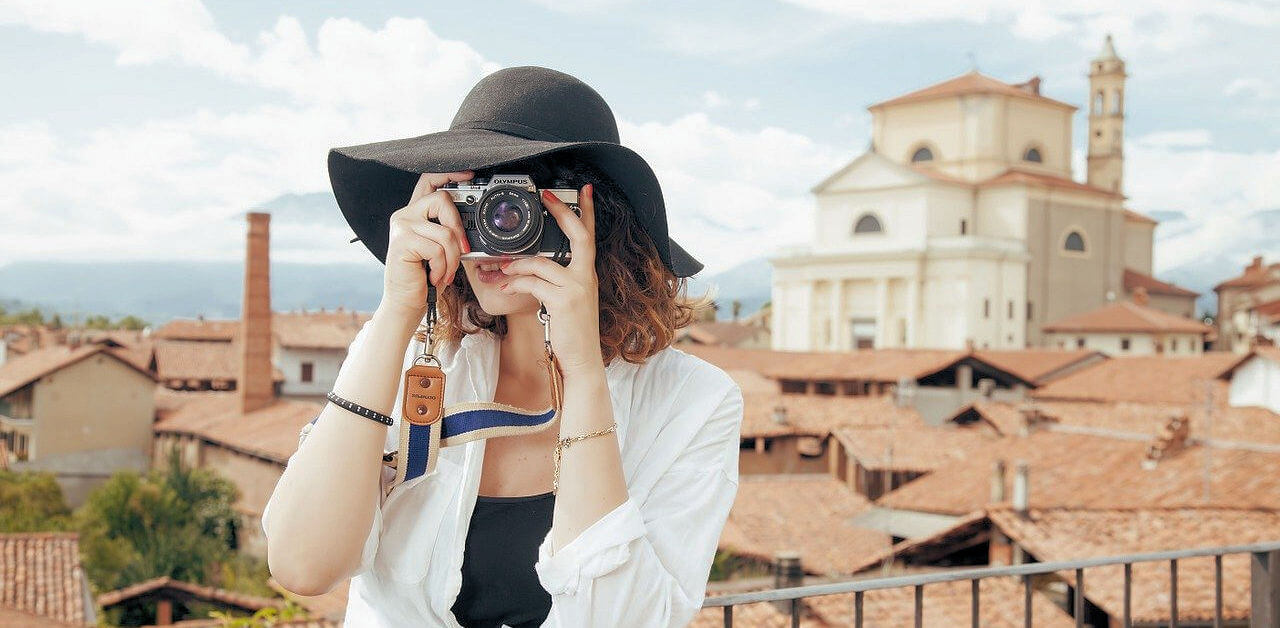 For instance, features such as control panels and page builder tools will allow you to personalize many aspects of your blog in a few simple clicks or effortlessly edit the pre-existing content and even create your own designs.
Here are five unique themes perfect for every travel enthusiast who wants to create a personalized space for sharing their experiences.
1. TheGem
TheGem offers over 400 pre-build templates. This level of versatility means that whether you want to run a travel blog focused on photos or written content, you'll surely find something that will fit your specific needs and preferences. According to Bravo Group, good ideas can come from anywhere – that's why for your blog, you should consider using a theme such as TheGem, which will give you plenty of maneuvering room.
The key characteristics of this theme that make it worth your time and attention are, among others, header areas that can accommodate images or videos, plenty of various templates for individual blog posts, and large, full-width layouts.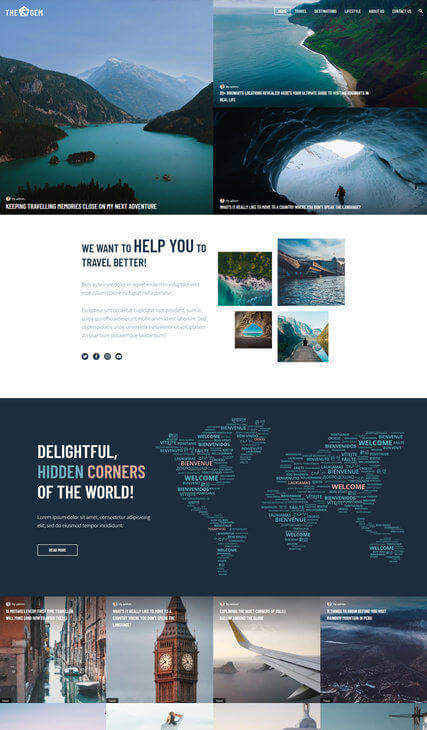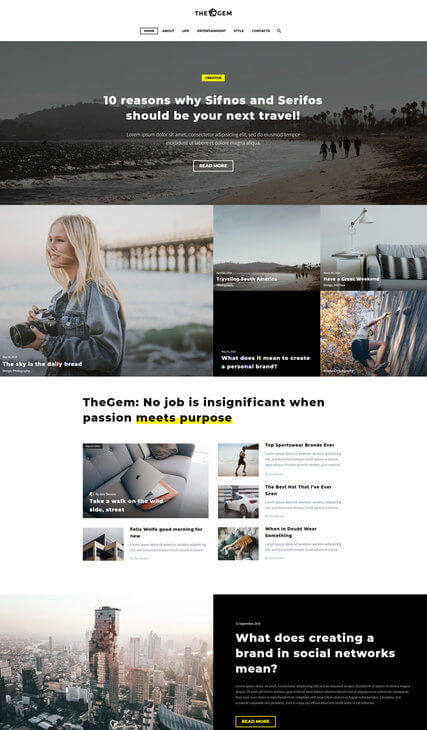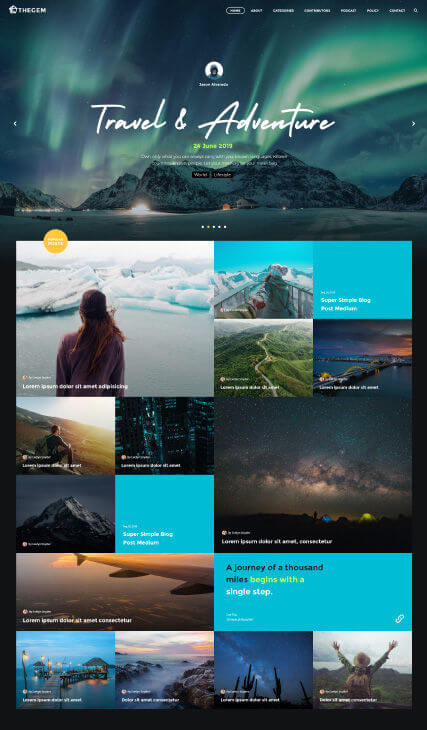 You can also try out the integrated page builder tool that allows you to design custom layouts. You can later use these layouts to make your blog posts more attention-grabbing. With its help, you'll be able to add text, images, videos, and sliders to your content, so it can stand out when viewed on the screen.
Since its release, TheGem has been a popular choice among both travel and more traditional bloggers, making it a perfect candidate for your page's theme.
2. Trawell
According to the experts from getweave.com, the design of your website plays a crucial role in its success. That's why if you aspire to be a well-known travel blogger, you might want to take a closer look at the theme named Trawell, which has been created for those who want to launch their travel blog as quickly as possible.
Trawell was built with a straightforward, five-step setup process in mind, meaning this WordPress theme is incredibly beginner-friendly. If you're a blogger who prefers to focus on creating content rather than spending hours upon hours aligning every detail of your site's theme, it should serve your needs well.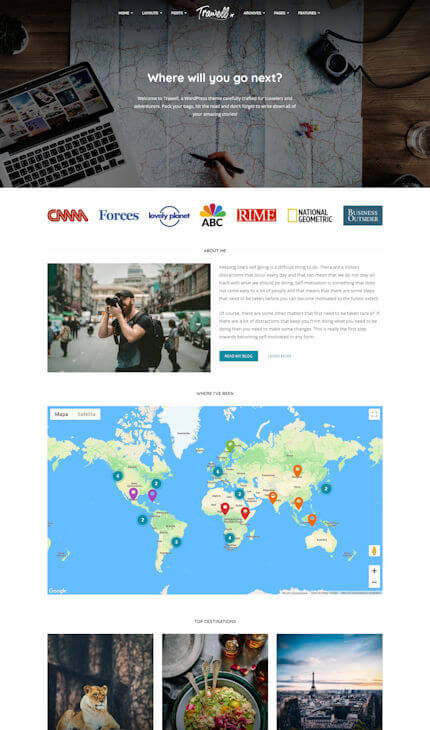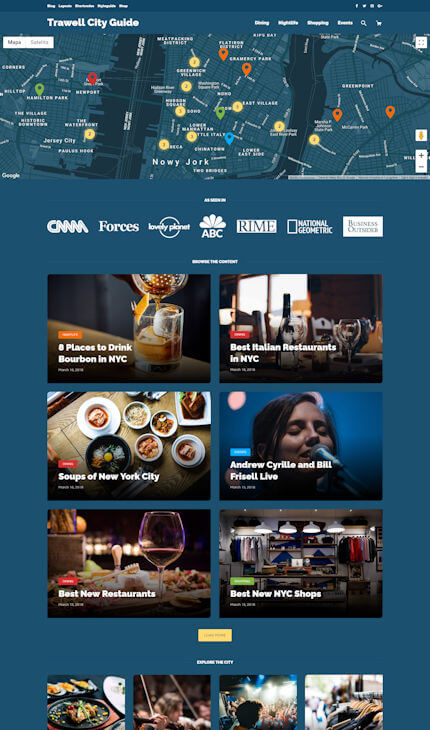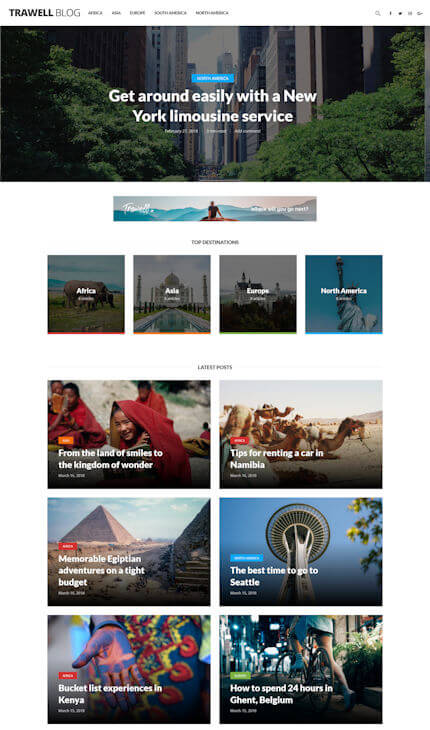 This stylish travel blog theme comes with all the necessary features — there are plenty of home-site variations that you can choose from, as well as different layout options for your posts and the whole blog. For those who want to blog in multiple languages, Trawell offers excellent support for the leading WordPress multilingual plugins.
Another interesting feature is the Google Maps integration, which allows you to share all the locations you've visited in an interactive map format. All in all, it's a straightforward theme to set up that puts an emphasis on features useful for both rookie and avid travelers.
3. Tropicana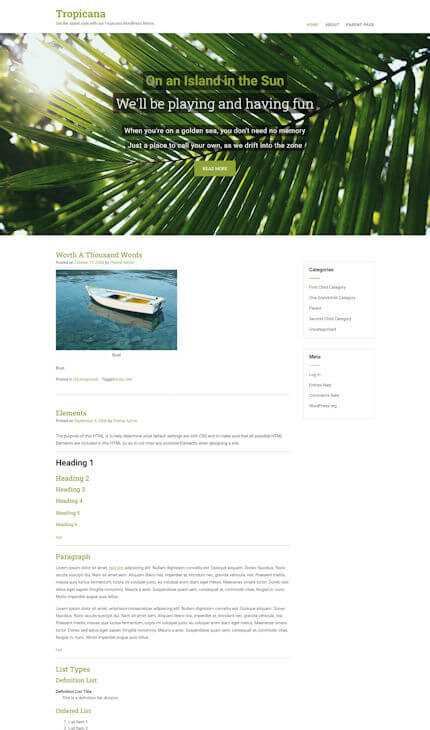 Tropicana is a stylish theme perfect for travelers who prefer to set up their page in a quick and effortless way. It features a modern, responsive design, allowing users to build web pages that detect the visitor's screen size and their device's orientation — changing the layout according to their needs. The code is minimalistic and clutter-free, making Tropicana fast and lightweight.
This theme is also perfect for beginners, as its simple and highly intuitive design will allow you to configure and customize it without the need to touch any specific codes. For an easier process of creating and optimizing your site, Tropicana is also fully compatible with the popular WordPress Page Builder plugins, allowing you to customize almost everything according to your needs and preferences. From menus and widgets to background images and the color scheme — available options are virtually limitless.
This theme will allow you to effortlessly start your page, make it look modern and stylish, and build a strong readership.
4. Newspaper
Newspaper is a WordPress theme that focuses on content. Its magazine-styled design makes it perfect for travelers who take plenty of photos and want to incorporate them into their page. Moreover, it offers numerous post templates and gives you the ability to design your page layouts.
Examples of Newspaper's most exciting features include access to the tagDiv Cloud Library, which contains many widgets and elements that allow you to upgrade your content significantly. It also comes with a helpful page builder tool and lets you edit and customize elements such as your site's header or footer.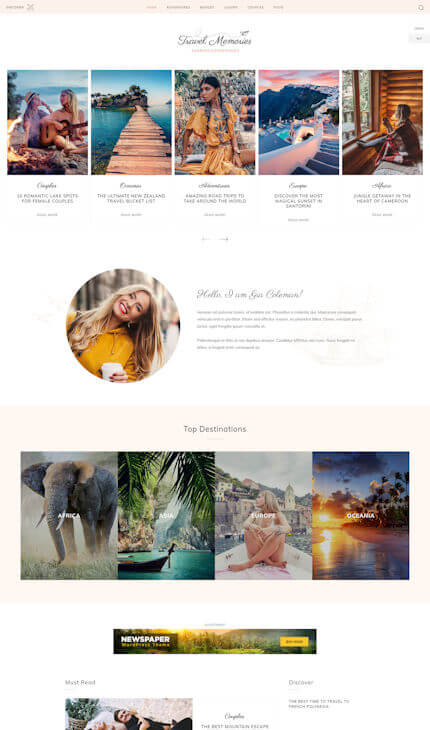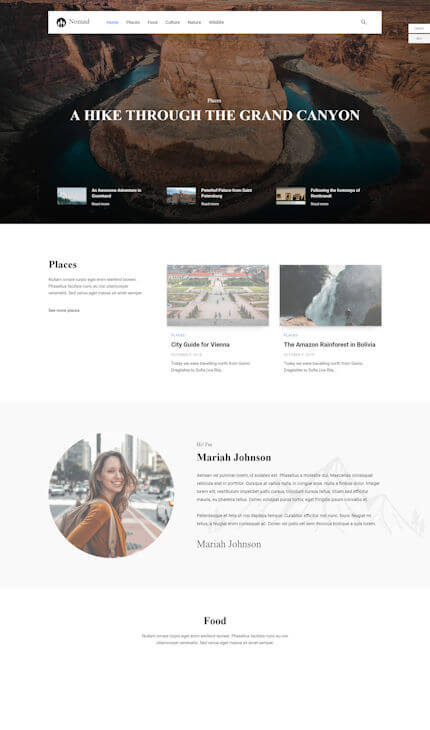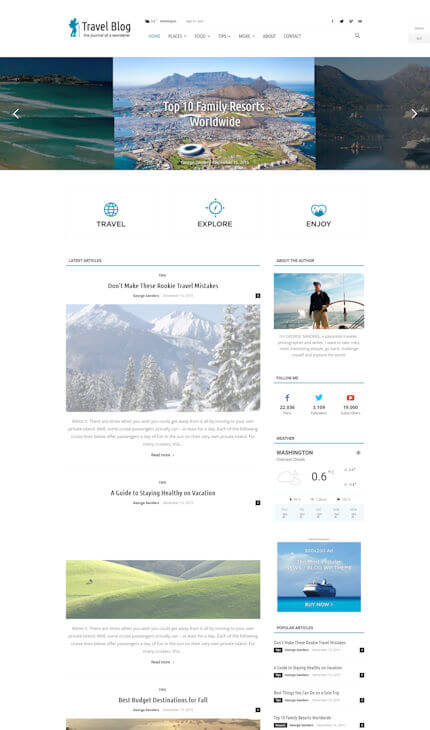 Overall, Newspaper is an all-around WordPress theme that comes with everything you need to ensure that your blog has a strong start. It's SEO-friendly and highly responsive, working flawlessly on all devices and web browsers. With this theme's help, you'll be able to tell your adventurous stories and illustrate them with plenty of interesting photos.
5. EightyDays
EightyDays is a beautifully-designed theme, perfectly suitable for travel blogs. It looks best if you illustrate your content with photos, so if taking them is your travel staple, you should consider giving this WordPress theme a try. Additionally, it offers astonishing typography and an elegant, sleek appearance with well-thought-out options of customization.
EightyDays comes with a responsive design, making it work fast and smooth across various devices. It's lightweight and SEO-friendly, allowing you to attractively express your ideas and photos. This theme won't fall short of your expectations if you're an enthusiast of elegant and minimalist design. Still, it's worth noting that EightyDays doesn't have a header image or a featured post slider.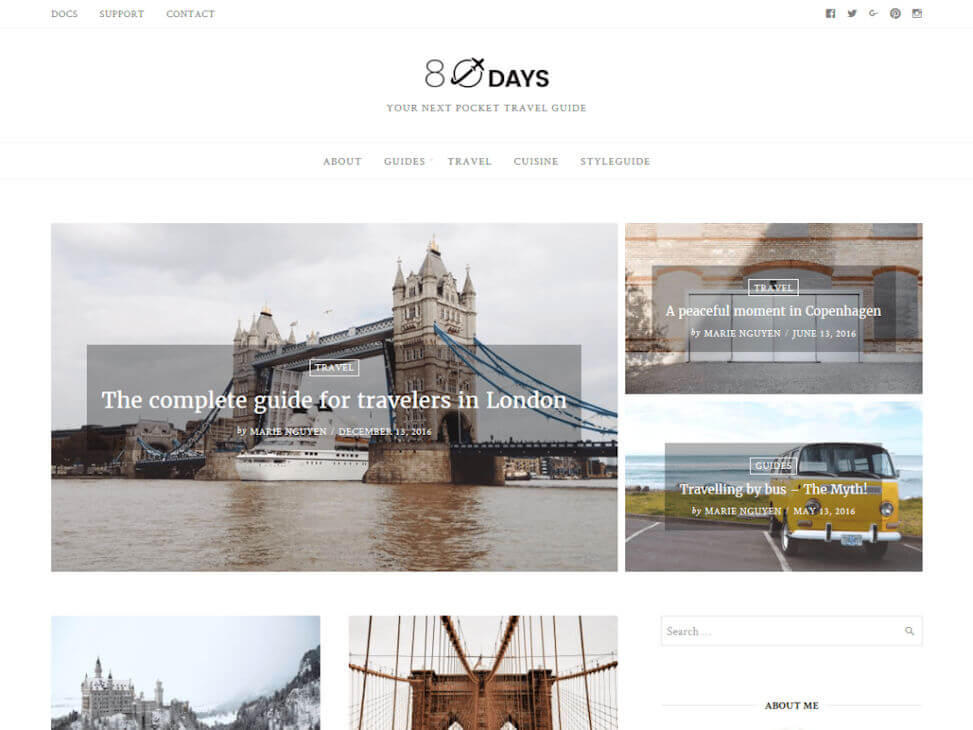 This theme is ideal for both beginners and advanced travel bloggers. Its only drawback is the restriction of custom features compared to the themes above. Nevertheless, if your main focus is the content you create, it should meet your expectations.
6. Avventure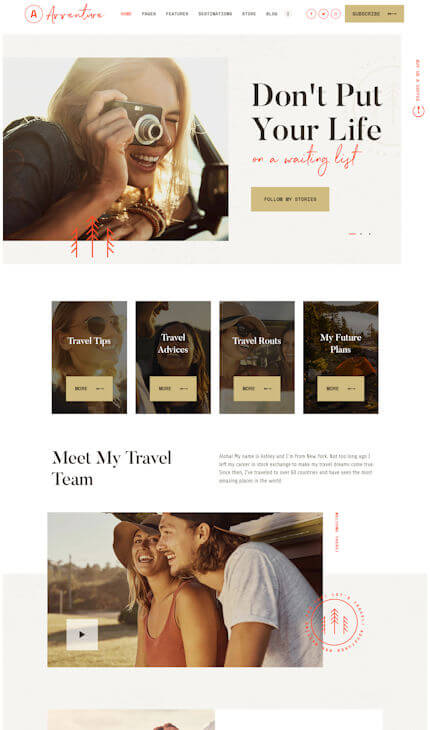 Avventure is an elegant and modern WordPress theme, perfect for travelers who love both blogging and photography and want to provide their readers with perfectly balanced, attractive content.
This theme has built-in support for popular Page Builders and is SEO- and Retina-friendly. It also comes with many practical features such as flexible colors and interesting typography, cross-browser compatibility, and quick page loading. If you enjoy writing long travel stories and incorporate some lifestyle news into them, Avventure will act as a great companion to your tales.
Those who aren't fluent in coding will be pleased that plenty of premade homepages, shortcodes, and modules come with this theme. It's a highly customizable and versatile WordPress theme built to appeal to travel bloggers looking for a straightforward way to build a simple but still visually impressive travel blog.
Final Word
Travel blogging is about writing valuable and exciting content and presenting it in an engaging way. Therefore, you should ensure that your website features a professional-looking design and all kinds of media management tools that will help you get the most out of your writing efforts.
The above WordPress themes are extremely useful for those looking to create the perfect travel blog but might not be sure where to start. The variety of features and customization options included in each of these themes will help you effortlessly build your travel blogging website from scratch so that you can focus on creating engaging content for sharing your travel experiences in the best possible way.
---
About the Author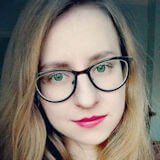 Gabriela Zajac is a linguist and SEO content writer with a passion for writing fresh and engaging content that can influence others. Apart from writing, she's constantly learning new skills and working on her self-development.
Get notified about our new posts
By submitting this form I accept the
Privacy Policy
and I agree to receive blog-related information from Super Monitoring.