Woopra: Your End-to-End Customer Journey Analytics Companion
Customers interact with your business multiple times before reaching any goal.
These repeated digital interactions are what make up the customer journey.
Your customers' overall experience across the different channels as they engage with your organization (websites, social media, email, etc.) make up the customer experience.
Customer journey analytics refers to the process of analyzing the experience of customers across multiple touchpoints in the customer journey.
There are a lot of machine-learning, Python, and various other software tools that you can use for customer journey analytics.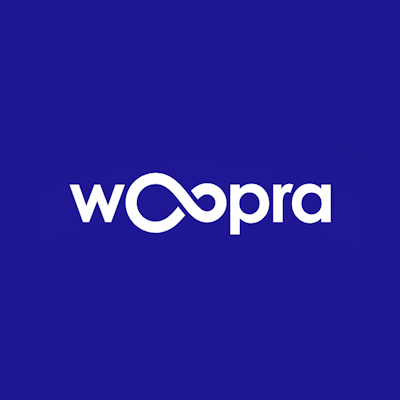 However, Woopra is one of the top platforms that can help you to fully measure customer interaction so you can better achieve your marketing goals.
In this article, we take a look at how a customer-centric business can use this platform to gain deeper insights to help improve both CX and business outcomes.
What is Woopra?
Launched in San Francisco, in 2012, Woopra is a customer journey analytics platform that offers a suite of tools for tracking, analyzing, and optimizing every customer touchpoint.
With it, you can map the unique path users take across each touchpoint.
You can also analyze the growth of your metrics over time.
Furthermore, it allows you to analyze how long users engage with specific features.
In short, you will be able to go beyond traditional analytics to understand all the actions users take from the first touch onwards so you can build a stronger marketing plan.
Who is Woopra Best For?
Woopra is the ideal solution for brands that are looking to optimize the customer experience by using direct integrations to power personalized messaging and individual-level targeting.
In other words, you will find this platform extremely useful if you have any customer-related questions to answer in your business, such as:
Are my landing pages optimized for maximum conversions?
Do my onboarding emails increase conversions?
Does live chat on the website impact sales?
Where are customers dropping off during onboarding?
Do popups on my website increase conversions?
Does viewing the pricing page deter people from signing up?
How many emails does it take to re-engage users?
Which campaigns have proved the most effective for generating targeted leads?
So, for instance, a business like this one that sells a predictive dialer might use Woopra to find out things such as how many users were converted from their last PPC campaign? Or whether or not their videos on social media are having any impact on free trial sign-ups.
Benefits of Using Woopra
One of the main benefits of using a customer journey analysis tool like Woopra is that it offers you an effective way to increase customer lifetime value.
It can also provide you with insights to help improve customer loyalty and skyrocket revenue growth.
With customer journey analytics, teams get a window into the behavior of customers so they can glean valuable information which they can then use to make better marketing decisions.
Teams can also get a clearer picture of every important customer interaction. There is no longer a need to depend only on customer feedback, which, while being important, usually doesn't tell the entire story.
For instance, some users may provide feedback through a customer satisfaction survey on your B2B portal (InFlow), but others will not. And, without a customer journey analytics tool like Woopra, your business may never know the reason those customers churned.
With Woopra's customer journey analytics, you can find out all these things and more using advanced analytics methods such as:
Real-time analytics
Predictive analytics
Customer segmentation
… and much more.
Summary of Woopra Benefits
Fully measure customer interaction at every touchpoint
Get data to inform your marketing decisions
Get deeper insights into customer interactions and behavior
Improve customer lifetime value
Enhance customer loyalty
Drive revenue growth
You don't require sales expert advice to know that this tool will provide your business with actionable insights that have a direct impact on your bottom line.
How to Use Woopra for End-To-End Customer Journey Analytics
As you can see, there are a ton of benefits that come with using this software.
And while it's possible to hire freelancers to perform your analysis for you, there's really no need thanks to the quick and easy insights that you get from this tool.
Here's how you can get started using Woopra in just a few easy steps:
Step #1: Sign up for your Woopra account.
Step #2: The platform will identify users and visitors on your website.
Step #3: Tailor the software to track custom actions in any combination, including log-ins, payments, product engagement, and so on.
Step #4: Integrate Woopra with any tools or mobile apps you're currently using to unify customer touchpoints across your organization.
Step #5: You will then be presented with the "Journey Report" which will allow you to see the world the way your customers do, as in the example below:

Here's an example:
This sleep health website, Sleep Junkie, sells different types of mattresses.
If they wanted to know which products are selling best, or which of their marketing campaigns performed well, or even how to optimize their marketing efforts, they might use this tool to effortlessly answer questions such as:
What are our business's buyer intent keywords?
Which are the highest performing customer segments?
Where do we lose potential customers during the onboarding process?
Which email marketing campaign drove the most conversions in the past year?
How many users submit a support ticket/read documentation on our site before becoming customers?
As you can see, this tool will give you the insights you need to make data-driven decisions that will optimize your marketing campaigns and improve your results.
Use Cases and Examples
Below is an example of a successful use case for applying customer journey analytics successfully.
This example is from a website that sells different types of empty capsules, LFA Machines.
They might use their customer journey analysis to target one of the three main stages of the customer journey, which are:
Acquisition: At this stage, the buyer is looking for a solution to their problem.
Activation: At this stage, the customer goes through an onboarding process.
Adoption: Once activated, the customer starts to incorporate the product into their life.
They might look at the following Acquisition touchpoints:
Clicks on referral links
Visits to landing pages through organic search
Website page views
White paper downloads
Use of search function on the website
This information will help them determine which of their products is performing well, as well as how they can better improve the customer experience on their website and landing pages.
Another example is the site that offers a WordPress guest blogging plugin.
They might be more concerned with the Activation touchpoints, in which case they would use Woopra's analytics data to determine the following:
How many users create an account
How many downloads does the plugin receive
Do the onboarding/training videos impact conversions
The insights from their customer journey analysis might help them determine that their marketing efforts could be improved by providing more engaging educational content for their prospects, such as uploading YouTube tutorials, hosting a podcast or webinar series, and so on.
That's all very well and good (I hear you say), but how much does this cost?
Woopra has four pricing plans. Let's take a look at each of them so you can determine which plan is right for you.
Woopra Pricing
Woopra's pricing plans are as follows:
Core Plan (Free)
You can start building better customer experiences with Woopra for free. This plan allows you to learn and experiment and with it, you get 50,000 actions/month, 90-day data retention, core analytics, and over 30 integrations with other marketing tools and apps.
Startup Plan ($349/month)
With this analytics powerhouse, you get 1 million actions/month, 2-year data retention, and advanced analytics. You also get drill-down reporting and it comes with a free 14-day trial.
Pro Plan ($999/month)
Also known as the "Journey Architect", this plan comes with 5 million actions/month, automation, and premium support. You also get people metrics and formulas, as well as the data loader, which is a new feature that is designed to easily import data directly from your databases.
Enterprise Plan (price available from the website)
This "Mission Control" plan comes with 50 million+ actions/month, data warehouse sync, and custom objects. It also comes with dedicated support.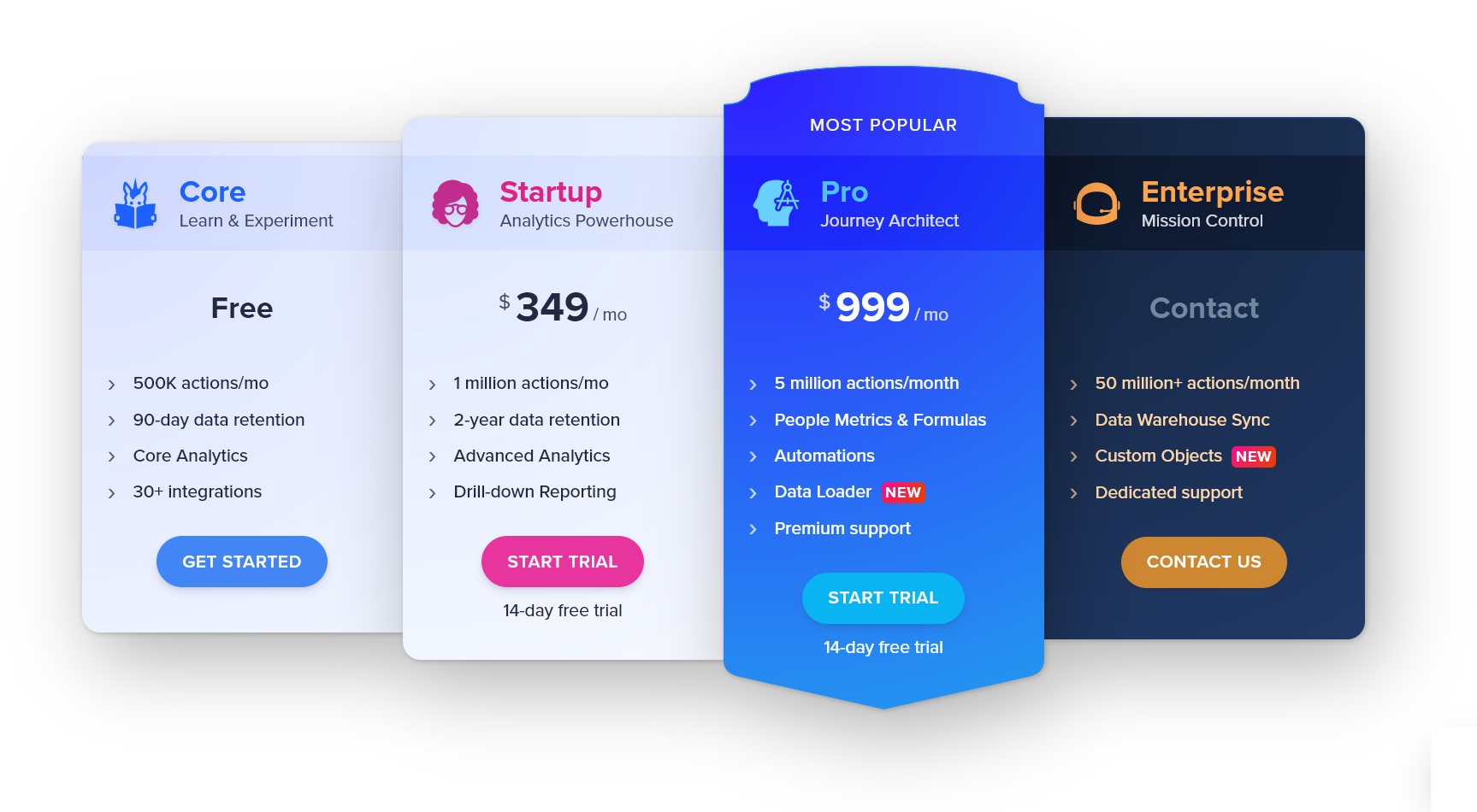 You can make your choice depending on your business's specific needs. As your business grows, you can upgrade your plans and continue to analyze your customer journey so you can optimize your customer experiences across all channels.
Conclusion
We've come to the end of this article on Woopra: Your end-to-end customer journey analytics companion.
I hope by now you realize that with the right tools, you can easily and effectively analyze end-to-end customer journeys across channels and time.
Depending on your marketing goals, a tool like Woopra can greatly impact your ability to make money online by helping you identify the main cause of your customer experience issues so you can take action to remedy them.
Which tools are you currently using right now to unify customer touchpoints across your marketing channels? Sound off in the comments below!
---
About the Author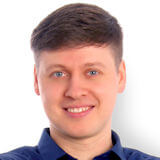 Burkhard Berger is the founder of awesomex™. You can follow him on his journey from 0 to 100,000 monthly visitors on Awesomex. His articles include some of the best growth hacking strategies and digital scaling tactics that he has learned from his own successes and failures.
Get notified about our new posts
By submitting this form I accept the
Privacy Policy
and I agree to receive blog-related information from Super Monitoring.